Whatever the types of floor you have in different rooms of your house, you have to maintain them properly so they continue to look good for years.
Proper maintenance and taking care of floors can help increase their lifetime and durability. There are different ways by which you can maintain your floors; one of those ways is polishing.
Here, we will describe the ways to polish different types of floors. We will also describe the advantages of using floor polishing machines for this task.
How To Polish Marble Floors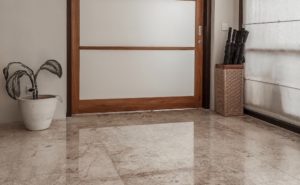 Marble floors are elegant, beautiful and quite durable. However, they can get stained easily which requires regular cleaning, maintenance and polishing. There are two ways that you can polish your marble floor.
One is by polishing it with your hands and the other is by using a floor polishing machine. These are further described in the following sections:
DIY Marble Floor Polishing
You can easily make a cleaning solution at home to polish your marble floors by hand. Before attempting to polish your marble floor by hand, it is important to distinguish if your marble is natural or cultured marble. If you are not too sure which type your marble flooring falls under, it would be best for you to proceed with the natural marble flooring method! Since marble is delicate, you are in a better-off position if you avoid chemical cleaners if you are unsure of its effects and proper usage. This is especially so when you are polishing the floor by yourself.
Instead, you can use the following way to polish them as a DIY solution.
The first step that you can do is to remove existing stains from the marble. You can do this by using a damp sponge and a mild detergent or soap. Gently scrub the stain with a sponge or a microfiber cloth followed by wiping with mild soap and rinsing it.
To polish the marble floor, you can make a homemade polish by mixing 3 tablespoons of baking soda with 1 liter of water and applying this solution to the floor.
Let the solution dry for a few hours after which you can buff it with a clean cloth to restore its shine.
Do this in a circular action, working from a larger circle and slowly going into smaller circles.
This type of polishing with hands will not be as effective as a professional marble polish but still, you would be able to keep your marble floor in a better position for a longer time. Then once every year, you can marble the floor with a floor polishing machine or employ the services of professional polishers.
If you are unsure about DIY, you can employ professional marble polishing services!
In order to maintain your marble flooring for a longer period of time, it would be good to have it polished professionally every few years which is dependent on usage. This is to keep it looking new through the removal of scratches and stains. Hence, it is best to hire professionals to carry out this process. Usually, these companies would use floor polishing machines to carry out this process. They usually begin the process by cleaning the floor first with a pH-neutral cleaner. After which they use the floor polishing machine with abrasives to sand and polish your beloved flooring! a microfibre polishing pad is added to the machine and a polishing powder is applied to the marble surface. The marble floor is then buffed with the machine to give it the final shine, gloss, and chic effect.
---
Parquet Floor Polishing
If you have parquet flooring in your house, chances are that will begin to lose its shine and become increasingly dull after a few months of use. However, do not fret!
Through the process of polishing and waxing the floor, it can look as good as new. Regularly polishing the parquet floor also ensures that it will last longer and continue to look beautiful.
For parquet floor polishing, one option is to get it done through floor polishing professionals. However, you can also polish your parquet floor by yourself which could save you from the cost of hiring professionals.
DIY parquet floor polishing:
The process of DIY parquet floor polishing requires you to do the following:
If the parquet flooring is composed of laminate, it is prefinished in polyurethane which does not need to be waxed. However, if it is hardwood, you will need to wax it 3 to 5 times a year.
The first step is to clean the parquet floor by brooming or vacuuming. This is followed by mopping the floor with a damp cloth to remove all kinds of dust and debris.
The next step is to thoroughly clean the parquet floor by using the cleaning solvents which are meant for parquet floors.
If there are any existing stains that are visible, remove them by using vinegar only if your parquet is not treated with oil. If you are unsure, a water and alcohol mix will suffice.
Use oil or water-based acrylic wax (depending on your parquet and type of varnishing) and apply it evenly throughout the parquet floor and leave it to dry for a few hours.
Once the wax has been completely dried, use a soft cloth or buffer to buff the entire floor with your hands will result in a good shine and gloss for the parquet floor.
If you are unsure about DIY, you can employ professional parquet cleaning services!
Usually, for professional cleaning services, they may not only have polishing services but also sanding and refinishing. Hence, this may be included in the price above. However, this is best to be checked with the company themselves. Employing the assistance of a professional would reduce the effort and time it takes for you to take care of your floor. Furthermore, it ensures that the process of polishing is done correctly. Usually, they can cost between $10 to $30 and above per square foot!
---
Wood Floor Polishing
Wood flooring needs to be waxed or polished after every few months especially if there is heavy traffic in the area. The process of DIY polishing a wooden floor is described below, however, it is good to note that this method requires time and certain tools that you may not own:
The first step is to sweep or vacuum the wooden floor completely to remove debris from its surface.
For the second step, you need a sponge, mop, and high-quality wood soap. You will use the sponge and soap to thoroughly clean the floor and mop it dry with a clean cloth to remove all moisture.
Once the floor is completely dry, it is time to polish the floor. You would need an electric buffer or floor polishing machine as it will result in the best possible shine. You would need a high-quality paste polish designed for wood. Paste polish is more ideal as compared to powder polish since it can fill in the tiny cracks and crevices that might have arisen in the wooden flooring with time.
Using the polish machine, apply the paste polish evenly through the wooden floor. Within minutes, it will start to glow and shine like a newly installed floor.
If you do not have an electrical polish machine, you can polish it yourself with your hands also. It would be a tedious and extremely long task but can be done if you use a very soft buffer.
---
If you are unsure about DIY, you can employ professional hardwood polishing services!
Similar to parquet flooring, this cost may also include sanding and another process. If you like to have better pricing for your home specifically, it is best to ask for the quotation exactly. Usually, they will cost between $15 to $35 and above per square foot.
---
Tile Polishing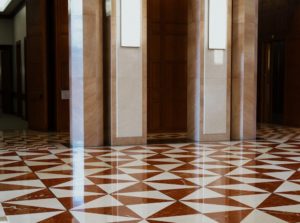 If you have ceramic tiles in your home, waxing and polishing it is quite a simple task. Through polishing, the natural shine of the tiles will return and the tiles will look as good as new. The process of tile polishing is discussed below:
The first step is to create your own cleaning solution. This involves mixing a 1/4th cup of vinegar in a gallon of warm water.
Before polishing your tiles, you have to make sure that they are clean and free from all kinds of dirt and dust. Start by brooming or vacuuming the tiles followed by a thorough cleaning and washing using the vinegar solution you created. Wipe with a clean damp cloth at the end to remove the vinegar from the floor.
Once the floor is completely clean, you can polish it by using high-grade wax made for ceramic tiles. Apply a thin layer of wax over the whole floor and let it dry.
Once dry, buff the floor by using a soft cloth, sponge or buffer. This will help bring back the shine to the tiled floor.
---
Vinyl Floor Polishing
If you want to polish vinyl flooring, you can either use a homemade solution or use quality polishing solutions available in the market. Both of these methods are discussed below:
To make your own homemade polishing solution for vinyl, add one cup of vinegar to one gallon of water. Also, add a few drops of baby oil.
Soak a soft cloth or sponge in this solution and wring it well to remove any excess water. Use this cloth or sponge to mop the complete floor evenly.
This step should be followed by mopping with a cloth dampened in plain water.
In the end, a hard vinyl conditioner should be applied on the floor according to the manufacturer's instructions.
If you want to use commercial polish for vinyl, you should get a high-quality one and follow its instructions on how to polish the vinyl floor. Usually, it involves applying the wax to the floor and then buffing it with a soft cloth or buffer to achieve the desired effect.
soft cloth or buffer to achieve the desired effect.
If you are unsure about DIY, you can employ professional vinyl polishing services!
These professional services would be able to pick the specific products that would be used for your specific type of vinyl. This is done so to prevent bubble formation during the polishing period. Some companies may even provide protective treatment services to your floor. Currently there are no cost estimates for Singapore
---
Laminate Floor Polishing
For polishing a laminate floor, you can use a store-bought polish or you can make one at your own home. The process of polishing laminate floors by both these methods is discussed below:
The first step in polishing any kind of floor is to sweep it to remove all kinds of dust and debris from it. You may even apply a damp mop to thoroughly clean it before the process of polishing can begin.
If you are using store-bought polish, apply a layer of the polish over the entire floor. Laminate polish is usually available in a bottle and you can apply it by squeezing it on the floor. Then take a sponge or a soft cloth and rub the polish over the entire floor. Take a buffer and buff the floor to restore its shine.
Alternatively, you can make a polish yourself at home. Take 2 tablespoons of olive oil and 1 tablespoon of white wine vinegar and mix it in 2 cups of water. Pour this mixture into a spray bottle and apply it to the entire floor. Rub it over the floor with a soft cloth or sponge. This will help in restoring its shine.
You can even add a few drops of scented essential oil to this polish mixture. This will make your rooms smell nice along with their shine.
Find Laminate Flooring Services
---
Linoleum Floor Polishing
Linoleum flooring has a urethane finish when it is installed and does not require polishing. However, you can still polish it for added protection and enhanced appearance. The steps involved in polishing a linoleum floor is listed below:
Dry clean the floor through a vacuum or broom to remove all apparent dust and debris.
Now clean the floor by using a cloth dampened with a floor cleaner suitable for linoleum floors. This will remove any debris that might have left after sweeping the floor.
This should be followed by a mop dampened in simple water.
After the floor has dried, it is time to apply the polish. You should use a high-quality PH-neutral floor polish and apply a thin and even layer of this polish on the floor. Caution should be taken that the layer should not be too thick.
If you require more shine, you can apply two to three layers of the polish but let the polish dry for at least 30 to 40 minutes between coats.
Once you have applied the last coat, allow the floor to dry for 60 minutes after which it can be used.
You can even make polish at home with one cup of vinegar in a gallon of warm water. Also, add a few drops of baby oil and some fragrant essential oils to the mixture. Next, apply this mixture on the linoleum floor through a spray bottle and leave it to dry. This will help in bringing back the shine to the floor.
Whatever kind of floor you have, you can wax and polish it yourself to bring back its shine and gloss. The process can be tedious and a bit time-consuming, but doing it yourself will save you money which you would pay otherwise for professional services.
---
Related Articles
We're here to improve your home
Speak to hundreds of reliable pros, view their gallery, inspirations, and know the best prices with our resources.
Have full control over your home improvement projects with Homees.