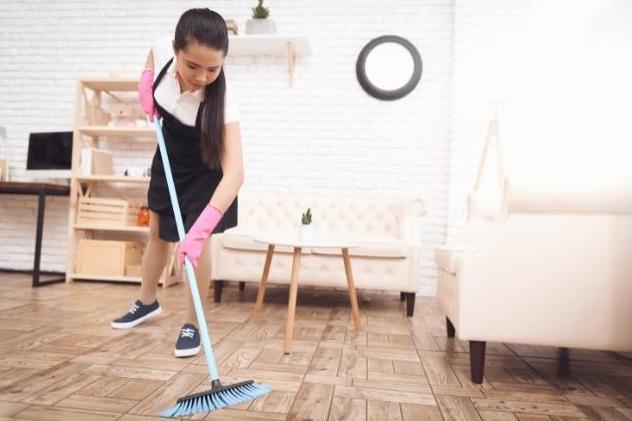 In this article, we will go through the criteria to hire a maid in Singapore.
We will also go through the step by step process on how to hire a maid in Singapore without the assistance (and service fee) of a maid agency.
In case you are looking to hire a maid through an agency, you can head on to this maid agency hiring guide.
Benefits of directly hiring a maid
Before we go through the step by step process, it is essential to know what we are getting by directly hiring a maid.
Despite the cumbersome efforts needed to hire a main directly, there are benefits to it:
However, there are also some benefits to it:
They are cheaper than maid agencies. You can save from 500 up to $2000 of agency fees. If cost is a crucial factor in hiring a maid, why not try hiring a maid yourself?
Your maid is less likely to quit as she has adapted to the environment and has experienced working away from home for a while.
It gives you more control over the maid selection and hiring process.
No loan is necessary. Your maid will not be burdened with substantial maid loans.
A maid that is transferred starts after a few days. You might need to wait more than ten weeks for a brand new maid from overseas.
Transfer maids are more experienced due to prior work experience.

Your efforts may, therefore, not be needed to train the maid.
As more and more people opt for the direct hiring of a domestic helper in Singapore, there are more resources online to help you with that.
The MOM has also made it easier for employers to opt for direct-hire of domestic helpers. You can find a trusted maid agency in Singapore on Homees.
In this article, we will also talk about direct-hiring a transfer maid and direct hiring a new maid that has not worked in Singapore before.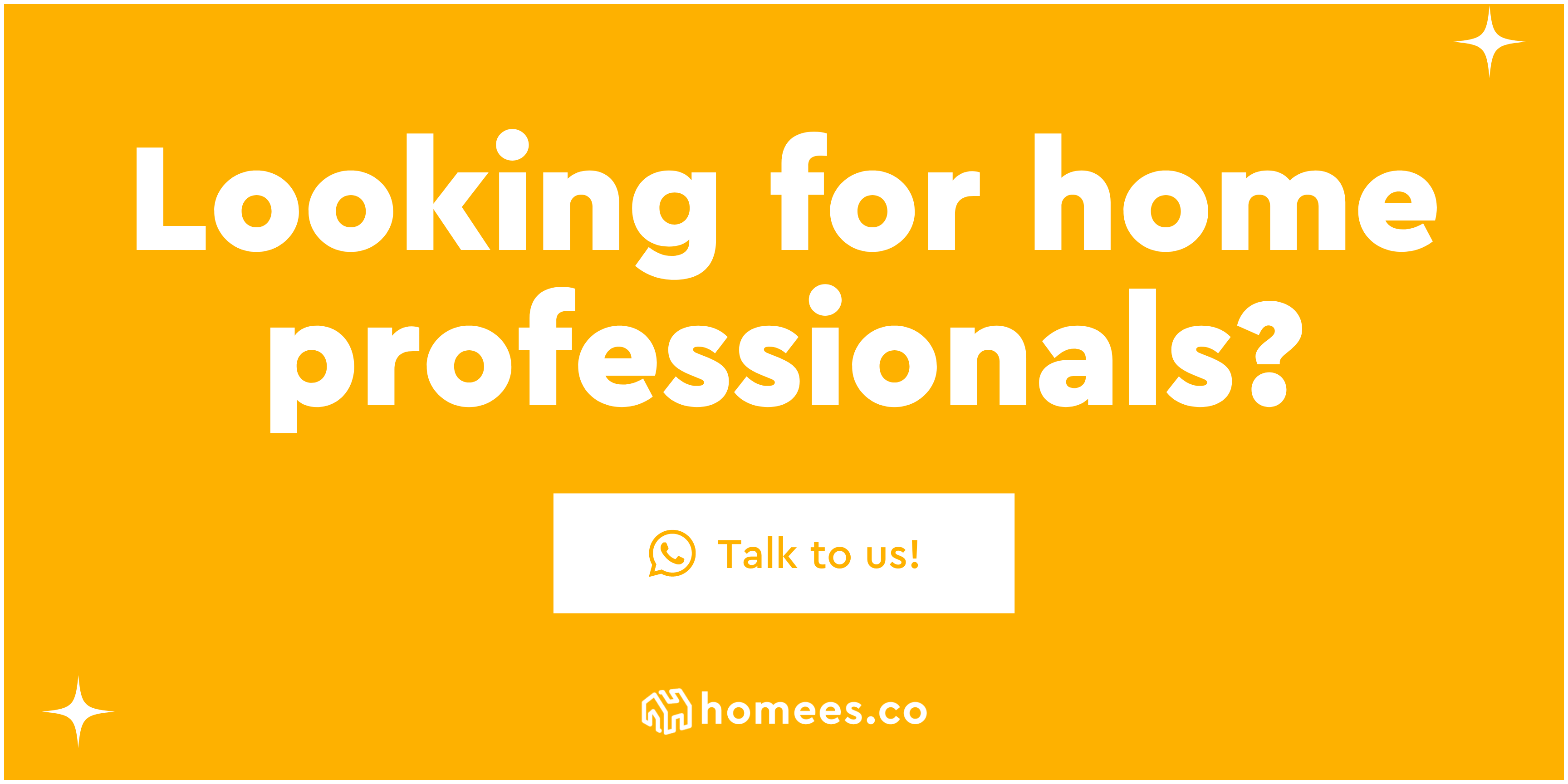 Hire Transfer Maid Agencies In Singapore
---
6 Steps to Hiring A Maid Directly
So now let us dive deep into the step by step process.
Here are the six steps to aid you in the direct-hire of a maid.
Step 1: Meeting the Requirements Set by MOM
Before you can hire a maid as an employer, you must first meet the set of requirements by the Ministry of Manpower (MOM) in Singapore. These requirements state that you must:
Be at least 21 years old or above
Not be an undischarged bankrupt
Have the mental capacity to understand and discharge your responsibilities as an employer fully
Possess the financial capability to hire, maintain and upkeep the domestic worker in an acceptable accommodation
Have attended the Employers' Orientation Programme (EOP)
Step 2: Searching for a Maid
Once you have ensured that you are eligible to hire a maid, you can start your search for the right maid.
There are two ways that you can search for a maid without going through an agency.
Word of Mouth
Speak to your friends, neighbours, colleagues or relatives about their past experiences with domestic workers.
It is safer to trust their reviews and recommendations than a stranger's online.
In addition, you will be able to save valuable time and effort in going through the reviews of individual maid profiles online.
Online
Alternatively, you search through the databases of online directories:
Netmaid
Bestmaid
Searchmaid
Anisya
Familiz
HelperChoice
It is easier to find a suitable maid when you view their profiles. Be sure to look out for details like work experience, nationality, work permit expiration dates, etc.
Do note the status of the maid that you are interested in hiring.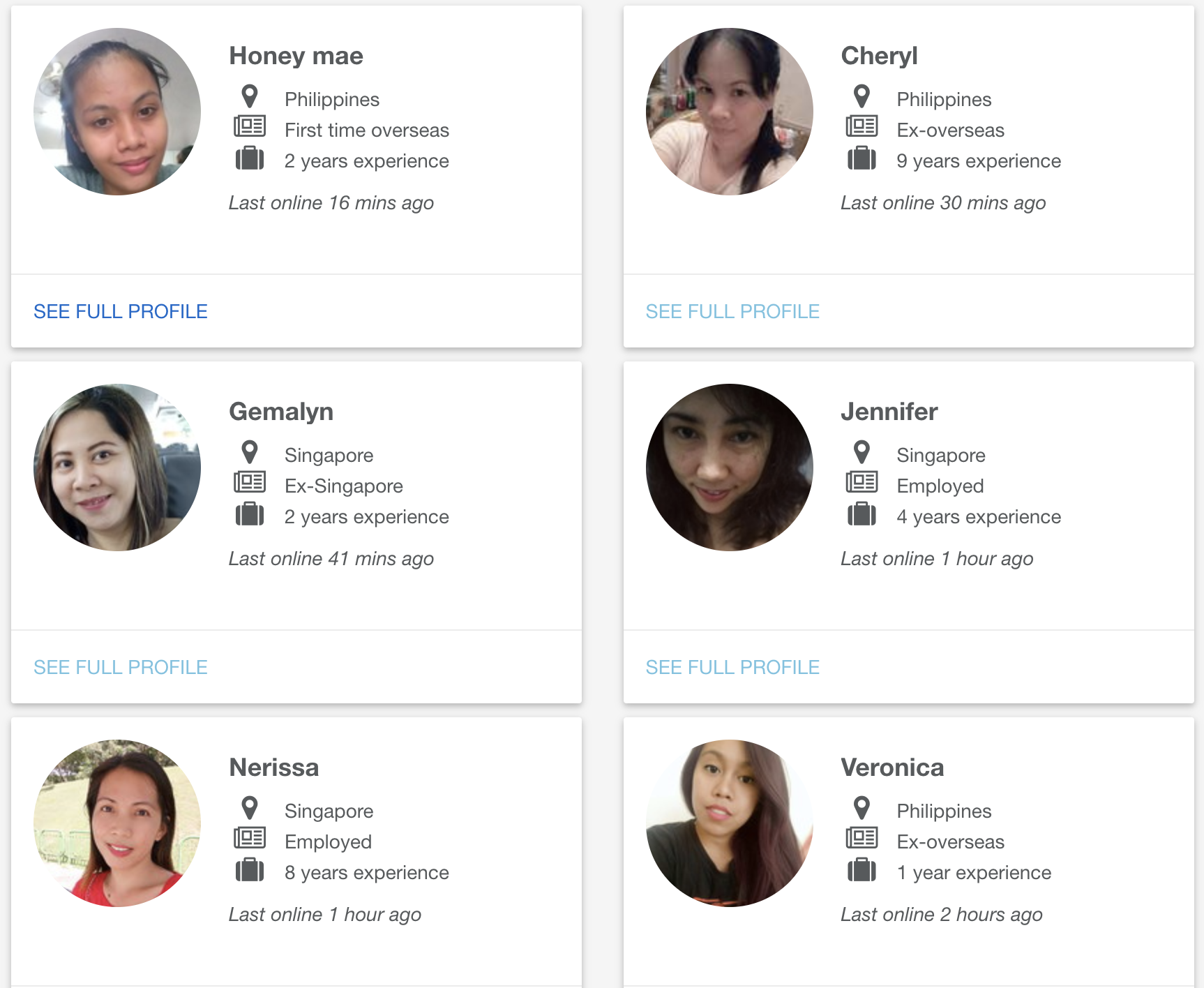 The excerpt above is retrieved from HelperChoice. Employed means transfer maids.
Do note that Ex-overseas means the maid has worked as a helper in other countries before but has not been to Singapore. Ex-Singapore means the helper has worked in Singapore previously but is not employed currently. First time overseas means the helper has not been abroad (including Singapore) to work as a helper before.
The statuses will affect the procedures and necessary documents required.
Step 3: Ensuring That the Maid is Eligible
If you are hiring a transfer maid or a maid that has worked in Singapore previously, you do not need to worry about this step.
Once you have selected a few potential maids to choose from, the next step would be to ensure that the domestic worker fulfils MOM's maid eligibility requirements. The maid that you hire has to be:
Female
Between the ages of 23 to 50 years old at the time of application
From an approved source country or territory including maids from Indonesia, Bangladesh, Cambodia, Hong Kong, India, Macau, Malaysia, Myanmar, Philippines, South Korea, Sri Lanka, Taiwan, and Thailand.
Unrelated to the employer
Employed at your home address as stated on your NRIC
Certified with at least eight years of formal education 
Certified with the Settling-In-Programme if this is her first time seeking employment as a domestic worker in Singapore. (For new maids, SIP will be done when she arrives in Singapore)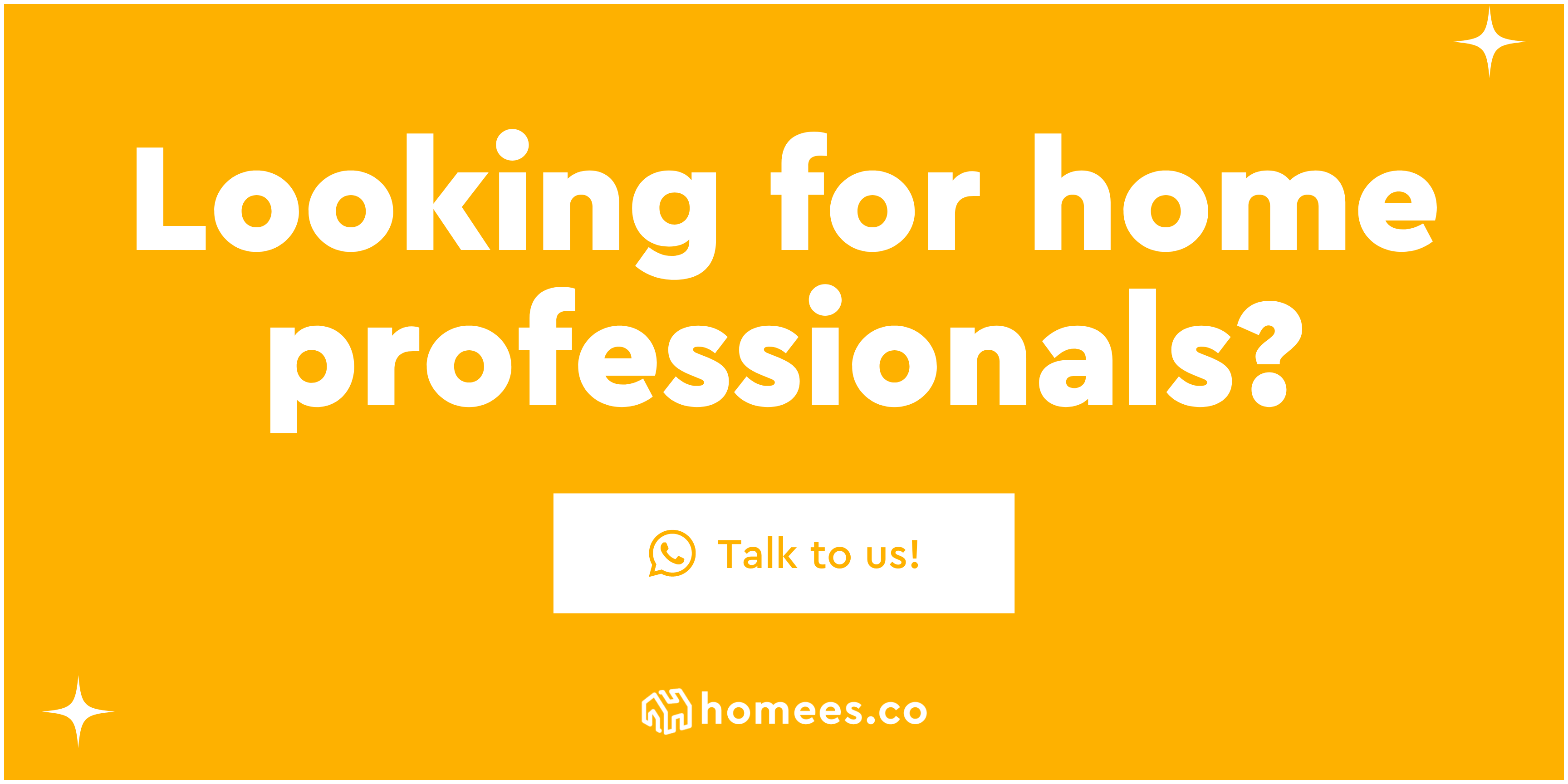 Find The Best Maid Agencies In Singapore
---
Step 4: Schedule an Interview with the Maid
Conducting an interview with the shortlisted maids from your previous search will definitely assist you in the final selection process.
An interview will definitely allow you to flush out any potential problems that may arise in the future between you and the maid, such as communication barriers or a mismatch in expectations.
Conducting a face-to-face interview, preferably an online one, might be a wiser choice to make if it is a transfer maid (i.e. in Singapore). Meeting in real life, and not through computer screens, will help you better gauge whether both parties are comfortable with each other.
Moreover, an interview is an opportunity for your domestic worker to have a first-hand look at her future work and living environment. This is crucial as her ability to focus on her tasks may be affected if she feels uncomfortable with her living environment.
An interview also provides a chance for you to have an open discussion about negotiating the terms of her salary and rest days.
Here are a few important questions that you may wish to ask during the interview:
Transfer and work history: If she is leaving a contract early, find out why. Even if she is transferring from a completed contract, do check her reasons for moving on.
Personal situation: Her personal situation (her marital status, etc) may affect her interactions and capabilities as a helper. Try to find out about her personal status without intruding too much into her privacy.
Religion: Most maids from Indonesia are Muslim, and as such are unable to handle or eat pork, and forbidden to live with pets such as dogs. However, most maids will be willing to compromise certain religious codes in order to seek employment easier. Checking on her religion restrictions before she moves in is a crucial step to ensure no miscommunication happens when she begins to work for you.
Future Plans: There is a high chance that your maid is working here in order to support her family back home. This means that she intends to return to her home country once her employment in Singapore ends. Her plans might ultimately affect the duration of time she will be able to work for you.
Children: You should make sure that your maid likes taking care of children if you expect her to do so with your kids. If so, you should check if she has any prior experience with taking care of kids.
First-Aid: If you have kids, it is very likely for accidents to occur every now and then. It is of paramount importance for your maid to be knowledgeable about first-aid practices. Ask if she has taken any first-aid courses and if not, would she be willing to go for one? You can also check how she responds to different hypothetical first aids scenarios.
Daily Routine: Talk to her about her daily routine during her stay with her previous employers. Get her to rank the different types of household chores according to her experience.
Cooking: Check her culinary skills and ask her to name ten meals she is confident in cooking. If she knows how to cook this will be easy for her.
Pets: If you have furry creatures living in your home, then you should check whether she any experience in caring for pets.
Off Days: Ask her if she has any hobbies and what she enjoys doing when she is not working. Her answers will give an excellent clue as to her character.
Grocery Shopping: How does she feel about doing the marketing and which supermarkets in Singapore is she familiar with? Does she feel comfortable with making grocery decisions by herself?
Food: What does she like to eat? Does she prefer her own food, or will she be happy to eat whatever you and your family are eating? Does she expect a food allowance? Is she allergic to any food? Are there foods she is unwilling to handle? Food can be a problem if her dietary habits are opposite to your family's!
---
Check for employment status (for maids previously worked in Singapore)
If you are hiring a transfer maid, importantly, you must check if she is still working with her previous employer. You can check through the wp online portal by logging in with your Singpass and the FDW's work permit number.
In the portal, you can also check her past employment history.
If she is working with her previous employer, you must check with the employer if he/she is willing to transfer the maid to you. If the employer is willing to, both the employer and you will need to follow the transfer steps in step 5.
However, if the employer is not willing to transfer, do you worry. She is still able to work for you, but she will need to leave Singapore before you are allowed to apply for her work permit.
Step 5: The necessary documents and applications
Do set up a general interbank recurring order (GIRO) account. This allows smooth levy deduction each month by MOM. Ensure that there is always enough money in the GIRO account, else MOM may revoke the maid's permit.
For transfer maids:
Decide on a transfer date with the previous employer
Check with the current employer whether the maid has gone for her six-monthly medication examination. Do perform a check on the work permit thirty days before expiring.
Apply for a new work permit here. This should also be done at least 30 days before the work permit expires.
When you receive the In-principal approval, log in here to download and print a declaration form. Get the current employer, maid and yourself to sign the form.
On the agreed date of transfer, log in here to upload the declaration form. Print the Temporary work permit and pass it to your maid. The previous permit will be cancelled automatically. Do note that the maid cannot commence work until the work permit is received.
For new maids
Apply for a new work permit here. Each work permit is only valid for a maximum of 2 years. There are a lot of requirements that come with the work permit application. More info can be found here.
Once MOM approves your application, an In-Principle Approval Letter will be sent to you. The validity of the IPA will be mentioned in the letter.
Arrange for your maid to enter Singapore. The validity is the time period you have to bring the foreign worker to Singapore.
Make the maid attend the Settling-in Programme (SIP) within the first three working days of her arrival. You are advised to book and secure a slot before her arrival to Singapore.
Within two weeks of arrival, the maid must also go through a pre-employment medical examination; else she will be repatriated back home.
After work permit is issued, bring the maid for fingerprinting and photo-taking at the MOM Services Centre – Hall C within seven calendar days.
Step 6: Applying for a Security Bond and Insurance
You will need to obtain the In-Principle Approval letter before applying for insurance and bond.
You are required to deposit a $5000 security bond with MOM.
Your maid is not allowed to help you cover this deposit. The deposit will be forfeited if you break the employment rules.
The bond will be refunded to you only when:
Your domestic worker has returned home
You have cancelled the work permit
Both of you did not breach the terms and conditions
Alternatively, the bond can be forfeited if:
You did not pay your domestic worker her salary on time
You fail to send her back home when her work permit is no longer valid
Your domestic worker goes missing from your home, which is the official employment address for her (you will have to forfeit half of $5000 here)
Therefore, you should inform your maid about the conditions of her work permit. You are advised to report any violations of the permit immediately.
You also need to purchase the necessary medical insurance policies for your maid.
You can buy the bond together with the insurance policy as coverage, i.e. you do not need to pay the full price of the bond. The insurance company will notify MOM after your purchase. This may take up to 3 working days.
Do ensure that you secure the security bond before she arrives. The bond should take effect on her arrival date. 
Without the security bond, she will be refused entry to Singapore, and you will need to incur additional costs to send her home.
---
Miscellaneous
After everything has been processed, you are encouraged to sign a safety agreement with your maid. This is a sample of a safety agreement.
Next, draw up an employment contract stating the work requirements, rest days, salary, termination notice etc.
Hire Transfer Maid Agencies In Singapore
---
Related Articles
We're here to improve your home
Speak to hundreds of reliable pros, view their gallery, inspirations, and know the best prices with our resources.
Have full control over your home improvement projects with Homees.