As our society progresses, we need more electricity and energy consumption for the betterment of our lives.
Over the years, as electricity dependency increases, we become ever more reliant on it for our daily lives as well as at home – air-conditioners, charging ports, computers, lights, as well as television and many other appliances such as smart home functions.
Our general advice is that when it comes to electrical problems because it can become complicated and subject to many human errors or accidents, we strongly advise you to engage a local electrician for the work.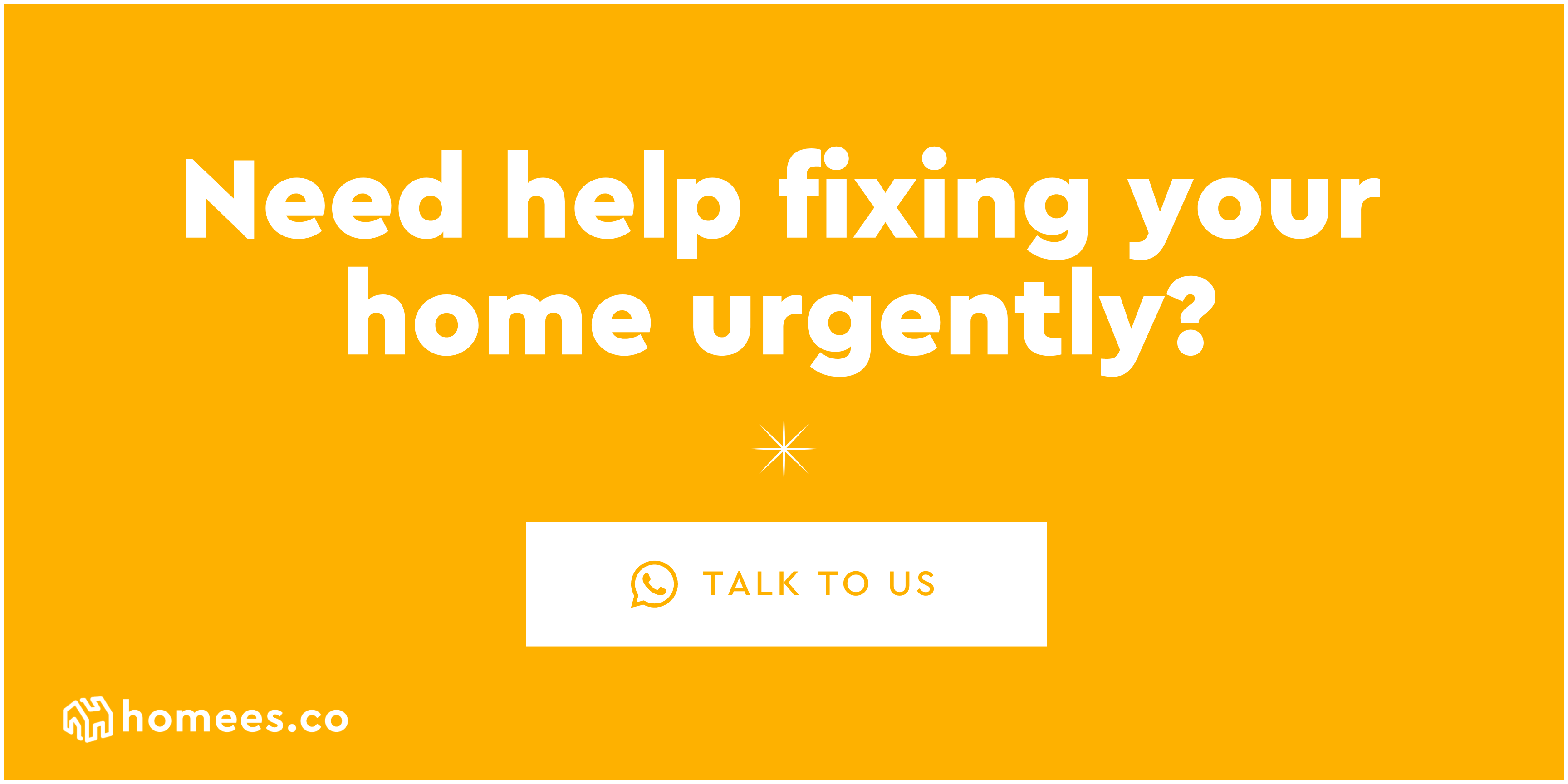 ---
Cost of Electrical Works In Singapore
In general, the pricing and services of electrical works depend heavily on the job scope, location, and level of expertise. Some factors include transportation, ERP charges, car park charges.
In Singapore, you need to engage a licensed professional – it is required by law to do so. Check out EMA of Singapore for more information.
Emergency electrical services, especially those in the wee hours, have a separate surcharge. Likewise, if premium materials are being used, additional charges may be added too.
Generally, if there are more jobs within the same project/site, the individual project cost decreases.
For your reference, here is a downloadable Electrical Works Cost Guide for you:
Electrical Works Calculator
Here is an electrical works calculator for you to estimate the cost of service required.
(Calculator is currently in beta phase.) 
Electrical Installation Costs
Lighting Fixtures Price
For Replacement Prices
($40 per additional point)

($40 per additional point)
LED Ceiling Light Price
Lighting is needed for us to continue with our daily routines. Thus, you might as well take the opportune moment to consider your lighting decor that best complements each room in your house.
Prices to install lighting may be cheaper than the lights itself but do consider the fact that labour costs depend on the ease of installation of your electrical appliances.
Helpful read: Causes of Outlets Sparking and What To Do About Them
Cost of Installing or Upgrading Your Distribution Board (DB) Box
Cost of replacing a distribution box: $100-$140
Cost of installing a distribution box: $350 to $900
| | |
| --- | --- |
| | Cost of Replacement and Installation |
| | |
| | |
| | |
*For landed houses, the price varies depending on the size of your home, as well as the number of electrical points in your house.
Integrating a new panel box into your home is a complicated job, and thus installation costs will fluctuate from household to household.
Get advice from your electrical contractor on whether your distribution box needs replacing so that potential hazards can be avoided.
Average Costs of Installing New Wiring, Rewiring and Switches
In Singapore, there may be instances where you will need rewiring or installing new wirings, such as kitchen or home renovation projects. A typical HDB rewiring cost for the type of housing is:
A bigger house can cost above $2500
The pricing depends on the state and design of your home, and wiring can differ significantly in terms of price and duration. The wiring may also require you to modify your current distribution box, which will increase costs.
Sometimes, an electrical company may also offer HDB rewiring packages, which include changing out socket outlets, installing new outlets (including heavy-duty ones such as aircon/water heater points)or data points and replacing DB boxes. You can enquire about packages for your home rewiring with the company themselves.
Engage a reliable electrician to come up with a quote for your home spaces, as you could be paying $50-$150 per hour for their labour costs.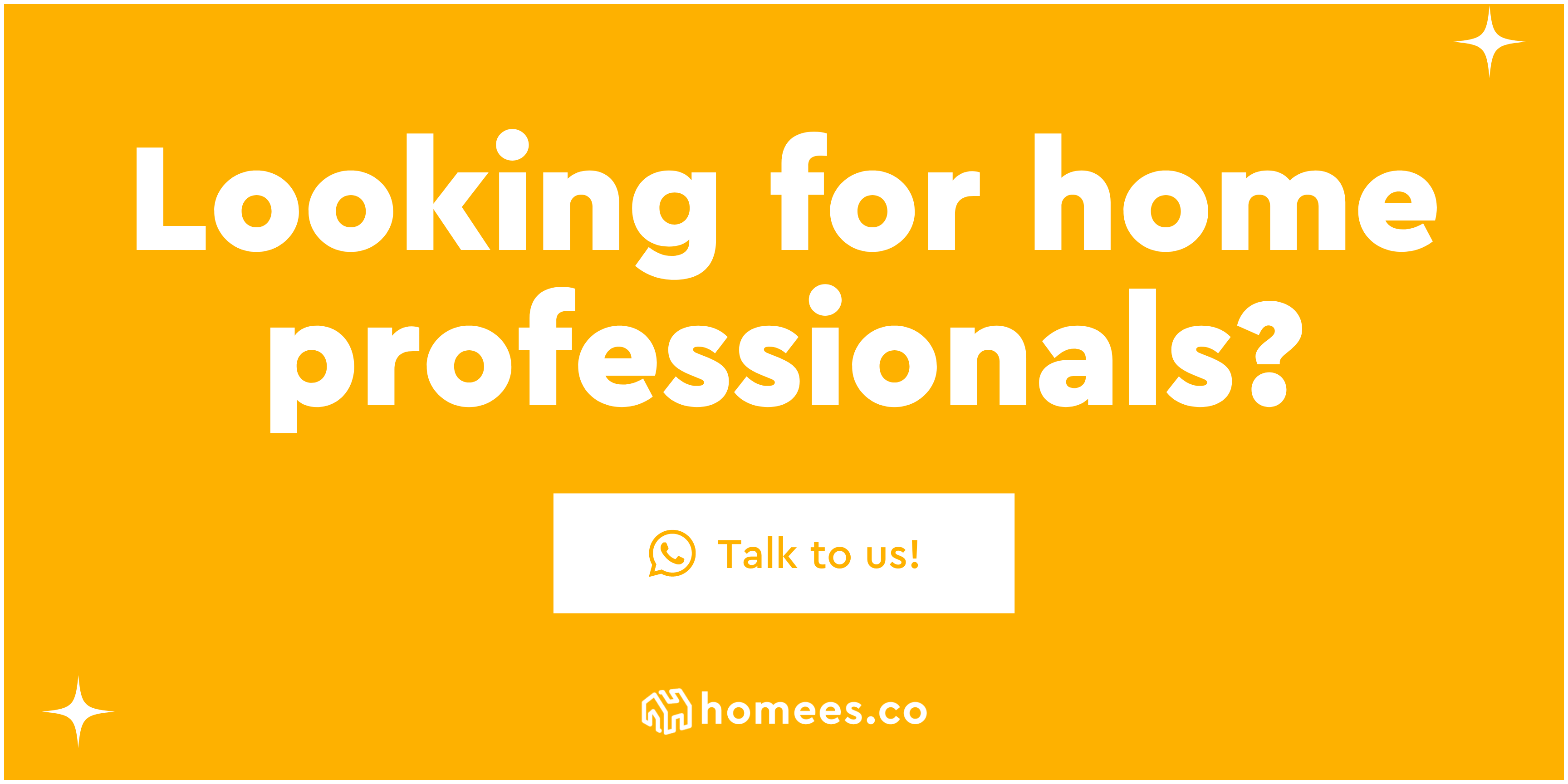 Find Electrical Wiring Services
---
Cost of Installing or Replacing an Electrical Outlet
| | |
| --- | --- |
| | |
| | |
| 13A water heater/washing machine point | |
| | |
| | |
| | |
| Installation of Datapoint | |
| | |
Installing an electrical outlet is simple, which is why some homeowners consider handling the task themselves to save money. You can try to install an electrical outlet yourself, but some outlets may require more expert knowledge to install.
A caveat: Installing the outlet incorrectly will lead to safety hazards. It is recommended to have a professional install an electrical outlet for safety reasons.
An outlet installation will set you back for about $200, but you can often get replacements for other outlets at the same time at a bargained price.
Install and Repair Ceiling Fans
| | |
| --- | --- |
| | |
| Ceiling fan from a new point | |
| Ceiling fan from an existing point | |
Ceiling fans come in different shapes and sizes and serve as an economical alternative to air conditioning, which costs more to operate and maintain. You can find fan installation professionals on Homees.
They can also help to reduce the humidity in your house to prevent moisture-related problems. As with lighting, the fan itself might cost more than its installation.
If you are looking to do any of the projects above, talk to an electrician and compare their quotations and work scope. Ask them for their advice and suggestion on how to go about completing your project.
---
Helpful read: Circuit Breaker Tripping: Causes and Proposed Solutions
Cost of Hiring Electricians (Service call and inspection rates)
Generally, there are two kinds of ways for electricians to charge by:
Per hour (time)
Per project
When hiring professionals, do take note that most of them charge a minimum fee for their visit. This minimum fee (or inspection rate) could range between $30-$50, depending on your location. This fee is to cover their travel time and gas to get to the area.
Typically, the first hour costs more due to these miscellaneous items (such as travelling time, gas, time) representing most of the costs. Also, note that some electricians do charge a no-show or no-call fee if you miss the appointment.
It is important to note that professionals may charge two different kinds of hourly rates.
First, there is a rate at which an electrician gets paid and a rate at which the electrician will bill. Some charge only fees to cover their time and cost, while others add a professional assessment fee to the total sum.
There could also be some hidden costs in electrical projects, and all these could add up. Be sure to clarify in your call with electricians before hiring them to the site.
While professionals can give you an estimate, it may not necessarily be accurate all of the time. The best is to call up at least 2-3 electrical contractors and ask them for their experience and pricing for each project.
There could always be other factors that can affect the cost of your electrical project (such as ERP fees, and parking fees). Most importantly, look for a registered EMA licensed worker.
Factors that can affect electrician rates
To sum up, below are a few factors that can affect your cost when engaging a contractor:
Distance: Electricians will factor in the mileage travelled. For example, if you stay in Sentosa, it can cost more due to the entrance fee and the distance the professionals have to go out of town.
Complexity: A more extensive project such as a whole-house rewiring can cost more than just a simple light bulb or socket replacement – the more time needed for the job, the more costly the project.
Emergency or 24 hours: Needless to say, if you need an electrician in the middle of the night due to a blackout, you will need to pay a surcharge (or additional fees) for the service rendered, typically around $80-200 more for the emergency services.
Experience: According to EMA, there are three classes of Licensed Electrical Workers (LEWs). Typically, you have to pay more for the higher-level electricians. They are:
Licensed Electricians
Licensed Electrical Technicians
Licensed Electrical Engineers
Scale of Electrical Installations

Not Exceeding 150 kVA (Design)

Not Exceeding 500 kVA (Operation)
HDB Electrical Works Guidelines in Singapore
Before hiring a contractor for electrical works in Singapore, be sure to check out HDB's guidelines in this area. HDB terms and conditions include requiring all wiring installation work to be carried out by an EMA licensed electrical worker. You can find out more about HDB's regulations on electrical works here.
A licensed contractor should carry their valid license
It is important to make sure the licensed contractor you are engaging holds a valid license. This card includes the licensed worker's photograph, and it shows his name, identity card number and licence number.  You can find out more about the license here.
Hiring the Right Electrical Contractor
Most electrical work requires a basic understanding of how electricity and circuits work, which requires expertise, knowledge and safety precautions. Though smaller projects such as replacing a light bulb can be DIY-ed, it is generally recommended that you hire a professional if you are unsure of the project.
The dangers of electrical shocks or fire cannot be understated. Therefore, if you are unsure of your abilities, please call in a professional immediately!
Be sure to do a background check before hiring a professional and follow these tips to hire the right one for your project today.
---
Electrician Singapore Price Infographic
Before we proceed further, we have prepared an electrician cost guide for your easy reference.
Check out the infographics we have created regarding electrical prices in Singapore, click on the image to see the full infographic.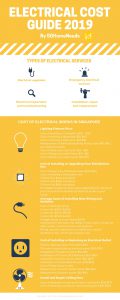 Disclaimer: Homees aims to provide a guide of electrical job prices to the best of its ability but does not guarantee each project to be within the prices stated in the guide.
Please note some factors such as whether there are existing ports, whether there are existing materials (such as bulbs) provided by owners can affect project costs as well.
Related Articles
Cost of Other Home Improvement Areas
You can check out the cost of hiring professionals for other aspects of your home improvement project. Some of the more popular cost guides can be found below:
We're here to improve your home
Speak to hundreds of reliable pros, view their gallery, inspirations, and know the best prices with our resources.
Have full control over your home improvement projects with Homees.