Every year, thousands of homeowners engage professional house movers in Singapore move from one location to another.
From international moving to local home moving, most Singaporeans have at least one moving house experience and it is becoming part of our lives.
House movers have been on the rise as more people don't see the need to spend huge amounts of time and effort in moving home themselves – the time and cost is simply not worth it.
Why not pay a home mover who can move my heavy objects, transport it efficiently in their trucks and save us so much time and energy?
Short Distance Moving vs Long Distance Moving
Short moves is generally applicable to the whole Singapore, and smaller, locally licensed movers can usually do the job. Local movers usually know the area and can assist in almost all aspect of local moving, be it home or commercial moving. You should still do your homework – check reviews, complaints, licenses and insurance.
Long-distance moves (also called interstate or international movers) cost more due to more fuel use and higher levels of regulations. These companies have to liaise with different parties to ensure your items are being shipped to the desired location in a timely and safe manner.
Services Professional Movers Provide
There are two general types of moving services: Full-Service or Self-Packing. Whichever type you choose you can expect an on-site inspection for the estimate. Both services will load all your items onto the truck and offload them at the destination.
Self-Packing Companies
Full-Service Companies

load the truck with the boxes you packed
make no guarantees on the safety of your items
often don't offer insurance
costs less – recommended only when your homeowner's insurance covers possessions during the move.

pack all your household goods for you
insure your goods at varying levels (sometimes costs extra)
may help unpack at your destination (usually costs extra)
costs more – puts the full weight of liability in the hands of the movers
There are companies in Singapore that provide only transport services, that is, if you engage them for your moving, be expected to pack and load the items up the trucks yourself or hire someone else.
It is important to clarify and ask professional movers qualifying questions to ensure they are the right fit for your moving needs.
Local, Independent Movers vs. Professional Moving Companies
In most countries, you can find two distinct types of movers – the local, independent ones and professional ones. Local independent movers don't have the overhead or some of the regulations that govern larger interstate moving companies. What it means to you is that engaging them typically cost less ad can result in some cost savings for you.
In contract, professional moving companies may be more reliable as they have a number of full-time staff and can react to home moving demands. When it comes to quality, they are typically better (trained full-time staff) and usually have lesser problems because of the system in place.
Click to find out the average cost of moving in Singapore.
Tips for Choosing a Good Moving Company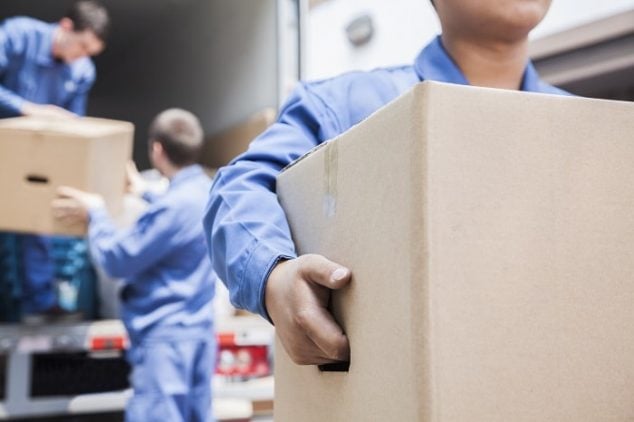 Do thorough research. Reading about articles and commonly-asked-questions is a good place to start. Learn as much about the company's history as possible, which leads us to the next step
Read reviews. Look online for recommendations and check out our directory of movers Singapore or international movers.
Obtain and compare estimates. Be sure to discard any with "low-ball" figures; this is a giant red flag of a moving scam. You can contact Homees to get and compare estimates of movers in Singapore before hiring one. Ask about rates and quotations, if they are outsourcing their workers to another company or freelancer, and if there are any hidden or additional charges.
Ask to see their license and insurance.
Check For Licenses and Insurance
Homees is constantly improving and ensuring their service providers are licensed and insured. Before contacting the movers, it is best to double-check with them their available license and insurance.
Background Checks
Though a company may have excellent reviews, always do a background check. Trusting someone to enter your home and providing them with your address and access to your new home may be a bit overwhelming.
Our movers continually improve and only recommend professionals movers which have completed their background checks. Every professional in our directory has passed one prior to being listed.
1. Expertise to move special equipment
Ensure that the house mover is able to move your items safely and understands different important components of that item. You can contact specialised furniture movers or piano movers for your more fragile or heavy furniture.
Also, they should have the right truck size and moving equipment such as ramps, lifts etc to handle your items.
Equipment such as piano, safety deposit box or any other fragile/heavy items at home must be clarified before moving, and asking if the home mover is able to deliver it reduces the chances of the needs to increase the cost or add service charge on the day of moving.
2. Provide protection to your home such as the floor, items, belongings, walls
Due to the wheels of the trolley or shifting of heavy items, moving may cause dents, scratches and other damages to your floor.
However not all house movers in Singapore provide boxes or carton boxes or protection during home moving (although most of them do).
Check with your house movers whether the floor, items and walls are protected.
Most professionals will have a trolley with rubber wheels to minimize the impact on the floor.
Some will offer you additional floor protection at an additional charge such as creating proper pathways with carpets.
Other parts of your home include walls and doors. A good moving professional will alert you of these potential problems or have prevention packaged in.
3. Insist on an onsite inspection or comprehensive list of items
A good moving company will ensure that they have taken note of everything that is involved in moving.
That includes the items to move, size of the hallway, presence of lift or stairs, distance to the vehicle and many more.
While it may be common for some home movers to ask you to take a photo of your home to give a quote, we highly recommend you to engage movers who come down for a site assessment before quoting.
It is crucial because what kind of expertise is required, how long it will take to move, what equipment is required, how much manpower is required, and how much they will charge you will ultimately depend on a number of factors.

A reliable moving company will also provide a binding estimate that will not change unless more items and services are added.
If they accept a comprehensive list of items without site quotation, ensure that everything else other than the additional item will not be charged.
A good moving company will not give a quote without an onsite inspection or a comprehensive list of items. Companies that don't will usually add additional charges on the day of moving.
4. Have clear pricing policies
Good moving companies have a standard pricing list.
Some charge per hour while others charge per trip or per item/service basis.
For example, there are standard prices for piano moving, the number of boxes to move and a number of trips required.
They will also ensure that they go through every single moving item and circumstances in your house and in your moving process.
How do you know if they have clear pricing policies?
Usually, they will be very certain about the prices and will even provide a table of prices or document to show you.
They will never give "about" prices, only specific prices. Look up their reviews to see what other customers say about their pricing standards.
You can view our cost guide for the average cost of moving in Singapore.
5. Ensure they provide the necessary moving services that you require
Some companies provide every service involved in a move, while some companies don't. Services included in a full-fledged move are packing, wrapping, disassembling loading, moving (vehicle provided with driver), storage, unloading, unpacking, unwrapping, assembling and cleaning services.
You may not need all the services required. A good moving company will communicate to you clearly what is included in the service package, and whether not they are suitable for your move.
Questions to Ask Movers When Getting Estimates
You can see a list of commonly asked questions when engaging a mover, however, we have picked some popular questions to go through below:
Can you send me three recent references that I can contact? Call a few clients to verify references.
Is your company properly insured and licensed? Ask these professional interstate movers for their registration number and license or any other certificates that are applicable.
How many years have you been in the industry? Typically the longer a company has been in operation, the more reliable they are.
What extra steps do you take with fragile items? Any professional should be able to immediately tell you what extra steps they take during packing.
What experience does the moving crew have? This is especially useful when moving delicate or expensive items.
Is the moving crew company employed or subcontractors? You should ask about the entire process in advance to figure out whether they are subcontracting their work. If this is true for the company that you are hiring, ask for the subcontractor's name and a complete list.
What is the moving timetable, including packing, pickup and arrival dates? Legitimate companies will give you specific dates for the move. Any vague answers to this question are a red flag.
Do they provide the manpower and materials for moving? This depends on the movers. Most movers will provide cartons and other packing materials like bubble pack, newsprints and tapes. However, they are usually sold at cost.

Do you provide assembling and dismantling functions?

Most movers do provide dismantling and assembling of general furniture. However, do clarify this with your mover as they may have different policies and rules in assembling and dismantling furniture.
Is there any additional charge for multiple drop-offs/pickups? This will vary between different movers, and we advise you to ask the movers personally.
Helpful read: Finding The Right International Movers In Singapore
Important Questions To Clarify
When it comes to engaging a reliable professional, we have to screen through by comparing their level of expertise and professionalism.
1. How do you charge?
There are various charging methods. Mainly, methods include per trip, per hour, by items and one-off pricing. Ensure that you are comfortable with the pricing method and that there will be no additional charges unless more items are added.
2. Is this quotation finalised? What is exactly included in that quotation?
After analysing your house or your list and providing you with a quotation, ask whether the quote is finalised and what services are included.
Do not assume that the company will not overcharge and everything you need has been included. The moving company will usually provide a slip of confirmation.
Ensure that everything has been written and accounted for before signing or booking.
3. How will you handle fragile items? Will the moving crew wrap and protect your furniture to prevent damages?
Ask what exact procedures they carry out or materials they use for different items. Ensure their professional service include protection procedures, materials and tools for your important items.
You may also want to make sure the movers handle with care when it comes to piano moving. You can read more about selecting the right company and things to look out for your piano moving.
For example, the furniture will be disassembled appropriately, lifted with lifting aids and wrapped with stretch wrap.
4. Are my items insured? What do the insurance cover? If items are lost, what are the procedures to go about it?
Most moving companies provide insurance coverage from third party providers. There are many insurance types. Clarify with the movers:
What items are covered?
When are the items covered during the moving process?
What kind of situations or accidents will be covered?
What is the maximum claimable amount?
What's the procedure for claiming the claimable amount?
What's the real value of purchasing coverage from a professional mover?
Check also with your insurance agent whether moving is insured and covered in your current policies.
5. How is your payment like?
Most moving companies require a deposit before moving your house. Make sure that you are comfortable with the deposit.
If you require an instalment plan due to the high fees, confirm with the movers whether they provide instalment plans and the interest rates.
Most movers won't ask for large deposits upfront. The usual deposit rate is from 20 to 30 % of your full moving charge. Ensure that you pay using a credit card which will help in protecting against fraud.
Ask also how many days in advance you need to notify them of any cancellation. Most cancellations need to be informed of 2 weeks before. They might be a penalty if you cancel a few days before.
Tips to Save Money When Moving
We offer a number of ways to save your cost when it comes to home moving.
Get rid of some of your stuff. Before ever hiring a professional, go through your belongings. Most of us keep unwanted things at home which we no longer use/hardly use them.
Compare quotations. When it comes to hiring a mover, the best is to engage Homees to compare a few mover quotations – you can engage and talk to them regarding their pricing and other value they provide (which justify their higher pricing). You can look for cheap movers, but do make sure to double-check the kind of work they will be doing.
Avoid moving during holidays, weekends. Movers typically charge significantly more on weekends and holidays (as expected, during the peak periods!).
Hire professional movers. Avoid scams, loss of items due to underinsured amateurs and hassle-free moves.
How Far in Advance Should I Hire Someone?
You should hire a mover as far in advance as possible. Movers on Homees are able to respond minimally 2-3 days in advance. Booking early allows for changes and often you are able to get a better price because you have locked in the price early.
What Can I Expect when Engaging a Moving Company?
1. Site survey with estimates or quotations
We have previously covered more in-depth questions regarding site survey and quotations.
Get a site view about 5-6 weeks in advance of the moving date. This period allows you to get a few quotations and successfully book a moving company that you are satisfied with.
The movers will follow you through the house and look through all the necessary areas for an accurate quotation.
2. Deposit
Most movers request for a deposit to confirm the date of booking. This is to ensure you do not bail out on your appointment. As mentioned, the usual deposit rate is from 20 to 30 % of your full moving charge.
3. Delivery of packing materials
If you want to pack by yourself and have arranged packing materials to be sent to your house, the delivery will be made here, much prior to your moving date. Usually, delivery will be additionally charged.
4. Day of move
Depending on what you have requested or purchased, the movers will be involved in one of these activities: packing, loading, moving, unloading, unpacking, cleaning up.
Usually, before the movers start unloading your items, you have to pay for the remaining sum of money after the deposited amount.
5. Post-move
Do a check after they have finished their move. Checks include:
Checking on any damaged items
Ensuring everything has been delivered and there is no missing items
Ensuring no damage has been done to the house
All services are fulfilled
Clarify any discrepancies and settle any disputes if need be.
Read also: Your home moving checklist before engaging a mover.
Should I Hire Movers or DIY?
Movers are able to save your time and energy, also insures your household goods and get the job done professionally. Do note that not all movers provide the manpower to pack/assemble/disassemble the goods, make sure you have communicated your needs to them early.
DIY is doable, but you take on all the potential problems, which include:
Break downs and delays.
Taking time off to pack and move.
Underinsured or noninsured moves.
Broken items.
To save money, you can consider hiring cheap movers. However, before hiring, it is also important to view mover reviews and check their background and ratings.
Hiring Movers In Singapore
When it comes to hiring a house moving professional, there are certain tips and tricks to ensure we hire one that suits our style and budget. Some of these tricks are things you must absolutely know before hiring and paying a home mover.
If you are looking to hire a home moving professional, family and friends word of mouth recommendation can be a good idea.
Another good way to hire a reliable home mover is to find through our directory of movers in Singapore, complete with background checked and screened professionals.
Looking for a Suitable Moving Company?
Homees provides reliable moving companies for you to engage with. You can find the following moving services offered on Homees:
Related Articles