When you hear about concrete floors, you get the image of raw and rugged concrete or cement pathway that would seem unlikely to be a suitable option in any home! However, this is not the case. Concrete and cement floors are available in a variety of designs and grains which can add a unique element to any interior.
Cement and concrete flooring is often used interchangeably but they are different in that concrete flooring is a mixture of cement, aggregates, and water. The differing levels of cement and the aggregates that make up each type is what distinguishes them. In the following sections, we will go more in-depth on the difference between the two floorings, their advantages and disadvantages, and the price of each.
Find Flooring Services in Singapore
---
What Is Concrete Flooring
When one thinks of Concrete flooring , they immediately think of construction and roads, however, this material has increasingly been used in the interior flooring of many residential places! It is a mixture of cement, water, and other coarse stones such as gravel or sand. When the moist mixture of concrete is dried, chemical processes lead to a crystalline bond. The durability of this material can be seen in its extensive use in the construction of urban areas. Usually, it takes about one to two days for the concrete to set but up to a month for it to reach its maximum strength.
There are many types of finishing for concrete floors which include acid stained, acrylic sealer, metallic or standard epoxy, water-stained, and many, many more! This brings the idea of the versatility of concrete's flooring visual aesthetics! They also come in different colors and not the standard default grey coloration we are all used to thinking of.
What Is Cement Screed Flooring
A cement screed is a mixture of cement, aggregates (such as clay and lime), and water. The cement and water are combined to make a smooth paste. Usually, this mix comprises of one part of cement and three or four and a half parts sand. The surface of the sand or aggregates is coated with this paste after which it hardens by the process of hydration and the end result is a hardened mass of high strength and durability. This screed can take at least 1 to 2 days to dry but may take up to a week before high levels of activities can take place on it.
Cement screed texture is smooth and it is commonly utilized for the sub layering prior to the installment of other floorings or tiles! Hence this is why you may not see it as often. This would ensure that internal surfaces are leveled without any unwanted bumps. Furthermore, color can be added to this type of flooring to provide some vibrancy in your home! This flooring can fit into more, rustic, vintage, or industrial themes. Usually, they are used in the coverage of heating systems and thermal insulations. Some types of polymer screeds are more rigorous and water-resistant which makes them a good choice to be used in rigorous environments.
Hire Cement Screed Flooring Professionals
---
Difference Between Cement Flooring and Concrete Flooring
Cement screed uses lesser quantities of aggregates as compared to concrete flooring. The grade of cement that is used is also different for both types of flooring.
Concrete flooring uses much coarse and hard-core aggregates which makes it much more durable, strong, and long-lasting. Screed, on the other hand, is a relatively smoother mix. Due to the presence of higher coarser aggregates, concrete is naturally more durable and stronger than cement. Hence, concrete is largely used as the base layer as a foundation.
On top of the concrete can be a layer of screed that gives it a nice finish. This can be used for indoor flooring to provide a leveled floor for other types of final floor coverings such as carpets, tiles, linoleum, wood flooring, parquet flooring, and others. Hence, a screed is basically a finer type of concrete that serves as a top layer on an already cured and pre-existing concrete foundation.
Hire Concrete Flooring Professionals
---
Pros And Cons Of Concrete Flooring
Concrete flooring or cement screed flooring has several pros and cons which make it a good choice in some situations while not as much a good option in other situations. These pros and cons are listed below:
Pros
One of the most important advantages of concrete flooring is its strength, durability, and resilience. It does not get damaged easily. You can be rest assured that children, pets, claws, and high heels will not be able to damage the floor.
Concrete flooring is relatively inexpensive as compared to most flooring types like marble flooring, parquet flooring, and wood flooring.
Concrete flooring requires minimum maintenance. It only requires to be sealed or waxed every 6 months or so.
You can easily clean it with a neutral cleaning agent and water.
With proper care and maintenance, concrete floors can last a lifetime.
Concrete and cement flooring are available in a variety of colors, grains, and textures which give you a wide range of options to choose from.
Concrete flooring gives the perfect raw and rugged look which enhances the interior design of any area when used in combination with wooden textures and elements.
Cons
Since cement and concrete flooring is poured directly and left to dry as a whole, one would have to expect cracks to be present. This would hence require repairs for the new flooring which may be troublesome to some.

Since concrete flooring is very hard and strong, anything that has the potential of cracking or breaking when falls on it will most probably break.
Concrete floors can be quite slippery especially if there is water on the surface of it which may pose a hazard to homeowners and their families. Furthermore, due to its hardness, falls may be more painful.
Concrete flooring can make standing or walk on it for long periods of time quite uncomfortable because of its hard nature.
Concrete floors can get very cold in the winter. You may need to use carpets or rugs to solve this problem.
If concrete floors are not properly sealed with a high-quality protective coating, it can cause moisture to penetrate through the floor. This can result in the growth of mold and fungus. This can also cause cracks in the floor.
Find Other Flooring Services in Singapore
---
Cost Of Concrete Flooring
Concrete flooring is relatively more economical than other types of flooring. In its raw form, it can cost below $10, especially for a basic design. However, when considering other processes such as sealing, protective coating cost, and staining, it can go up to $15 to $30 per square foot!
There might be other costs included such as the grinding of the floor, painting, and polishing. Not to mention labor costs as well!
Cost Of Cement Screed Flooring
Cement screed ranges from S$14 to S$28 per square foot in Singapore. Due to the possibility of cracks occurring after the cement mix is dried, repair to the new flooring should be expected. Similar to the concrete flooring, other aspects may increase the price of installation.
Find Cement Screed Flooring Companies in Singapore
---
How To Install Concrete Flooring
The time it takes to install a simple concrete floor or a decorative concrete floor is substantially longer compared to other options such as vinyl, laminate, wood, or carpet.
It will take around 4-6 days depending on the room size but the end result is worth it. The process of installing a concrete floor is listed below:
The first step is to prepare the subfloor. The floor is excavated if required and leveled to create a smooth base.
Then, a layer of sand is placed at the very bottom which helps in keeping the moisture out.
Next, a sheet of plastic is placed over the layer of sand followed by another layer of sand and a plastic sheet.
After the two layers of sand and plastic sheet, a wire mesh is placed.
The concrete which you want to use is then prepared according to the manual instructions. This can include any type of color, design, or texture according to your preferences.
Then comes the step of pouring the concrete/cement over this layer. After it is poured, it is leveled with a float and allowed to set completely. It can take approximately three to four days for the concrete to be completely set.
If you want some engraving or other textures imprinted on the floor, then they are created using various stencils and molds during the concrete pouring step and it is then allowed to set.
After the concrete has been set, it is time for its polishing. A grinder is used over the complete floor leaving no area for this purpose.
The floor is then cleaned using a non-abrasive cloth to get rid of unwanted debris to make it ready for the final sealing. Using a sealer applicator spray, a high-quality sealer is applied evenly over the entire floor. Caution should be taken so that not even the minutest speck or debris interferes in the sealing process, otherwise, the whole process will have to be done again.
After the sealing has been completed, it takes about 30 minutes for to dry and be ready for use.
How To Maintain Cement/Concrete Floors
Concrete floors are relatively easy to clean and maintain when compared to other types of floors. The care and maintenance instructions for concrete/cement floors are described below:
You can easily vacuum or broom concrete floors to remove visible dust and debris.
This can be followed by a damp mop with a non-acidic and non-alkali cleaner or water to ensure a deeper cleaning.
To ensure that your concrete flooring remains to look fresh and smooth, be sure to get yourself a buffer to take care of this!
Just like any other flooring, liquid spills should be removed to avoid any types of stains on the concrete floor.
Heavy traffic can cause wear and tear to the floor which can be avoided by placing rugs or floor mats in those locations.
Every few months, protective wax should be applied to the concrete floor to maintain its appearance.
After every few years, concrete floors should be sealed with a good floor sealer to resist water, dirt, stains, and abrasions.
Polished concrete floors may start to lose their shine with time. This can be overcome by buffing the floor with a commercial polishing compound. For even more shine, the floor can be polished with a fine-grit abrasive.
In the case of plain concrete, for tough stains, chemicals or degreasers may be used to remove them. These should never be used for polished or stained concrete.
Engage Concrete Flooring Professionals
---
HDB Application for Cement Screeding Cancelled
Previously, the Housing Development Board (HDB) provided cement screeding to homeowners for free. However, since 2014, homeowners would have to source for their own suppliers and contractors for the screeding of their HDB flat. Furthermore, it is a requirement that pre-packed cement is used, so do take note! Though it is more expensive now for the screeding to take place, it also allows homeowners to be more in control of the thickness of the cement to be.
Design Options For Cement/Concrete Flooring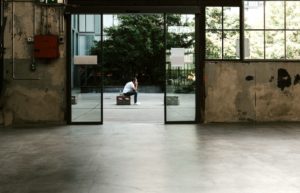 There are several design options for cement and concrete flooring. These are discussed below:
They can be found in a variety of colors. Usually, they are available in grey and earthy tones but different color tones can be used by applying them to the surface with stains, dyes, and sealers.
They are also able to mimic the stains of marble, wood, brick, or stone. Stained concrete gives its users a wide choice of warm and earthy tones and designs. Not only that, but they can also have a textured finish.
Concrete can also be polished to attain a satin or high gloss aesthetic. Different levels of shine and gloss are based on user preference.
Stencils and engravings can also be used to incorporate logos and graphics into the floor.
Concrete flooring also gives you the option of incorporating overlays and micro toppings to hide cracks, stains, and imperfections.
Cement screed or concrete flooring is a long-lasting and durable type of flooring that can last for years if properly maintained. It is a good choice to be used for bathrooms, kitchen, basement, and garage.
However, with a wide range of design options now available for concrete flooring, it can be used in living rooms and bedrooms.
Through its various colors and textures, concrete flooring can go quite well with any type of interior design.
Related Articles
Cost of Other Home Improvement Areas
Flooring is an integral part of a home design, and should you have spare budget and would like some unique designs of your own, you can try speaking to a good reviewed interior design companies or renovation contractors for more designs ideas.
Some of the usual home improvement cost guides can be found below:
We're here to improve your home
Speak to hundreds of reliable pros, view their gallery, inspirations, and know the best prices with our resources.
Have full control over your home improvement projects with Homees.