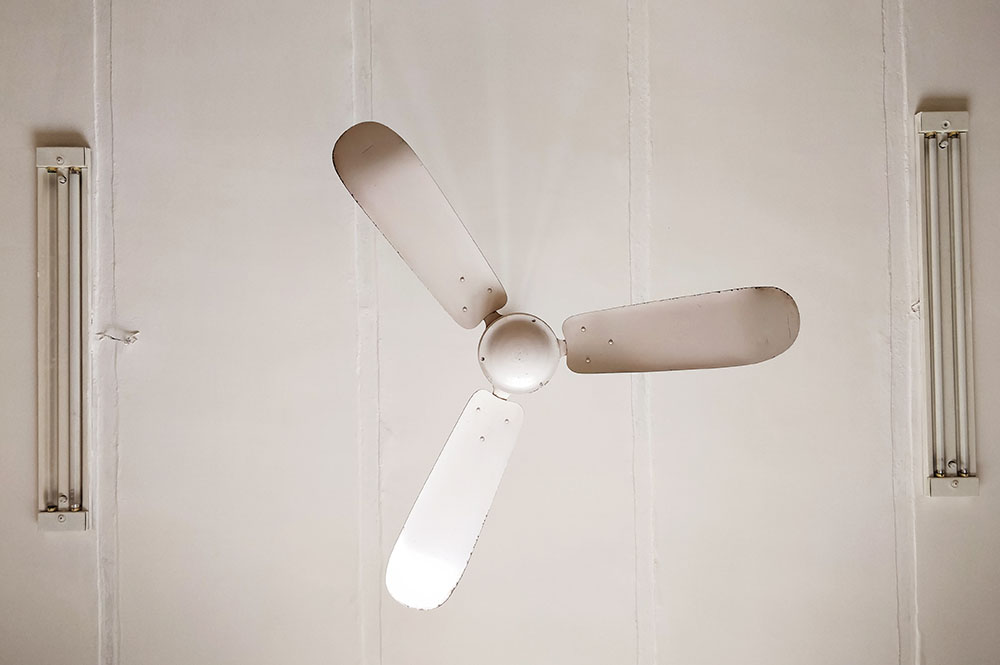 Homees provides a directory of ceiling fan companies in Singapore. You can compare and view a list of ceiling fan companies that can suit your home needs.
11 Best Ceiling Fan Companies In Singapore (Our Top Picks)
| | |
| --- | --- |
| | |
| | |
| | |
| | |
| | |
| Goofy's Handyman Services | |
| | |
| | |
| | |
| Handyman King Singapore Pte Ltd | |
| | |
| | |
| | |
Estimated Cost of Installing Ceiling Fan
| | |
| --- | --- |
| | |
| Ceiling fan from a new point | |
| Ceiling fan from an existing point | |
Fans are great energy-saving alternatives as compared to air conditioning and are much cheaper to install. Fans come in 3 main types: standing fans, wall-mounted fans and ceiling fans.
Normal Standing fans:
No installation required
A standard electrical outlet is sufficient to power it
Able to adjust its position
Regular standing fans are the most common household appliance among the three. They are also sometimes known as tower fans.
Wall-mounted fans:
Attached to the wall
Does not take up floor space
Usually covers a 180-degree area when oscillating
Wall-mounted fans exist as the middle ground between regular standing fans and ceiling fans. As they are alleviated, they offer a more extensive coverage than standing fans but are still limited in size and hence, wind speed, when compared to ceiling fans.
Ceiling fans:
Attached to your home ceiling
The height can be adjusted with a downward rod
Covers all areas of your room
Does not take up floor space and its size can vary depending on the size of your room.
Ceiling fans usually consume more electricity than standing fans. However, they offer better airflow and ventilation in the housing unit, earning a higher price tag by adding value. Ventilation and airflow are especially appreciated in a warm and humid country like Singapore, where your home can sometimes feel like a pre-heated oven.
Ceiling fans, although pricier due to their operating and installation cost, could be more energy efficient than their wall and grounded counterparts. In turn, this means that the user's carbon foot is significantly reduced.
Pros of Ceiling Fans
From an aesthetic point of view, ceiling fans emerge as the clear victor, providing a more permanent and intentional look that complements the surrounding furniture. Unlike a standing fan, it is less likely to clash with the interior design of the house. Ceiling fans also come in many varieties that can fit into different home designs. For example, fans can be made with metal or wooden blades to accommodate to the colour scheme of the home.
Additionally, the ceiling fans also usually come with an additional light fixture. This allows both the fan and light to share a ceiling space and prevent the ceiling area from looking like an overcrowded train station.
From a functionality standpoint, ceiling fans are more capable of cooling larger rooms, due to the area coverage that they offer. Ceiling fans also have longer blades, due to the space granted, which allows them to generate higher wind speeds than their wall and tower counterparts.
Ceiling fans are also safer as less prone to being safety hazards as they are isolated from the ground walking traffic. This makes ceiling fans a safer option, especially for homeowners who have young children or pets. They cannot reach for the fan, and there will not be any tangled cords or wires for them to trip over. Being in the centre of the room also gives the fan a better vantage point to circulate the air.
Cons of Ceiling Fans
The less appealing aspect of ceiling fans starts with its installation process, which requires working with electrical wires and redirecting them across the ceiling or along with a false ceiling. It is generally advised for homeowners to hire a professional to install ceiling fans in other to avoid unnecessary injuries.
Another point of concern for a ceiling fan is its price. Ceiling fans are generally more expensive. It is also a permanent commitment as you cannot reposition the ceiling fan after installation.
Low ceilings can also make ceiling fans a frustrating option. It might even have the effect of dwarfing the house, making it look smaller than it is.
Standing fans are more portable and less of a commitment. This form of commitment might suit some homeowners who are looking to remodel or refurbish their apartment every few years.
Things to know before installing a ceiling fan
Ceiling fans and wall-mounted fans require installation. It would be best if you got an electrician licensed by EMA (Energy Market Agency) to install fans in your home spaces. For more information about ceiling fans, you can read our article on all you need to know about ceiling fans in Singapore.
Questions to ask prospective ceiling fan contractor
What is the size of your company (total staff strength)?
What kinds of training have your staff undergone?
Can you provide a free written estimate outlining all the terms and conditions of what we discuss?
What are the payment terms? Do you offer a financing option?
Do you provide a warranty or guarantee for your service or the unit?
What brands do you carry or service?
How long will the job take? Will you clean up after the job is completed?
Compare and review the best ceiling fan companies in Singapore
View their gallery and portfolio, and compare prices of similar ceiling fan installation projects in your proximity. You can read the reviews from previous customers to understand the background of prospective contractors, how they rate their work, and message them directly to ask any specific questions.
We're here to improve your home
Speak to hundreds of reliable pros, view their gallery, inspirations, and know the best prices with our resources.
Have full control over your home improvement projects with Homees.