Residing in sunny Singapore would mean an ample of sunlight will shine through your windows in the afternoon. Other than protecting homeowners from the glaring sunlight, curtains and blinds provide privacy from their neighbours' prying eyes.
Besides serving their purpose, they also add personality to a room. Hence, you can take your time to choose the best material for your windows. You may also want to look for blinds or curtain companies to save you the hassle of installing them all over your home.
Look for Curtains Installation Services
---
How Much Do Curtains and Blinds Cost?
Do note that most custom curtains and blinds do not come with a fixed price. According to the amount of customization needed, prices would vary for each household.
You can check out Homee's list of curtains companies. Most companies will need you to request a quote before giving you a price tailored for you.
If you're looking to get ready-made curtains and blinds instead, you can check out these stores!
Find Curtains Installation Services
---
*Prices are stated before the discount
Find Blinds Installation Services
---
How Do I Choose Curtains In Singapore?
You may not have noticed but there are different variations such as single panels, panel pair, blackout, and soundproof. You can make use of your home aesthetic and find suitable ones for your home. Most people would choose them after the renovation process so they can gauge which fabric will be suitable.
You can also have the same colours for your living room and bedrooms or have different colours to match each room.
After choosing the type of curtain, you'll have to choose a header to accompany the curtain. Do you want a curtain with a rod pocket or one with grommets? The list below will help you with your decision-making whenever you're deciding on an ideal curtain.
Panel Pair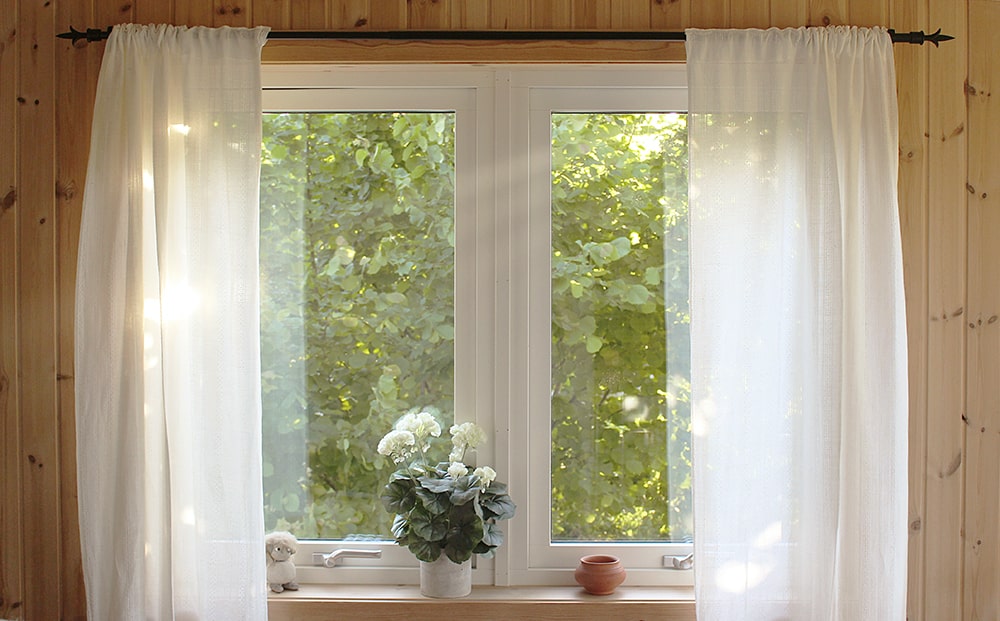 Panel pair refers to a pair of separate curtains on either side of the window. They are a popular choice among homeowners. When tied back, they will create an asymmetrical shape to your window.
Single Panel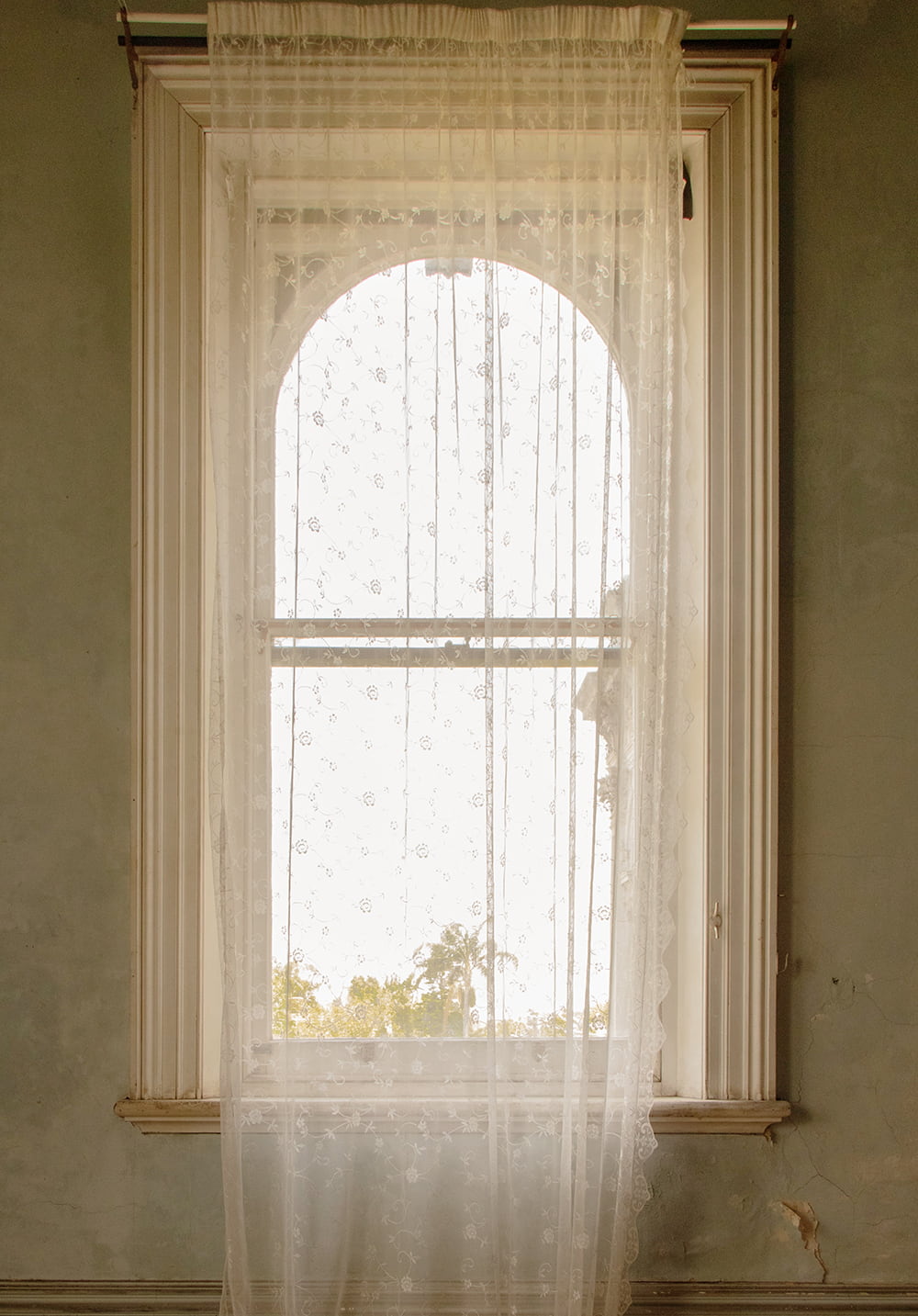 The single panel consists of one curtain covering the window. You can pull it aside or tie it to the side to give an asymmetrical look.
Full Window Set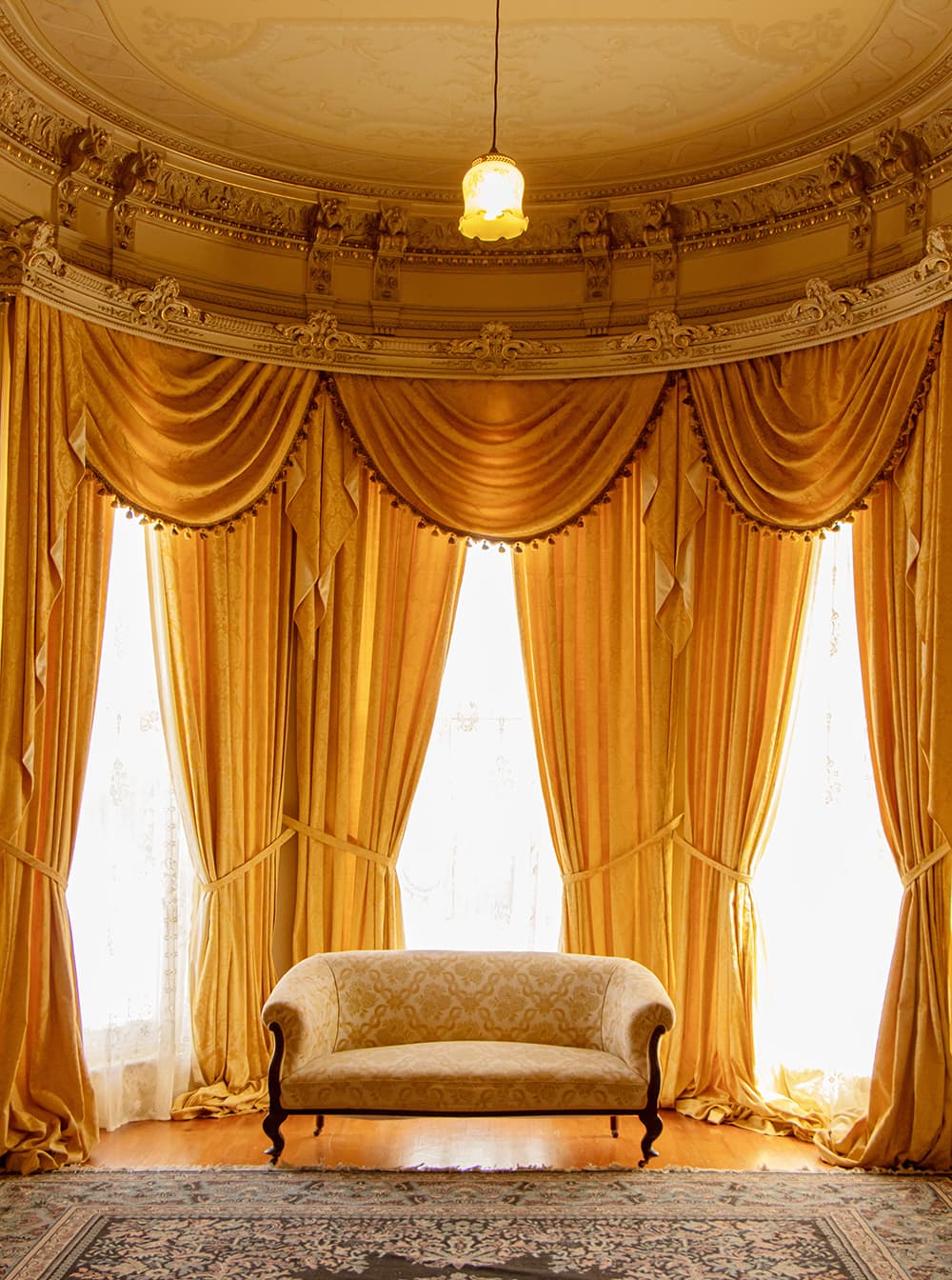 A full window set consists of one or two curtains and a valance. What is a valance? It's a short curtain that hangs at the top of your main curtain. Some of these sets come with additional accessories such as a curtain rod and a tieback.
Blackout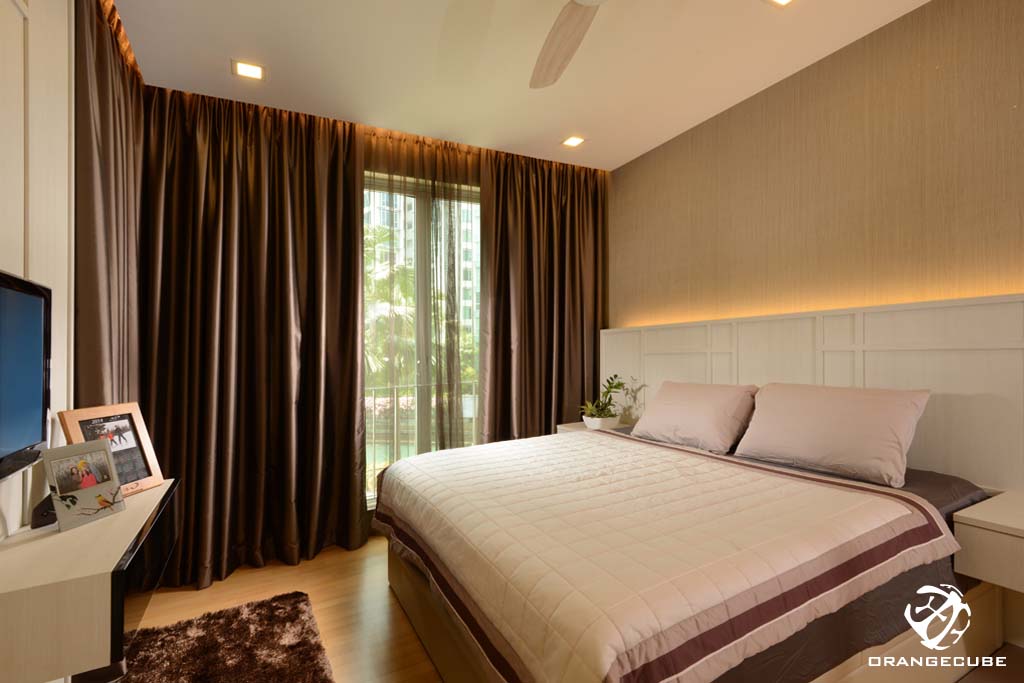 Blackout Curtains by Curtain K
The perfect curtains for your bedroom, block out light from outside and ensure complete darkness. Besides providing you with a good night's sleep, they also help to protect your furniture from UV damage or colour fading.
Day Curtains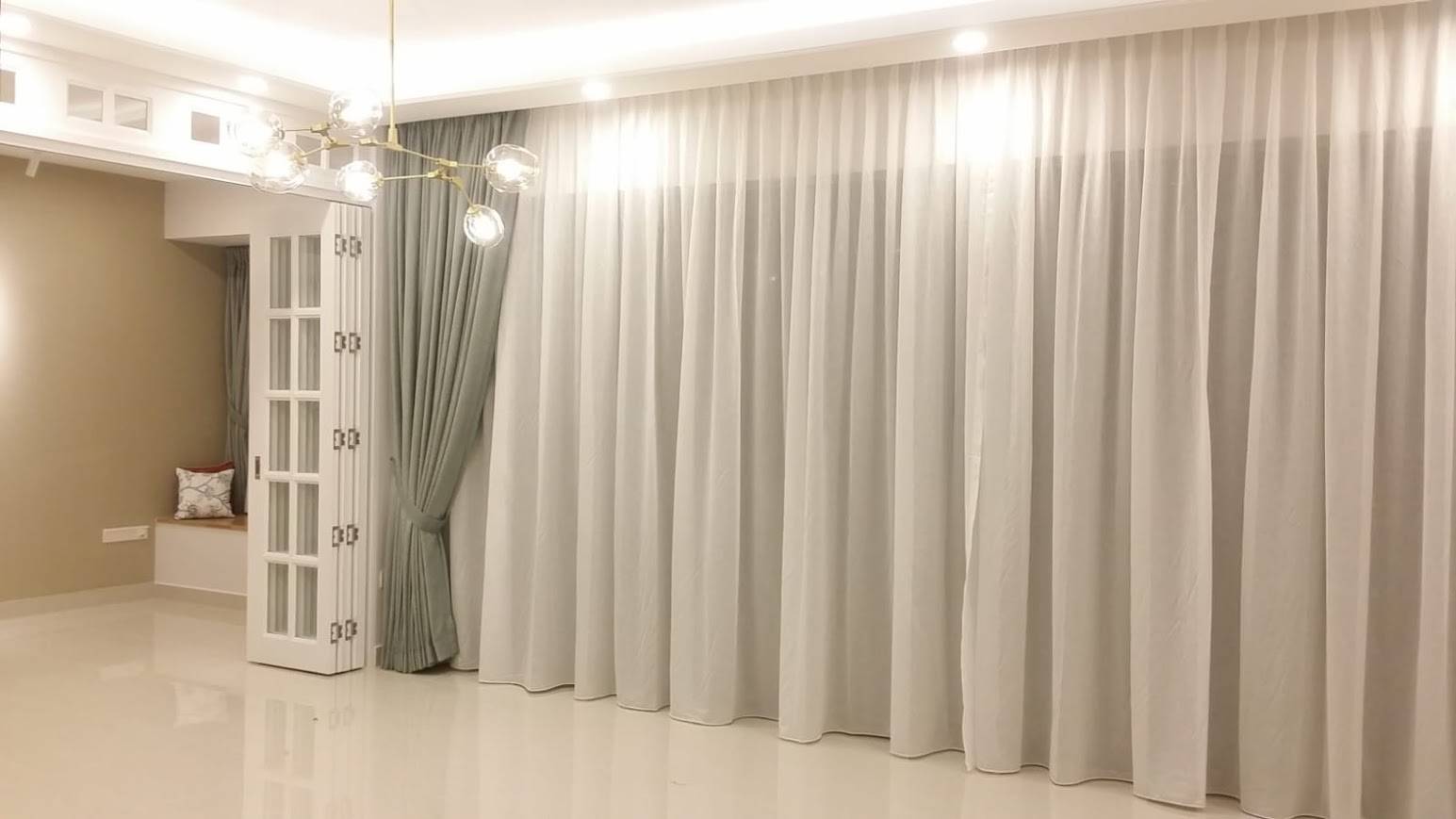 Day curtains by MGL Curtain and Furnishing
The total opposite of blackout curtains, their sheer, translucent material makes them perfect for enhancing the room's ambience. Their sheer material help to soften the light that's shining from outside and gives your room the illusion of a higher ceiling. They also provide some privacy during the day when it is brighter outside than inside so you don't have to worry about people peeping into your home in broad daylight.
Soundproof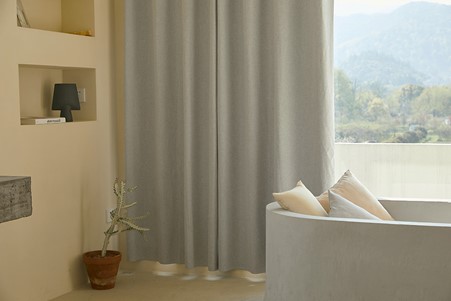 Although they look similar to others, soundproof curtains are actually made of thicker and heavier materials. They contain many layers of dense fabric to allow sound absorption. The use of polyester, velvet, or satin is commonly used for the fabric.
But the main question is, do soundproof curtains work?
We as consumers are often sceptical since we need to know that we're paying a reasonable price in exchange for the product's functionality. Here is the truth: they will not cancel all sounds. They only help to reduce outside noise to a minimum by blocking all paths that sound waves travel from. Hence, only around 70-80% of sounds will be restricted depending on the level of sound and type of fabric used. Though it is not much, you can hear the difference once you install them.
Motorized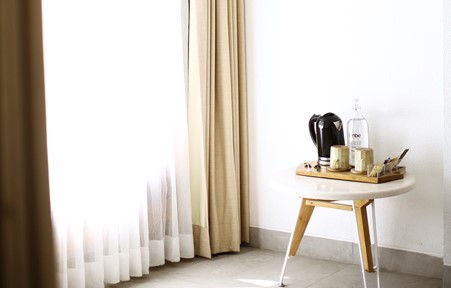 Modern technology has helped make our daily lives easier by making daily household items accessible via our smartphones. Motorized curtains are getting popular among households for their convenience and for eliminating problems such as having difficulty opening and closing curtains.
Such problems such as difficulty pulling heavy fabrics or having too much light streaming through your curtain.
Tugging and pulling on the fabric can ruin and cause tears in the long run. Technology helps us to increase our lifespan by opening or closing for us.
You can also set the time you want to open or close your curtains. Want to protect your precious furniture? Set the timer around 11 am – 3 pm so they will be protected by strong UV rays while you're at work.
Find Curtains Installation Services
---
What Are The Different Types of Curtain Headers?
Rod Pocket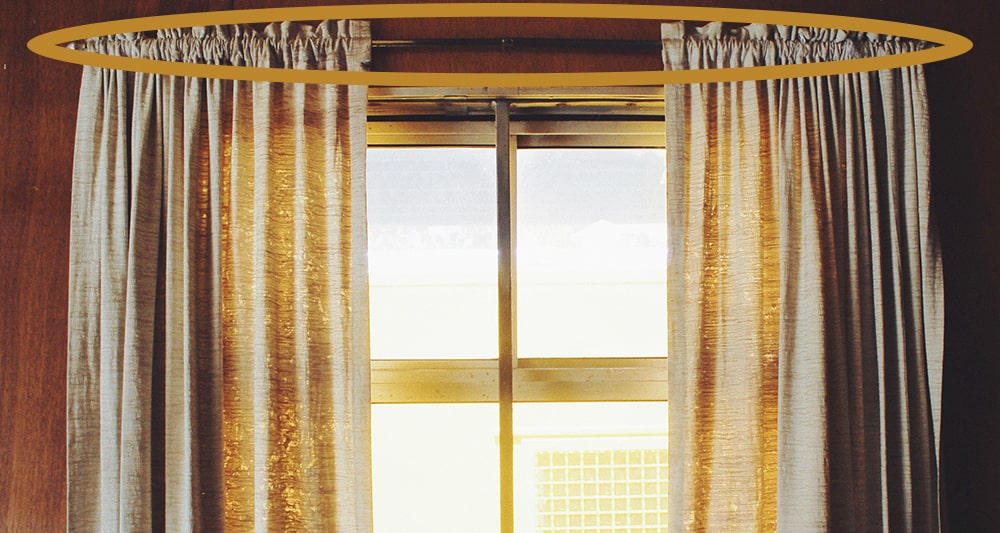 Rod pockets are sewn-in pockets at the top of the curtain, making them easy to slip over and conceal a rod. They give off a simple appearance and don't require any additional pieces to achieve this look.
However, this heading is not recommended if you plan to open and close your curtain often as the fabric lies directly on the curtain rod, making it difficult to adjust. You might have to reach the top to adjust it, which can be a hassle if your curtains are long.
Grommet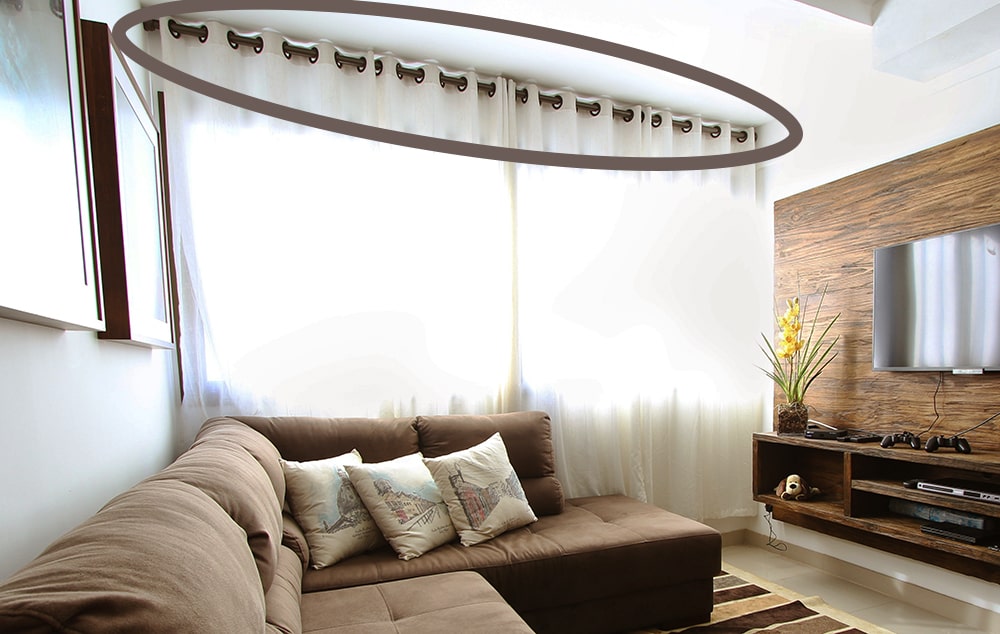 Those with metal rings on the fabrics are called grommet curtains. These metal rings allow the user to slide the curtain across the rod with ease. They also create a uniform pleat when you open them. Unlike rod pockets, this would be ideal if you open and close them often. Grommet curtains will be suitable for contemporary interior designs.
Tab Top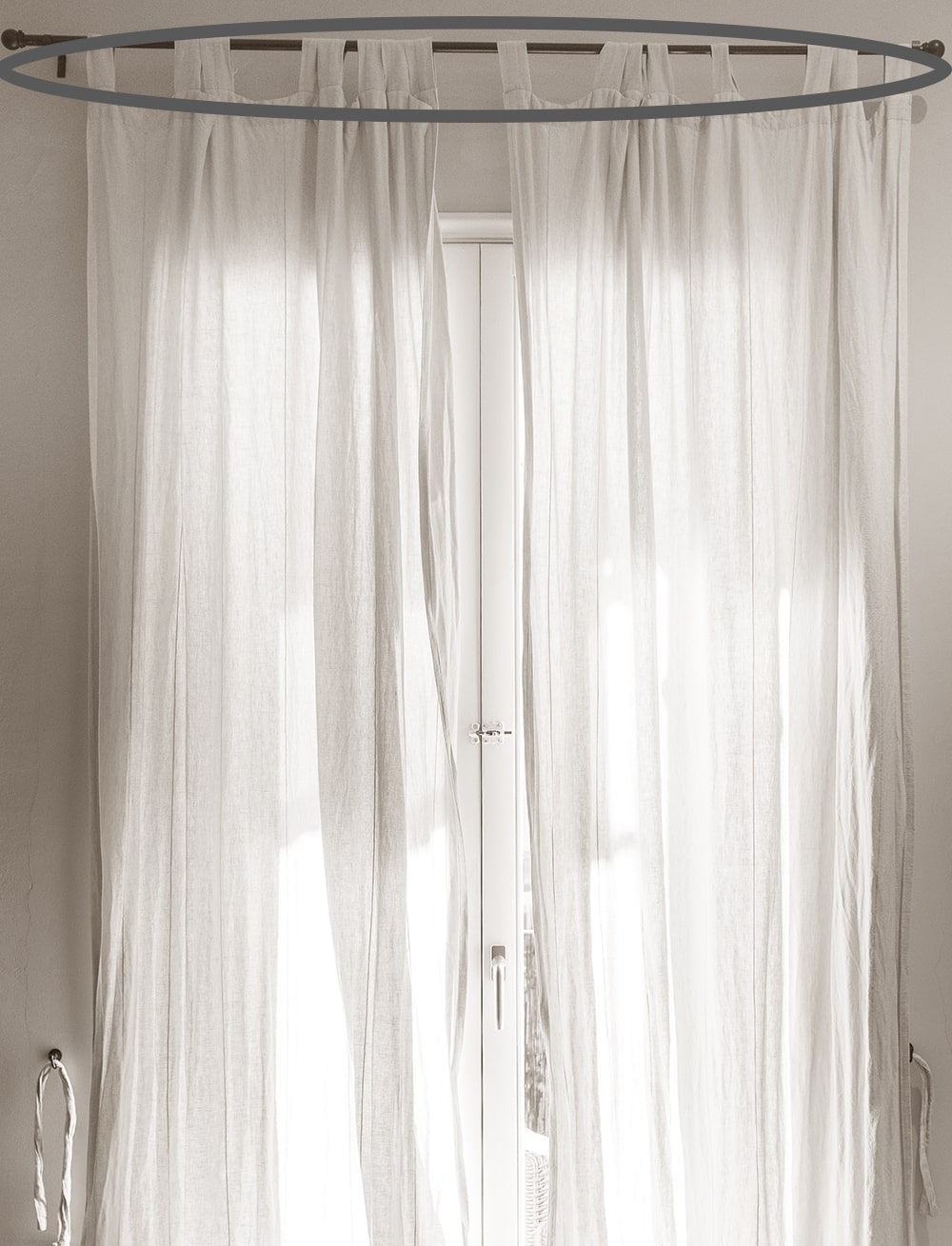 A simple panel curtain that is suspended from a rod with the use of exposed loops located at the top is called a tab top curtain. These loops support the weight of the fabric. Tab top curtains are very affordable since they don't require a lot of fabric. Their simple design makes them suitable for different interior styles.
Back Tab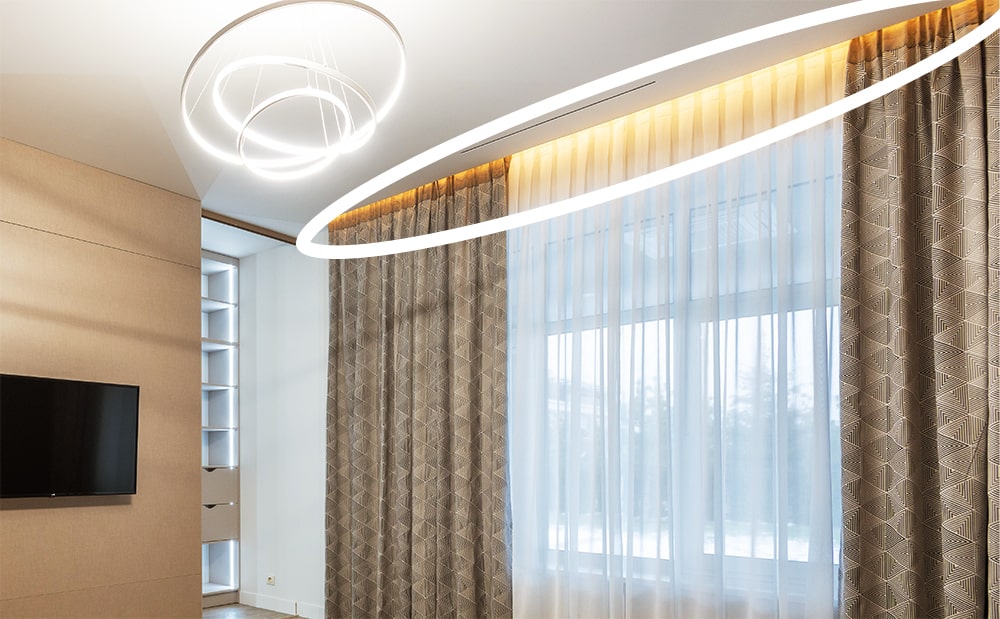 Also known as hidden tab curtains, they have tabs or loops sewn at the back of the curtain. The rod is then slipped behind so it will appear hidden from the front.
To enhance its look, you can attach rings with clips to the tabs (note: doing this will add extra length to your curtain!) This creates a floating illusion and gives off a clean, elegant vibe. Similar to rod pockets, back tab curtains are not ideal if you open and close them often.
Cartridge Pleats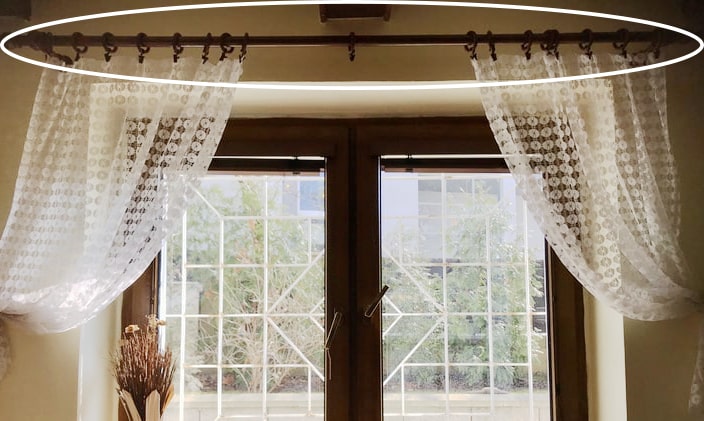 Cartridge pleats are created by having a fold at the top of the curtain. These folds will give the curtain a smooth unbroken appearance. This curtain heading is not suitable if you lack wall space on either side of the window as it will take up a lot of space when open.
Types of Blinds
If you want don't like to clean often, blinds might be a better option. They are made of long vertical or horizontal slats of different materials and are held together by cords.
Venetian Blinds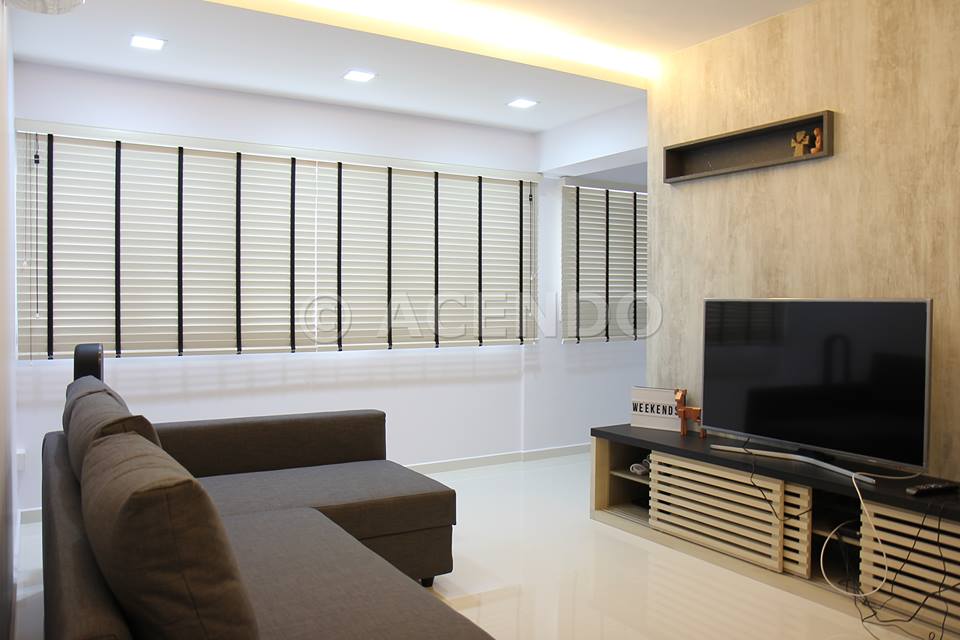 Venetian blinds by Ascendo Pte Ltd
Commonly found in homes, Venetian blinds have horizontal slats made from wood or metal. They are suspended on ladder cords which makes them easy to adjust simply by pulling the cords. They are easy to install, operate and maintain.
Vertical Blinds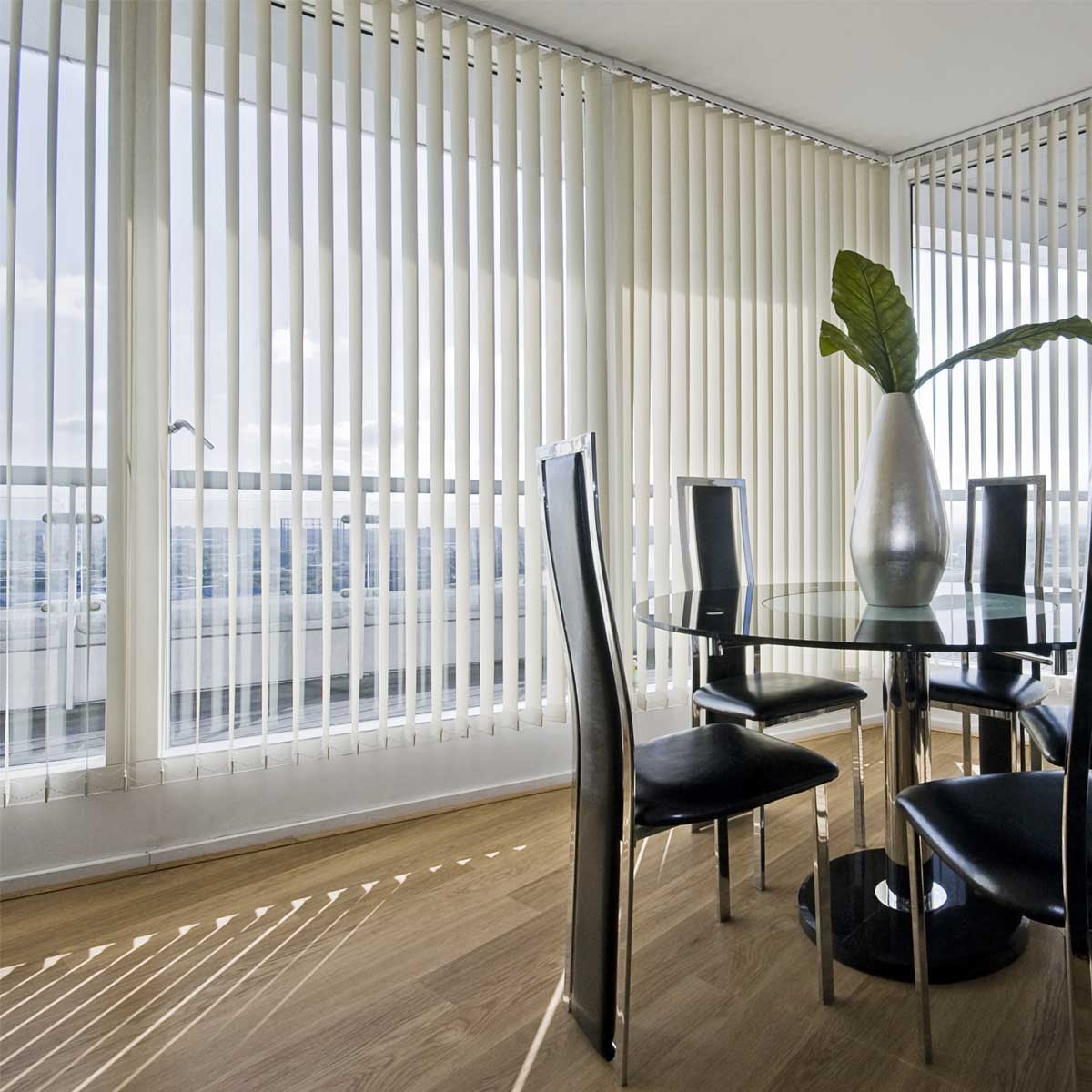 Vertical Blinds by Blinds Guru
They have vertical slats that are clipped to the top of the window. They are normally operated with a plastic wand or chain. Although not as common, vertical blinds can be found on tall, large windows such as office and commercial properties.
Roller Blinds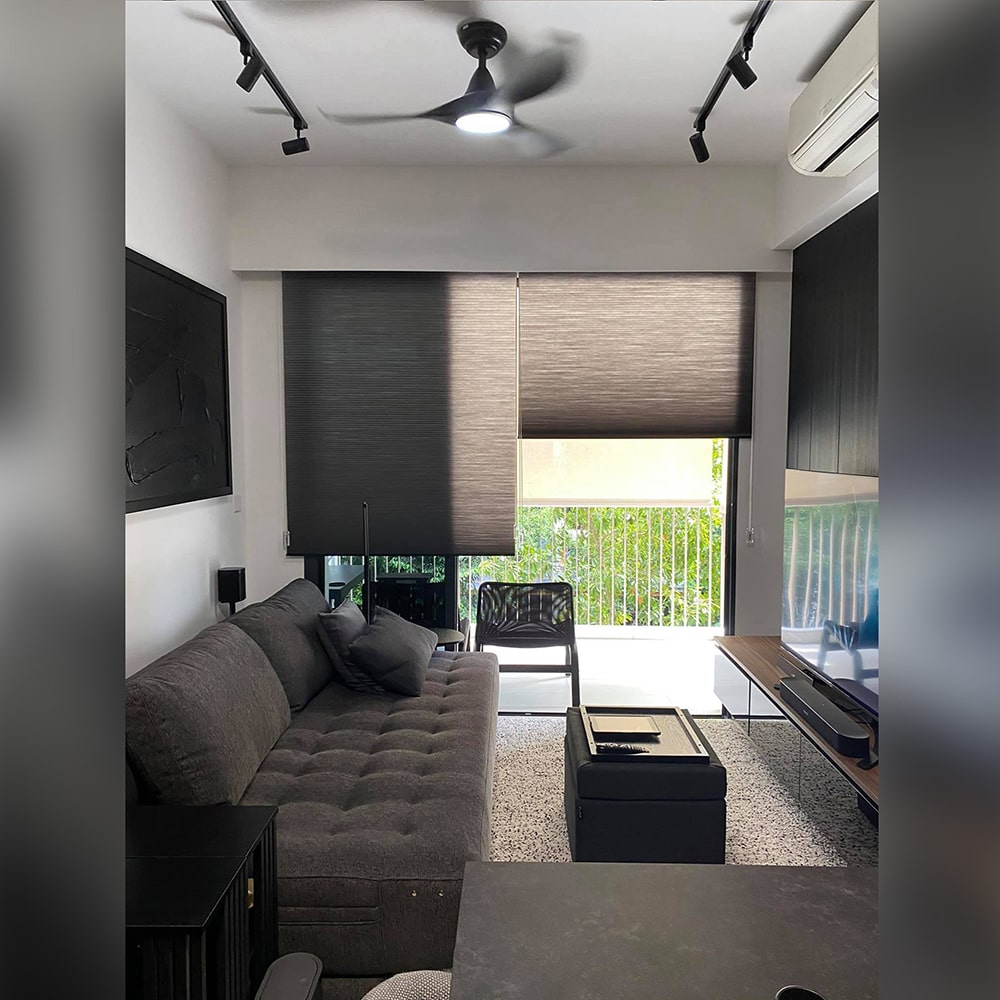 They are made of a single material that wraps around a casing that's fitted on top of your window. It can be adjusted by pulling on a cord attached or a chain.
Korean Blinds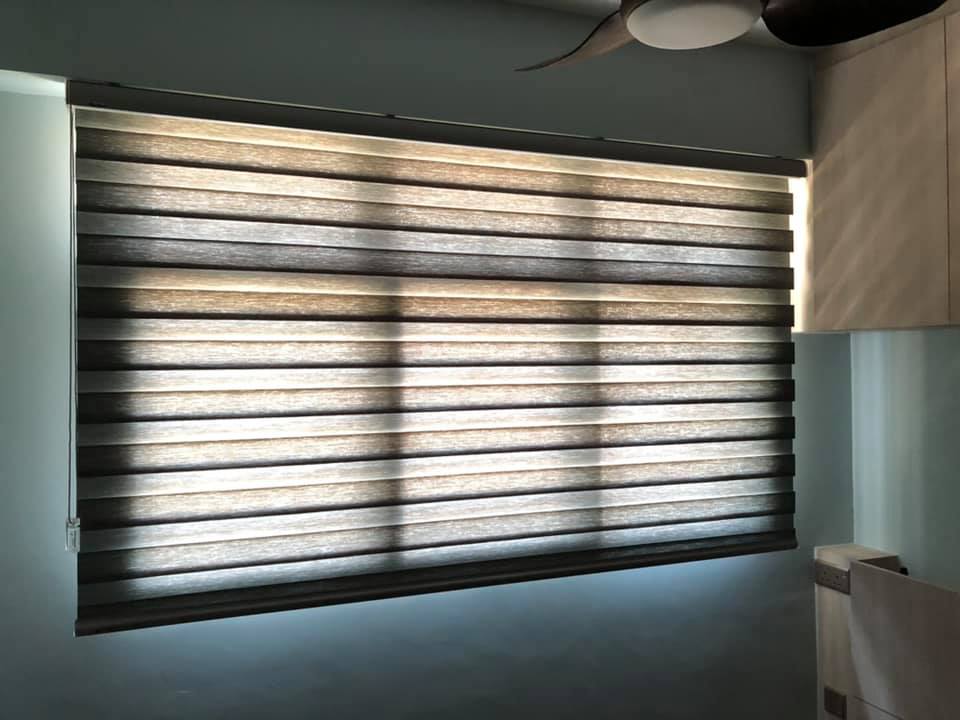 Also known as rainbow, combi or shadow blinds. They combine translucent and opaque fabric alternatively into two layers of fabric that roll up into one piece of the blind. When pulled, the panels will glide over each other.
Roman Blinds
Roman Blinds done by Curtain Galleria
They have mounted slats that are connected to cords and made to pleat when raised. When raised, the cord will pull the slats and force them to fold into pleats. Roman blinds can be made from silk and linen to cotton and synthetics.
Bamboo Blinds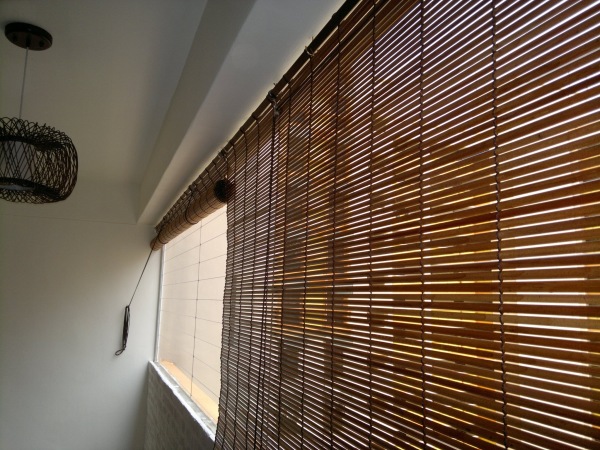 Bamboo Blinds by First Curtains
As its name suggests, bamboo blinds are handmade using bamboo. Besides its natural colour, you can have it in black & white or any other colour. They are ideal for outdoor spaces because they add a touch of elegance and beauty, providing a natural, warm and calm appearance for the outdoors. Like any other blinds, they are rolled up with the help of a cord.
Honeycomb Blinds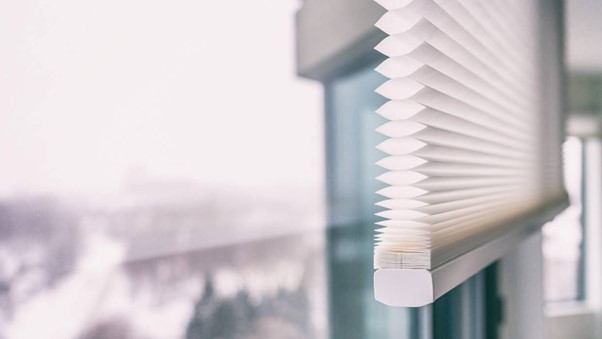 Known as cellular blinds, they have honeycomb air pockets that are designed to trap air and maintain the cooling temperature in the room. Most households would prefer this kind of blind especially when Singapore is humid all year round. They are available in different shades and fabrics so you can find something suitable for your home aesthetic.
Motorized Blinds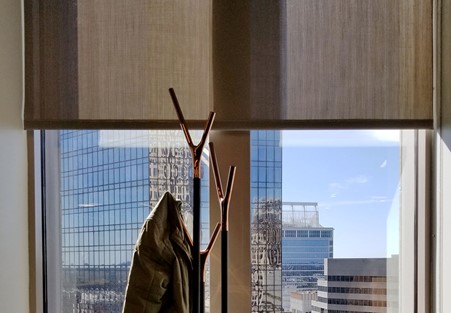 Similar to motorized curtains, motorized blinds are remote-controlled. They are connected to a tube that pulls them up when needed. Depending on the size of the window and the type of roller blind, the price would vary.
Find Balcony Blinds Professionals
---
What To Look For When Buying Curtains?

Living Room Blackout Curtains by Craft A Shade
Still cannot decide on which curtain or blind to get? Fret not! We have compiled a list of things you should take note of!
Fabric and colours
The type of fabric and colour will affect their functionality. Heavy fabrics will not fold as nicely when drawn while lighter fabrics will not fall the way you want. Also, sunlight will tend to fade fabrics in the long run. If your room has an ample amount of sunlight streaming in, it'll be better to avoid bright colours since they'll fade faster. Neutral colours will be suitable for any kind of room as they'll blend perfectly and are less likely to fade.
Length
Decide on how long you want your curtains to be! You'll need to determine how high you want them to be such as hanging them above your windows will give off the impression of a high ceiling. Due to this, most designers would hang them six inches above windows. Measure from where the curtain will hang to the floor. If you want it to form a puddle on the floor, add two to three more inches!
When measuring your window's width, you'll want to add four to eight inches on both sides and double the final number to ensure curtain fullness. These extra inches will help you block out excessive light creeping into your room when you shut your curtains.
Room Function
Each room in your house serves a different purpose. Hence, you'll want a different window treatment for each room. You wouldn't want the same window furnishing for your kitchen and bedroom. For instance, the smell from your cooking in the kitchen might stick on the fabric easily. Therefore, you'll have to choose a fabric that is easy to wash. Similarly, blackout curtains and blinds are ideal for your bedroom since they block out light on days you want to sleep in.
Washing machine or Dry-clean only?
Choosing between a washing machine and dry-clean only curtain will save your money and time in the long run. You can also look for curtain cleaning companies to clean your curtain for you if you're afraid of destroying them or unsure how to properly clean them.
Engage in Curtain Cleaning Services
---
Curtains and Blinds FAQs
Is it cheaper to install blinds or curtains?
Blinds would be cheaper as lesser materials are used. However, it will still depend on other factors such as materials used and whether you added extra features to your windows furnishing.
Are curtains warmer than blinds?
Curtains serve as better heat insulators and are great for soundproofing. However, you may want to avoid heavier fabrics if you don't plan on turning the air-conditioner as Singapore's hot weather might increase your room temperature. Similarly, blinds would be ideal if you want to decrease the temperature in the room.
How to clean blinds?
Place them in warm, dish soap water and pour a cup of baking soda to remove any visible stains. Let them soak for an hour and then rinse with warm water. Wipe after to remove excess dust or dirt.
We're here to improve your home
Speak to hundreds of reliable pros, view their gallery, inspirations, and know the best prices with our resources.
Have full control over your home improvement projects with Homees.