The living room, arguably the most important room in the house, is a multipurpose space that serves a variety of purposes. It's a place where you'll host guests and relax with family, a room for chit-chat and entertainment.
Being the heart of the home, it is the first room that most guests will notice first when they visit – so a stylish choice that best suits your needs is a must. The variety of furnishings includes cabinetry to décor, can make creating a well-balanced design a challenge.
Fret not, picking the right furniture and organising them in a cohesive fashion will help you achieve your dream living room. Read on for some useful design tips and fresh inspiration on how to best design the crux of your home.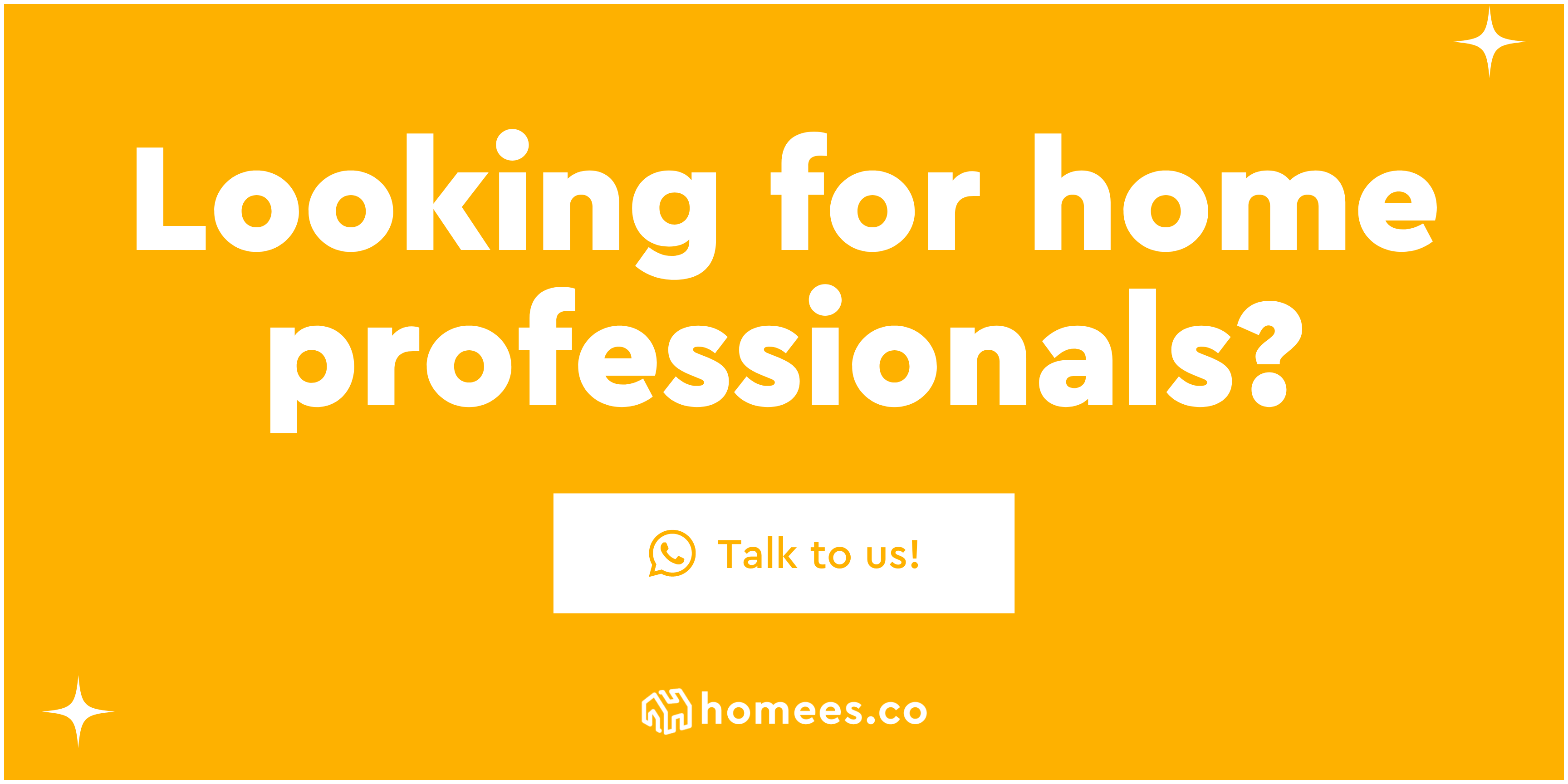 ---
How can I beautify my living room?
1. Use a distinct colour palette
Colours play a pivotal role in affecting the appearance of your home, so choose a colour palette that tells a story about you and your home's personality. Here are some paint ideas to consider.
Light, neutral shades
Choose a palette of modest colours and neutral tints for a cosier and more inviting vibe. These gentler colours can help you create a relaxing atmosphere in the home.
Light tones of cream, beige, khaki and white have the added benefit of visually improving your space by reflecting more light, making them sophisticated wall colours.
Anything wood makes a timeless pairing with neutral colour palettes. From wooden floors and door frames to display shelves and surfaces, this classic material adds a sense of cosiness to your home.
Designed by Adroit ID, this mid-century condominium unit at Pasir Panjang features a relaxing refuge that evokes nostalgia. To complement the home's sentimentality, the living room centres heavily around a combination of dark wood and rattan. By having wispy, full-height curtains that floods the room with glorious sunlight, the elegance of neutrals is further uplifted.
Dark, bold colours
If you are aiming for something more on the chic and sophisticated side of things, try out a darker palette of blacks, greys, browns and blues.
Many have the misconception that dark colours make a space look cramped yet intimidating. In reality, these colours can play up the dramatic character of a room, allowing it to exude a much larger presence.
Dark colours can add a sense of depth and opulence to the space to create a stylish and modern living room. Secondary shades on the lighter spectrum, like grey and white, can keep your home from looking cold and distant.
Hall Interiors created a classy yet mysterious atmosphere in this Newton condo. The area is imbued with modern elegance, thanks to its rich and luscious blend of dark colours and nuanced contrasts. To divide the space into several functions, furniture with clean lines were used.
Find Wallpaper Services in Singapore
---
Relevant Article:
2. Arrange Your Furniture Carefully
Knowing how to layout your furniture in a space-constrained environment is key to creating a beautiful and aesthetic interior. Not everyone has a spacious area to work with, but that doesn't mean every inch of the room should be decorated to the brim. Balancing between positive and negative space is a critical part of the interior design process.
As such, when you're thinking about the layout of your house, spend some time planning out the space. Consider picking an eye-catching spot in the room, then build the layout of your furniture around this focal point.
For example, one of the most commonly used subjects includes a unique feature wall. Take the plunge and wallpaper a section of your living room for vivid, architectural interest. Alternatively, some homes showcase a plastered brick wall for an industrial interior design theme.
If you're looking for feature wall inspiration, this rustic contemporary landed property in Conway Grove is your go-to abode. The team at Icon Interior Design carefully pieced together three contrastive textures for the common space: grey brick tiles, white marble floor tiles and a hazelnut wood panel feature wall. This juxtaposition works best in industrial-themed common rooms, which focus on utilitarianism.
3. Lighting
Lighting plays a critical part in shaping the ambience and appearance of your home. The perfect lighting fixtures not only brighten up the room, but they also bring a relaxing mood into the home for enhanced comfort.
Consider 'layering' your lighting by placing lightbulbs at different levels in the common room. For example, combine floor lights and recessed lighting to create a mellow glow in the room. Experiment with a variety of warm and cold light colours to create the perfect aura.
For homeowners that are still lost on what kind of lighting to choose for their common space, it's wise to consult professional lighting interior designers to learn more about creating a beautiful and well-lit home.
Inspired by the wonders of Korean architecture, this condo unit's interior calls attention to the idiosyncratic forms of lighting. Decked out in a beautiful pastel colour scheme, The 80's Studio went for lighting fixtures for the common room that you won't find elsewhere – sleek roof trusses with complementary spotlights peeking out of their chords, along with a lush gold pendant lamp-cum-planter.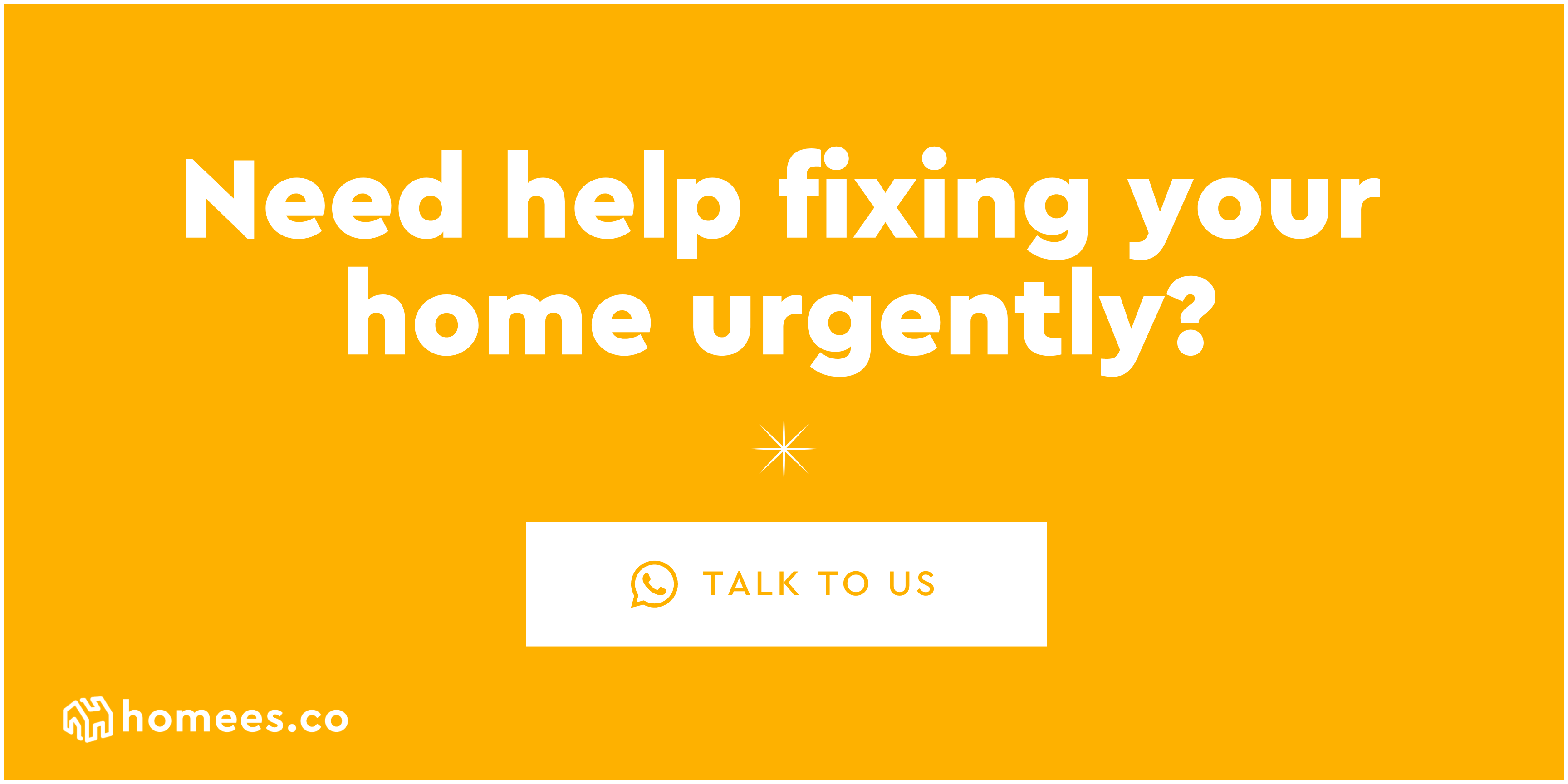 Find a lighting interior designer
---
Relevant Article: How To Clean A Vinyl Flooring
How Can I Decorate My Living Room on a Budget?
When it comes to creating the illusion of depth, mirrors are a must in helping your living room feel more spacious. Since mirrors reflect light around its space, a small sitting area can appear larger and grander with strategically placed mirrors.
More than just a visually appealing fixture, mirrors are a practical choice for common room décor. Before leaving the house, you can easily give your outfit of the day a quick run-through.
Take a leaf out of this modern minimalist home, which uses a feature wall of full-length mirrors. Designed by L & CO INTERIOR PTE. LTD., this immaculate sitting room boasts floor-to-ceiling mirrors that transform the massive space with its glistening surfaces.
Relevant Article: Interior Design Cost Guide in Singapore
2. Save space with small sofas
If you want to save on both space and money when picking furniture, choose smaller and less bulky alternatives. Go for a smaller two-seater sofa instead of a large L-shaped one if the space cannot comfortably accommodate it.
Similarly, instead of a chunky, elaborate coffee table, why not pick a small side table? It serves the same purpose as a coffee table, costs less and takes up fewer inches.
Sofas don't have to be big in order to feel comfy or luxurious. This brown leather sofa in the sitting room of a Pasir Ris condo unit is simple and fuss-free, contributing to the vintage vibes of the home. With its bare concrete walls and exposed beams, this interior by Diva's Interior Design nailed the rustic industrial look and feel.
Wherever possible, choose multi-functional furniture for your common space interior. Whether it's for maximising space or budget, multi-functional furniture pieces present a double win for homeowners.
Multi-functional furniture has unparalleled perks, such as unlocking more storage options. This means you'll save on renting external storage spaces and purchasing separate storage cabinets. That way, your home can remain clutter-free and roomy.
Some ottomans – which make for great space-saving seating – have removable tops that allow them to store unsightly clutter.
Another great way to weave in different functions of furniture pieces is evident in this Mei Hwan Drive condo by Fuse Concept Interior Design. Instead of buying a separate TV console and display shelving, the homeowners decided to infix a bold blue cabinet with ample open and closed storage. This creates a magnificent centrepiece in the living room, complementing the space perfectly.
---
10 stylish living rooms for your next home renovation project
To help you visualise what an ideal living room could look like, here is a carefully curated list of 10 home renovation ideas to spice up your home.
1. Modest and Timeless Space @ Telok Kurau
Designed by Anhans Interior, this down-to-earth apartment may appear ordinary at first glance, but it exudes a homely vibe that withstands the test of time. Clad in a plain and simple fashion of rustic elements, this living room is aglow with warm delight. The extensive use of wood and muted colours gives the space a welcoming feel.
Using diverse furniture pieces, tuck in subtle layers of textural diversity to create a relaxing atmosphere. A velvety fabric sofa and elegant pouffes, for example, are champions of blissful comfort.
Find top renovation contractors
---
Relevant Article: Top Interior Design Singapore Trends to Style Your Home
2. Easy Breezy Scandi @ River Valley
This refreshing Scandinavian abode by Hmlet Interiors goes against cookie-cutter interior styles. Unafraid of vivid urbanity, this contemporary apartment introduces bold pops of colour, abstract wall art and modular furniture. Interwoven by a large rattan rug, the throw pillows in starkly different colours make the living room a fun and vibrant space.
Though natural light is embraced with open arms in Scandinavian home design, sunlight can be harsh at certain times of the day. Having a flowy and elegant curtain keeps out the glare while retaining the splendour of bright light spilling into the living room.
Relevant Article: Home Decoration Cost Guide In Singapore
3. Sleek and Classy Bachelor Pad @ Dairy Farm
Dan's Worksop's outstanding 2-bedroom condo residential project is a display of superior craftsmanship. Occupying centre stage is a customised, white-wood TV console with a diagonal cut. Resembling a mini farmhouse, the enormous storage cabinet has dedicated spaces to stow away jumble and display potted plants.
Coupled with earthenwares and lush greenery, the living room of this stylish bachelor pad is the perfect spot for winding down after a long hard day's work.
Relevant Article: Flooring Cost Guide in Singapore
4. Cascading Courts @ Faber Drive
Boasting a mesmerising exterior, the interior of this semi-detached property is no less extravagant than it seems. With the vertical timber screens that value privacy, this apartment designed by HYLA Architects exhibits a consistent theme of Japanese simplicity.
Facing an open bamboo garden, this dwelling leaves an impression despite its sparse decoration. The timber screens serve as a unique feature wall and a TV console unit. The plush grey fabric sofa is spotlighted in the living room, making the space feel posh and sumptuous.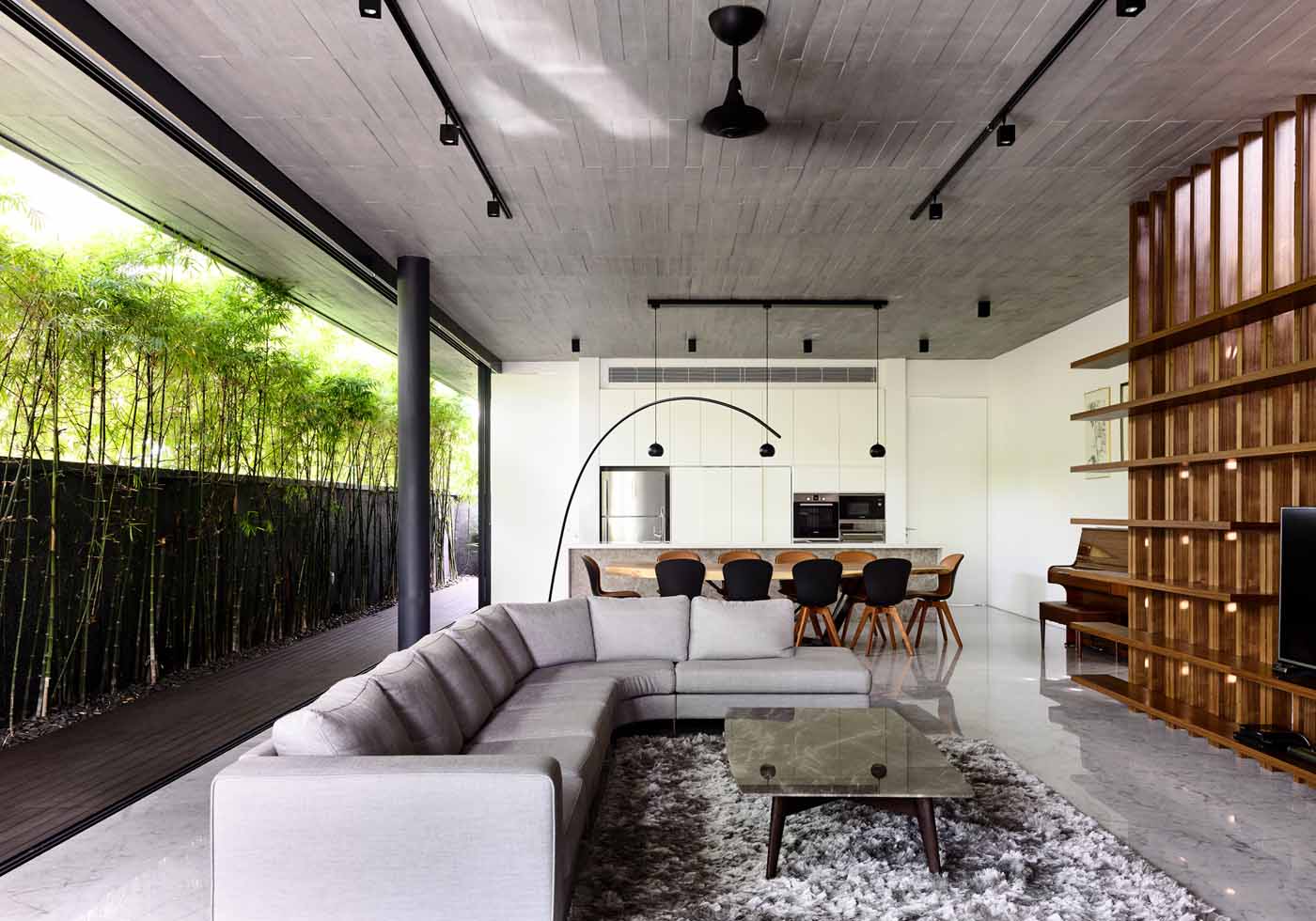 Relevant Article: Walls and Ceiling Cost Guide in Singapore
5. Modern Chic Grandeur @ Mountbatten
For those who appreciate geometric patterns and can't do without the glamour of art deco, this apartment's interior will leave you wild with excitement. Brought together by DISTINCTiDENTITY, this tasteful condo unit takes you along a journey of contemporary art. Despite its prevailing ash grey colour, this eclectic-style living room never looked more stunning.
Classic motifs of an art deco style interior include zig-zag patterns, sunburst colours and geometric themes. To make room for such bombastic forms of expression, keep the walls, floors and tabletops bare. This ornate living room interior is beautifully balanced between sleek surfaces and robust decorations.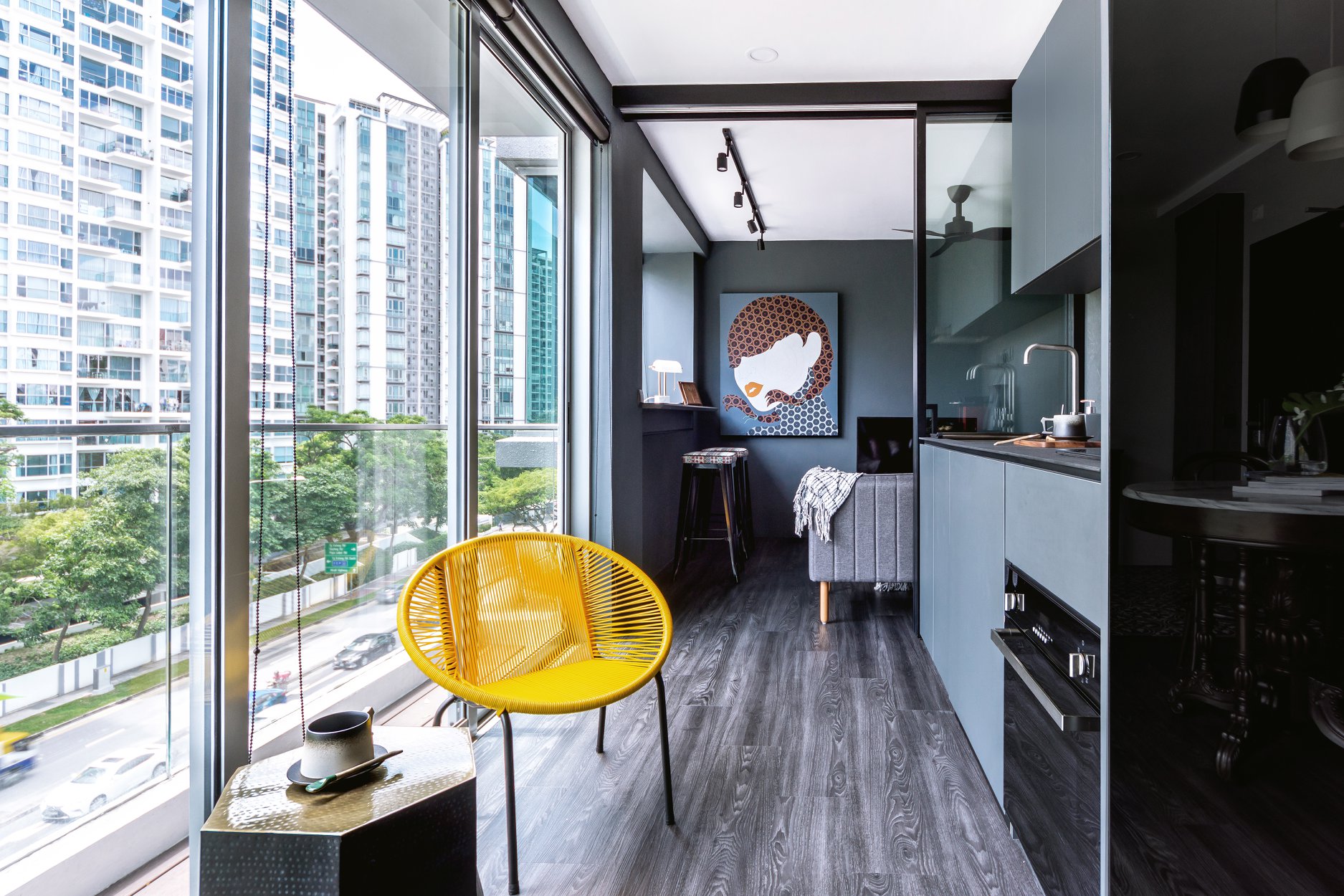 6. Nostalgic Townhouse @ Watten Hill
Creating spatial flow in a living space has never been this simple. Achieved through raw, original brickwork and a lack of redundant design elements, this charming home by IN-EXPAT oozes a sense of nostalgia. The concept of the living room is straightforward: a place where history meets contemporary.
The dazzling white living room, affectionately known as the 'White Brick House,' spills over into the other portions of the house, providing coherent spatial flow. Contrary to popular belief, white is one of the most versatile colours in interior design that can completely turn the space around.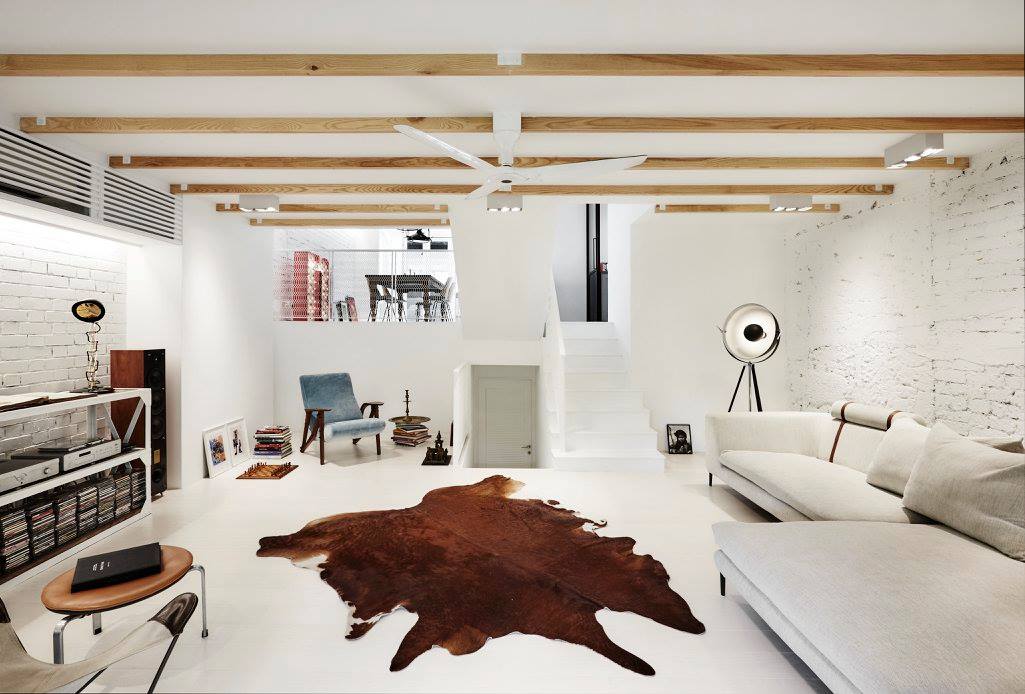 7. Clean-lined Contemporary Home @ Jalan Senang
Presenting this opulent contemporary home, Aiden-T shows us what you can achieve when a living room is fully utilised. Foregrounding this project is undeniably the dark wood wall panels. More than just aesthetic furnishings, these resort-like wooden fixtures feature hidden storage spaces and conceal the air conditioning units. These panels' grand presence is accentuated by recessed lighting.
Dark-coloured furniture, like the sleek coffee table and modular sofa, amplifies the contrast with the pure marble floor and establish a snug space for relaxation.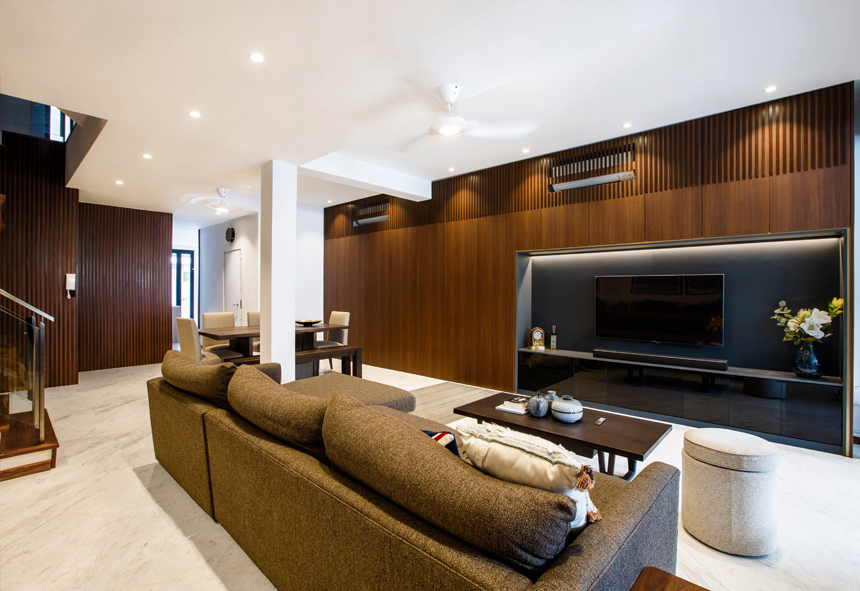 8. Eclectic Pops of Colour @ Geylang
Behind the eclectic fashion of this condo apartment lies a whole lot of multi-functional furniture and vibrant colours. HyggeHomey Pte Ltd's vision for the home was clear – injecting splashes of colour and harmonising them where possible.
The living room is filled with quality furniture pieces like the masala red leather sofa, which were uniquely sourced and imported from overseas. Bespoke furnishings go hand in hand with the colour selection of the living room, invigorating the space with an adrenaline rush.
9. Alluring Luxury @ Choa Chu Kang
If you're wondering how to master the art of layering in interior design, look no further! Check out this luxurious Scandinavian condo unit by Aestherior. Upon stepping into this classy crib, one is greeted by the wallboard on which the TV is mounted. Made of fine marble and wood layers stacked atop each other, a style boost is granted to the living room.
The layering doesn't stop there – even the soft textures are varied among knit, fabric and leather for a touch of comfort. This lavish lounge seating is your ticket to a refreshing power nap!
Relevant Article: Home Decoration Cost Guide In Singapore
10. Wooden Wonderland @ Jalan Rebana
For this landed residence, T&T Design Artisan revamped the home's interior into a calming setting of wooden textures. Particularly in the living room, this part of the house is one with nature and heavily infused with rustic wooden elements.
The light that hits the living room's marble floors is reflected onto the vivid wooden TV console unit that is kept relatively simple on décor.
On the adjacent wall stands a massive storage unit that's fresh and impressive. This one-of-a-kind wooden cabinet features equal open and closed storage, cleverly designed for a home library. Finely carved nooks were made to create this literary haven for bookworms.
Conclusion
Whether it's lighting, colour scheme or choice of furniture, it's always good to give careful thought when planning how you want your living room to look. Since this space takes on many fronts, it should always be a versatile yet personal space.
We hope the quick tips and fresh ideas in this article have inspired you to design your living room in the best way possible. Alternatively, you can check out Beautiful homes for more ideas on living room designs in Singapore. Happy designing!
---
Related Articles
We're here to improve your home
Speak to hundreds of reliable pros, view their gallery, inspirations, and know the best prices with our resources.
Have full control over your home improvement projects with Homees.