What is the Minimalist Theme in Interior Design?
Minimalist interior design is a design that emphasises simplicity and cleanliness in the space of the interior.
In a minimalistic home, less is more. Spaces should be clutter-free while retaining a sense of serenity and homeliness. Its reductive beauty is what makes minimalist design ideas one of the top interior design trends in Singapore.
As a significant design movement in the early 90s, the core of minimalism lies in the 3Fs – form, focus and functionality. Every piece of furniture serves an important purpose, without contributing to unnecessary clutter.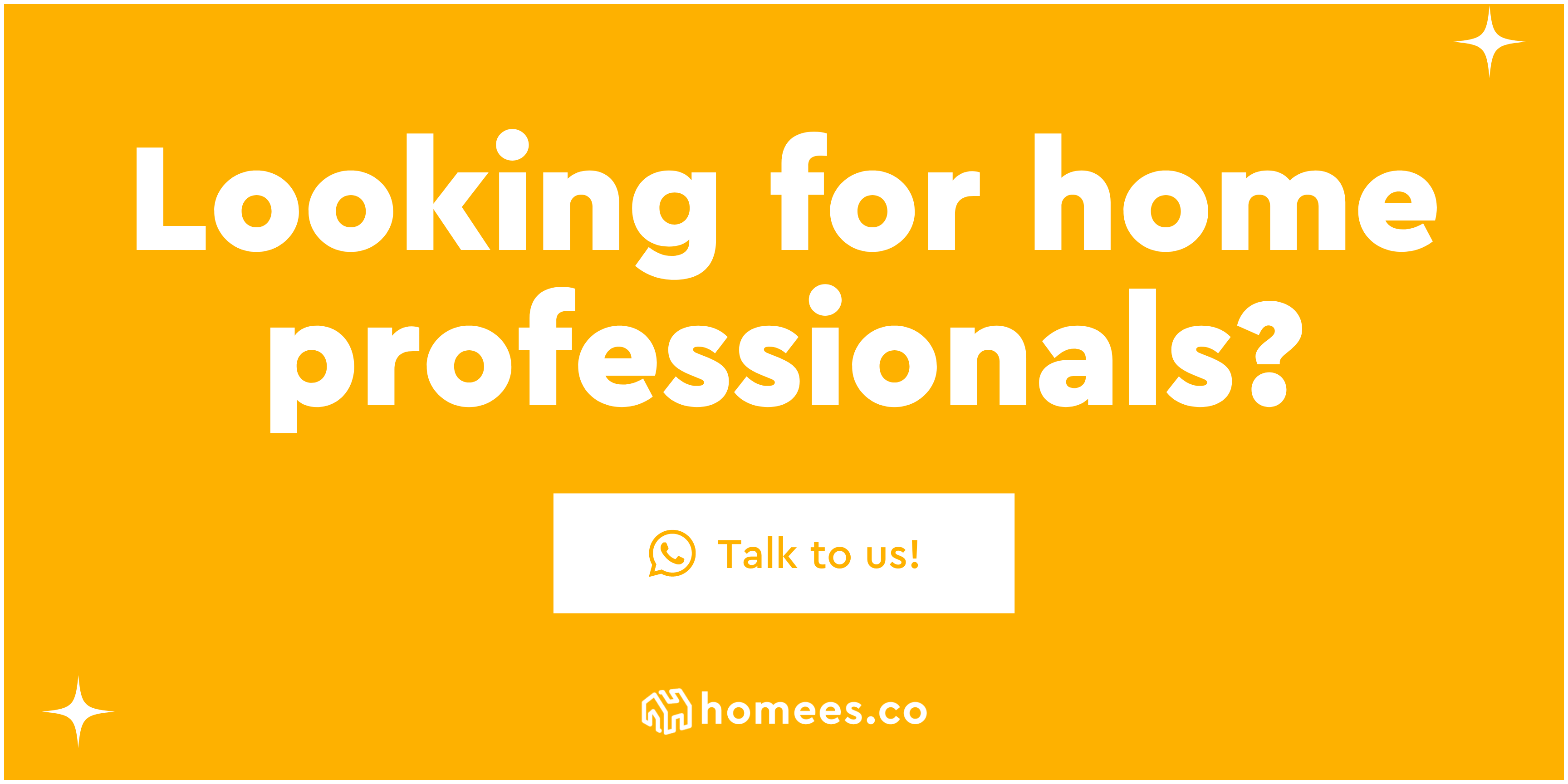 ---
What are the characteristics of minimalism?
Having Less is More
While not necessarily the same thing, minimalism often comes hand in hand with practicality and functionality. Ultimately, it's all too easy to prioritise aesthetics over utility, making it difficult to keep the home neat and clutter-free.
The bench in the living room can be more than just a glamorous bauble. Many benches come with pockets of space under the seats to maximise the storage capacity of one's home.
However, that doesn't mean we must sacrifice the aesthetic value of one's home. Instead, picking the right type of furnishings for a minimalistic style should complement each other and create a unified and soothing space.
Minimalistic Colours
Colours can make or break a space; they can dramatically change up the vibes of a room. As such, when it comes to choosing paint colours for your walls, consider your options carefully.
To maintain a sense of calmness and cleanliness, the colour palette of a minimalist design often features monochromatic tones and a narrower range of colours. This is to create a restful space that remains timeless in its visual beauty.
---
Read also: Painting Cost Guide In Singapore
8 Stylish Minimalist Design Homes in Singapore
With the wave of the minimalist-themed home taking the world by storm, here are some irresistible homes in Singapore that have adopted this popular decorating style. From HDB to condos, these spectacular galleries will surely inspire you to redesign your home into a minimalist haven.
1. Warmth in Simplicity @ Telok Kurau
Most minimalist designs tend to present themselves in cool, monochromatic tones. Leaning towards the warmer side of things, this HDB residential project by AC Vision Design proves otherwise. Featuring smooth and crisp lines, this home design is elegant and comforting even with the slightest decoration and an exclusive colour palette.
Radiating the same snugness as the living area, the master bedroom is also a minimalist's dream come true with the same colour scheme and basic decoration. Implementing a recessed wall niche to accommodate fancy ornaments is a great way to skimp on space, especially for smaller homes.
Relevant article: Bedroom Cost Guide in Singapore
2. Rustic Simplicity @ Tampines
This concrete-clad space designed by Local INN.terior takes on rustic wooden elements, perfectly incorporated within a monochromatic home. This clean-lined 5-room BTO flat in Tampines is a work of architectural symmetry. The living room is decked out in white and cream, while the colour palette of the opposite side of the home sits on the other end of the spectrum.
The use of concrete in the toilets gives a chic industrial edge to the space, allowing the rose gold accents to stand out further. By introducing a glass panel to separate the bathroom from the master bedroom, it creates the impression of a bright, expansive area, an instant mood-lifter.
Find bathroom interior designers
---
3. Marble Meets Modern @ Serangoon
While keeping to the "less is more" ideal of minimalism, this resale HDB interior project by Zenith Arc Pte Ltd extensively features flat, smooth surfaces and clean, bold lines. The minimalist appeal stems from a sparsely decorated layout and the influence of muted neutral hues.
Famed for its everlasting beauty and mesmerising elegance, marble is a hot favourite in home design. Whether it is for walls, floors or surfaces, you can never go wrong with using this versatile stone in your home. As seen from this all-marble bathroom, it feels equally luxurious and indulgent as the finest hotels in town.
relevant article: Plumbing Cost Guide In Singapore
 4. Contemporary Minimalist @ Cashew
Designed by Baum Project Pte Ltd, this landed property exudes a timeless interior, embodying all elements of minimalism. Coupled with the cool white lighting used all on the first floor, the dark laminate steps leading into the living room amplify the tranquillity typical of a minimalist home.
Every corner of the home tells a story. For this residence, the custom-built feature wall on the second floor gives us a glimpse of the family's stories and milestones. Apart from having sliding glass doors, the homeowners were not afraid to brighten their space with fuss-free wall lighting.
5. Crisp and Clean Maisonette @ Ang Mo Kio
To maximise space in this apartment, Space Factor incorporated loads of multi-functional furniture. Bearing an open-concept plan synergised with unique textures, the dry kitchen countertop features an adjoined study desk with charging points that sit within reach. A minimalist's home is always carefully thought out to align with the homeowners' lifestyles and preferences.
Clothed in a deep wood texture, the kitchen is in sync with nature given the amount of natural light that reaches the space. Having plenty of storage nooks and crannies is love at first sight for the minimalist, allowing you to hide away clunky pots and pans.
Find wood flooring installation companies
---
6. Monochromatic Minimalist Living
Who says black and white interiors are aloof and unwelcoming? This HDB residential project by Letz Interior had the right mix of accents that resulted in a posh yet homely living space. This captivating colour palette accentuates different corners of the house, levelling up the interior's luxury and grandeur.
As seen in the kitchen, a monochrome interior works perfectly well with notes of brass and gold. These glistening accents were adopted for the cabinet hardware and tabletop plant stand, acting as finishing touches to the ultra-modern look for the kitchen.
Relevant article: Interior Design Cost Guide In Singapore
7. Stylish Fusion @ Bukit Batok West
Pooling together different interior styles, Space Factor pivoted on the open-space approach so that more natural light filters in, making the 3-bedroom house look more spacious. Using pale neutrals for the structural surfaces, the dark contrasts in the lighting and furniture blend seamlessly to create an uncluttered space. Track lighting and wooden surfaces are common in industrial designs, but they complement the minimalist style perfectly.
Bathed in pristine white finishing, the kitchen boasts a clean and immaculate feel. By using contrastive warm lighting for the kitchen island, draws attention to this area in the room and emphasises its importance. As a tip in minimalist design, think about the core purpose or function of each room. Based on this, pick out a piece of furniture that you wish to highlight by altering a visual element such as light, colour or texture, such that it differs from the rest of the room. That way, you are more mindful of the minimalist interior design ideas and how it harmonises with your home design.
Relevant article: Kitchen Design and Renovation Cost Guide in Singapore
8. Pop Minimalism @ Hougang
With a little design ingenuity, Imposed Design not only made this HDB flat look bigger but also livelier. Splashes of ruby red in this pop minimalist apartment give a unique character to the home by injecting a vivid sense of modernity. To keep clutter to a minimum, plenty of storage was embedded into the structural elements of the home.
Minimalist interior design can come off as rigid and detached if the space only utilises plain neutrals. For this master bedroom, the colours and layering of the bedspreads are perfectly executed in order to maintain a high level of comfort.
Relevant article: Bedroom Cost Guide In Singapore
How to Achieve a Minimalist Design For Your Home
1. Prioritise clean lines and structure
To create a restful and clutter-free environment, the minimalist style heavily involves simple and compact design elements that do not feature much decoration. It aims for a straightforward yet functional appeal without too much noise.
This mindset should be carried over when choosing furniture for your home. Opt for sleek furniture with clean lines that you will appreciate in the long run, instead of gaudy pieces that are passing trends.
The form of the furniture should serve to complement each other, constructing an integrated and comfortable home without appearing complicated.
Find custom-made furniture services
---
2. Use a restrained palette of neutrals
A minimalist design tends to feature a concise palette of colours. Having a mish-mash of varied tones and hues in a home can create an unsettling and haphazard feeling.
A good recommendation when choosing interior colours would be to focus on mainly three colours of similar to achieve a more consistent and coherent aesthetic.
Standard colours to work with are neutrals and pastels – white, cream and beige – as well as colours with a cooler tone, like grey and black.
While too many colours can look disorganised, the opposite is true. Being overly conservative with too few colours can end up creating a dull washed-out home.
A potential problem that comes with a minimalistic feel is that your home can end up looking empty, plain or boring. This can be avoided by opting for wood-tone surfaces as a decorative element to break up the monotony.
Find top painting companies in Singapore
---
3. Choose simple and complimentary decorations
Because a minimalist style breaks every element down to the basics, every part of your home is laid bare and exposed. If not furnished well, the home can be a far cry from a warm and welcoming space.
Hence, presentation is key when injecting a personal touch into your home in order to create a sense of homeliness. Of course, do keep the costs of your home decoration in mind so you don't bust your home renovation budget. Be adventurous when it comes to picking out your home décor, but always remember that it should serve a unique purpose.
Paintings, photographs or even drawings are a simple but lovely way to add decorative elements to your home without overdoing it. For framed photos and paintings, a safe way to ensure coherence between the decoration and your home is to choose a frame that matches the colour scheme of your house.
This could mean picking dark lacquered frames to match the black furnishings of your home or wooden frames that match your floors. Although the colours can deviate by a few shades, the similarity helps to avoid the feeling of disorder or messiness.
4. Lighting is everything
Another way to avoid the feeling of bleakness or emptiness in your house is to invest in good lighting. Although it is often overlooked in favour of other elements, lighting is actually one of the most significant aspects of interior design.
It can influence both the mood and size of the room. For example, warm white LED lights tend to radiate softness and warmth that evokes feelings of relaxation, making them ideal for bedrooms and living rooms.
On the other hand, cooler white LED lights have a cleaner, brighter tone and are slightly harsher in comparison, making them a more popular choice for kitchens and washrooms.
Find interior lighting designers
---
So, Why Is Minimalist Design So Popular?
The minimalist design is popular for its classic aesthetic – it is a style that will never go out of trend, withstanding the test of time. By focusing on fundamental elements and functionality, it helps to create a comforting and restful environment while maintaining an elegant beauty in your home.
Minimalist theme is especially handy for areas with limited spaces, such as 3-room HDB flats, as it foregrounds the importance of storage spaces. This might sound ironic, but such a theme will help maximise the space by making small spaces appear larger. All of this can be easily achieved without sacrificing visual appeal.
Additionally, compared to other interior design styles that might require more creativity to pull off, minimalistic style is easier to manage and maintain given its emphasis on aesthetic restraint.
More complex designs have more furnishings to work with, which may lead to added pressure during the entire renovation process. This makes it ever so popular, given its timeless and simplistic charm.
Minimalist interior design is a popular choice for home staging companies looking to create a clean and uncluttered space that will appeal to potential buyers. By paring down the decor and furniture to only the essentials, home stagers can create a blank canvas that allows buyers to envision themselves in the space.
Marie Kondo and The Style of Minimalism
When one thinks of minimalism, one may inevitably think of Marie Kondo and her KonMari method, a philosophy of tidying which promises to declutter your spaces. This association has led many people to wonder: does the KonMari method equate to minimalism?
The answer is: no, they're not the same. While the KonMari method encourages one to live with highly cherished items that spark joy, minimalism focuses on living with fewer items so that you can find gratitude and contentment in what you possess – both the tangible and intangible aspects. KonMari is more of a decluttering technique, but minimalism is about starting from ground zero, learning to live with the bare essentials.
To find out more about the KonMari method, you can check out Marie Kondo's official website: https://konmari.com/
MUJI and Minimalism
Thinking of the minimalist aesthetic also often brings to mind another well-known brand – MUJI. A famous Japanese lifestyle company with multiple outlets in Singapore, MUJI prides itself on selling quality household goods that are simple, functional, yet elegant.
However, while MUJI's products are indeed minimal, there lies more to MUJI's designs than minimalism. MUJI's art director, Japanese designer Kenya Hara, expressed that MUJI is constantly evolving its design, all the while retaining its original goal of improving consumers' lives.
To find out more about MUJI's products and the values they aim to uphold, one can check out their official website: https://www.muji.com/sg/
Relevant article: MUJI interior design
Conclusion
The minimalist interior design style is more than just a trend. It is easy to manage and helps to create a comforting and clutter-free home. For those who feel pressured by this reductive ethos of having nothing at all, fret not as this pared-down design affords some flexibility in terms of colour scheme and furniture pieces. By showcasing the above minimalistic homes, we hope this has helped inspire you to run wild with your own ideas and find your personal sense of style.
Are you looking to build your portfolio with amazing photos like the ones in this article? You can engage Via Media for Singapore photography services today.
We're here to improve your home
Speak to hundreds of reliable pros, view their gallery, inspirations, and know the best prices with our resources.
Have full control over your home improvement projects with Homees.