Thinking of getting a maid, but feeling daunted by the amount of money required?
A maid or Migrant Domestic Worker (MDW) can lessen your burden by helping with your daily household chores, and meals, and taking care of your children and elderly parents. This means you can have more time dedicated to work, family and yourself.
Hiring a maid goes beyond her monthly salary. In this article, we break down all the costs of hiring a domestic helper in Singapore. If you don't want a full-time helper, you can check out our article on part-time maids.
Looking for a reliable maid agency in Singapore? You can visit our directory.
---
How much does it cost to hire a maid in Singapore?
Once you decide to hire, you should first consider whether you want a new overseas or a locally transferred maid.
The difference between these two would be that an overseas maid would be new and will be flying over to Singapore once you decide to hire her.
A locally transferred maid is someone who is already in the country and looking to transfer to a new employer.
Note that the cost to hire a new overseas maid will be higher as compared to transfer maids.
So how much does a transfer maid cost?
You will be expected to pay the following fees upfront after deciding on a domestic helper, with a difference between new and transfer maid prices.
$0 – $2,000 (depending on agency)

$0 – $2,000 (depending on agency)

$75 (if she is working in Singapore for the first time)

Foreign Domestic Worker Levy

$60/month (for Concessionary)

$60/month (for Concessionary)

Medical Insurance coverage (Minimum coverage of $15,000)

Personal Accident Insurance

(Minimum coverage of $40,000)

Initial Medical Examination

Employers' Orientation Programme (if you have not hired an FDW before or you have changed FDWs frequently)

Classroom EOP: $30 to $34.50

Classroom EOP: $30 to $34.50
Note about agency fee: Don't be attracted to the low prices of the agency fee. Most of the cost is transferred from prospective employers to domestic workers.
You will also need to check what is included in the agency fee. Here are some of the standard components of the agency fee:
Registration of MDW
Overseas recruitment fee of the MDW
Air ticket for maid's arrival in Singapore
Initial Medical checkup of MDW
Administrative Fee for application of work permit and other documentation
Fee-related to entry test and safety awareness course
Transfer of maid from the airport to your home or agency
Medical and personal accident insurance
Sending helper to MOM for thumbprint.
Guarantee free replacements
The average Fee they are required to give their agents is two months' worth of salary within a two-year contract. It is around $790 and $1,250.
Employers cannot deduct money from their helpers for agency payments. The Ministry of Manpower states that the only valid reason for the employer to deduct money is the absence of work or recovery of advances. In these cases, the maximum amount that can be deducted is 50% of the total salary per month.
What is Maid Insurance?
Maid insurance protects your helper from accidents and illnesses. Some agencies do include this insurance in their packages. So do enquire whether they add this in their agency fees and prices.
Before your helper arrives, medical and personal accident insurance is to be purchased as part of the medical obligations from you to her.
You must not pass on the cost of purchasing the insurance to your helper.
Types of Maid Insurance Plans & Prices
Basic Insurance Plans
As the name suggests, basic insurance plans are inexpensive to purchase and offer lesser protection and coverage. Costing around $290, these plans are a good fit for the money. With a basic insurance plan, you may get wage reimbursement and a few thousand dollars of liability coverage.
Middle Coverage Insurance Plans
Mid-tier policies are for those who want to save some money but are looking for better coverage. A mid-tier insurance plan costs around $325, and they provide the best coverage for every dollar that you pay.
Best Coverage Insurance Plans
This plan is the best coverage for domestic helpers and helps employers plan against any risks. The plan costs about $360, and last for 26 subsequent months. They are well suited for those who do not have a trustworthy helper and want to insure themselves against any harm done.
Here are our top 5 picks for the best maid insurance policies based on coverage.
FWD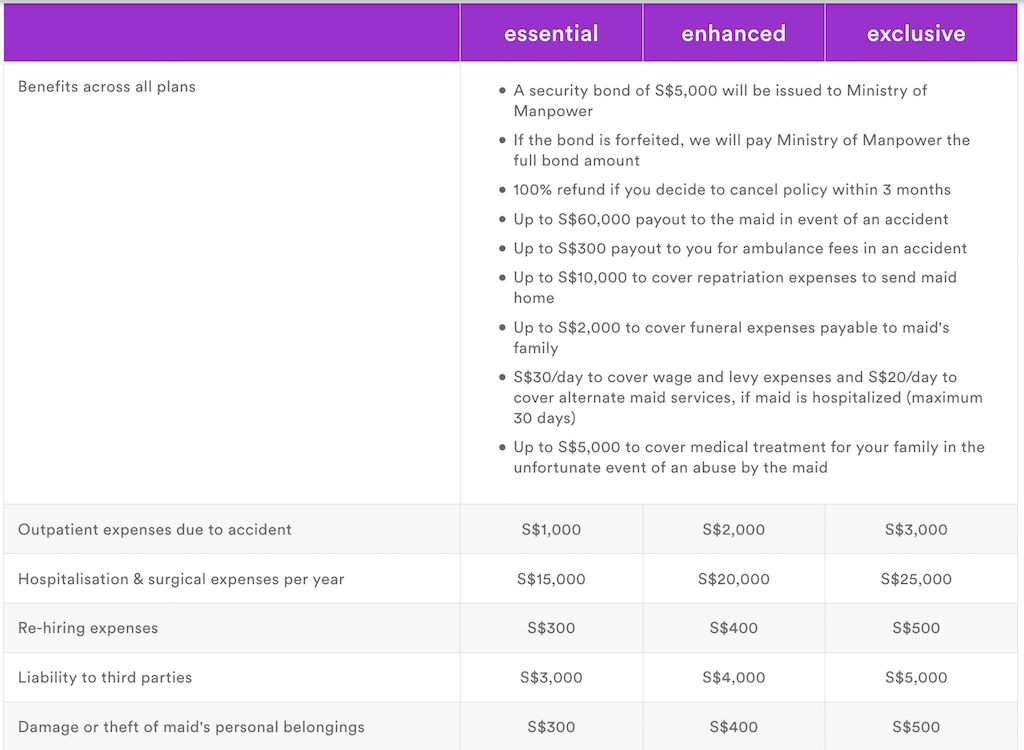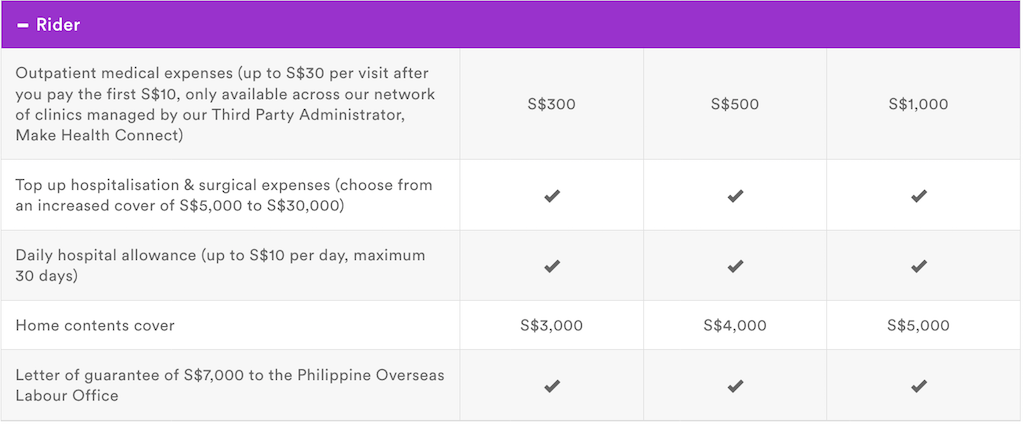 FWD's Essential insurance plan for maids provides a well-balanced coverage at an initial cost of about $185. Its price is thus, well below the average cost of any other basic level policy.
The good thing about it is that it provides much more medical and non-medical coverage than any other insurance policy of its price. It even covers the insured's belongings and potential lawsuits.
It covers up to $3000 for the helper's belongings.
Even if it is the negligence on your maid's part that has caused the harm, this covers against the lawsuits as well.
If your helper harms you or your family, FWD's Essential has coverage of up to $3000.
---
Etiqa eProtect Maid Insurance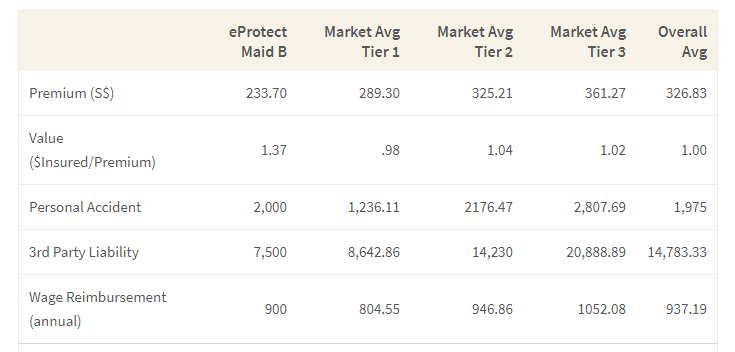 It is a package designed to ensure you against the expenses that your domestic helper might incur, whether related to work or not. It covers the accidental death and permanent disability of the insured, medical expenses which include any hospital or medical cost, fees required for the replacement of maid, insurance guarantee bond, and some other benefits.
You just have to ensure that the insurance meets the eligibility criteria fixed by the Ministry of Manpower. Being a mid-tier plan among the three levels, it has the following features:
It has $65,000 of coverage for personal accidents and death.
If the foreign domestic worker causes you harm, this insurance includes the helper's liability coverage of $7,500.
It includes hospitalization coverage of S$15 per day.
If you need to hire a temporary helper owing to the illness of the former one, you get a cover of $450.
China Taiping Domestic Maid Insurance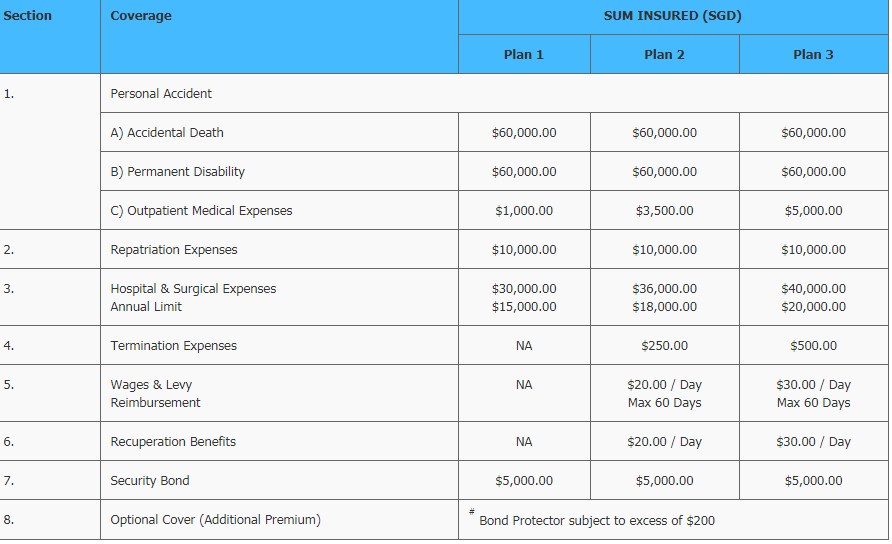 The China Taiping domestic maid insurance is necessary for you when hiring a domestic helper because you have to look out for the well-being of the person working for you. Since it covers the medical expenses in case of an accident or permanent disability, it is a good thing to get for your worker. Just if the worker has to be sent back to his/her country in the event of an accident or illness, China Taiping Insurance will take care of the conveyance fares. It also includes covers the termination, recuperation, and wages & levy reimbursement.
It ensures a sum of up to $10,000 as the repatriation expenses.
The annual limit hospitalization coverage and medical costs are up to $20,000, while the plan covers up to $40,000.
It covers the termination expenses of up to $500 for you.
MSIG Maid Insurance

MSIG's Maid Insurance is designed exclusively for domestic workers. It covers the medical expenses, which can be hospital charges or medical expenditures, and ensures against accidental death and disablement. The insurance includes the Ministry of Manpower's requirement in it as well. It comes under the mid-tier plan and covers:
If your domestic helper has to be hospitalized, this insurance plan covers up to $15,000 for hospitalization and surgical charges.
While your maid is in hospital, the insurance company pays you $50 every day for up to 30 days as domestic help benefits.
It covers $60,000 in case of a personal accident and $1,000 for unforeseen medical expenses.
Maid Protect

Maid Protect is one of the most affordable insurance plans. It covers all the necessary risks and comes with an option to enhance the policy to comprehensive premiums. Here's a list of its coverage and features.
It has an agency fee of $0.
With a personal accident cover of $6,000, it also covers at least $ 15,000 against the hospital and surgical expenses.
If you need to replace your domestic helper due to an accidental injury or sickness as certified by a doctor, you get an insurance cover of $500.
What does maid insurance cover?
Any domestic helper hired in Singapore needs to be covered by medical and personal accident insurance before landing in the country. Most insurance policies in Singapore include all the necessary components, as the law suggests. The only thing that is up to the employer is a plan to buy, but it is essential, according to Singapore's maid insurance regulations.
Hospitalization
Since domestic helpers do everything possible for their employers, their hospitalization charges must be covered because if they are not well, well, the work at home will dwell.
Wage Compensation
This is the compensation that an insurance company must pay daily when your worker is hospitalized.
Repatriation
To send the helper back home in case of death or permanent disability is the cost that the insurance company bears for his conveyance.
Security Bond
Make sure that the policy has a service bond; else, the money will be recovered from you.
Critical Illness
This cover is only meant if your helper is diagnosed with some critical illness. Not all of the policies cover this parameter.
Theft
If your helper takes away some of your assets, this cover will insure you against the damage that you incur.
Replacement 
If you need to hire a new helper because something tragic has happened to the earlier one, the insurance company will cover agency fees for you to find a new one.
Outpatient Treatment
For any treatment for your helper, which does not require hospitalization, this parameter will cover the expenses.
Third-Party Liability
If someone files a lawsuit against your helper, third-party liability will cover the attorney charges for you.
Personal Accident
If your helper has met an accident and has died or become physically challenged, the insurance company will have to cover it under a personal accident, the amount of which is variable by the laws.
Cost of Maid Levy in Singapore
How much is the levy in Singapore? If your family fall under any of these three schemes, you can opt for a levy concession, which will lower your Foreign Domestic Worker Levy fee. Instead of $300 per month, you pay $60 per month.
Young child/grandchild below 16
Aged person at least 67 years old

Aged person scheme (MDW employer or spouse)
Aged person scheme (parent or grandparent)

Persons With Disabilities

Persons With Disabilities (PWD) scheme
Foreign domestic worker grant ($120 per month)
For some, you will be automatically enrolled into the scheme, while for some, you will need to apply to be registered. So, do ensure that you read and make the right checks and applications.
Although the monthly levy is $300, this only applies to your first maid. Subsequent helpers will require you to pay $450 a month unless you have received a levy concession.
You have to risk facing these penalties if you don't pay your monthly levy on time.
2% late payment penalty or $20, whichever is higher.
The total late payment penalty will be capped at 30% of the outstanding levy.
Existing work permits cancelled
Ban from applying for a new work permit
Ban from renewing an existing work permit OR
Legal action to recover the unpaid levy
How much is the salary of a maid in Singapore?
The monthly salary of a foreign domestic worker in Singapore varies. The more experienced they are, the more expensive. Factors include:
Pay has been given by the past employer
Years of experience
Specialized skill set – ability to handle elderly and children, nursing expertise and care
More people to take care of in the household
The attitude of the MDW
You can follow the minimum wage set by the home country of your domestic helper:
Myanmar maid salary: $450
Sri Lanka maid salary: $497
Indonesia maid salary: $550
Philippines maid salary: $570
If the helper is experienced, expect to pay more than the minimum wage above.
Note that every domestic helper needs to have a weekly rest day (if her Work Permit was issued or renewed after 1 January 2013). If there is a mutual agreement with the MDW to work on a rest day, you need to provide at least a one-day salary or another replacement day within the same month.
The one-day salary should not be counted as part of her monthly salary. From end-2022, all domestic helpers are expected to have at least 1 rest day per month that cannot be compensated.
If you are hiring an experienced domestic worker, you can view this survey that compares salaries in Singapore to years of experience.
Other Daily and Significant Costs
Six-monthly medical examination

Pregnancy & Syphilis (Every 6 months)

Tuberculosis (Once, upon 2 years of stay in Singapore)

Medical expenses (if FDW falls ill)

Food, Accommodation, travel expenses and utilities

Immunisations (for FDW taking care of the elderly or children)

$45 for a flu vaccination, $67 for Hepatitis A, $90 for typhoid and $93.50 for a combo for diphtheria, tetanus and pertussis (International Medical Clinic)
To protect yourself against emergencies happening to your domestic helpers such as severe illness or accidents, opt for maid insurance with good, sufficient coverage.
Do note that you are not allowed to get your MDW to co-pay her medical expenses even if it exceeds the insurance claimable limit.
Should I Engage a Maid Agency?
An agency will eliminate all the hassle that goes about hiring a maid. You can still do it by yourself for a transfer maid. You will not be able to hire a fresh domestic helper by yourself but through an agency. If you get into a legal dispute with the agencies, you can find litigation support firms to help you out.
If you do not want the hassle of looking through the rules and regulations and paperwork, then an agency is ideal for you. However, if you want to get a maid from overseas and know nothing about work visa, you can engage JL accounts for immigration and work visa services.
You can find a good maid agency with the help of our article.
If you want a clear and easy guide to follow through with your hire without an agency, you can read this article on how to hire a maid directly without an agency.
Adding up the cost above, we can essentially calculate the estimated cost of each type of hire:
| | | |
| --- | --- | --- |
| | | |
| | $1,308 (about 1000 for agency fee) | |
| Transfer maid without an agency | | |
| Transfer maid with agency | $1,273 (about 1000 for agency fee) | |
We're here to improve your home
Speak to hundreds of reliable pros, view their gallery, inspirations, and know the best prices with our resources.
Have full control over your home improvement projects with Homees.