Homees provides a directory of wall companies in Singapore. You can compare and view a list of wall companies that can suit your home needs.
11 Best Wall Companies In Singapore
| | |
| --- | --- |
| | |
| | |
| Jaystone Renovation Contractor | |
| | |
| | |
| | |
| | |
| | |
| | |
| Superstar Handyman Singapore | |
| | |
| Hua Kwang Furniture & Decoration | |
| | |
Types of Wall projects
Wall firms perform all sorts of projects. Some may only focus on just residential wall projects, while some may be more involved in commercial projects.
For residential wall projects, theses are some of the common wall projects.

Walls Repair and Wall Installation Costs
The costs can be difficult to estimate due to the myriad of materials, the complexity of barriers (such as drywall) as well as different kinds of damages such as holes or water damage. Furthermore, you may have to repaint the wall completely or re-wallpaper it, adding to the cost of refurbishing.
For projects like these, the priciest part of the project is the labour involved. Even for minor repairs, be prepared to spend at least $70-$80 an hour for handyman repair.
The cost of materials will also be a factor driving up the prices of wall repair and installation projects. Homeowners spend an average of $717 per repair, with projects falling between $355 and $1123.
Cracks in the HDB wall may also signify a bigger structural issue with your unit. Apart from repainting the wall with a sealant to hide the hairline cracks, be sure to contact a contractor to assess the situation as it may signify a larger problem at hand.
HDB Wall Repair and Installation
It is important to take note of HDB rules and regulations when concerning yourself with HDB wall repair works and installation projects.
As per the HDB website:
Demolition and hacking of walls are subjected to HDB's approval. This applies to both partial and complete demolition of the walls. Wall projects have more red tape hoops to jump across as it might affect the structural integrity of the building and housing unit.
Hence, when performing wall repairs and installation projects in HDB units, it is important to factor this paperwork and window of approval into your personal project timeline.
You should also only hire contractors from the Directory of Renovation Contractors (DRC) to carry out the relevant renovations, as they are legally obligated to adhere to the HDB renovation rules and regulations.
Demolishment and removal of walls are also considered noisy renovation projects. This means that the renovation works can only be carried out between 9.00am to 5.00pm on weekdays and are not allowed on Weekends, Public Holidays and Eve of major Public Holidays.
For a list of official Public Holidays, you can refer to Ministry of Manpower's website.
You can also read up on specific renovation guidelines on My HDBPage.
Wall Repair Projects
Wall repair projects can cause some mess in the house sometimes, due to the scale of the renovation involved. During the wall repair process, the neighbouring rooms or the entire house unit might be uninhabitable. For situations like this, it is advised for homeowners to make necessary arrangements for accommodation beforehand.
Even if the renovation process does not involve the entire perimeter of the house, it can also be slightly dangerous if the concrete is involved. On this note, homeowners should not attempt to perform wall demolition alone without the help of a professional contractor and/or appropriate tools, and even for so if young children are in the vicinity.
After the wall repair works, you might want to consider consulting wallpaper specialists, who can recommend the right materials for you to refurbish the wall. Hiring a professional to clean up might also be a good idea as it could save you time
In addition to repair works, you might also want to consider building a feature wall or a partition wall.
Wall Repair Projects
Coating Application
Concrete Repair, Removal & Replacement
Structural Waterproofing
Structural Inspection & Strengthening (for industrial walls)
Cracked Foundation Repair
Drywall fixing
Hairline Crack Sealing
Wallpaper replacement

Wall Repair Cost and Guide
Structural issues and repairs are significantly different compared to renovations or non-structural repairs. The need for structural repairs can vary, but generally, different types of wall require different treatment processes due to the difference in the material of the walls built. It is also important to discuss with your contractor the details of your wall and the problems that you are facing.
Here are some common causes of wall damage: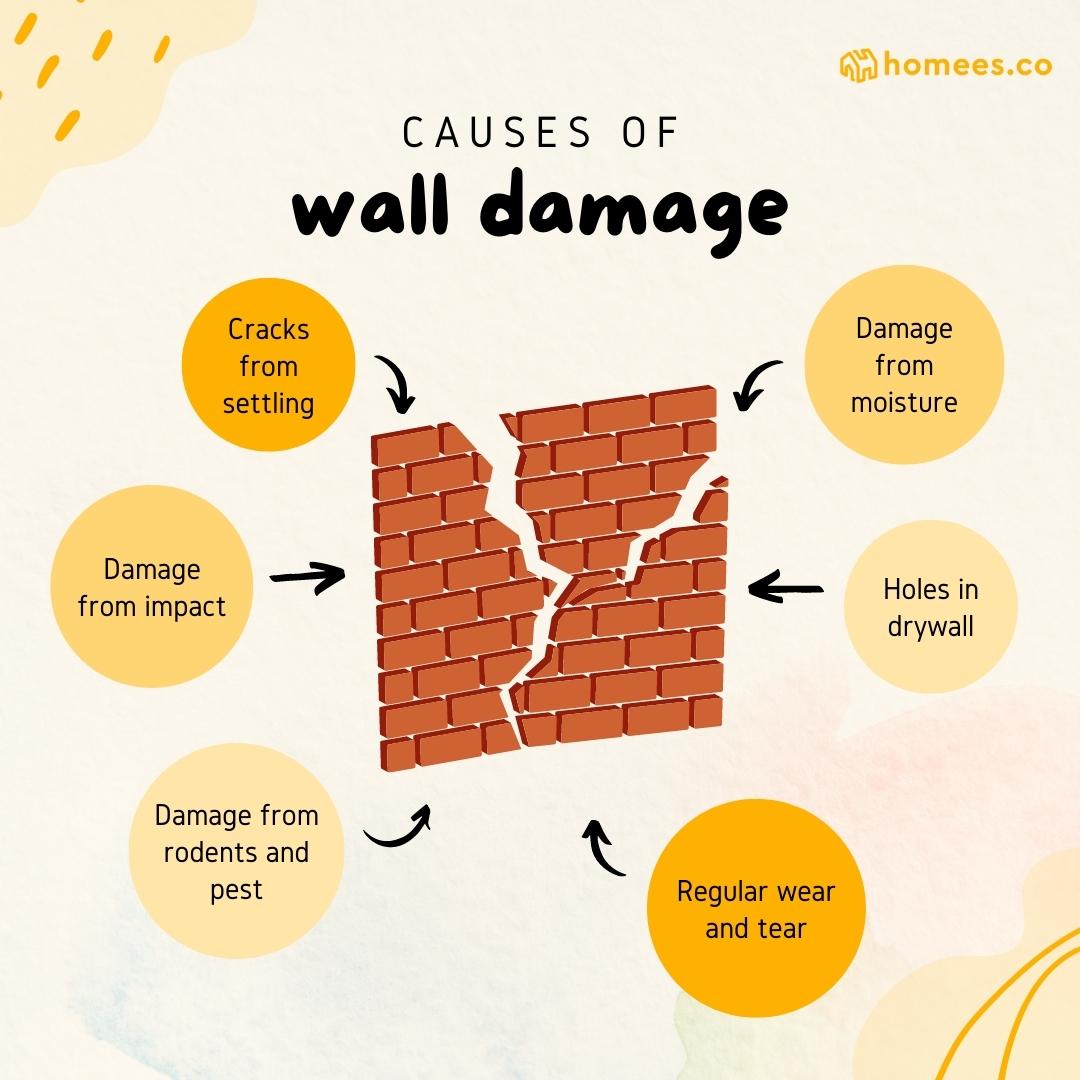 Your walls, along with other of your HDB home fixtures should also be regularly maintained.
This would reduce the need for repair work. It will also lower the price of repair work.
How to Repair Wall Cracks?
Wall cracks could sometimes be a sign of something more severe than wear and tear. The severity of the wall damage would depend on the symptoms. In rare cases, it might be an error during the building's construction process. Fault lines such as hairline cracks might emerge in the wall due to misalignment of the precast cement panels.
However, it is seldom an endangering situation to be in, as most precast panels are non-structural components.
These minor damages are more noticeable during the initial stages of the home. New homeowners should hence inspect your BTO units for such issues upon receiving the keys to your HDB unit and perform minor repairs if required.
For minor cracks in the wall, you might be able to patch it up with some wall crack repair products, such as sealants, from your local hardware store.
How to Fix a Hole in the Wall?
For repairing holes in concrete walls, small holes should be easily patched with the use of putty. Drywalls (common materials for partition walls) may require more specific materials such as drywall mud or plaster. Sanding is also sometimes required to flatten the wall.
For larger holes in the wall, repairing it might require a combination of silicon mixture, cement, and paint. These can be easily purchased but may require homeowners to purchase the materials for single one-time use. This is usually not the most cost-effective decision.
Hiring a professional may seem costlier at first, but considering the reduced mess, lesser cleaning time and faster completion time, the professional quality is almost always worth the money. Homeowners should make their own cost-benefit analysis for such purchases.
Sometimes, the problem may be too big to handle. As a rule of thumb, a hole with a diameter of more than 3cm spells big trouble.
You might also want to check the renovation guidelines on the official HDB website. Due to structural integrity, not all walls can be demolished and replaced. Even if they can be, relevant paperwork must be filed and applied for. Demolishment works are also restricted to a certain time as per the HDB guidelines. They can only be carried out during the eight working hours between 0900hrs and 1700hrs, only on weekdays. On Weekends, Public Holidays and the eve of major Public Holidays, it is illegal to perform demolishment works.
Questions to ask your prospective wall contractor
Before hiring a prospective wall contractor, these questions should help clear up some commonly misunderstood areas and better let you compare between firms.
What are the size and total staff strength of your company? What kinds of training have your staff undergone? It is important to know the size and scope of the company to gauge its capabilities and timeline. A smaller company may require a longer timeframe to complete projects than a large company. However, a larger company bearing many projects may also require more time.
Can you provide a written quotation, outlining all the terms and conditions of what we discuss? Being clear on the charges and billings will ensure your project is being carried out with peace of mind.
What are the payment options? Some designers may require an upfront deposit for design and management work, and others may choose to work in the profits with every line item.
What brands do you carry or service? Having a contractor who has prior experience in your preferred brand can significantly improve the renovation experience and will also usually save you time and money.
How long will the job take? Who will be handling the project? Will you clean up after the job is completed?
It is essential to know and clarify the timeline of the project, for you to better manage your expectations and negotiate your requests. Find out who should you be contacted for updates and concerns.
Do you offer a warranty or guarantee for your service or the unit?
Homeowners deserve to know the safety and warranty aspects of the project. This will help you prepare financially and prevent unwanted surprises.
Compare and review the best wall companies in Singapore
View their gallery and portfolio, and compare prices of similar wall projects in your proximity. You can read the reviews from previous customers to understand the background of prospective contractors, and how they rate their work, and message them directly to ask any specific questions.
Cost of Other Home Improvement Areas
You can check out the cost of hiring professionals for other aspects of your home improvement project. Some of the general cost guides can be found below:
We're here to improve your home
Speak to hundreds of reliable pros, view their gallery, inspirations, and know the best prices with our resources.
Have full control over your home improvement projects with Homees.