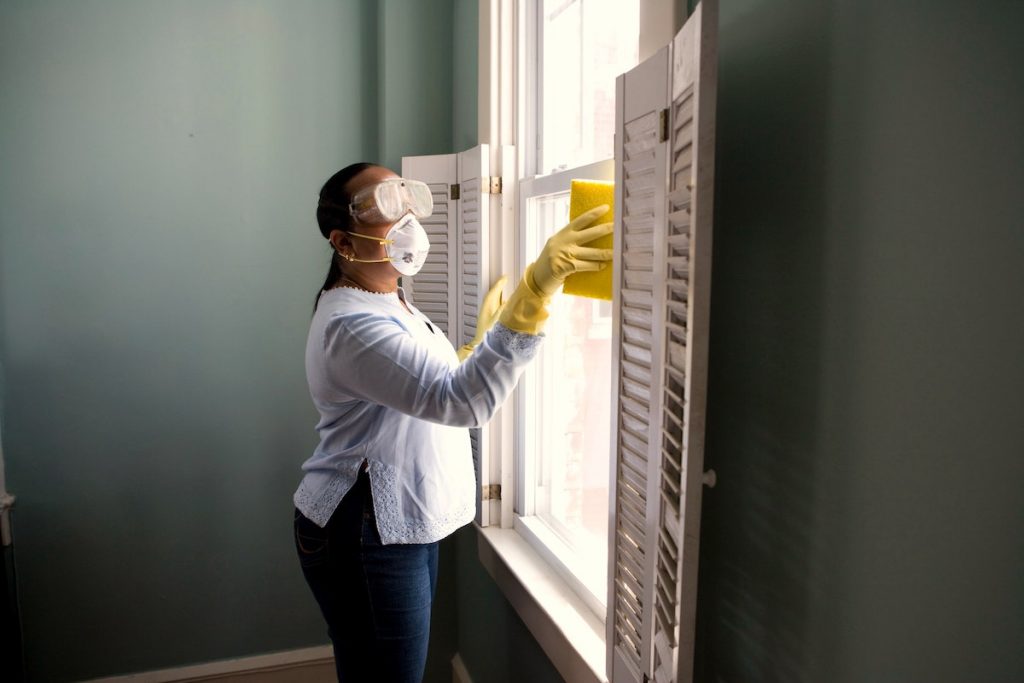 To see mould growing in your home can be one of the greatest fears for anyone. It not only appears unpleasant but can cause a foul odour as well as pose a risk to the health of everyone living there.
If you leave the mould growing, it has the potential of wreaking great havoc in almost all elements of a house. If left untreated, it can cost you thousands of dollars in repair and maintenance later.
Mould is something that can grow on almost all surfaces, whether it is walls, floors, fabric, or other areas. It thrives in humid and moist environments and can cause a lot of damage even to the foundations of a house. Therefore getting rid of it is the first thing you should do if you notice it.
Homees provides a directory of house cleaning companies in Singapore. You can compare and view a list of mould removal companies that can suit your home needs. You can view the cost of mould removal in Singapore in our cost guide.
11 Best Mould Removal Companies In Singapore (Our Top Picks)
Cost Of Mould Removal
| | |
| --- | --- |
| Types of Mould Cleaning Services | |
| | |
| | |
Importance Of Removing Mould From Your Home
There are many important reasons why you should remove mould from your home, some of which are discussed below:
Structural Damage
Mould spores can spread very quickly and easily from one place to another. If they reach the foundations and structure of your house, they can start damaging them instantly. This structural damage can continue to get worse unless you do something about it.
Can Cost You More Money If Left Untreated
If the mould is left untreated, it will continue to damage various elements of your home, and you will end up paying a lot of money in repairs and replacement. On the other hand, if you remove mould from your house early, you will save on all this extra cost of repair and renovation.
Mould can present quite an unpleasant sight, especially in the bathrooms and kitchen. That makes it an important reason to get rid of it as early as possible.
Foul Odours
The mould can also cause a foul smell or odour, which can be quite apparent when someone enters your home. It can, therefore, become a source of embarrassment for you when guests come over.
Can Cause Or Aggravate Allergies
The mould spores can easily transmit in the air and can be a problem for people with respiratory issues and allergies.
These mould spores can even cause allergies for some people, whereas for others, it can aggravate their allergies. Therefore, getting rid of mould ensures healthy air for people to breathe in.
Getting Rid Of Mould On Your Own
When mould is in the initial stages of growth, it can be easily removed as a DIY project. However, if the mould growth has exceeded, it will be tough to get rid of it yourself, and you will need to call professional mould removal experts.
To remove mould from walls and other areas of your home, you can use the following strategies:
You can use bleach to remove mould from floors and walls. Make a mixture of bleach in water and apply it to the mould areas and leave for some time. After that, scrub the area with a brush and wash with water and dry.
Some mould removal solutions are also available in the market. The solution can be used to remove mould in the early stages of its growth.
You can also use baking soda and sprinkle it over the areas of mould growth. Leave them for 15-20 minutes. After that, wash with water or wipe with a damp cloth. Baking soda can also be used to prevent mould growth in the bathroom and kitchen.
You can also use fungicide sprays to get rid of mould.
Always use proper equipment such as gloves, goggles, and face masks when handling bleach and other similar products.
Use dehumidifiers to prevent mould from growing again.
Do we need a professional to remove black mould?
Black mould is a serious health hazard. It can cost you a disaster on your home and take a huge toll on your health. Although black mould removal often requires professional help, skilled DIY homeowners can learn how to kill black mould and effectively tackle the issue with the right supplies. Some steps to identify before hiring a professional mould removal cleaner to help get rid of black mould include;
1) Find the moisture source
First, observe the colour, followed by the smell. Black mould is black or even dark grey in colour and often smells wet and musty, as it usually grows in areas with a lot of moisture. Black mould is also usually noticeable in the home if you experience a burning or scratching sensation in your throat or lungs.
2) Protect yourself and prepare the area
Wear a mask to protect you against spores that can lead to black mould poisoning. Wear clothing that will cover your skin. For example, a long-sleeved shirt and long pants are essential. Put on safety goggles and rubber gloves to protect your eyes and hands respectively. Discard your gloves after usage.
3) Start cleaning
To create a natural mould removal solution, combine one portion of baking soda with five parts of distilled white vinegar and water in a spray bottle. Alternatively, you can use a chemical-based mould and mildew remover, all-purpose cleaners, bleach or dish soap. Spray it on the black mould and let the mixture sit for about 30 minutes to one hour. Scrub the area with the black mould using a sponge and the solution of your choice. Let it dry and repeat the process as needed to ensure that you've removed the mould.
Professional Mold Removal Services And Their Benefits
Professional mould removal companies in Singapore excel not only in cleaning the mould from your house but also in fixing the source of the problem of humidity so that mould can be prevented from growing in the future. There are several advantages of hiring professional mould removal services, some of which are listed below:
, and it will cause the mould to start growing once again.
If you hire professional mould removal services in Singapore, you can expect them to carry out the following process:
Determine The Cause Of Mould And Moisture
The first step that professional mould removal experts will take is to determine the cause of moisture and humidity.
Mould thrives in moist and humid environments, so determining the cause of moisture can help in creating the plan of how to carry out the remediation process.
Once the cause of the moisture has been identified, the experts will be able to determine all the mould growth, even those that are not apparently visible.
Determine The Extent Of Mould Contamination
The next step is to calculate the extent of mould contamination since mould does not just grow in one area; it tends to spread quite easily. Once the professionals know how much the mould has been spread to all the regions, they will be in a better position to plan its removal accordingly.
Create Mould Remediation Plan
Once the extent of mould contamination has been identified, the experts will create the mould remediation plan and document the mould problem.
This documentation could be in the form of writing, photos, or videos. This will help them compare the results and in the case of mould regrowth, provide a good basis for comparison.
Carry Out Mould Remediation Process
Then comes the step of carrying out the mould removal process. This process can further be divided into the following steps:
The first step is to repair the plumbing problem or other issues which are causing the moisture buildup. If you want the professional company to skip this step, they will clean the mould, but it would mean that it will also grow back again since the moisture problem was not fixed. Therefore, this is the most important step of mould remediation.
The next step is to isolate the contaminated area so that the chemicals or other solutions that will be used for mould removal will not affect the other people in the house. In case of extensive remediation, the doors, windows, and all openings are sealed with polyethene sheeting.
Then all wet or mould-damaged materials are removed, and the site is cleared.
Then comes the step of cleaning the mould from all the identified areas. Different chemicals and disinfectants are used to remove mould followed by a cleaning with a damp cloth and detergent.
The area is then checked to see if all mould has successfully been removed.
Once it is ensured that all mould has been removed, the materials and surfaces are dried. This can be achieved by just leaving them to dry, or dehumidifiers or fans can be used to dry them faster.
The last step is to repair or replace all the materials that were damaged by the mould.
Check To See If Problem Has Been Resolved
Once the mould has been removed apparently, a final check is made based on approved guidelines to confirm that the cause of moisture has been fixed.
The area is inspected once again to determine that all apparent mould has been removed and there are no mould-related odours. All the furniture and other items of the rooms are placed back in their places, and the residents of the house are allowed to move freely within the house.
Reasons Why You Should Hire Professional Mould Removal Services
There are several reasons why hiring professional mould removal services is more beneficial as compared to removing mould yourself. These are described below:
Experience
Professional mould removal agencies are experienced in their work. They know how mould can be hidden in the least expected areas which are not apparently visible.
They will discover mould even in hidden and dormant places, so you can rest assured that after the process, all kinds of mould will completely be removed from your home or office. Such a thorough removal of mould is not possible if you do it yourself.
The Right Tools And Equipment
They have the proper tools and equipment through which they can carry out an effective job in the best possible manner. You do not have to worry about buying the different equipment and cleaning solutions since they are fully equipped to complete the job with perfection and effectiveness.
Mould Prevention
They also carry out steps through which future growth of mould is prevented. This also includes the application of certain materials and solutions to areas and surfaces which hinder the development of mould in the future.
Damage Repair
The professional mould removal services also help you to assess the damage caused by mould and can help in repair if an agreement is made with them. You can have the peace of mind that they will do their job in the best possible manner.
Eliminate The Source Of Mould
This is probably the most important reason why you should hire professional mould removal services because no matter how many times you clean the mould from your home if the source of the mould has not been eliminated, mould will continue reappearing from time to time.
The professional experts determine the source of the mould and carry out effective steps to eliminate it so future mould growth can be prevented.
Timely Mould Remediation
Since the professional mould removal companies are experienced in their respective job, they can carry out the whole remediation process in minimum time and with maximum efficiency.
This will help in saving you a lot of money which you would otherwise have to spend if the mould is left untreated to cause further damage and wreak havoc on your premises.
Mould Removal Costs Singapore
The cost of mould removal services can vary based on factors such as the level of mould contamination, determining the source of moisture and its elimination, mould prevention techniques that are to be used, and other steps that will be required to ensure proper mould removal, repair, and prevention.
Consult different mould removal agencies to check what pricing and rates they will offer for your particular problem and then decide which company to choose.
On average, professional mould remediation services cost ranging from $500 to $3,500 sgd. On an hourly basis, these experts charge $75 to $108.
If the mould problem is particularly serious, prices can range between $3500 to $6000.
Compare and Review the Best Mould Removal Companies in Singapore
When you want to hire professional mould removal companies for your mould removal needs, be sure to view their gallery and portfolio.
Compare prices of similar mould removal projects in your proximity so you can be sure that you are choosing the best possible option.
You can read the reviews from previous customers to understand the background of prospective contractors, how they rate their work, and message them directly to ask any specific questions.
Related Articles
We're here to improve your home
Speak to hundreds of reliable pros, view their gallery, inspirations, and know the best prices with our resources.
Have full control over your home improvement projects with Homees.