Are you thinking about adding timeless beauty and elegance to your rooms by installing wood floors? Then you are on the right track!
Be it for outdoor or indoor settings, wood flooring has always been a popular choice of flooring. It is often preferred due to it being environmentally friendly and natural look. Furthermore, wood decking can give outdoor spaces, for example, your balcony, a natural and non-uniform look in comparison to traditional plastic decking.
It is available in a variety of designs, grains, species, textures, and colors which can add a touch of sophistication and elegance to any interior design theme that you have
Wood flooring would differ based on properties such as their material make-up, cost, and their design. In this article, we will describe the different options that are available to you when you decide to have wooden flooring in your home. We will also discuss their respective pros and cons so you can make an informed decision.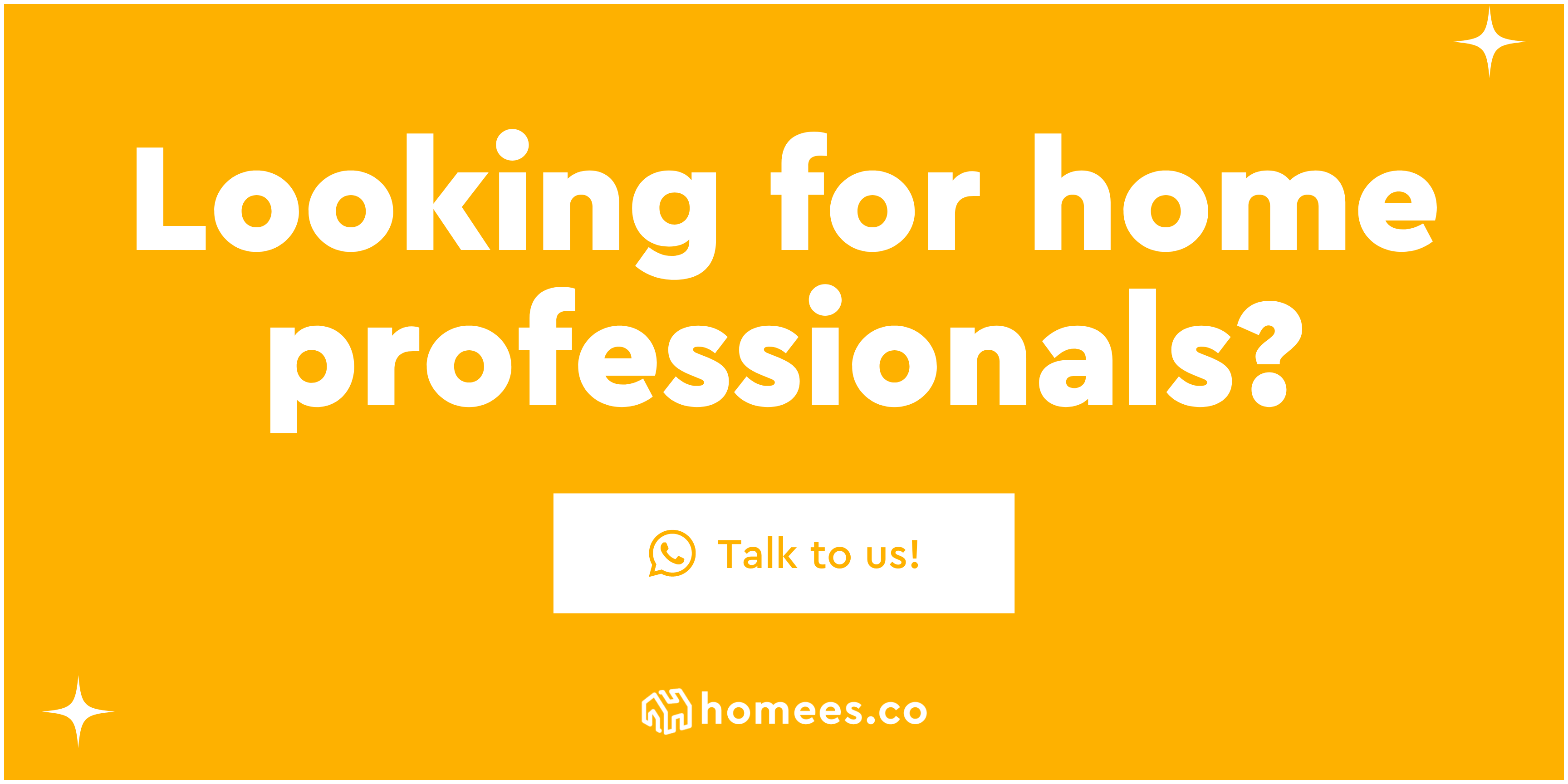 ---
How Much Does It Cost To Install Wood Flooring In Singapore?
Wood flooring generally has options for people with varying budgets. Definitely, this would mean the quality of flooring would differ from the corresponding price points. For example, vinyl flooring is usually the cheapest out of all the different floorings stated in this article and starts from about $2 to $3.50 per square foot (psf). Laminate flooring is usually slightly more expensive but still affordable. Usually, the price begins from $4 to $5.50 psf onwards. More expensive wood options include hardwood and parquet that could go up to $50 and above psf. To have better sensing of the prices you can check out our cost guide!
However, the above cost excludes cost from labor and removal of old flooring. Hence, in order to get better sensing of the prices, proper quotations from companies will be needed.
Types Of Wood Flooring
The different wood flooring types refers to the way that the wood material is put together during manufacturing. Depending on what type of decor you want in the room be it modern, traditional, or commercial, you can choose the type which best matches your specifications.
There are basically five types of wood flooring depending on how they are manufactured. These are described in the following sections.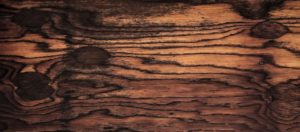 ---
Solid Wood Flooring
Price of wood flooring: $8 to $25+ at least psf
Pros: Durable, long lifespan, visually aesthetic
Cons: Difficult installation, may be prone to weather conditions, expensive, prone to physical damages, requires regular upkeep
As the name suggests, this flooring is made from solid wood or timber. Usually, they are made from hardwood species of trees that produce wood that is denser than their counterpart 'softwood'.  Some types more well-known include Indonesian Teak, Burmese Teak,  American White Oak, Indian Rosewood, Walnut, and even bamboo! Wood floors constitute planks that have a thickness of almost 18-20mm. In terms of installation, they are usually either nailed down or using the tongue-and-groove method.
A solid hardwood floor is aesthetically pleasing that will make an area more stylish. They are highly durable and can easily be sanded and repolished to achieve the same shine as a new hardwood floor. Their lifespan can range from 30 years to 100 years.
However, they can expand or shrink in extreme weather conditions and their installation is difficult as well. But because of their visual appeal, durability, and strength, they are generally the most expensive type of wood flooring.
Engineered Hardwood Flooring
Price of wood flooring: $4 to $20 psf
Pros: Strong against water damage, relatively cheap, decent lifespan, mimics hardwood
Cons: Difficult installation, not as high quality as hardwood
Engineered wood flooring, which is also known as layered wood, is a strong and resilient type of flooring that offers the same great outlook of hardwood flooring with even more strength and durability. Furthermore, it is a cheaper alternative to solid hardwood for those looking at achieving the same visual aesthetic but working with a tighter budget.
It is manufactured by gluing multiple layers of wood together to create a thick plank of almost 10-17 millimeters thickness. On top of this plank is a layer of solid wood of approximately 4mm thickness which gives the desired and similar hardwood look.
The main advantage of an engineered wood flooring is that it does not get damaged by moisture or heat in the same way that a solid hardwood door does. This is due to the presence of plywood in the middle. In Singapore's hot and humid weather, this material is more ideal due to its increased durability and dimensional stability. This means that the likelihood for it to undergo the problem of 'warping' is reduced.
It is more durable and stronger as compared to all the other types of wood flooring. Its lifespan is approximately between 20 to 40 years, but definitely, this may vary based on multiple factors such as humidity, amount of use (wear and tear). Its installation is, however, a bit difficult and requires more time and effort.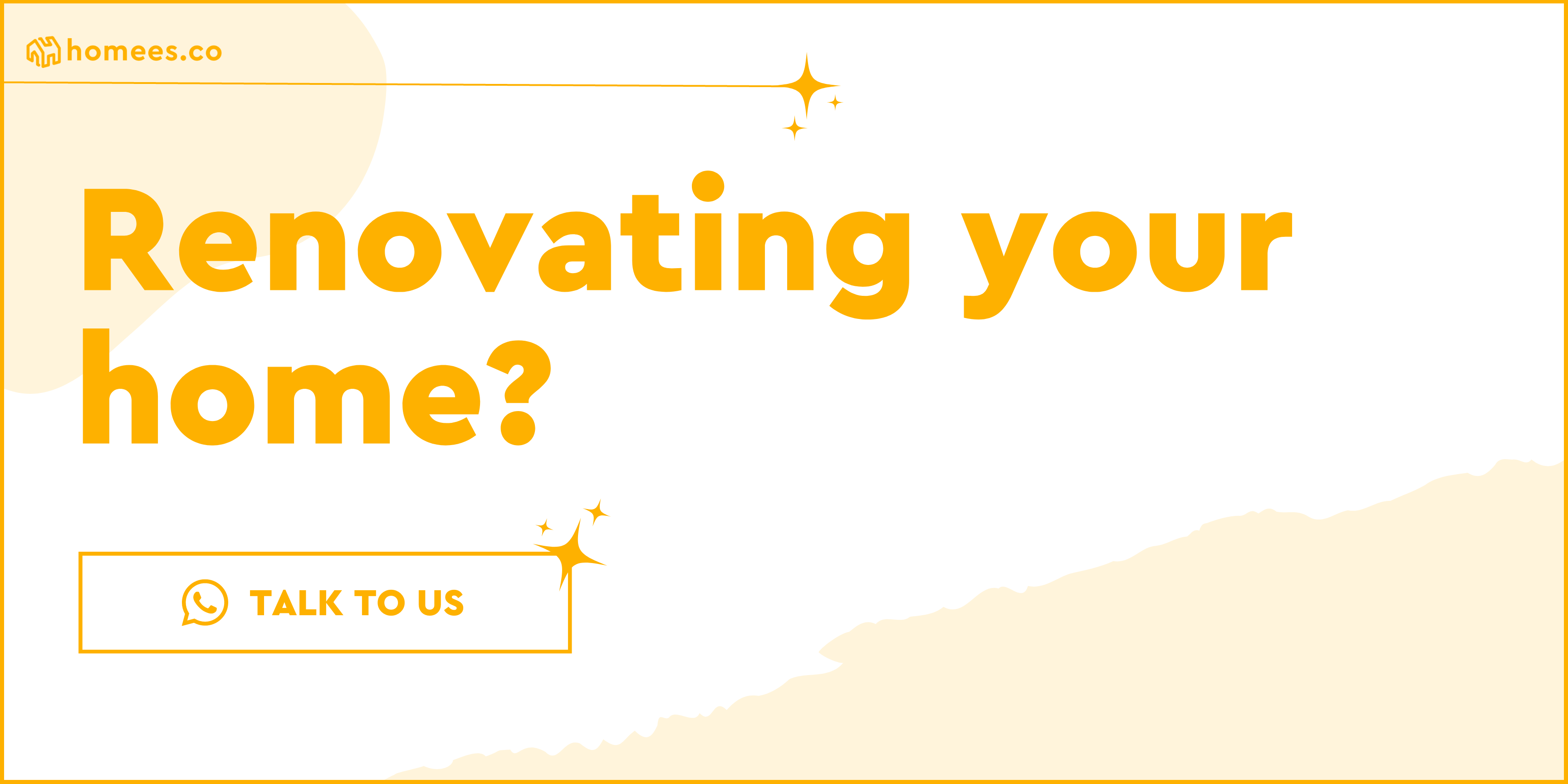 ---
Vinyl Flooring
Price of wood flooring: $1.50 to $6 psf
Pros: Strong against water damage, cheap, decent lifespan, various patterns and designs
Cons: Relatively easy installation, not environmentally friendly, easy maintenance
Vinyl flooring is made up of polyvinyl chloride (PVC). Although it is not made up of actual wood, it is able to mimic the pattern of not only wood textures. It comes in the form of tiles, sheets, or planks which can be glued to the floor with an adhesive.
Vinyl flooring is easy to clean and maintain as it can easily be cleaned with a broom and a damp mop. If maintained properly, it has a long life and shows good durability. A reason for its popularity is its affordability. Lastly, vinyl flooring has a relatively easy installation that does not necessarily require professional services for installation.
However, there are a few disadvantages of vinyl flooring also. It can easily be scratched with heavy load and dragging and with time, the colour and shine of vinyl flooring can fade and would require re-polishing
---
Laminate Flooring
Price of wood flooring: $2.80 to $8 psf
Pros: Relatively cheap, environmentally friendly, easy maintenance
Cons: Prone to physical damage, not as high quality as hardwood
Laminate flooring comprises multiple layers of synthetic wood that are fused together through the process of lamination. A clear protective layer is added on top of the laminated planks to make the finalized laminate planks. In terms of aesthetics, there are a few types such as satin, hand-scraped, brushed, and high-gloss.
The biggest advantage of a laminate floor is that you get the same shine and polish of solid wood flooring but at a much cheaper price. Because of the protective layer, the laminate floor is less prone to scratches and scuffs making it easy to manage and sanitize. It also does not get affected that much by humidity and high temperatures. Furthermore, the usage of glue and nails in installation is not a must. This further adds to the convenience of its installation. The lifespan of it is around 25 years if it is properly maintained.
However, if it does swell in moist and humid environments, the damage is irreversible. Also, it cannot be sanded and repolished like a wooden floor. If it gets damaged, you would have to replace it completely. And at the end of the day, it may be similar to a solid wood floor in appearance, but lacks the class and elegance of a hardwood floor.
Find Laminate Flooring Services
---
Parquet Flooring
Price of wood flooring: $4 to $14 psf
Pros: Environmentally friendly, easy maintenance, natural-looking with unique patterned
Cons: Prone to physical damage and not water-proof, not as high quality as hardwood, maybe slightly expensive
in geometric and other decorative patterns. In comparison to solid hardwood, the parquet plants are relatively smaller. Parquet flooring can be achieved using laminate, hardwood, or engineered wood planks.
Parquet flooring exudes decorative, stylish, and aesthetically sound appeal to any room. It is easy to maintain and can last for years if cleaned and maintained properly. Thus, it is a durable flooring type that adds a touch of class to your interior design.
However, because of its decorative properties, parquet flooring is quite expensive. If not handled properly, it is prone to scratches from heavy and sharp objects. It has to be saved from direct sunlight otherwise its colour can fade. It also requires regular polishing and sanding to keep its shiny and new look over the years.
Find Parquet Flooring Companies
---
Eco-wood Outdoor Decking
Price of wood flooring: $4 to $30+ psf
Pros: natural looking and provides an outdoor area, strong and durable, some materials are slip-resistant
Cons: Slightly pricey, requires upkeep due to exposure to the environmental elements
In order to achieve the popular look of an outdoor area such as balconies and patios in homes nowadays, wood is extensively employed. Common decking materials include timber decks, composite wood decks and chengal decks in Singapore. But what makes for good and durable wood decking? Recently, there has been the introduction of Eco-wood and its usage in outdoor decking.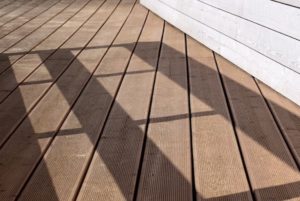 So why do people choose Eco-wood over natural wood?
Eco-wood composite decking is highly durable. It is resistant to all weather conditions, from extreme sunlight to heavy rain. This is due to the characteristics that make it more suitable for this role. This includes UV and heat resistance which prevents discoloration.
This is an important feature as the deck is an outdoor feature and will be susceptible to such harsh weather conditions.
It is easy to maintain.
Most wood used for decking usually has slip-resistant properties This is important, especially when your deck could have puddles of water from the rain, and thus this is important to ensure that people do not slip and fall.
Other types used in decking include resilient tiles decking and treated softwood decking. These methods are not as common but are slowly emerging in housing properties.
---
Pros and Cons of Wood Flooring
Pros
Unique natural designs that are not complete copies of each other are expected
Provides a cosy and inviting ambience for any home living space that is sure to provide optimum home user comfort
Long-term investment due to its increased durability and hardiness when maintained appropriately gives the ability for the wood flooring to be able to last for years
Cons
May require regular upkeep processes such as sanding and varnishing to maintain the quality of the wood. To some, this may be a hassle and may not be financially favourable
Building on the previous point, due to the higher quality and acquisition of some of these wood (e.g. solid hardwood), the initial purchasing of the materials will definitely be pricier. Hence, this may not be the most economical option depending on the choice of wood
Some of the wood options stated are susceptible to moisture and if the users are not careful, this may lead to problems such as 'warping' or discolouration of the wood
Wood floorings easily get scratches from dragging heavy items and even being damaged by smaller pointy objects. Therefore, caution is advisable when carrying out daily chores and activities.
---
Which Wood Flooring Is The Most Durable And Best Choice?
Each type of wood floor has its pros and cons and offers a particular visual appearance that can help shape your decision of which floor to choose for a particular room of your house.
But there is one wood floor type that offers the greatest durability, strength, and design options that make it a good choice to be used. This is the engineered hardwood flooring. It retains all the positive qualities of hardwood flooring without having its disadvantages.
---
Some of the benefits which you can achieve by using engineered hardwood floor over the traditional solid wood floor are listed below:
Due to the different layers of materials in the engineered hardwood flooring, it is able to withstand extreme weather conditions. The same amount of humidity can cause a solid hardwood floor to warp engineered floor will be able to withstand these humid conditions.
The installation process of engineered hardwood flooring is less complicated and simpler than that of a solid hardwood floor. For solid hardwood flooring, the planks have to be nailed to a plywood floor whereas, for an engineered hardwood flooring, only gluing and stapling are required.
You can even add an underlayment of foam beneath the engineered flooring with planks fastened together to create a floating system.
Due to simpler installation processes and even just the planks themselves, engineered hardwood flooring is usually cheaper than its solid counterpart.
● Engineered wood is lighter than solid wood, so it helps reduce transportation costs when you order.
Apart from all these advantages of engineered wood flooring, you can further up your game by using engineered hardwood planks as parquet flooring. This will further create beautiful and mesmerizing patterns that are sure to enhance the visual appearance of any room.
How to fit wood flooring?
If you want to install solid wood flooring, there are a few things that you have to be careful about otherwise the process is quite simple.
You would need a few essential items such as a hand saw, measuring tape, and adhesive or flooring nails depending on the type of subfloor.
In the case of a concrete subfloor, you would need wood to concrete glue whereas, in the case of timber subfloor, flooring nails would be required.
The first step in the installation of a wood floor is the preparation of the subfloor and checking the site conditions in order to avoid problems in the future. These checks include the following:
The air humidity should be between 45-65%.
Timber and concrete floors should be checked for moisture content to be no more than 12%.
The subfloor should be leveled so there is no unevenness.
The next step is to acclimate the solid wood floor by leaving them in the room where they are to be installed for at least 7 days. This will help the wood expand or contract according to the climate of the room so that it won't rise up or leave gaps after the installation has been completed.
Once the site conditions are checked and the wood acclimatized, the actual process of installation will begin.
If the wood floor is to be installed on concrete floors, start by applying the adhesive across one wall of approximately two planks' width. Then place the first row of wood planks on the adhesive in such a way that the tongue of the planks is away from the wall. Always leave a space of 10 mm from the wall to allow for expansion if there is any.
Then place the second row of the wood planks on the adhesive. Cut the wood planks so that they fit across the length of the room.
Continue with applying the adhesive and placing the rows of planks by leaving the 10mm expansion gaps along the edges of the walls.
For timber subfloor, layout the first row of wood planks and place them together by using flooring nailers. An expansion gap of 10mm should be placed along the perimeter of the room. Nails should be placed every 20 cm or so.
Continue by placing the rows of planks and cutting the planks to fit them in the length of the room whenever required.
---
Which wood flooring is the hardest?
Engineered hardwood flooring is considered to be the hardest since it is manufactured by glueing together several layers of wood sheets to create a thick, strong, and resilient material. This makes it the hardest type of wood flooring that provides a number of other benefits as well.
How to remove wood laminate flooring?
A wood laminate floor is installed through glue or adhesive. If you want to remove such a floor, you will have to loosen the corner or edge of one laminate sheet and pull it upwards. You can use a putty knife to make its way through a crack or seam and loosen the laminate sheet to the extent that you would be able to pull it up.
If the glue or adhesive has tricked down to the floor, you may have a hard time pulling off the laminate sheets. For this purpose, you can use an acetone fingernail polish remover and drip it over the adhesive. Within 30 seconds, the glue will start to dissolve after which you could pull off the laminate floor.
You can even use a heat gun to melt the glue so that the laminate flooring can be pulled off. Once the floor has been removed, you may use the heat gun to remove all adhesives and clean the subfloor.
Tips on Lengthening Wooden Floor Lifespan
For those who are interested in wood flooring and are keen on maximising its durability, here are some tips on how to better maintain your wood floor for longevity:
1. Use pads underneath your furniture to protect it against scratches
Hardwood floors are susceptible to stuffings and scratches that could be caused by the shifting of furniture. To better ensure your floor's longevity, it is always a safe option to attach stick-on felt protectors under the legs of your furniture to prevent scratches.
2. Avoid liquid cleaners
It is advisable to avoid using wet mops, damp cloths or chemical cleaners to clean your wooden floors as it can possibly dull the finish of your floor and even damage it in the long run.
Instead, you might want to use a simple vacuum or dry cloth to clean up dirt and dust particles.
3. Clean up any excess water or puddles quickly
Try not to leave any puddles of water on your wooden floor for too long as it might leave a watermark on your wood surfaces and damage it in the long run. Having to replace your wooden floor may be troublesome and pricey, so make sure to wipe up any excess water quickly.
4. Polish your floor every once in a while
By polishing your floor, you are actually adding a protective layer over your wooden flooring, effectively protecting it against scratches or water. So if you have the time to spare, consider polishing your wood flooring every two to four months.
Related Articles
Cost of Other Home Improvement Areas
Flooring is an integral part of a home design, and should you have a spare budget and would like some unique designs of your own, you can try speaking to a few interior design companies or renovation contractors for more designs ideas.
Some of the usual home improvement cost guides can be found below:
We're here to improve your home
Speak to hundreds of reliable pros, view their gallery, inspirations, and know the best prices with our resources.
Have full control over your home improvement projects with Homees.