The bathroom is often the place in the home which most homeowners overlook. While most people are content with the basics, a well-designed bathroom can give you more. Indeed, many people don't realise that they can create a comfortable and beautiful place. If you're renovating your HDB or Condo interior design or revamping your lavatory, picking the right accessories can do wonders. However, it'd be handy if you learned what you may need before simply getting what you want. Ultimately, you won't waste time and money on things that you'll barely use. Here's how to make everything worth the while with our comprehensive bathroom accessories buying guide:
Read more: 11 Unique Toilet Renovation Ideas (& Costs) In Singapore 2022
Toilet Prices (How to Buy the Best Toilet)
The bathroom toilet is the first and essential accessory in every lavatory. That's why you should make sure you're getting the right one. Typically, you'd want it to clean the bowl in a single flush. If possible, you should also pick a model that can conserve water. This strategy is the opposite of buying a toilet based on its colour, brand or design. However, it will ensure you get the best bang for your bucks.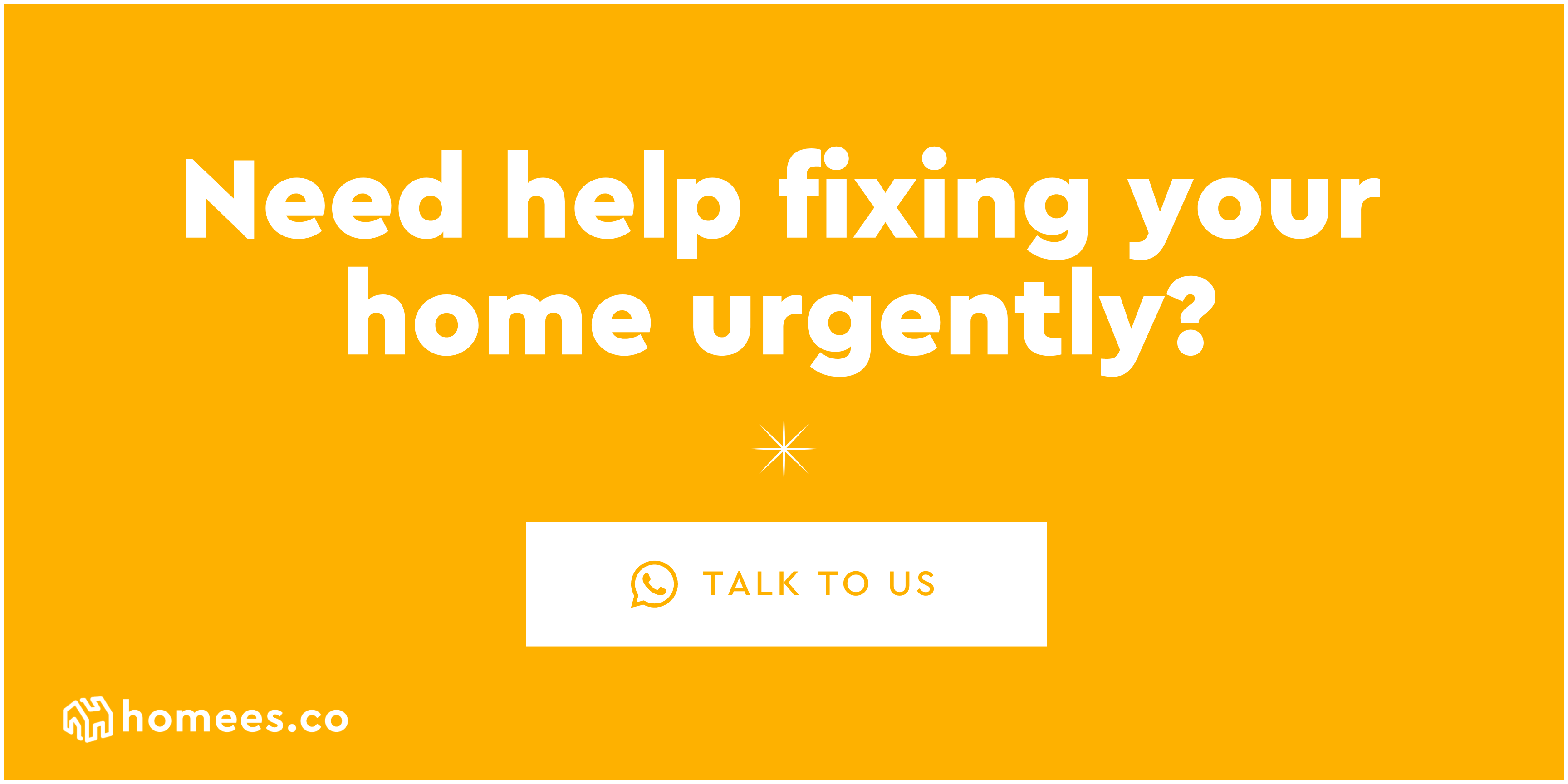 ---
Alternatively, you must bear things like bathroom space and type of toilet in mind. Of course, don't forget to pick a style that will suit your preferences. In most cases, you'll have to choose between wall-hung, wall-faced or a close-coupled model. Typically, the latter is a popular choice for HDB flats. Ultimately, you can always turn to the classic one-piece unit. Here's a detailed breakdown of the popular toilet brands' prices.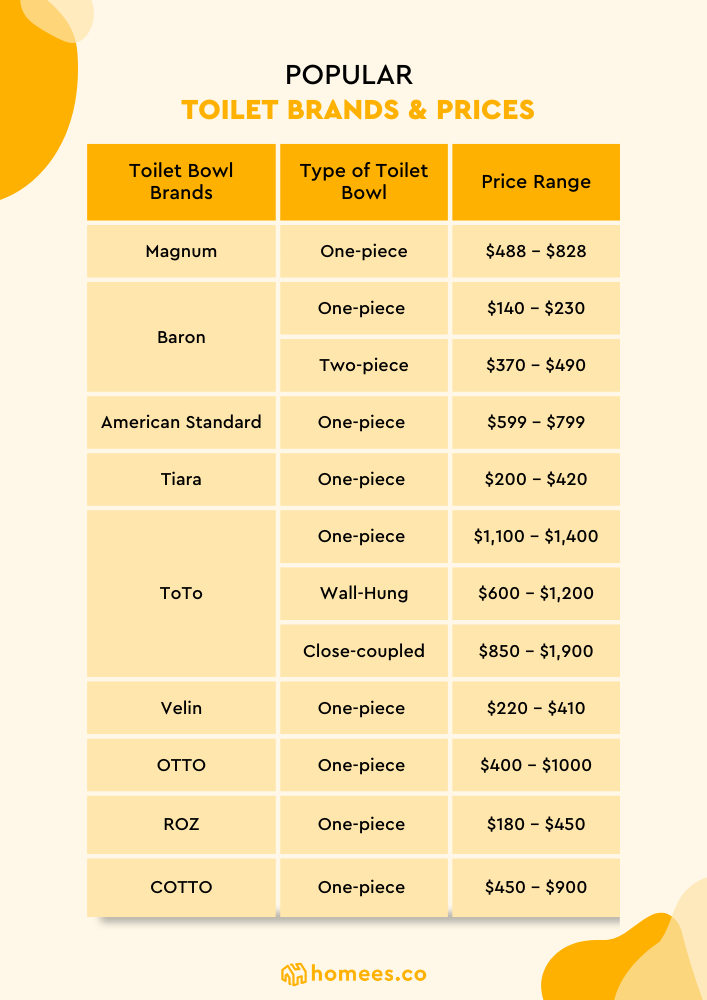 Basin Prices (How to Buy the Best Basin)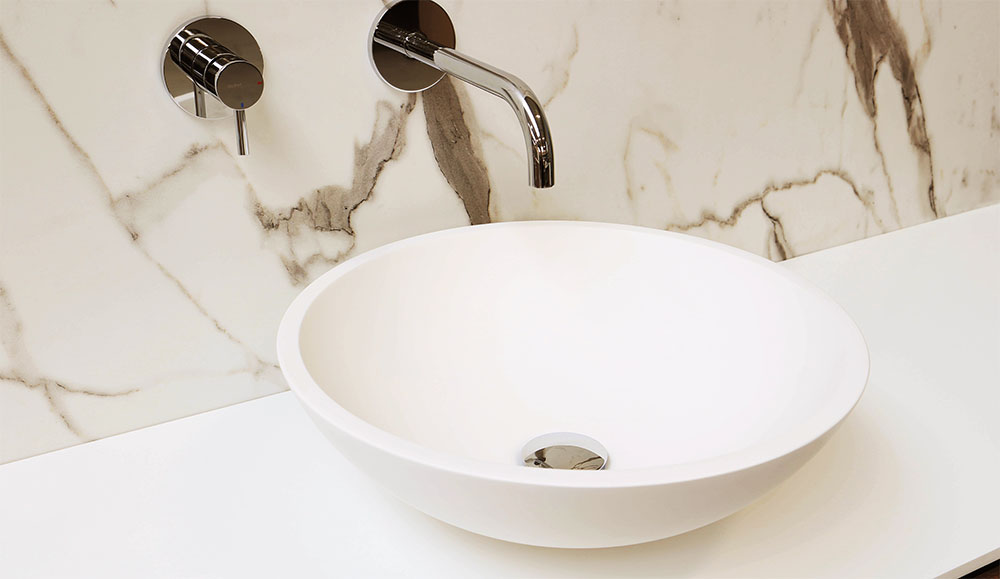 Undoubtedly, you can't have a bathroom without a functional basin. Still, you'd want to make the best out of it, as it will quickly set the tone in your restroom. There are some fundamental factors like size and basin height that you must figure out before everything.
Typically, you'd want to get a basin that will not occupy too much space and be at your waist height. Of course, you shouldn't forget to bear in mind the rest of your family members. One of the crucial factors that may affect your basin dimensions is the mounting option. For example, you can go for a corner or a countertop basin. In most cases, homeowners choose the classic wall-mounted basin suitable for a small HDB bathroom.
Alternatively, you can consider buying a pedestal version or one of the recessed models. Whatever your choice, don't forget to think over the number of basin taps. Meanwhile, here are some of the best basin brands in Singapore and their most popular models: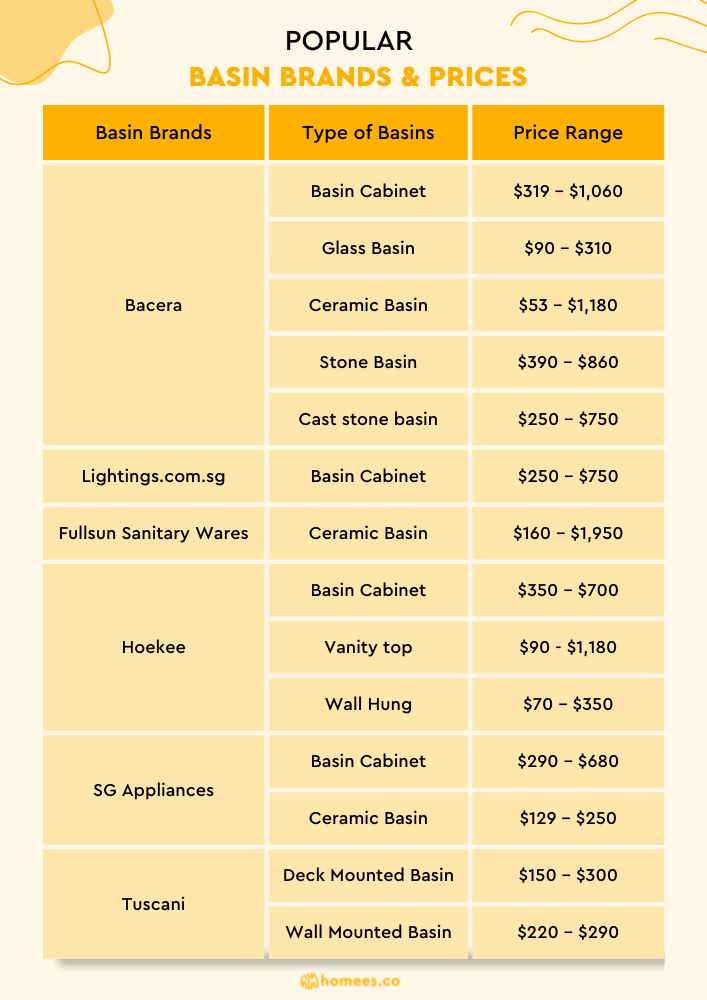 ---
Bathroom Faucet Prices (How to Buy a Faucet)
To some, the bathroom faucet is just a mandatory accessory for your bathroom sink. Still, it can be much more than that. Perhaps, you're looking to set up a specific bathroom interior design or like a particular faucet finish. You wouldn't want to keep your corroded or leaky faucet in your new bathroom. Meanwhile, choosing from an infinite array of options might be daunting. Usually, your best option is solid brass or stainless steel. These metals are corrosion-resistant and have leak-proof ceramic disc valves.
Of course, you should also think over the number of holes you'll need for the installation. Finally, don't forget the visible part, too. Since the spout, the handle and the finish should have aesthetic value, you might want to combine them with your basin style. Some popular handle types are cross, knob, lever and hands-free. Indeed, the lever handles are widely available and are easier to use by children.
However, cross and knob handles might bring a unique appeal to your bathroom. You should look for gold or silver metallics, living or nonmetallic finishes in terms of finishes. Of course, the metallic ones are the most durable. If you have a specific design, feel free to go with the rest. Here's a price breakdown of some of the best faucet brands in Singapore: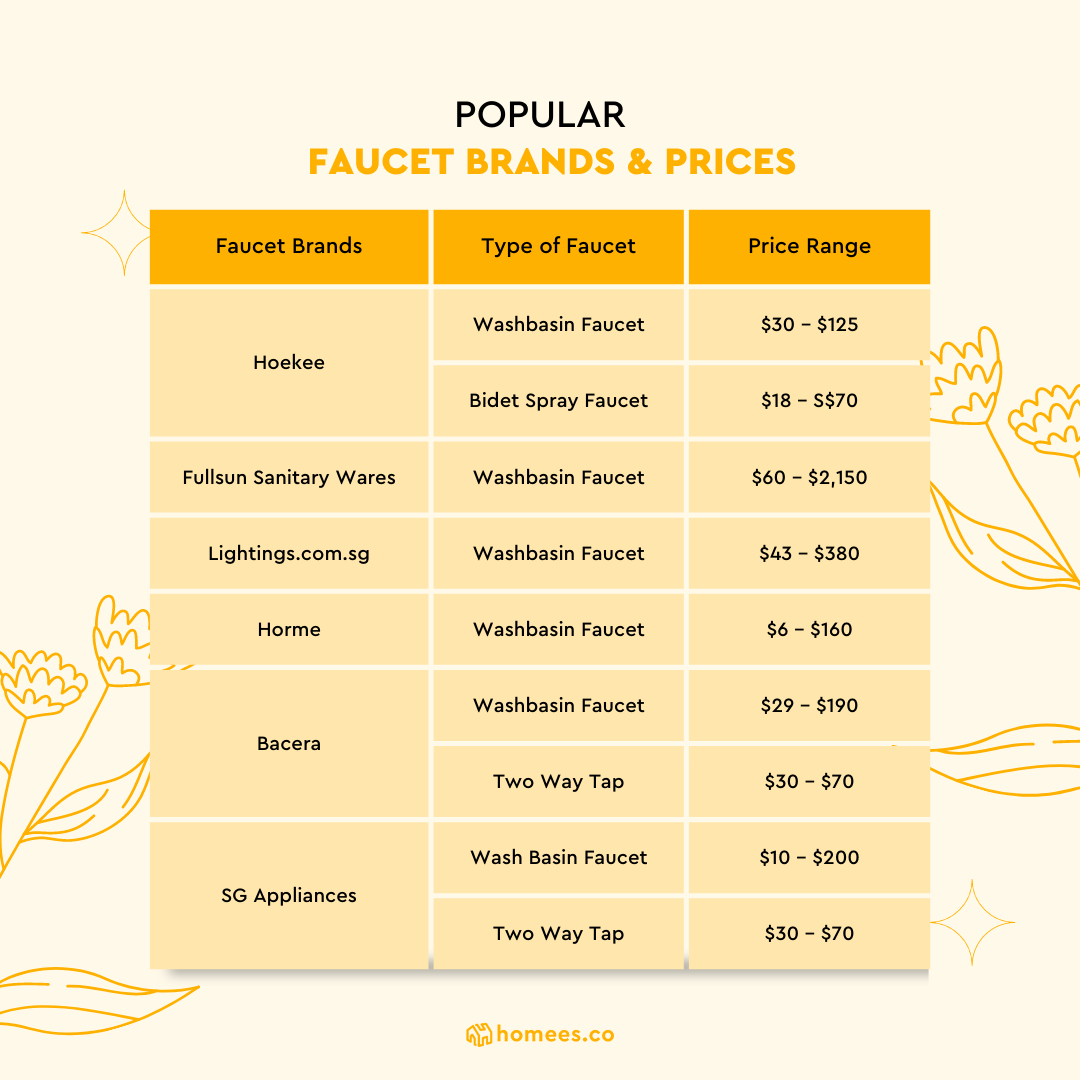 Other Essential Bathroom Accessories
While there are apparent must-haves, some smaller accessories can make or break a bathroom. Indeed, every lavatory has its tiny bits and bobs that can significantly improve its design and functionality. Storage space and an aesthetic touch might make your bathroom more inviting. Here's a brief list of the little essentials to buy for your restroom:
Toilet Seat
The toilet seat can be a bland accessory that no one notices. On the other hand, it can be a significant addition to your bathroom. There are plenty of designs and styles, and you can even buy one with soft close hinges. After all, everybody wants to avoid that loud bang after using the toilet seat. The best thing is that you can choose a standard white finish or any other colour and pattern to fit your overall bathroom style.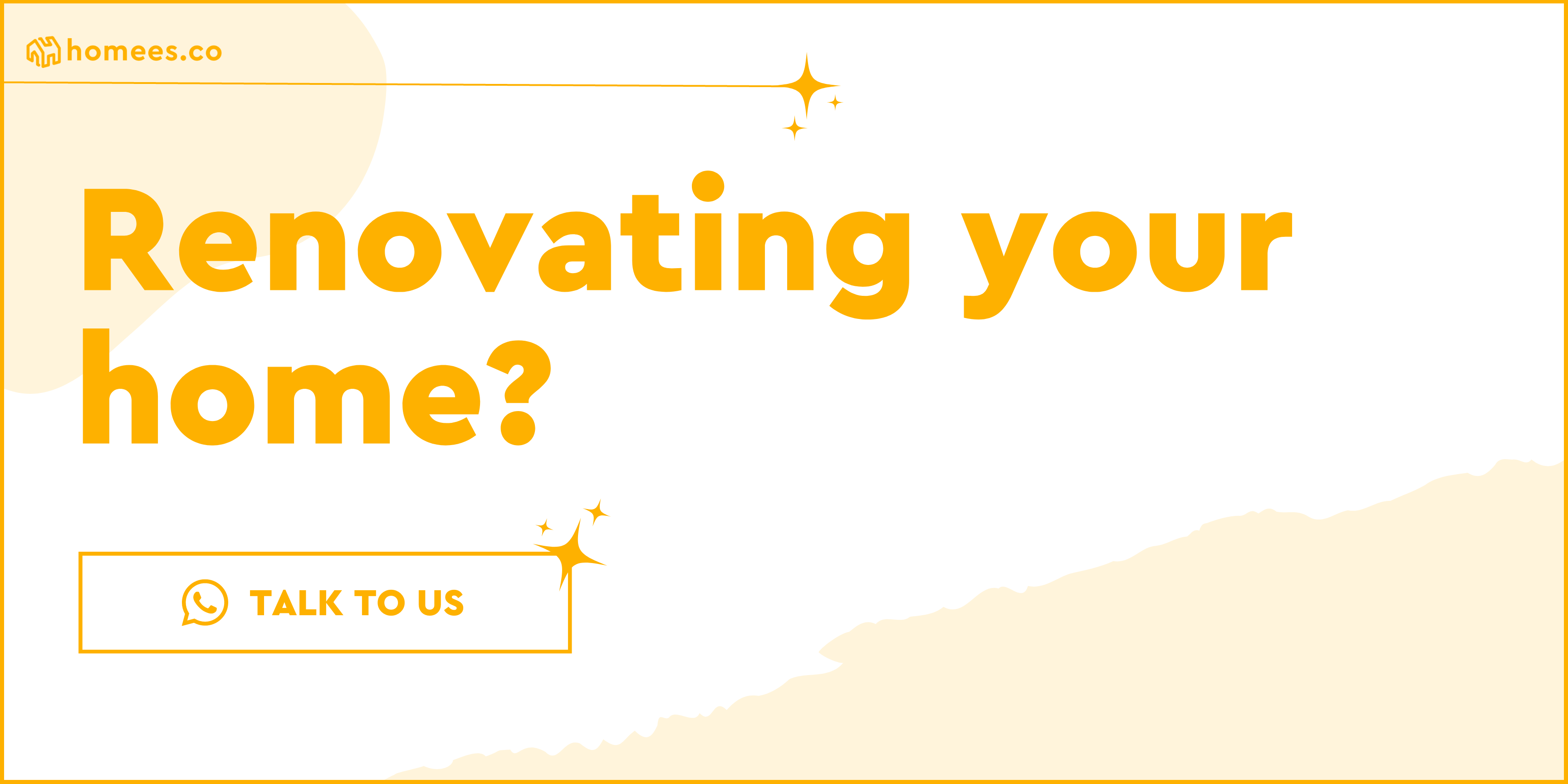 ---
Heated Towel Rails
Perhaps, you may hate it when your bathroom towels are constantly wet. If you're looking for a practical solution, simply buy heated towel rails. Typically, they are easy to use and quickly dry your wet towels. Also, you can use them to warm your clothes. The best thing is that many brands offer various designs and power sources – electricity or central heating. That way, you'll choose the model to fit your bathroom interior.
Shower Curtain
If you're looking to bring a pop of colour to your bathroom, you can do it with a stylish shower curtain. This bathroom accessory has quickly turned from a basic utility to a fundamental decoration in the past few years. While such an item will protect the rest of your bathroom from water when using the shower, it will also bring style.
Mirror
Undoubtedly, hanging a mirror is probably the first thing you'd want to do in your bathroom. Indeed, this accessory is one of the essential focal points in every lavatory, so it has to be unique. Luckily, there are plenty of designs to pick from. If you're looking for extra storage space, you could easily buy a mirrored cabinet or a small vanity mirror.
Find the best mould removal companies
---
Toilet Roll Holder
A toilet roll holder might seem like a no-brainer, yet many people forget to buy one. Of course, it wouldn't be a good idea to have to leave your toilet roll on the floor every time. On the other hand, cluttering your basin edge might not be the best idea. For this reason, you should leave some space for a tiny but elegant toilet roll holder.
Toilet Brush
Frankly, toilet brushes are some of the most ignored bathroom accessories. Still, they are paramount in cases where your toilet needs a deep cleaning. In this regard, having a toilet brush won't hurt, and it might as well complement the rest of your bathroom interior design.
Towel Rings and Rails
Being discontent with having to leave your toilet roll on the basin edge isn't the only bathroom accessory dilemma. Perhaps you would feel the same if your towels were lying around. The only solution is to get a towel ring or a rail. You'll have a dedicated place for your hand, face and all-purpose bathroom towels. On the other hand, you'll save a good chunk of space while keeping up with the hygiene.
Robe Hooks
Another must-have in your bathroom is the robe hooks. While a towel rail might be well enough, some people love the snug and cosy towel robes. If you love putting on a robe after a relaxing shower, place a hook to hang your piece. Such a small accessory on your wall or bathroom door can be pretty practical. Besides, you'll never have to hook your bathrobe over the door again.
---
Dishes and Dispensers
Whether you use it to wash your hands or under the shower, having some soap bars or liquid soap is crucial. Of course, you wouldn't want to make a mess by keeping it all on your basin edge. Therefore, you should get a practical soap dish and a soap dispenser. These items are easy to find and come in various patterns and colours for stylish bathroom decoration.
Bathroom Tumbler
The tumbler is another handy bathroom accessory that you must have on your shelf. That's where you'll keep your toothbrushes, toothpaste and everything else. They come in plenty of materials, colours, patterns and finishes, so you'll have many options.
Bathroom Bin
Surprisingly, the bathroom bin is one of the most overlooked accessories. Typically, most homeowners buy a smaller size, so it doesn't take too much space. However, purchasing a too small bin might turn into a useless accessory. Therefore, make sure it has enough volume to hold up your daily waste.  
Install Lighting In Your Bathroom
---
Shower Caddy
A shower caddy is probably the most effortless addition to any bathroom. It adds valuable storage space and usually costs a nominal price. Best of all, it will keep your shower gels, shampoos and all the bottles organised and close at hand. Wall-mounted options are the most popular, as they come with multiple tiers. Still, you can go for a non-drill option. If you shy away from drilling your bathroom walls, you can buy a caddy to hook over your shower bar or screen.
Bath Rack
If you have a bathtub, you'll find a bath rack, a practical holder for your sponges, bath liquids and even a glass of wine. This accessory is convenient as you can place it across the middle of your tub. If you're a fan of relaxing bubble baths, you'll certainly love to have one. Just make sure you check the bath rack size before you buy one.
Ready-made Sets
Sometimes, we're too busy picking each accessory individually. Perhaps you may find it daunting to manually search for the best toilet roll holder or seat. In such cases, you can go with an accessory set. Typically, it will include a themed pack of must-have items for your lavatory. While it will deliver a practical solution to your home restroom, it will also keep the aesthetic consistent. Besides, you'll likely save some money as you won't have to buy every piece separately. Here are some of the reputable brands that sell bathroom accessories in Singapore and their product price range: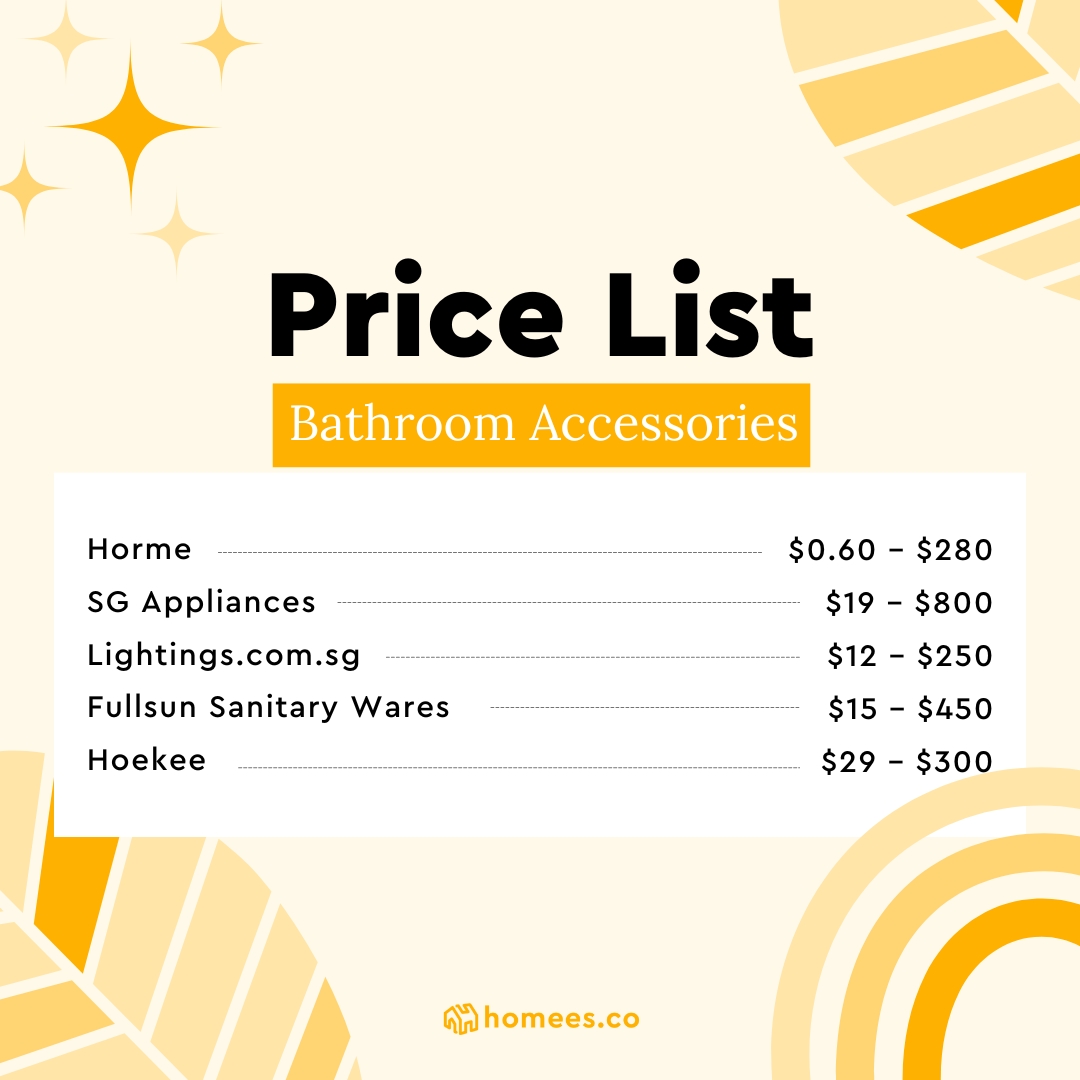 Final Thoughts
Bathroom accessories can be those small details that paint the bigger picture. Whether buying a ceramic toilet seat or a golden metallic faucet, each tiny element can contribute to stylish functionality. While there are some must-haves on the list, there are also some hidden gems that you'll gladly buy. Still, you should buy what you need to avoid unwanted clutter. If you're having trouble choosing the right bathroom accessories, you can hire an interior design firm in Singapore. You can find the best experts in Singapore by visiting Homee's services list here.
We're here to improve your home
Speak to hundreds of reliable pros, view their gallery, inspirations, and know the best prices with our resources.
Have full control over your home improvement projects with Homees.