Countertops speak volumes about your home. Whether you talk to interior designers or renovation contractors, countertops are an integral part of the home improvement project. You can seek a professional's help to build the perfect kitchen countertop.
They are the epitome of form and function in the interior designing field unless they are from decades ago. Knowing about the top interior design trends at the moment can help you in deciding how to replace your countertops.
Replacing them with newer, more elegant models could make your kitchen and bathroom more space-efficient and luxurious. Research on the qualities that you want from your countertops.
Overall, the over-arching professional in charge of countertop projects is carpenters. They have the know-how to build these products from scratch, fully customised to suit your needs.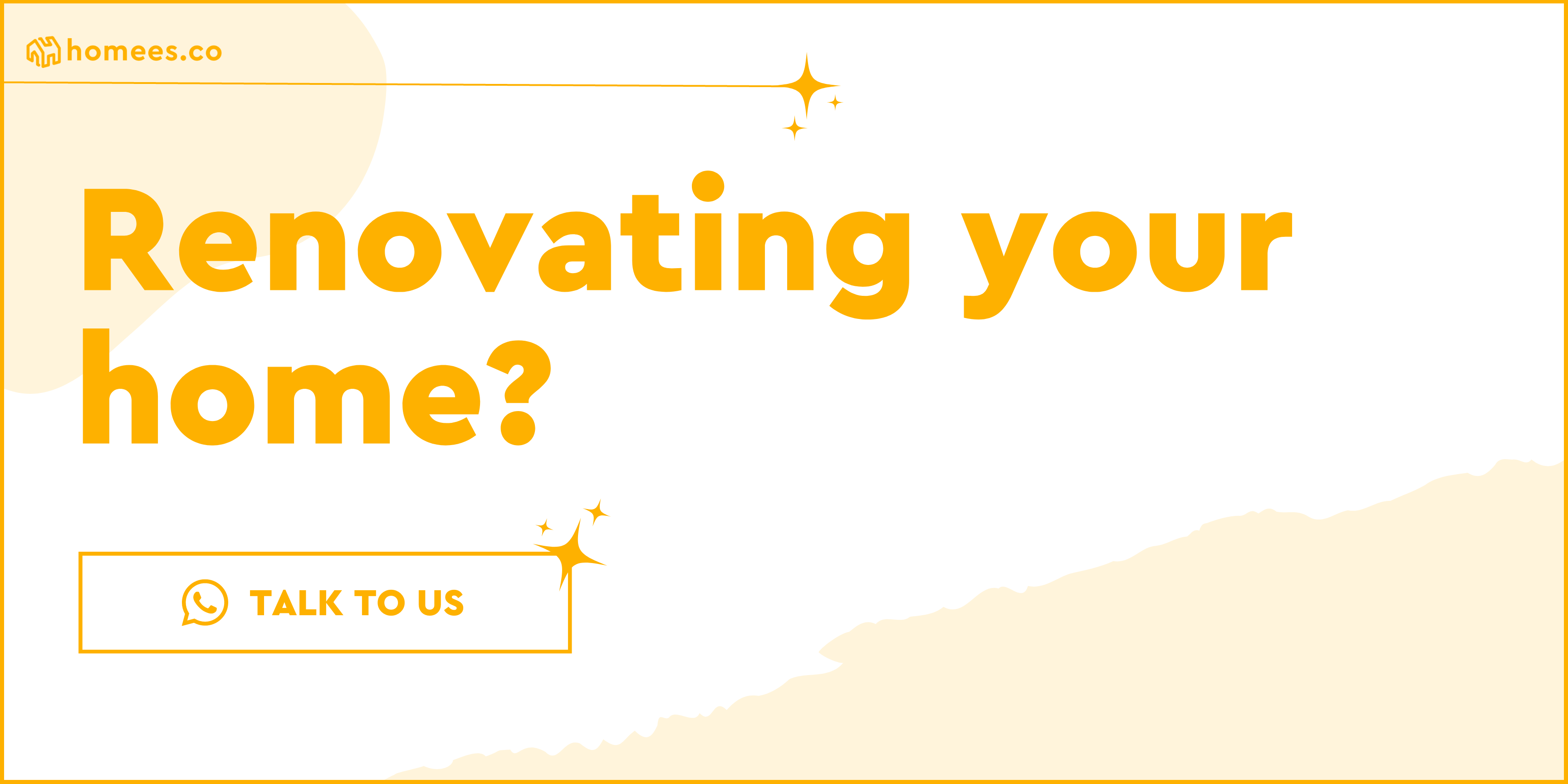 Where to Begin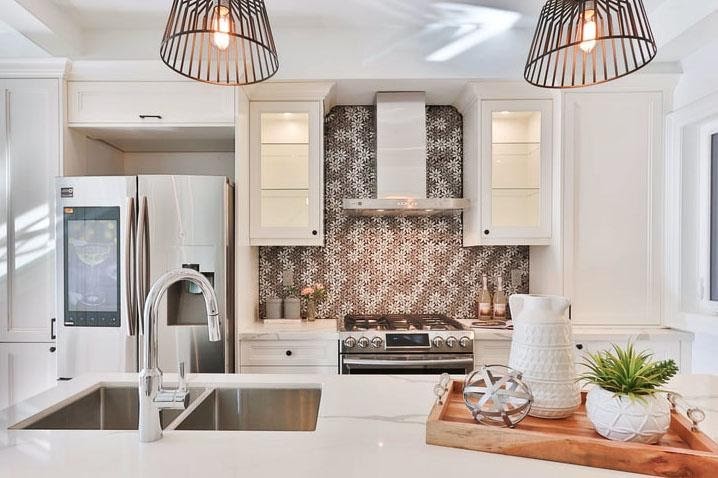 Searching online is a good and fun way to search for images of countertops. Save those that you are attracted to and ignore the rest.
This will allow you to find a type that you are interested in. You could even head down to stores like IKEA or showrooms to check out all the different styles, colours available.
Thereafter, you can talk to your countertop installation professional about the countertop that best suits the overall theme of the house.
Hiring a professional designer or brainstorming with a contractor first is another great option. Acquire the size that you can play with followed by window shopping for your very own cabinet and countertop.
Common Types of Countertop
Solid Surface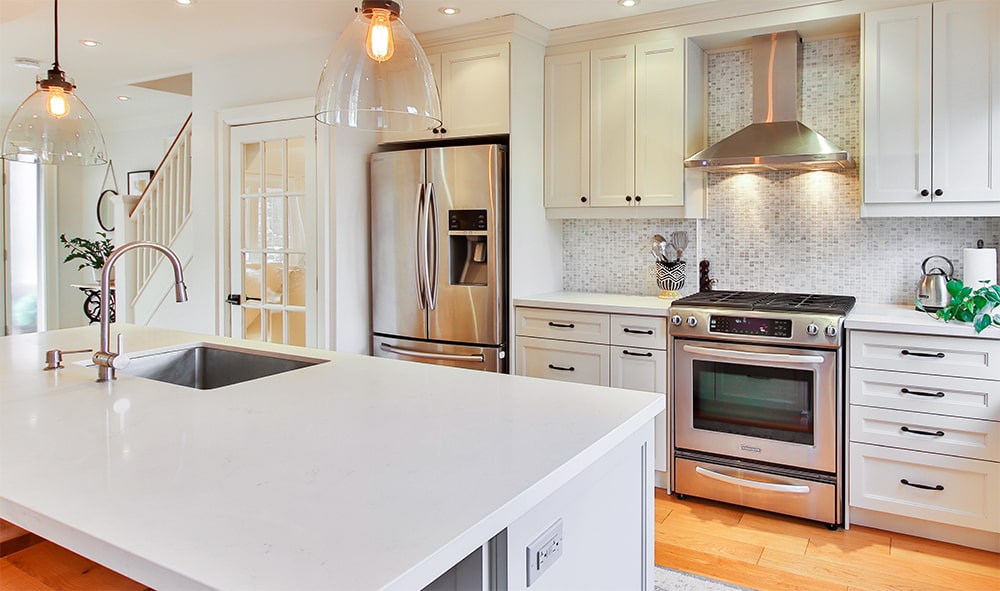 What is a Solid Surface Countertop? These countertops contain mineral dust mixed with plastic resins and pigments.
Due to it being customisable to your specifications, it is a hot-in-demand among homeowners. Its acrylic surface makes it resistant to stains. However, due to its low melting point, it is unable to withstand high heat from the pots/pans, making it less suitable for the kitchen.
Nevertheless, a solid surface countertop would look great in other parts of your home, like the bathroom or the living room interior design.
Wood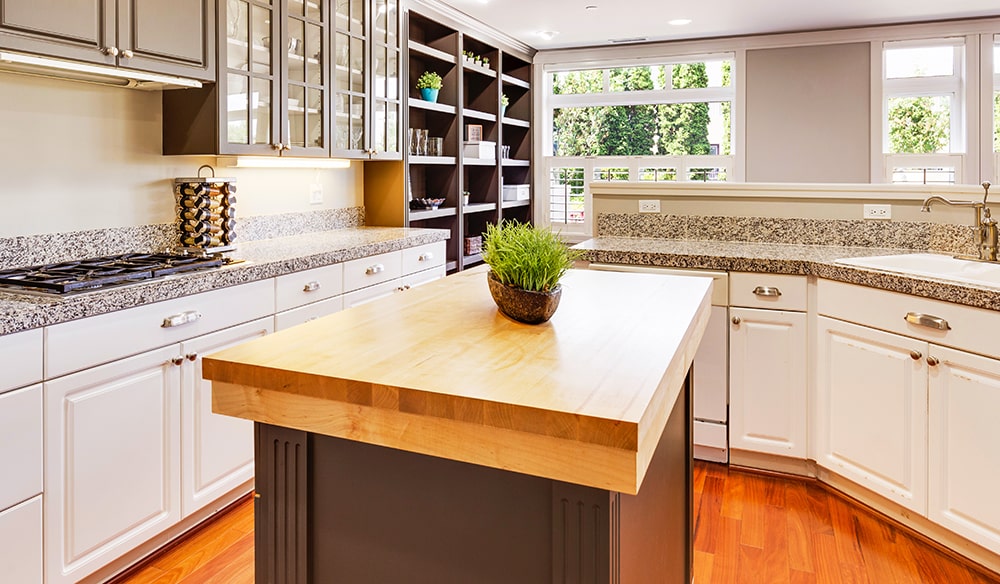 The various colours and finishes of a wooden countertop can give your home a warm and homely feel. This makes it perfect for homes that favour cosy and simplistic designs, like Scandinavian interior design and MUJI interior design.
However, wooden countertops can get damaged by water and might stain over time as the coating will slowly wear off. Luckily, sanding down is an option to remove stains and slight imperfections.
Stainless Steel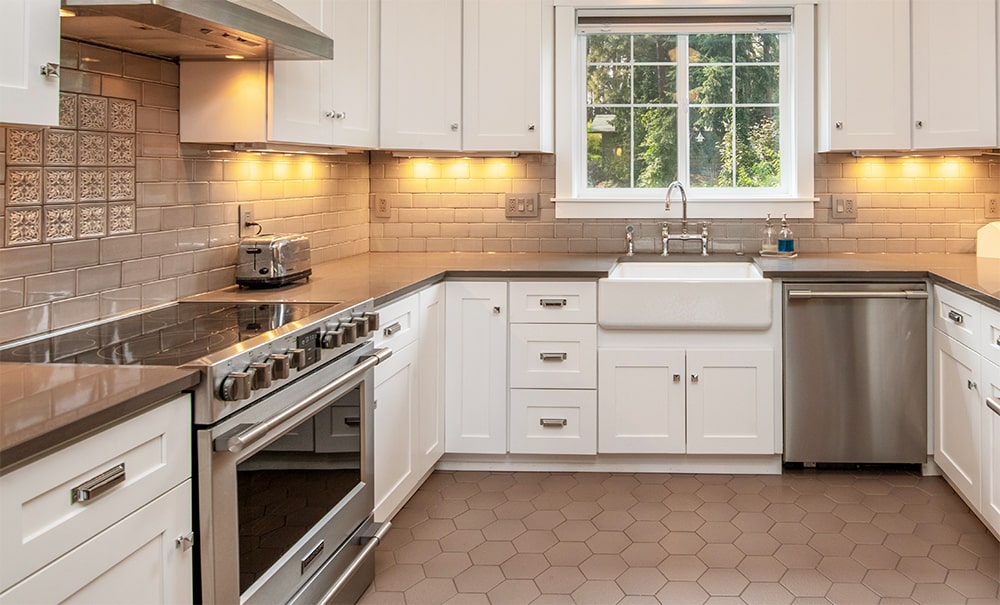 This is the perfect option for you if you are going for an industrial interior design or a contemporary look. Due to it being steel, it is heat resistant and very durable. Unfortunately, dents and scratches will be very prominent on its shiny surface.
Engineered Quartz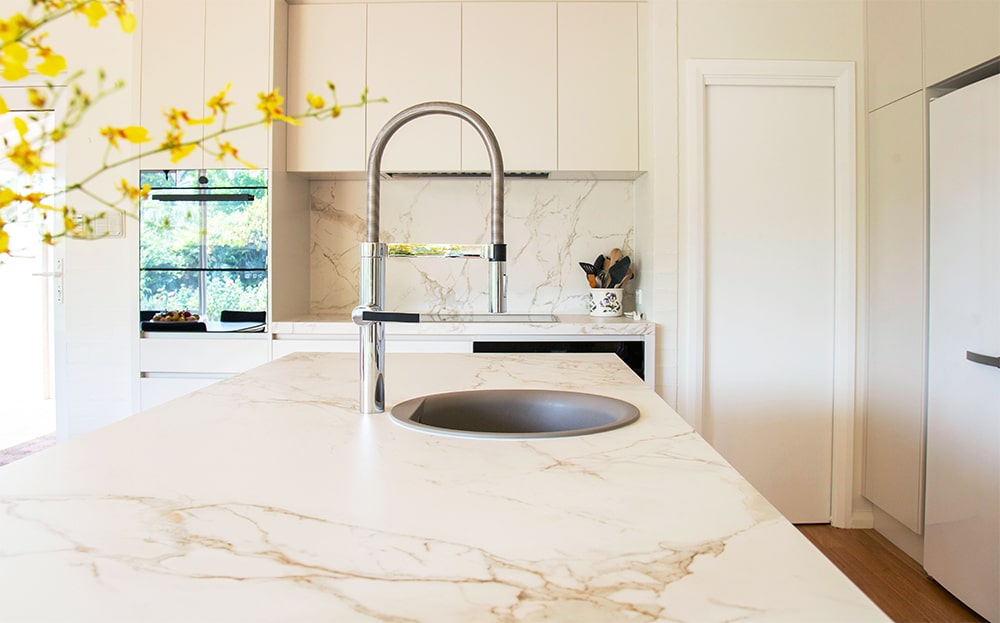 Quartz countertops are another customisable option that can suit any buyer due to its variety of shades and tones. Being made up of 90-94% of ground quartz and 6-10% of resin and pigments, it is resistant to stains and is very durable.
Granite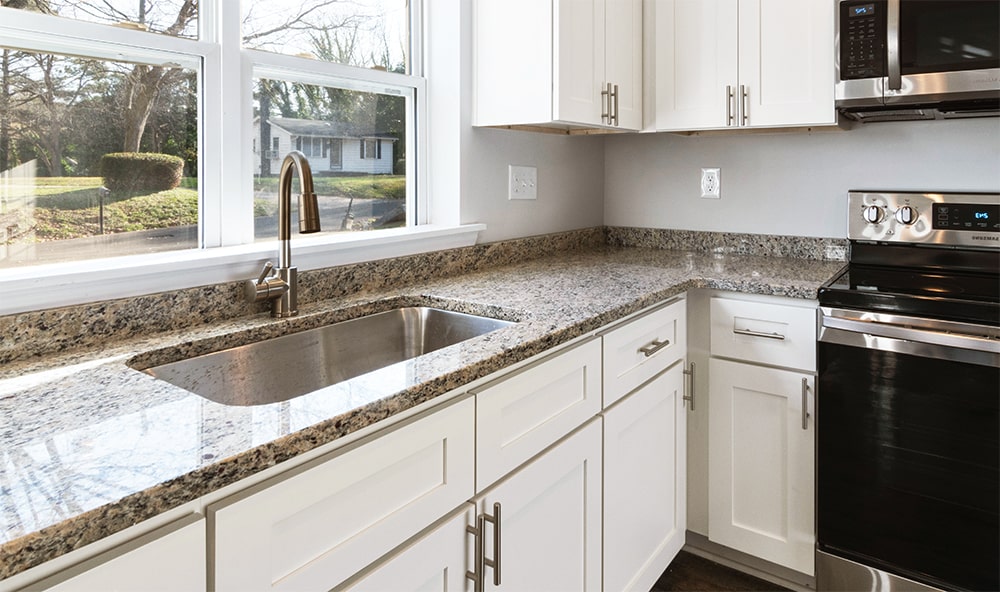 Granite countertop is one of the more popular choices among homeowners when picking a suitable material. They are extremely durable and resistant to heat. It doesn't require a lot of maintenance and is cheaper than other stone materials.
Ceramic Tiles
Being a tile, this countertop option is great in its versatility of design. Tiles can provide some of the best designs of your home and is a popular option especially since it is inexpensive and straightforward to maintain.
However, chipping and cracking is a possibility. Also, grout lines between the tiles must be sealed continuously.
Laminate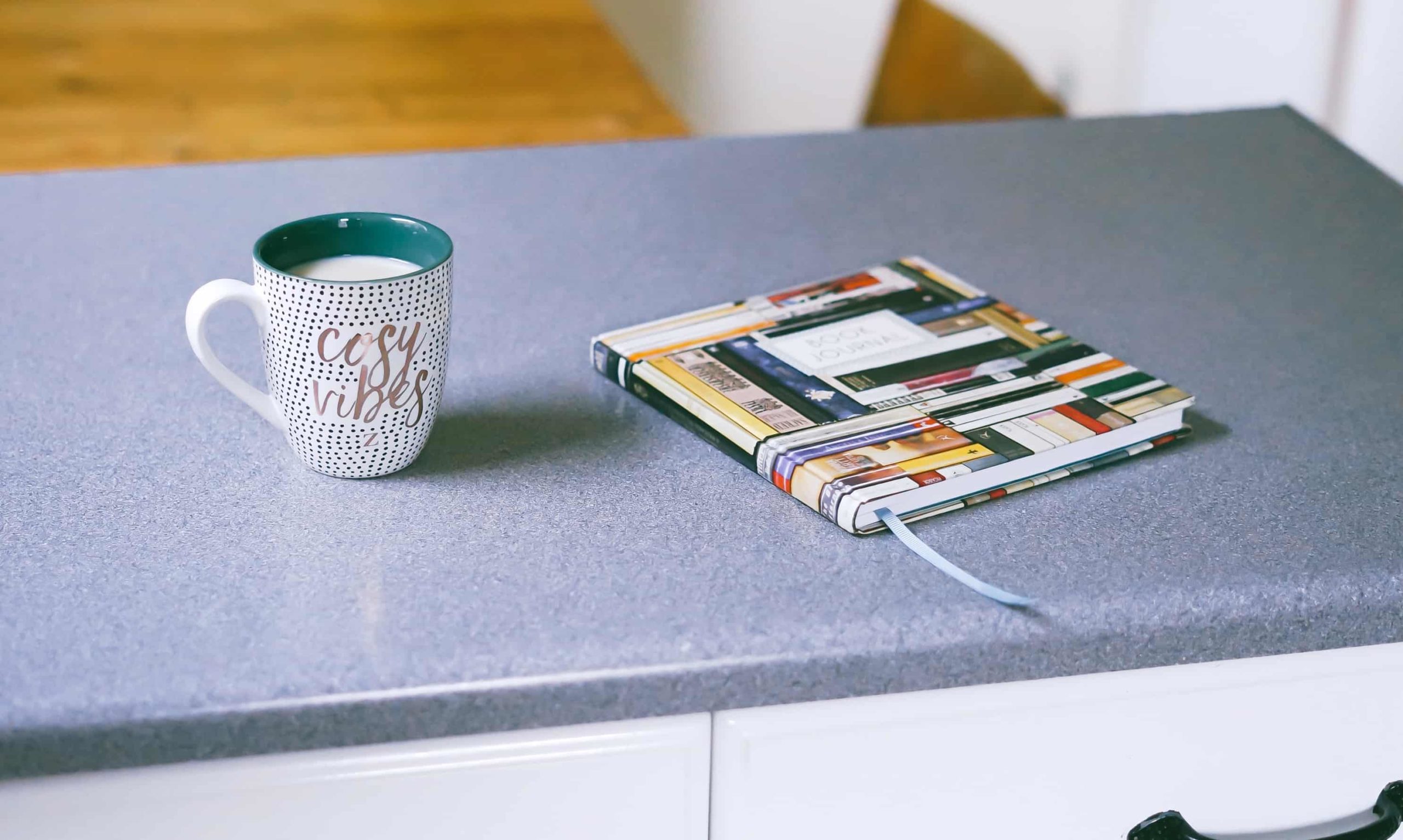 The most inexpensive option on this list, laminate is an excellent option for those on a tight budget. It has a wide variety of colours and is easy to clean. However, it is impossible to repair chips and scratches. The seams may also peel off over time.
Natural Stone Slabs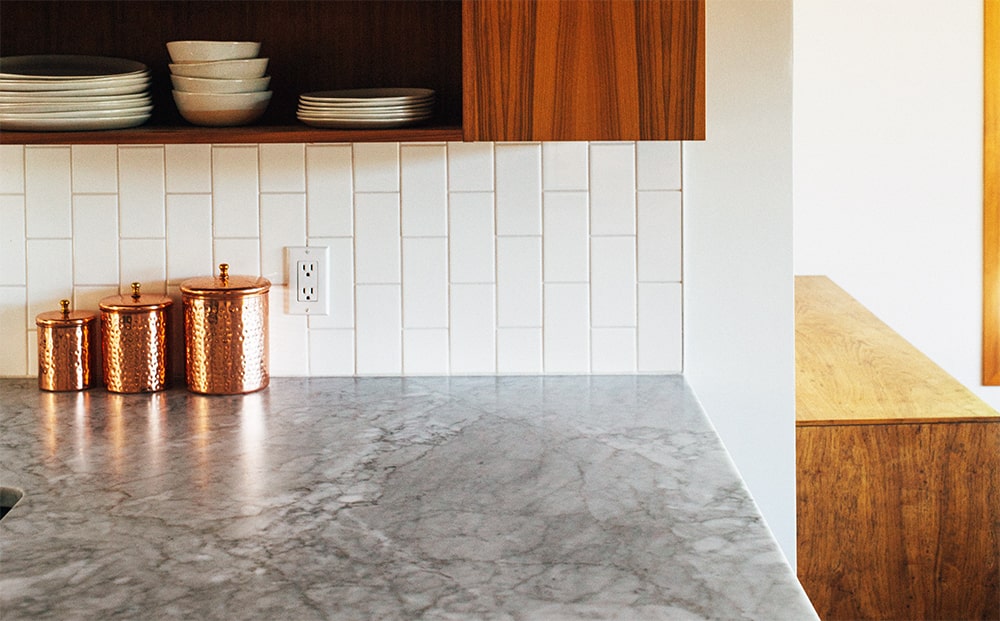 Stone slab countertops include granite, marble, quartz etc.
Natural stones exude elegance and sophistication in your kitchen. It is imbued with an element of luxury, and counters made of stone can pique people's curiosity and attention. It is also a perfect choice for a countertop due to its durability and heat-resistant qualities.
However, due to it being a natural stone, you will have to pay a premium price for it. To save on your natural stone slab, do try to look for remnants as you might get lucky and find one that suits your desired dimensions at a cheaper price.
Most stone sellers have a remnant yard, and you might get lucky in finding a piece that can be cut to your cabinet dimensions. Another way to save is to go for stone tiles, which can create a luxurious stone look with half the cost.
Countertop installation/replacement
Countertop installation costs an average of $14.50 to $65.20 per square foot on top of material prices. This is because installing countertops is challenging and will take a lot of time. Certain materials will also require special treatment and installation before they're safe to use.  Hence, it would be better and safer to hire a professional.
To save costs, you can remove the old countertop by yourself. Just take note of the following:
Check that electrical, ventilation, and gas lines are not nearby you before demolishing.
Careful not to destroy nearby cabinets
A professional will be needed if you're removing granite, concrete, or tile materials
In the long run, you'll notice signs of heat or water damage on the surface. It is best to repair your countertop if other parts of it are still in good working condition so you can save more time and money. Countertop repair will take around $500.
If the surface of your countertop is severely damaged, it is best to reface/refinish it. Resurfacing a countertop will range from $145 to $2,600 depending on the material and surface area.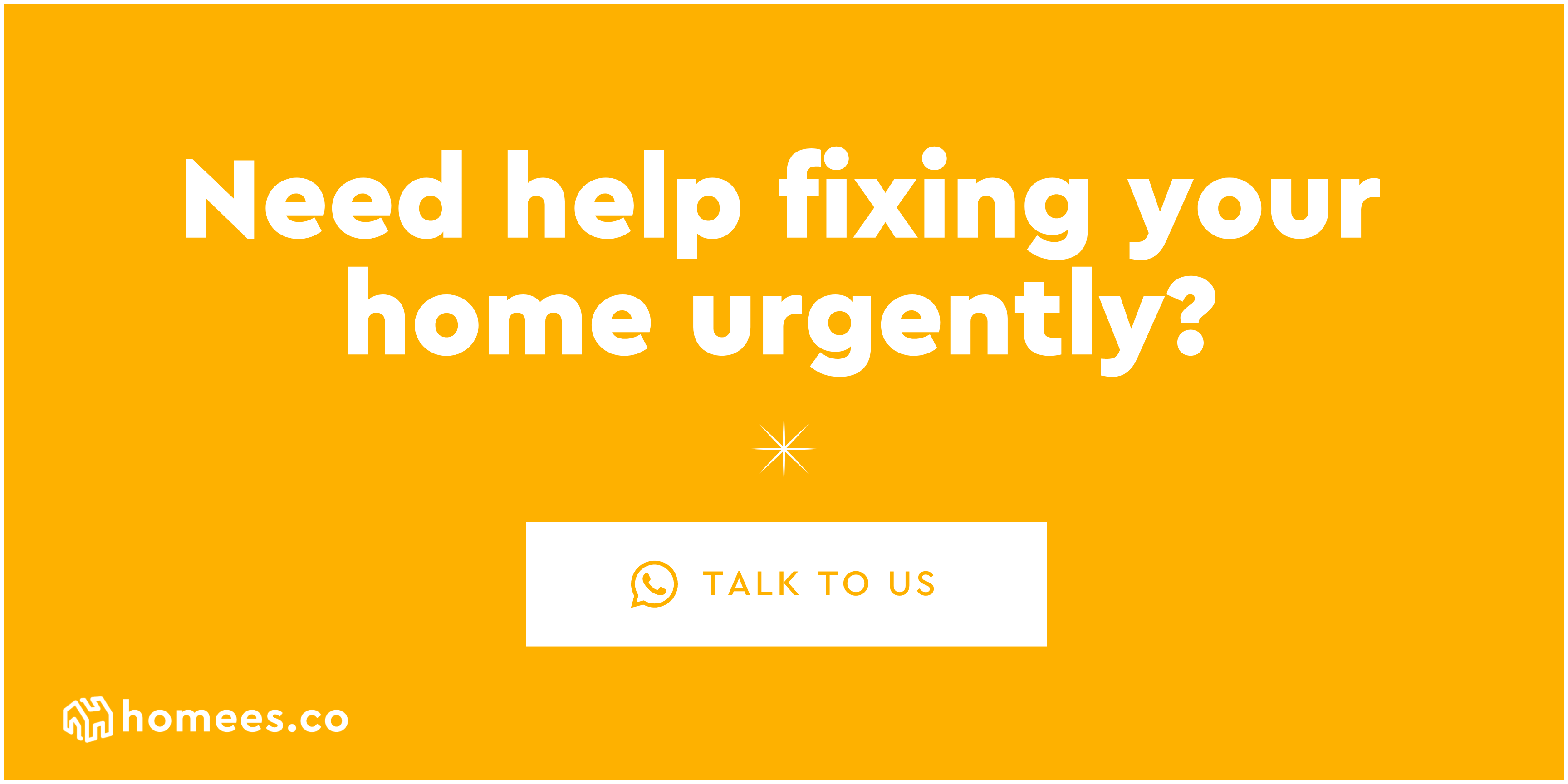 Countertop remodelling
As part of kitchen remodelling, a countertop may cost around $2,900 to $5,800. The cost would vary depending on the materials and surface area. As countertops have a big part in determining the kitchen's overall appearance, it is important to choose carefully based on functionality and looks. The quality and popularity of the material will affect its price (e.g., Granite are heat and leak-resistant, hence, more expensive.)
Countertop FAQs
How to remove rust from the countertop?
Depending on the material, removing rust, stains, and mould from countertops varies. You can try home remedies like baking soda and vinegar. Alternatively, you can look for mould removal companies on Homees!
What should I look out for when matching my kitchen countertops with my cabinets?
To pull off that dream kitchen you've seen in photos, it is important to have your kitchen countertop match your kitchen cabinets. You can either blend similar tones like light grey with pale quartz or go for a contrasting look like darker cabinets and light countertops.
Which countertops are heat resistant?
These materials are best for kitchen countertops as they are resistant to heat.
Natural stone: Won't discolour or crack from heat
Granite: Most heat resistant as it requires high temperature and pressure to form. Quartz: Similar to granite, quartz is extremely heat resistant. However, you'll still need a trivet to prevent stains and damage.
Stainless steel: Heat resistant and easy to clean. You still need to be careful when placing hot stuff as heat can cause discolouration.
Cost of Other Home Improvement Areas
You can check out the cost of hiring professionals for other aspects of your home improvement project. Some of the general cost guides can be found below:
We're here to improve your home
Speak to hundreds of reliable pros, view their gallery, inspirations, and know the best prices with our resources.
Have full control over your home improvement projects with Homees.