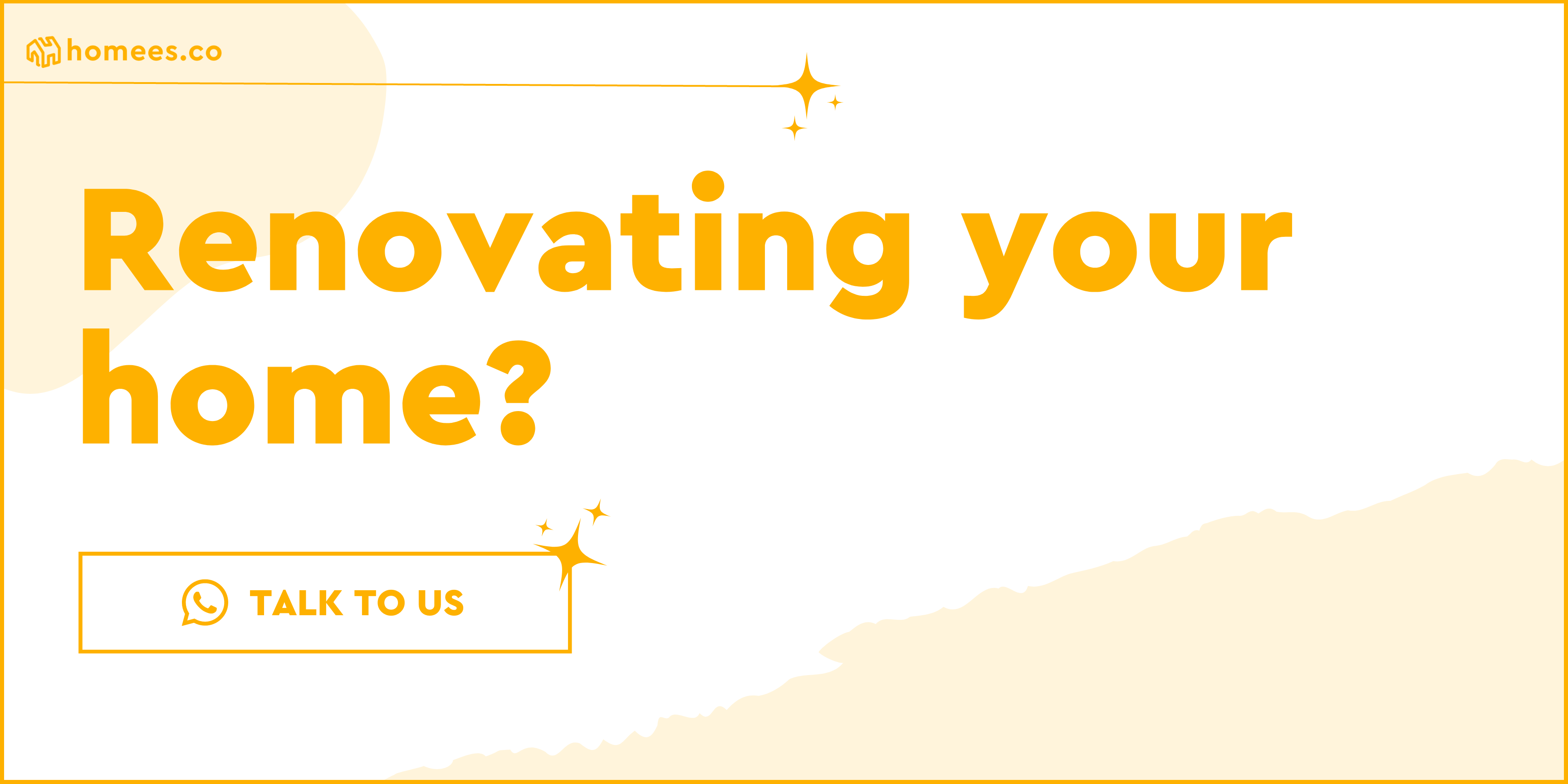 More than just designer cabinets and sliding shelves, a kitchen is a communal space that's equally, if not more important than the living room. It's a space where culinary inspiration strikes and delightful meals are whipped up.
Small spaces may seem unexciting, but don't let the limited square footage stop you from designing your dream kitchen! Even with its linear and narrow layout, galley kitchens in HDBs can be aesthetically pleasing and functional at the same time.
If you want to nail the form and function of space-optimising kitchens, check out these 10 beautiful kitchen renovation ideas so well done you can't resist them and why you should hire kitchen contractors.
Find kitchen interior designers
---
1. Beachfront Café @ Hougang Ave 10
Inspired by Bali's breezy beachside cafes, this maisonette's rustic-themed kitchen is the central hangout spot of the house. Prozfile Design helped to transform the traditional kitchen into a hub for cooking, hosting and eating.
Featuring a solid laminate countertop, the white wooden panels and laidback rattan chairs contribute to the overall cosy beach house concept. A good way to freshen up the interior of a kitchen is to introduce ample greenery.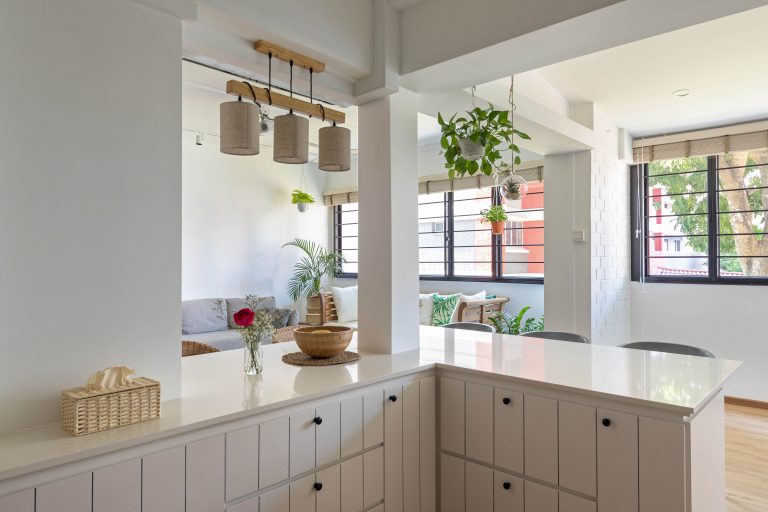 In the kitchen where the magic happens, one is greeted by a classy ensemble of minimalist beadboard cabinets. Corner shelving makes a great space-optimising choice, so try including these if you have tricky wall corners that go unutilised.
2. Countryside Cosy @ Clementi
Replete with homeliness, this cottage-like kitchen by Space Factor is decked out in glorious, muted hues. This winning colour scheme of creams and whites is bound to level up the kitchen's calmness.
Whether you're a novice cook or a culinary expert, it's normal for kitchens to collect lots of clutter. When you have a dedicated mix of open and closed storage, every appliance in the kitchen will have a home. This means a lot more organisation and a little less headache.
Kitchen islands have an irresistible allure that is impossible to ignore. If you're short on space, consider getting a peninsula instead, which is as beautiful and functional compared to its freestanding counterpart. These multi-functional masterpieces come in handy as an everyday workspace or a spacious meal-prep corner.
Want an added touch of class? Marbled-top surfaces contribute extra points to the overall aesthetic.
Find wood flooring installation companies
---
3. Greek Getaway @ Canberra
Combining the essence of Mediterranean sensibility and a holiday in Greece, Local INN.terior recreated the living experience in this 4-room BTO unit. The highlight of this home is definitely the compelling synergy between the kitchen and dining spaces.
With a variety of tactile surfaces and elements like wood, linen, rattan, the manila-envelope coloured carpentry in the kitchen exudes a slight vintage twist that'll never go out of style.
Separating the kitchen from the diner-style booth is an old-school style of fluted glass shutters that keep out the fumes from heavy cooking. Elevated by the iconic cement screed backdrop, something about the distressed, industrial look of the space makes it feel out of this world.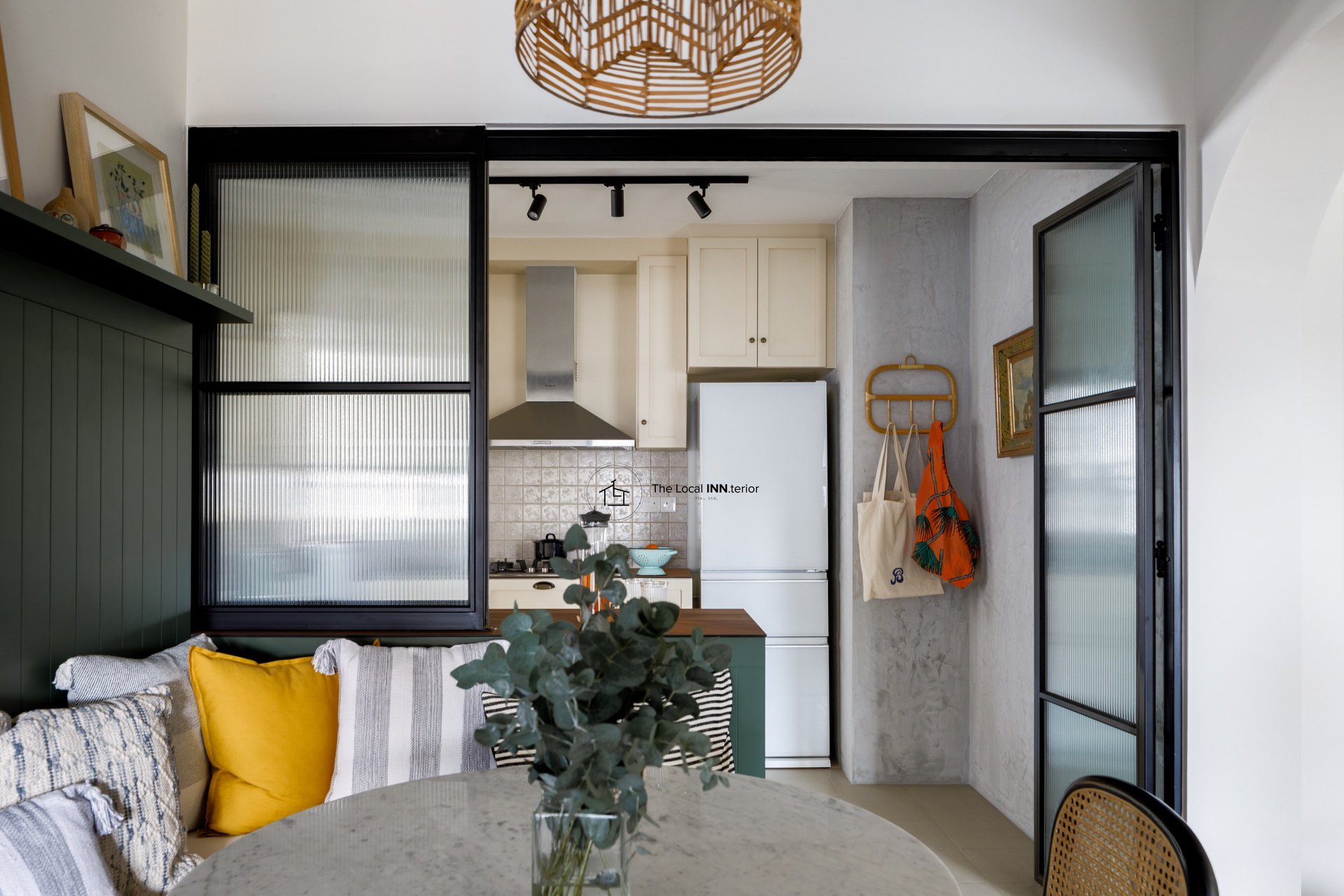 4. Industrial Beauty @ Queen Street
If you enjoy the look of full-blown industrial-designed kitchens, this one by Ascend Designs will top your charts. Be prepared to fall in love with the beauty of exposed pipes and bare concrete.
Make full use of your kitchen's vertical space by creating an overhead storage display that complements the overall industrial theme. The dark heavyweight beams add to the rough simplicity of the kitchen, something that industrial-themed fans can look forward to.
Instead of the usual kitchen layouts where cabinetry is flushed against the walls, this one showcases a slightly different take. Spotlighting a grungy concrete kitchen island, it's the statement centrepiece of the space.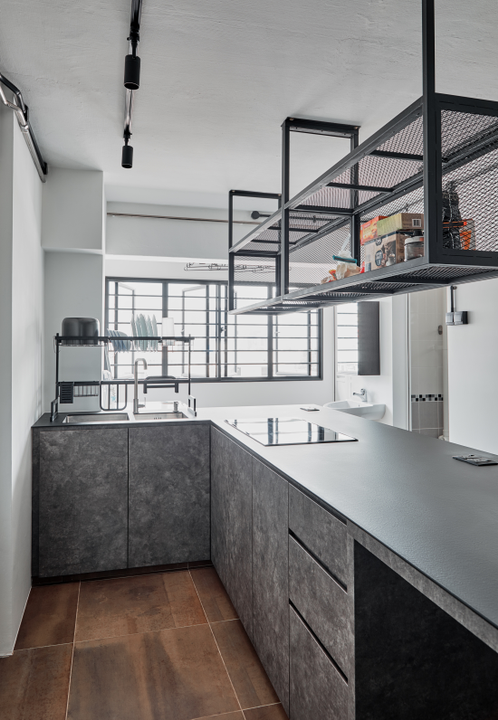 ---
5. Modern Islamic Makeover @ West, Singapore
Fusing the best of contemporary aesthetics and traditional motifs, this resale HDB designed by Fatema Design Studio features a petite yet charming kitchen. Wow, your guests with a natural wood treatment for the cabinets, while elevating the luxe with some glossy brass and gold hardware.
For added character and charm, go for an adventurous tile backsplash or a quirky geometric throw for the dining table. These patterned intricacies does wonders for the visual interest of the kitchen, no matter big or small.
6. Modern Luxe @ Hougang Street 22
If you prefer the sterile, heavyweight nature of stainless steel kitchens, check out this one by Icon Interior Design. This designer-approved kitchen is more than just a stylish prop, it's functional, durable and easy to clean.
It's easy to overlook the beauty of a stainless steel kitchen, which contrary to popular belief, is actually easy to decorate. Think swirling marble backsplashes, simple potted plants and even strikingly coloured utensils. These little extras can pack a punch and take up the kitchen's visual appeal up a few notches.
Find storage space companies in Singapore
---
7. Rustic Farmhouse @ Keat Hong
Always dreamed of living your life in the countryside? Transform your kitchen into one that's brimming with farmhouse flair. This rustic HDB kitchen by Dan's Workshop has an ultra-clean look, maintaining a warm and approachable feeling.
Create a big impact in a small space by contrasting the colours of your cabinetry. Here, a natural wood dominates the kitchen, with the uppermost cupboards dyed in a deep charcoal wood.
To create that close-to-nature feeling, it's important to layer on textural variety. Farmhouse-inspired kitchens usually take contemporary cues from nature, so don't be afraid to throw on rattan accents or timber shelving.
Don't limit the potential of a small kitchen design in Singapore – it can still get heads turning. The secret behind a practical kitchen is to make the most of your countertops. This peninsula makes a comfortable dining space for four, and can easily be converted into an area for cooking prep.
Read also: Walls and Ceiling Cost Guide in Singapore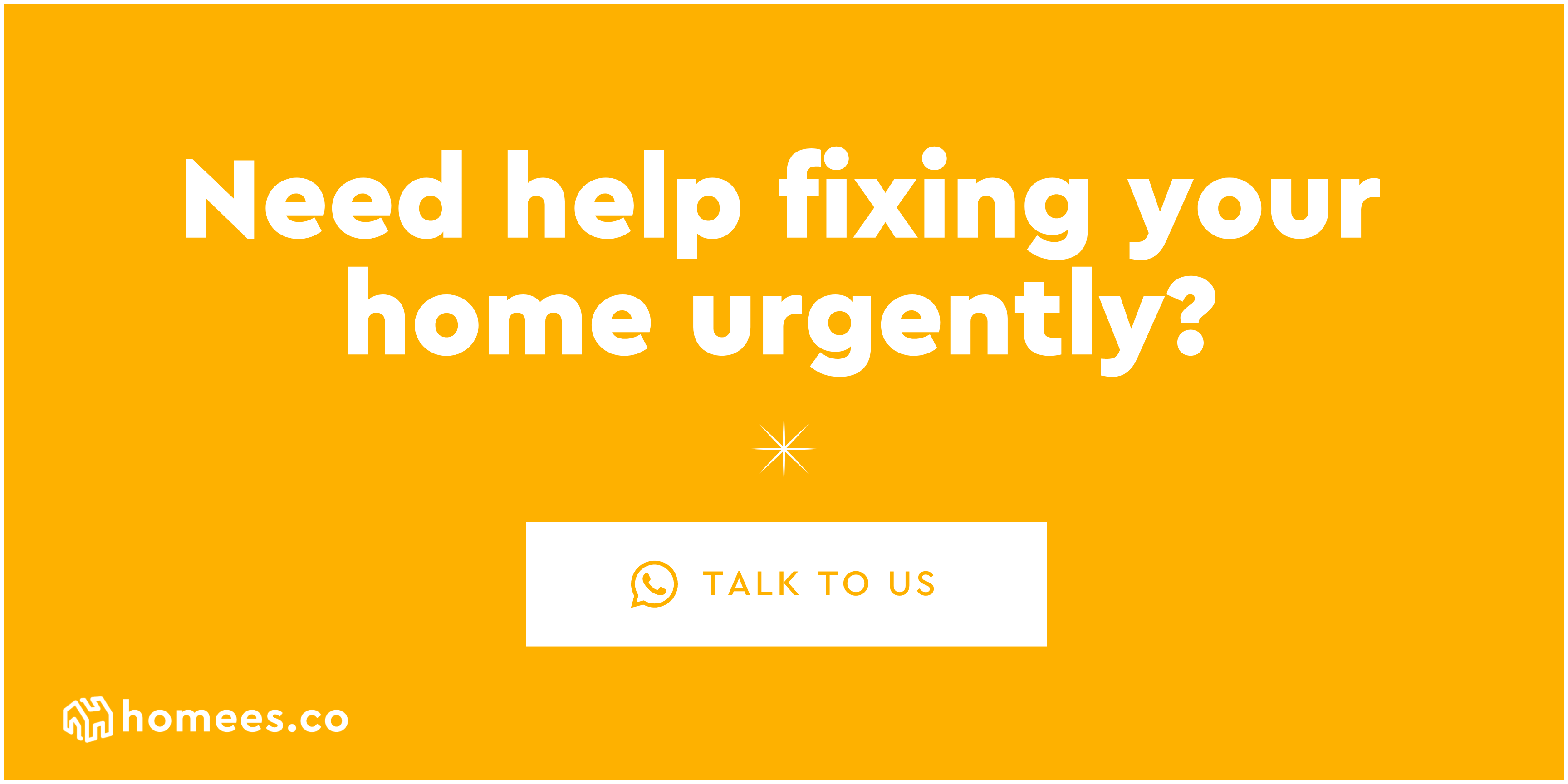 8. Timeless Whites @ 2A Upper Boon Keng
Who says an all-white kitchen equates to drab and boring? Far from being one-dimensional, this contemporary kitchen by Briey Interior is a splendid work of art.
Didn't luck out with large windows near the kitchen? Fret not, because all you'll need is a floor-to-ceiling mirror. This decorating fixture reflects light, which helps to balance and energise the room. No one will turn down a light-filled kitchen in their home!
With silky white surfaces and glistening marble tops, this open-concept kitchen feels crisp and immaculate. In order to avoid a clutter-filled nightmare, try to keep the kitchen's countertops free from unnecessary objects. 
Also read:
Find top painting contractors in Singapore
---
9. Zen Minimalist @ Sumang Walk
Make your journey over to the dark side worthwhile with this charismatic black kitchen. Influenced by Scandinavian and industrial styles, KDOT's artistic flair shines through in this 4-room HDB apartment.
There's a reason why they say black is beauty – here in this kitchen the bold allure is sustained by unique track lighting and sophisticated furniture. The modern black and rose gold wall clock gives off a beautiful sparkle.
You might have seen wall niches in living rooms and bedrooms, but the kitchen? Not so much, but it works too! Take your open shelving ideas for a spin, and amp up the creativity by displaying your favourite tableware in a recessed wall niche.
We love how the white marbled bricks, matte black surfaces and fine craftsmanship unite to become a visual anchor for the kitchen.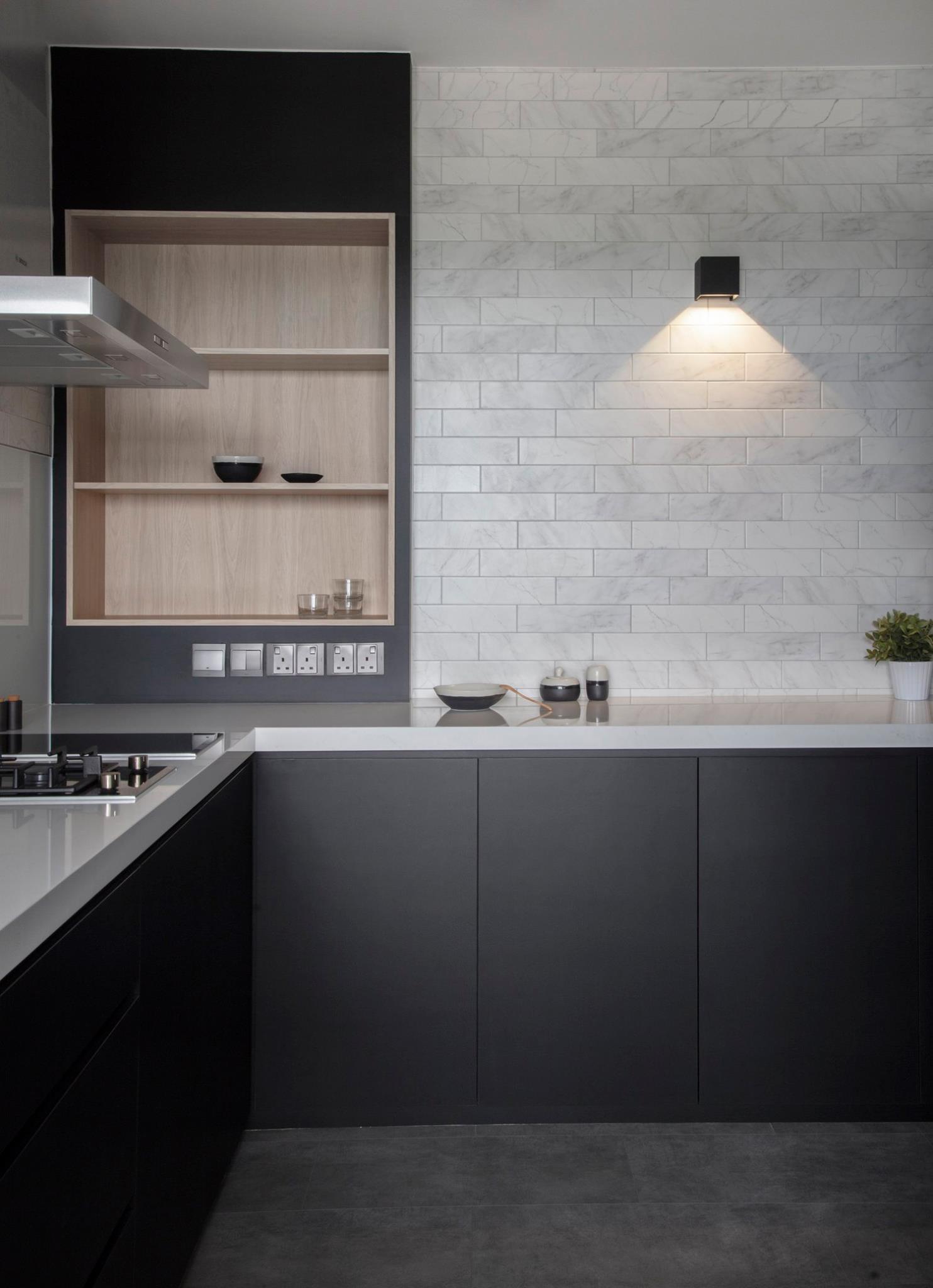 Relevant Article: Countertop Cost Guide in Singapore
---
10. Classic Solid Wood @ Yishun
While it can be tempting to default to sleek, shiny surfaces for your cooking space, wood-filled kitchens are equally warm and incredibly inviting. LemonFridge Studio continues to wow us with this uniquely designed interior furnished with beautiful hardwood.
Dramatic wallpapers don't just work in minimally designed spaces, but wood-filled ones like these too. This pairing complements each other perfectly, without clashing or conflicting.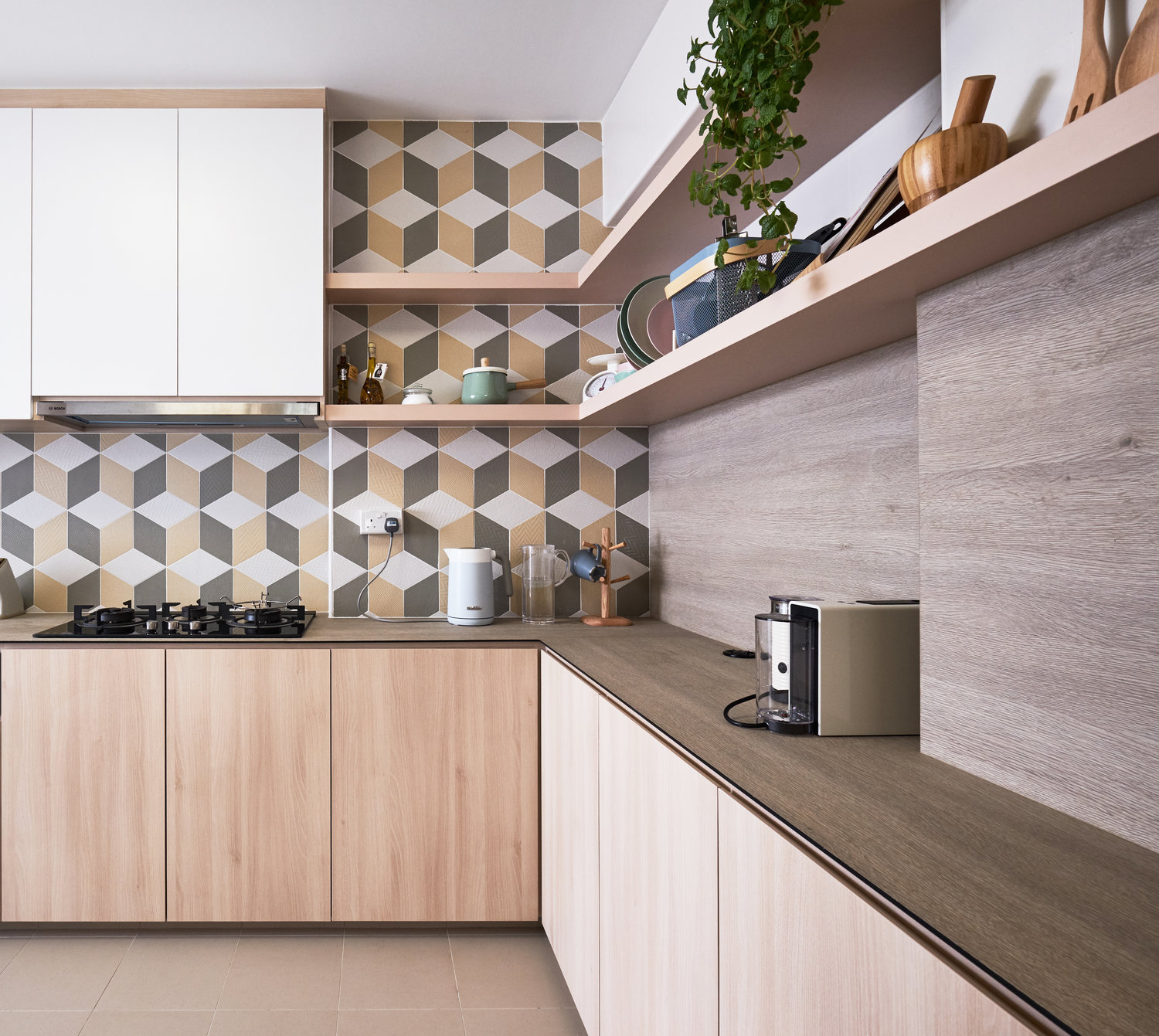 Let the heart of your home stand out with chic colours. Have fun with bursts of pastels in your dinnerware that will lift the moods of everyone during mealtimes.
11. 

Indigo Beauty 120A Eastwave @ Canberra BTO
Kitchens usually feature some typical colors and themes such as white, beige, wood, or if someone goes a bit out of the ordinary, they add some splashes of black in certain elements. Seldom do we see unique colors being used in the kitchen since everybody wants to play safe when it comes to color selection and its effect on the kitchen. But in this kitchen portfolio, we see a new and unique color that is soothing and fresh to the eyes. The kitchen cabinets and peninsula feature a beautiful shade of indigo which is neither too dull nor too bright. The countertops are of oakwood colour and grain which go perfectly with the indigo tone. A similar oakwood colour has been used for the handles of the shelves to create a balance between all these elements. The floor tiles feature an earthly brown shade giving the kitchen a simple but modern outlook.
The backsplash tiles are a traditional brick wall design in black and white colour. This is the only pattern that we see in an otherwise plain and solid colour configuration. Track lights have been used to provide better lighting as well as to enhance every colour and design element of the kitchen. A few green plants add the final touches to a picture-perfect kitchen that can be the kitchen of your dreams!
12. Silver And Wood at Marsiling Rise
When thinking about creativity and unique kitchen designs, why not incorporate such colours or textures in the design which are least expected? This is a perfect example of such a kitchen that can inspire you to get your own kitchen on the same lines as the one shown below. It features a typical wood colour and texture along with a very unique colour: Silver! As can be seen in the picture, the walls are metallic silver which contrasts beautifully with the wooden shelves and cabinets. The countertops are simple in white. The only patterns that we see are the beautiful wooden grains on the cabinets contrasting perfectly with the white glossy overhead cabinets and countertops.
The floor also boasts a unique design that includes hexagonal tiles in black and white. The kitchen is in a parallel configuration which offers ample space to move around while still offering lots of functionality. Instead of overhead shelves and cabinets like in a typical kitchen, we see floating wooden shelves that add a touch of creativity to the design. These shelves have been used to store some essentials as well as to display a few plants that serve as a means of decor and freshness. With glass doors and partitions, this kitchen is the epitome of beauty and elegance in style and functionality.
13. Functional Space at 6 Pasir Ris Link
Kitchens are those areas of houses that need to be functional on top of being attractive and beautiful. When it comes to smaller kitchens, adding functionality could mean adding so many elements in the design that the space ends up being cramped and cluttered. Ensuring that you have enough functionality in a small kitchen while still keeping things airy and clutter-free is a difficult task that has been achieved beautifully in the following kitchen design.
In this design, we see a small kitchen space with an L-shape configuration. The small kitchen counters hardly have space to house the sink and stove leaving almost no other counter space. To solve this problem, we can see a collapsible table on the outer side of the kitchen counter which can be folded or opened according to your requirements. When not in use, it can easily be collapsed for open and clutter-free space. When required, you simply open it, utilize it, and fold it back again. This collapsible table can also be used as a dining table whenever required. Thus, it is a multipurpose solution for a small space that you can also include in your kitchen!
14. Bright Laminates HDB @ 272 Bishan Street 24
The easiest way in which you can create a strikingly beautiful and elegant kitchen is to brighten up the space using wise colour selection and the right type of lighting. And if you are short of ideas of how to achieve such a look, then you have come to the right place! The following kitchen design will show you how easily you can create a bright space that only looks pleasing to the eye, but is also functional and practical.
In this kitchen, we see how a bright colour and texture of laminate has been used to brighten up the whole kitchen. The distinctive wooden patterns on the shelves are a treat for the eyes which are further enhanced by using track lights and indirect lighting. The backsplash is a cool earthly green shade that blends perfectly with the white glossy overhead cabinets.
As can be seen from the next picture, the cool green colour along with the wooden texture and grains give a very fresh and closer to nature appeal. You get these beach-side and resort vibes the moment you step into this kitchen. With a neutral floor and clean, crisp lines, this beautiful kitchen design is a perfect blend of Scandinavian and modern interior with a touch of nature!
15. Bright Cotton Candy at 609B Tampines North
Adding creativity and uniqueness in a kitchen calls for using colours and elements that will add an interesting touch to the interior. Whether it is in the form of unique colours or configurations, you can always spice up the space according to your preferences. As an inspiration, consider the following kitchen design which features a bright cotton candy outlook using a deep aqua-green shade for the counters. The countertop is of contrasting white marble sitting in front of a light grey textured backsplash. The overhead cabinets are simple and plain contrasting perfectly with the teal colour.
We can also see black track lights on one wall which blend well with the black borders of the kitchen door and window. Hanging inverted lamps of three different colours adds a fun and hip-hop touch to this interior. The grey floors, light oakwood dining table and chairs, and the cool ocean blue colour of the kitchen all create a beautiful and serene environment that would make you want to have a kitchen just like that!
16. Yale Bohemian at Alkaff Crescent HDB BTO
Another strikingly beautiful kitchen that we will be discussing is the beautiful HDB at Alkaff Crescent. It features a unique yale blue color for the kitchen cabinets with a white countertop. This color goes really well with the white colour of the interior along with the black elements of the kitchen. For the backsplash, we see bohemian patterned tiles in monochrome hues of grey as opposed to the colourful bohemian patterns. Behind the kitchen is a laundry area that is separated from the kitchen through glass doors and windows. These glass partitions allow lots of natural light to flow in the kitchen which brightens up the whole space. We also notice that white light has been used with this colour scheme as warm lighting would not have looked too appealing. Thus, we see how a unique and different colour can be used in the kitchen to make it look sophisticated and simply beautiful.
17. Cool Simplicity And Elegance at The Calrose
If you are a fan of light and cool colors and want to use the same shades for your kitchen, then this next kitchen design can be the best inspiration for you. In this design, you can see that the designers have focused on simplicity by utilizing white, glossy interiors along with a very cool shade of green. The white cabinets and shelves along with the cool aqua-green colours are contrasted with a dark wood colour floor. The area is kept clutter-free and simple which makes this interior a combination of Scandinavian, minimalist, and modern designs. This kind of interior will look good in either white lights or warm lighting, so you can incorporate the kind of lighting which is to your liking and be able to get this cool and serene kitchen interior!
18. Black And White Splendor
We all know that black and white color for interiors never goes out of style whether it is for the living room, bedroom, bathroom, or the kitchen. In a kitchen, black and white combination looks especially beautiful since it offers simplicity with clean, crisp lines, making the kitchen look neat and clean. This black and white combination has been used in the following kitchen design image where we can see white overhead cabinets bordered in black. In contrast to this, the lower shelves are black-bordered with a white countertop. To bring both these elements together, a backsplash of light grey monochromatic hexagonal tiles have been used. They have selected black electronics for the kitchen which goes well with the black and white colour scheme.
From another view of the kitchen, we see an adjoining dining space with a black and white dining table and chairs. The ceiling also features this colour scheme with a black border around the white ceiling and a black fan. The floors are hardwood with distinctive wood grain and a beautiful shade of grey. If you think that this interior is a bit dull, you can add a splash of colour in the form of some green planters or some colourful flowers on the counters. That will not only brighten up the space but also add that touch of colour that you need.
19. Royal Luxury at 274A Punggol Place
Another beautiful and striking kitchen design that you can take inspiration from boasts a royal and luxurious interior that would make anyone go Wow! Although the kitchen appears simple in this design, the way the lights and other elements play together with the color themes, it gives a royal and regal appeal to the interior. For the overhead cabinets in the kitchen, a dark mahogany shade of wood has been selected. In contrast to that, the lower shelves and counters are kept white and glossy. Recessed lighting on the ceiling along with indirect lighting under the overhead shelves creates a dramatic effect. In the adjoining dining space, we can see unique wall lights as well as hanging lamps that help to give the space a modern and elegant touch. The dining table features a golden base which adds to the luxurious element of the design.
20. Tropical Asian Elegance at Lor H Telok Kurau
If you want to go for a fun Asian touch for your kitchen, then this next kitchen has been designed for you. In this design and throughout this house, we see elements from Asian culture that have been beautifully included in the architecture and design. The kitchen counters feature a tan shade of wood that sits elegantly beside the white glossy overhead cabinets. The kitchen peninsula's countertop is also of a wooden appearance with red kitchen stools made of wood. There are colourful designs and patterns painted on the stools which add that Asian touch to this interior. These wooden stools are not very intricate, rather they are rugged and raw which adds a different kind of character and depth to this design. Asian inspired art also adorns the walls whose appearance is further enhanced through spotlights and indirect lighting.
Don't underestimate a kitchen space
A kitchen may not be the biggest room in the home, but it sure has the potential to become the most outstanding one. When you go big on design and functionality, the end result won't go wrong.  Ultimately, kitchen interior design is a balance between art and science. Once you've found the sweet spot, the result will be a space that you will take pleasure in.
Find Reliable Home Improvement Specialists in Singapore
When it comes to kitchen design projects, there are many factors that will determine the final appearance and feel of your kitchen. Below are a few of the experts who can help you with different aspects of your home.
Of course, at the top are kitchen renovation specialists and interior designers, are important, but don't forget the other important aspects that can influence your kitchen's look and feel:
Cost of Other Home Improvement Areas
You can check out the cost of hiring professionals for other aspects if your home improvement project. Some of the usual cost guides can be found below:
Related Articles
We're here to improve your home
Speak to hundreds of reliable pros, view their gallery, inspirations, and know the best prices with our resources.
Have full control over your home improvement projects with Homees.