What is Eclectic Interior Design?
Everyone's familiar with the top interior design trends, such as Scandinavian-themed homes, minimalist interior design and even MUJI-inspired interiors. But what if you want a décor scheme that borrows aesthetics from each of the different styles? Now that's eclectic interior design – which proudly unites a variety of motifs and accessories to create a never-seen-before Bohemian glamour.
Driven by iconic accents and saturated tints, homes dressed in eclectic design are fun, vibrant and dramatic. Even though eclectic styles are far from homogenous, there are recurring attributes that make such interiors easily identifiable.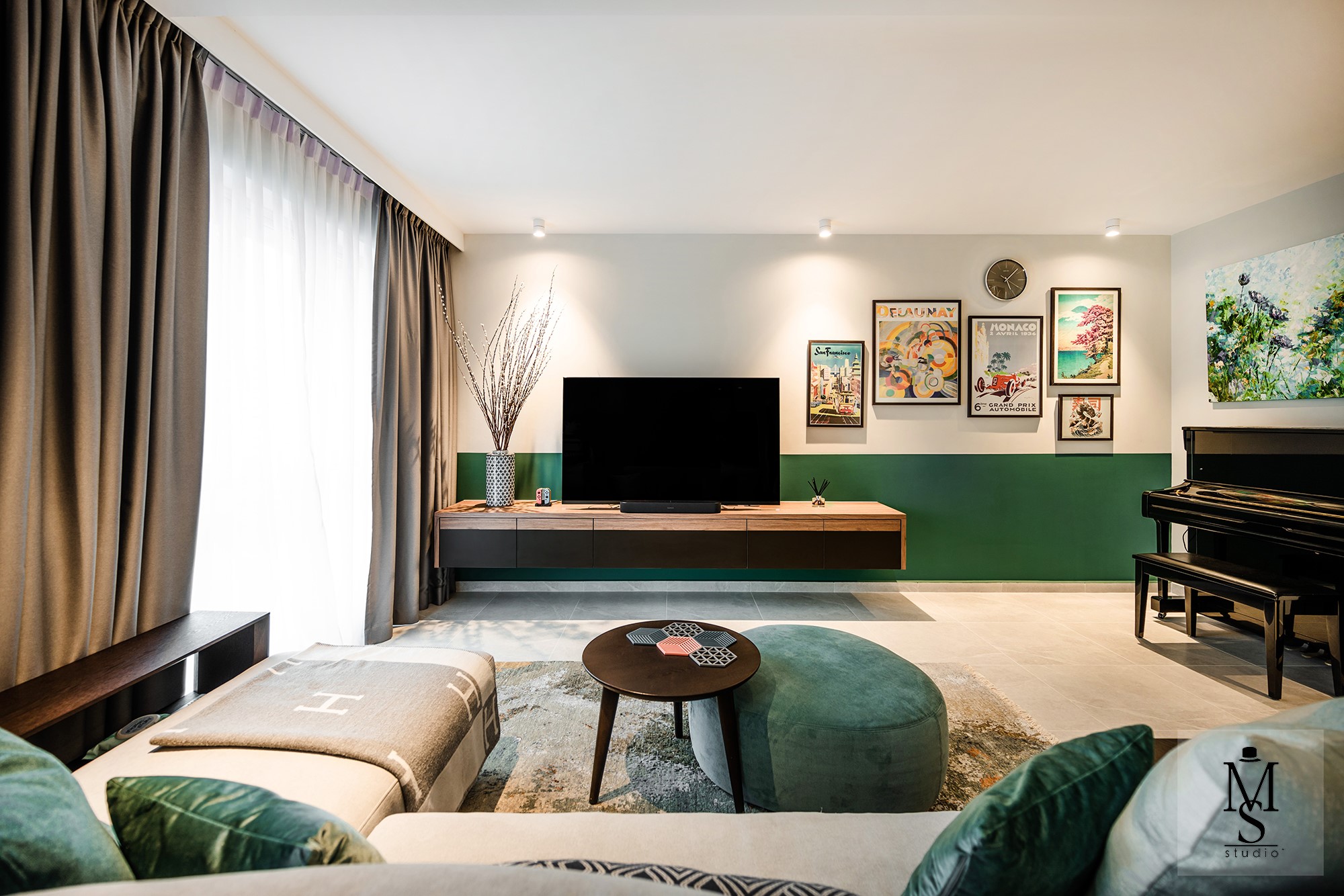 What are the characteristics of eclectic interior design?
Orderly mix of visual elements
Whether it is prints, patterns, shapes or textures, you can count on an eclectic style to bring you the most diverse of design options. These standalone elements unite to give the interior a cohesive feel that's got an added visual oomph..
Marrying the old and new
Serving up looks from different time periods, eclectic homes usually have contrasting aesthetics that somehow gel with one another. Don't be surprised to find nouveau furniture paired with farmhouse-style accents, or even an art deco style bedroom lined with modern furniture.
More than just a beautiful mess
Many people mistake the eclectic interior style as a freewheeling approach to design, where a home is haphazardly cobbled together through random furnishing choices. The word "eclectic" is derived from the Greek word eklektikos, which means to choose or pick out. Eclecticism comprises a carefully curated list of décor that's held together by a key focal point.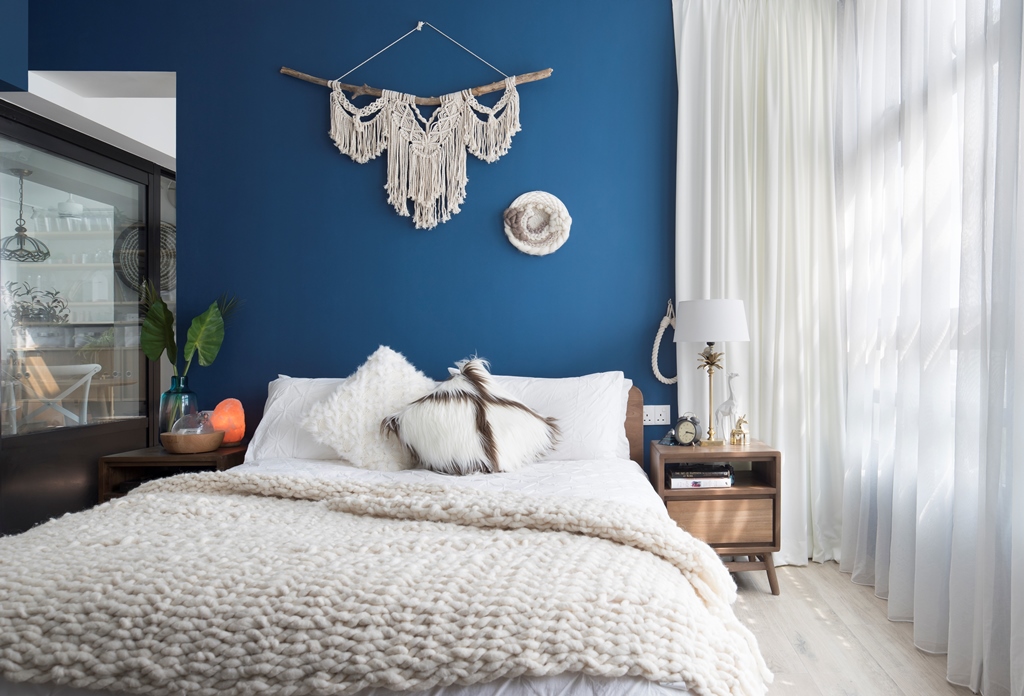 Hooked onto this patchwork-style of interior design? Read on for 10 tips to master this intriguing look, and take cues from these designer-approved homes. We promise you'll find something to love!
Find an interior design company
---
1. Start off with a core palette
Selecting a series of starter colours lays the groundwork for your dream eclectic home. Designed by Mr Shopper Studio, mellow notes of sunshine yellow and ethereal blue were used in varying proportions to inject brightness into the space.
A handy tip is to select two colours, one neutral hue and another for your accents. This palette will ground all your design elements that come into play thereafter.
Complementary shades of teal were adopted for the shelves and coffee table, while the blue and yellow hues of the wall art are in cohesion with the colour scheme. By implementing this visual coordination, it gives the space a sense of order.
---
For the less sexy spaces of the home, this core colour scheme is an instant mood-lifter. Gravitating towards the same shade of coral blue, the common toilet has become a calming and refreshing space.
2. Go big on plants
Like this urban bohemian apartment by Fuse Concept Interior Design, homes decked out in an eclectic style are often replete with greenery. Apart from brightening empty corners, plants add colour, texture and life.
Spruce up your study corner with some of nature's best friends. This unique mood board's got a vast display of mini flower pots and knick-knacks, making a great mood-booster for anyone who steps in.
Even the kitchen is not spared from the restorative powers of these plants. It doesn't have to be a king-size centrepiece; littering a handful of dainty pots around the room can make a difference.
Relevant article: Kitchen Interior Design and Renovation Cost Guide in Singapore
3. Curate a collection of wall art
It's no surprise that they say pictures speak a thousand words. Because each art piece on the wall tells a story, you'll have a beautiful gallery to call your own, while complementing the eclectic vibes.
Experiment with scale if you don't have a medley of wall art to boot. Choose a significant piece of furniture to clothe your walls in, redefining the cosy ambience nestled in a playful mish-mash.
Find lighting interior designers
---
4. Embrace textural plays
A great way to sustain visual interest in a living space like this is to introduce a variety of textures in small bursts. Behind this adventurous, contemporary design is Hmlet Interiors, where a curious blend of knits, tassels and tufts were used for the living room.
Contrast soft and hard textures against each other to nail that balance. Against the sturdy, structural outlines of the bed frame, the fluffy throw pillows and marshmallow-soft bedsheets stand out even more.
5. Colour is everything
All you need in an eclectic-based home is a jolt of colour. This energetic and convivial interior style doesn't shy away from flamboyant hues. Brought to life by The Scientist, we were blown away by the lustrous pastel pink kitchen that boasts a modern terrazzo backsplash and countertop.
Look up kitchen interior designers
---
In the spirit of coherent design, a similar pink hue was selected for the common toilet's wall tiles. To create a little dramatic effect, opposing shades of red and brass accents were used. Neglected areas in the house can be refreshed with just a couple of bold design choices.
Give fresh styles and new colours, like this fiery red, a chance to shine in your four walls. Eclectic styles are represented by a deliberate mismatch of home accents, making unexpectedly bright colours a welcoming feature.
6. Keep the walls simple
For a maximalist style like eclecticism, it can be tempting to throw on all kinds of visual enhancements. This interior design theme doesn't equate to "more is better", so it can be good to strike a balance by keeping the walls bare and minimal.
Going back to basics, Jialux Interior Pte Ltd worked with the homeowners to introduce colour through simple painted walls. The walls are kept bare and minimal, which is the ideal backdrop for other vibrant accessories to take centre stage.
Beyond the emerald eclecticism of the home, the bathroom's design is simple but radical. Black outlines, white strip wall tiles and patterned mosaic flooring join forces to unleash the beauty of monochromatic fashion.
7. Choose statement pieces
Fans of the maximalist eclectic style are bound to love this apartment designed by Fifth Avenue Interior Design. This S$85,000 makeover turned a resale HDB apartment into a retro abode that stars an impressive repertoire of statement furniture, notably the bright neon light installation.
What's fascinating is the unsuspecting vintage vending machine, which is the door that leads you into the common toilet. These edgy furniture pieces make great conversation starters, bringing the eclectic edge of things to the fore.
Dominated by an old-timey orange shade, every corner of the kitchen oozes nostalgia. From the bar stools to the family photo wall, this space is indeed unique to the family.
8. Good things come in pairs (and threes)
To bring order into an eclectic-themed home, repetition is the classic trick. Designed by Adroit ID, this cosy quarters has an obvious pattern of featuring furniture in repetition, be it in colour or quantity.
With the same hexagonal frames and similar colour palettes, this pair of wall art looks perfectly compatible together. Just like the framed art, the elegant poufs prove that there is power in unity.
If there is one thing eclectic interiors have a penchant for, it's some whimsical creativity! It doesn't hurt to amp up the room with a memorable piece of art or even a crystal chandelier.
9. Adopt different styles of furniture
For a refined eclectic abode, always remember the core of this interior style – a joyous mix of old and new, modern and vintage. In this timeless home designed by Craftwerkz Interior, there's an unspoken beauty in pairing the mid-century sofa with a solid oak wood coffee table.
A far cry from the mid-century vibes in the living room, the kitchen and dining space radiates a more industrial chic. With the help of deliberately mismatched furniture, the dining table and stools are the epitome of "same same, but different".
10. Prioritise functionality
Motivated by the homeowner's preferences for cooking and hosting, erstudio pte ltd maximised this 1300-sqft apartment that prioritises her lifestyle. This contemporary eclectic condo is heavy on beautiful textures like wood and fabric.
For a roomier space, foldable doors were utilised to keep each part of the house separate. When guests are over, the doors can be collapsed to encourage comfortable conversation and intermingling in a fluid living space.
When it comes to deciding how much space to allocate each room, space planning is a critical part of the process. As the owner spends most of her time in the kitchen, much attention was given on it during the conceptualisation process. Eclectic knick-knacks and unconventional patterns echoed throughout the space.
Relevant article: Kitchen Interior Design and Renovation Cost Guide in Singapore
Rigid rules don't exist – go wild
If there could only be one takeaway from this article, it's that there are no hard and fast rules in the world of eclectic interior design. Sure, there are some recommended space layouts and furniture choices, but above all, your personality should shine through the home. Throw away all your uncertainties and let creativity rule!
For those inspired by this gallery and would like to see other more 'maximalist' design styles, check out this article on contemporary interior design, which tends to feature similar themes and vibrant colours.
Leaning towards the simplistic side of interior décor? Read these other articles that showcase the best of MUJI interior design, Scandinavian interior design and minimalistic interior design.
We're here to improve your home
Speak to hundreds of reliable pros, view their gallery, inspirations, and know the best prices with our resources.
Have full control over your home improvement projects with Homees.