Walls and ceilings are the backbones of your house, forming the majority of the visual aspect of your home, yet performing a more crucial and fundamental role – holding your house in place.
Not surprisingly, the cost of any work on your walls and ceiling will be dependent on the scope of the project and the square footage.
If you have an interior design project, work with your renovation contractor on the materials needed as well as the labour cost per hour if you are planning to remodel a room or build a new house.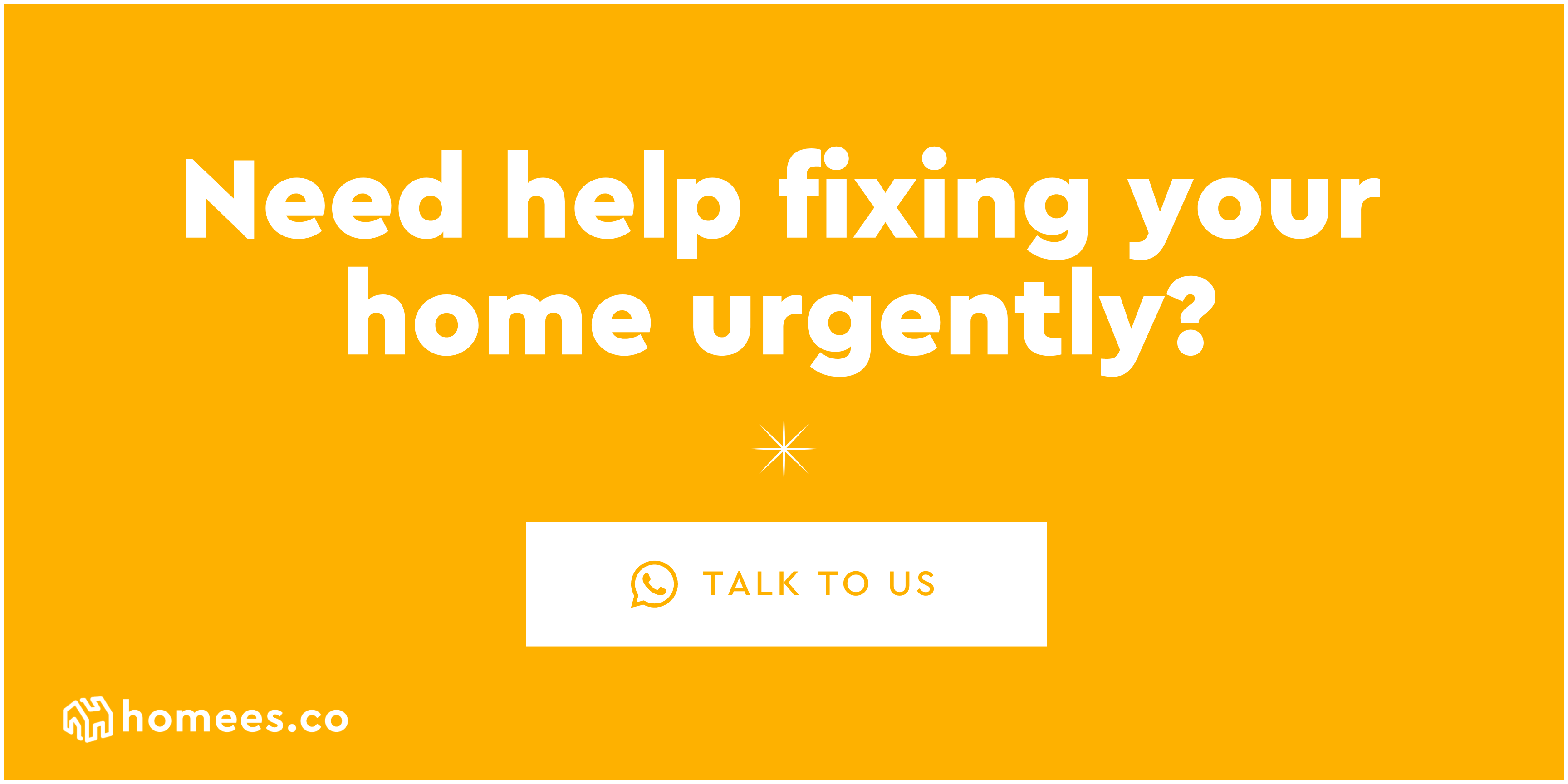 ---
Common questions about Walls and Ceilings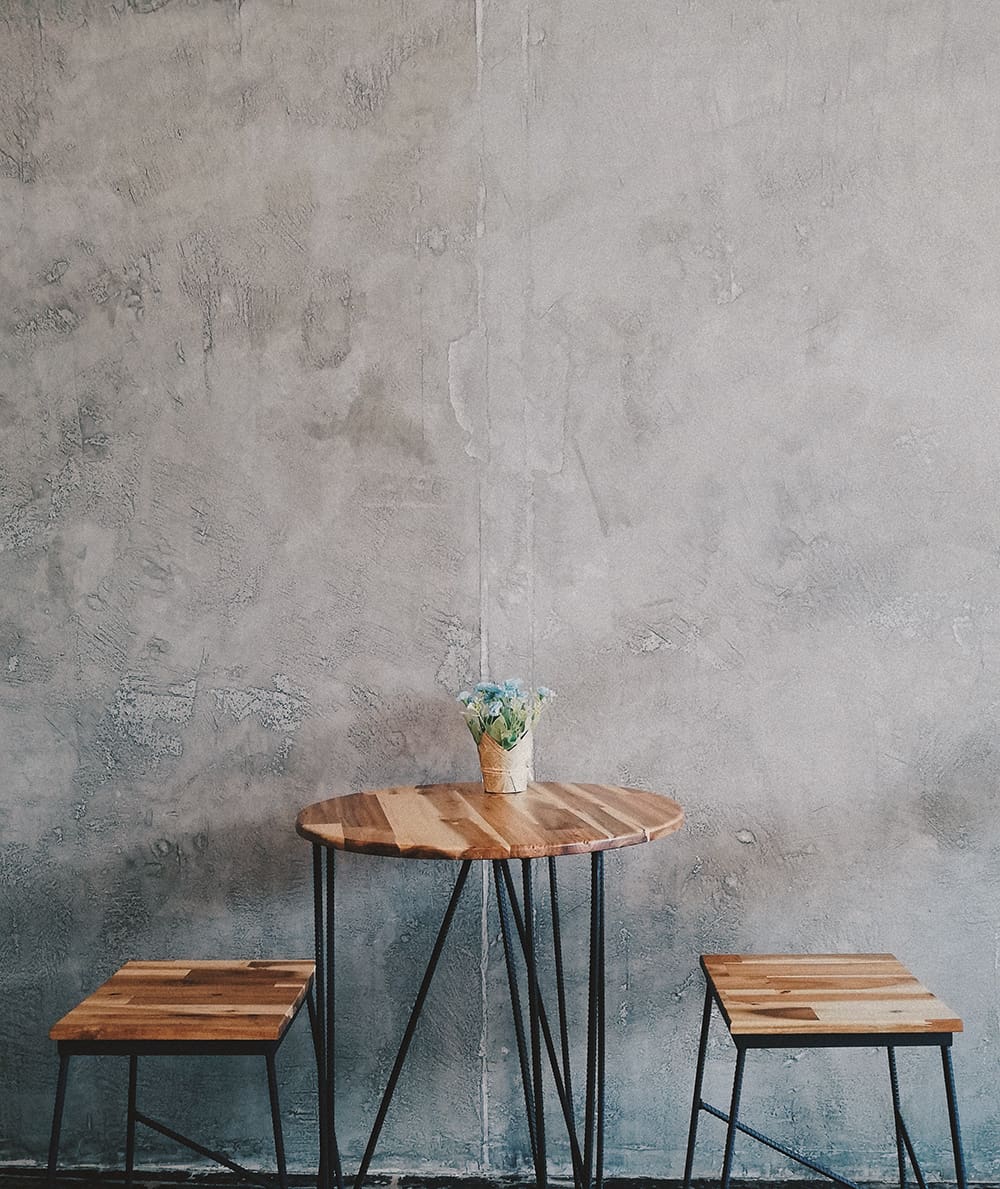 How much does a partition wall cost?
A partition wall typically refers to a non-load-bearing wall that is installed for privacy reasons and noise insulation. Thus, it usually has a very thin width and takes up very little floor space. This makes it popular in home offices to draw boundaries between workspaces and the rest of your home.
The cost of a partition wall is dependent on its size and the material chosen. Typically, depending on the thickness and the cost of the material, it can cost between S$3.50 to S$13 per square foot.
---
How much does it cost to put in a false ceiling?
False ceilings are often used to cover up your actual ceiling and the visible wiring on them, giving your house a cleaner and more minimalistic look. They can cost anywhere between $3.50 to $6.50 per square foot to install.
---
Wall Prices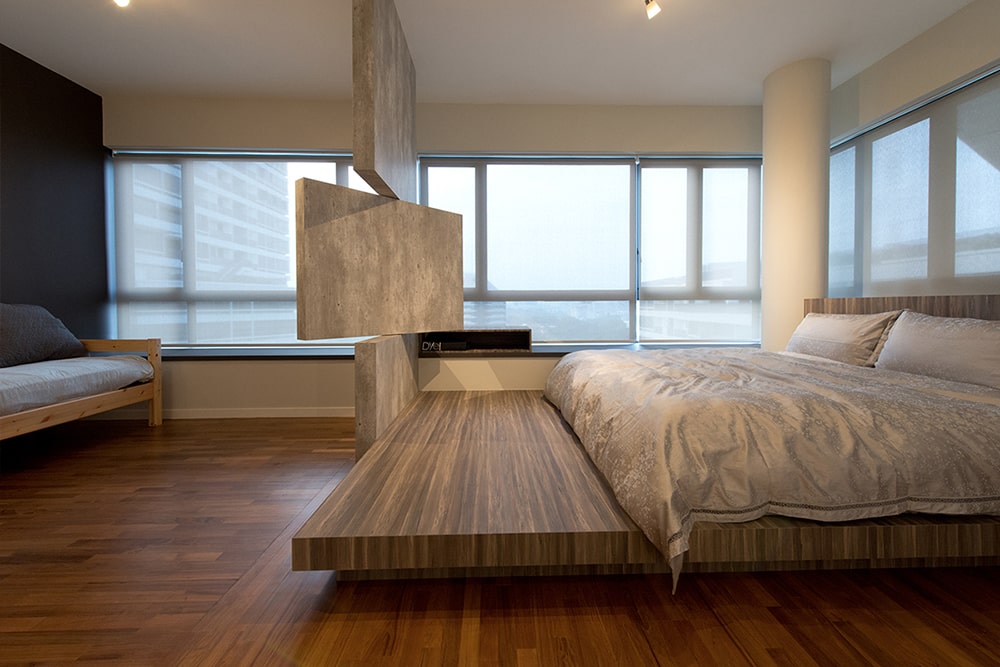 TV Partition Wall in the bedroom by Dyel Pte Ltd
Building a wall will cost around $1,300 to $10,900 depending on the materials, size, and difficulty of the job. Most wall jobs will require designing, framing, drywall, and paint. You can also have the option to include texture, wallpaper, or wood and trim.
-Or Gypsum Board, covers wood or metal-framed walls

-Require a painter after the job is finished

$430 – $1,100 (single wall)

-Usually used as an accent or faux window

-Might include blocks, framed sheets, or floating tempered wall

-Known as pony/knee walls

($14 – $44 per linear foot)

Outdoor & Retaining Walls

-Used to add privacy without permanently changing the apartment

$4 – $11 per sqft (installation)

-Price varies depending on size and type of wood (e.g. pine is cheaper while teak is more expensive)
*Prices listed are estimated and may vary accordingly by different contractors.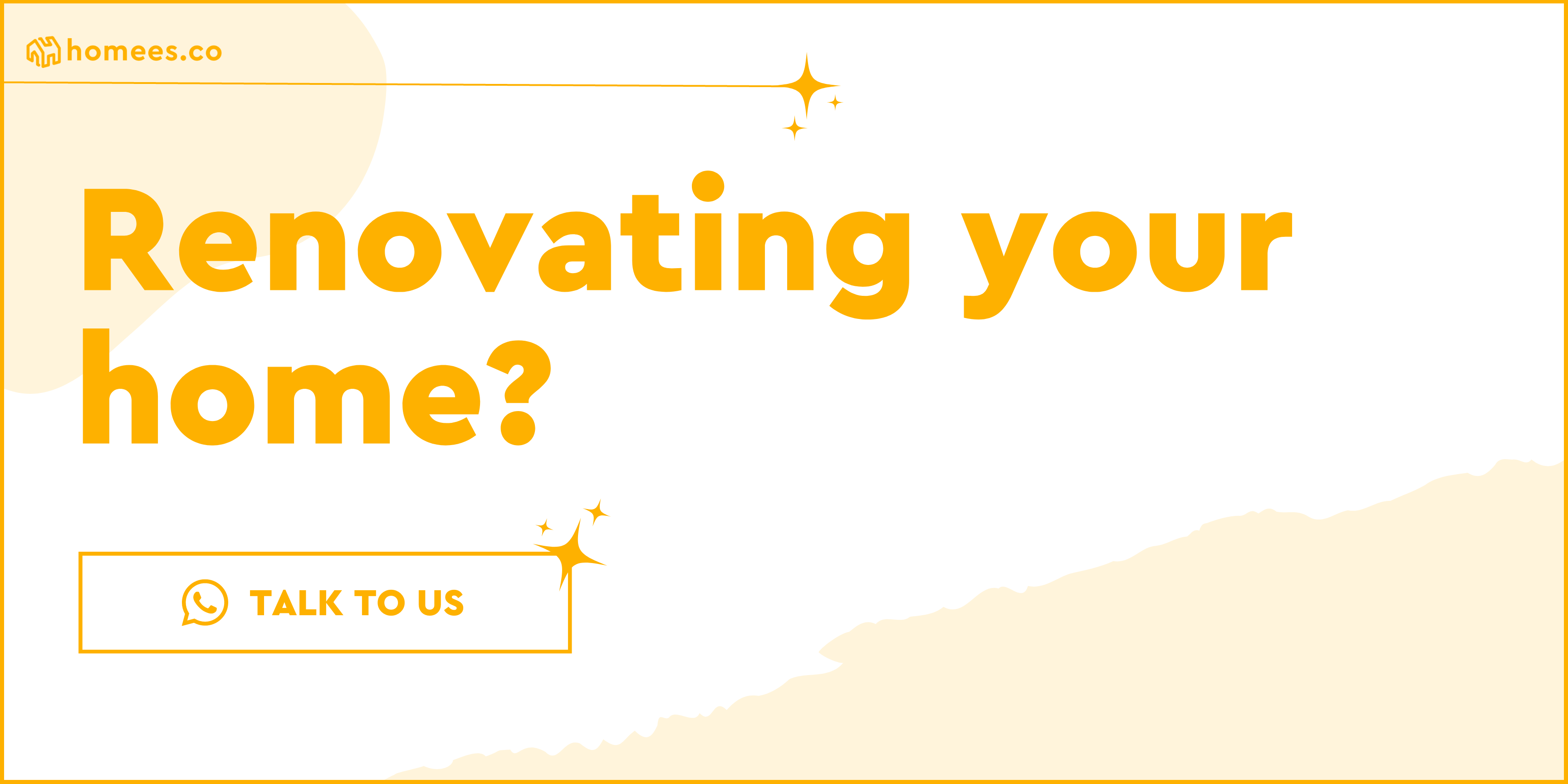 Ceiling Prices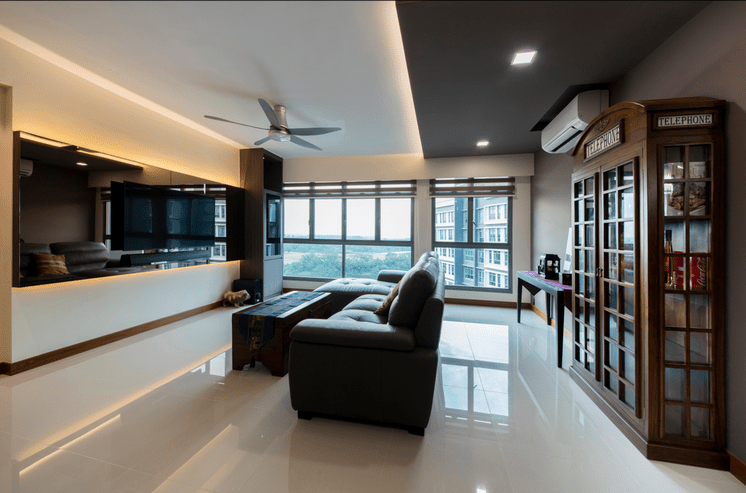 Living Room done by Tan Studio
Installing a ceiling will cost around $1,300 – $5,200. Drywall and texture will take up 60 – 75% of the price. Materials such as metal and wood will take a longer time to install and will cost more than Drywalls. The longer it takes, the higher the price.
More pricey due to details and time involved

Variety of choices (e.g. plaster, drywall, wood, metal, vinyl).

Ideal for areas with exposed struts, air conditioning system, and wiring

Common in office buildings, shops, and basements

Recommended if you still want access to plumbing, air conditioning system or wiring

Involves removing of roof structure then installing a new ceiling
*Prices listed are estimated and may vary accordingly by different contractors.
Other Finish Costs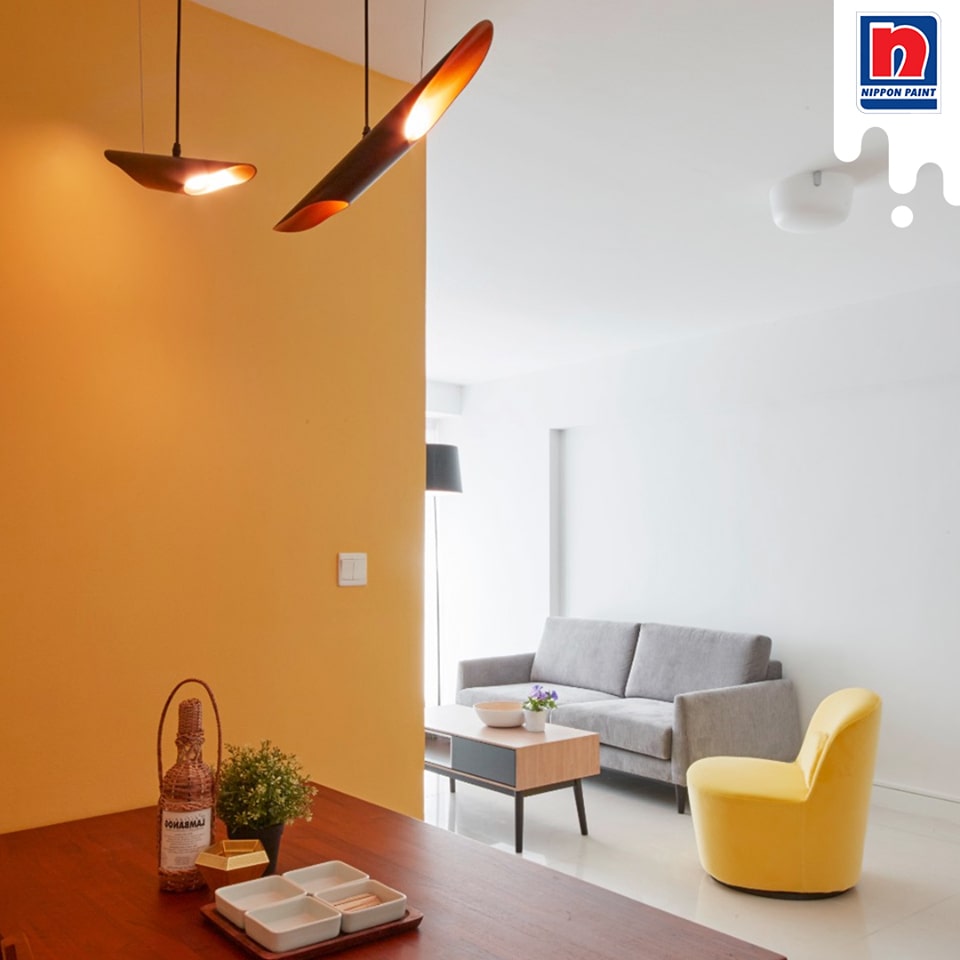 Paint job is done by Nippon Paint Singapore
You might be interested in additional finishes to spruce up your wall or ceiling. Below is a breakdown of the different costs you may want.
$14,500 and above (custom)

Decorative finish used for capping interior walls at the point where the wall and ceiling meets.

You'll need to paint drywalls

Uses special foam and sound dampening materials

Used to embellish floors, walls, and ceilings

Surfaces should be cleaned before starting on paint or any other covering jobs

Wallpapering Installation
*Prices listed are estimated and may vary accordingly by different contractors.
Walls and Ceiling Repair and installation Costs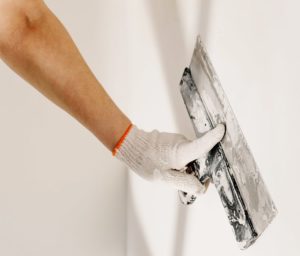 Walls and ceiling repairs can be difficult to estimate in consideration of various factors – the myriad of materials needed, the complexity of barriers (such as drywall) as well as different kinds of damages such as holes or water damage that can arise from the renovation works.
If you have to repair your drywall because of a hole or water damage, you may have to repaint the colour on the wall completely or re-wallpaper. It's tough to match the colours and patterns then, and you may even need to add in the cost of the refinishing.
However, we will do our best to provide a rough gauge of the costs of your walls and ceilings to the best of our ability.
Repairing a Drywall (S$2.50 per square foot)
Cambridge dictionary defines drywall as a material consisting of two sheets of heavy paper with a layer of plaster between them, used for making the walls and ceilings before the top layer of plaster is put on.
Due to the composition of the drywall, it is very susceptible to water damage and hence, maybe in frequent need of repairs. Unfortunately, the reparation of drywall is not that simple as you might have to repaint the whole wall or completely re-wallpaper it.
Textured Ceiling ( Removal- S$2 per square foot)
A textured ceiling, also commonly known as popcorn ceiling, is a ceiling with a spray-on or paint-on treatment that is usually used to cover imperfections and give rooms a bright white appearance.
However, due to the discovery of asbestos in its mixture, the popularity of a textured ceilings has declined tremendously. Its bumpy nature also attracts and holds dust particles that could lead to potential health issues.
It is recommended that you remove your textured ceiling and apply an additional layer over it to improve your indoor air quality.
Ceiling professionals should be hired when removing your textured ceiling as even its flakes can be detrimental to the health of your family.
Ceiling Tiles (S$2.80 per square foot)
Ceiling tiles have always been a go-to when looking for effective noise control. Attaching it directly to the ceiling or using it as a drop ceiling will both aid with noise control and room acoustics.
As far as price is concerned, ceiling tiles tend to cost more than traditional ceiling covers. Still, with the rise of the entertainment system, home theatres, music studios and home offices, ceiling tiles have found their way to residential houses.
This trend has made tiles manufacturers focus on making ceiling tiles more available, affordable and attractive to customers. You can talk to tile specialists for more tile designs and recommendations.
Read also: 9 Best Tiles Designs For Your Home & Tips On Choosing Them
Interior Moulding and Trims
Interior moulding and trims are woodwork that amplifies the look of your floors, walls and ceilings. This woodwork, typically decorative, can also be used to cover imperfections in your floors, walls and ceilings.
After installation, it may even slightly reinforce the structural stability of your house. As no walls are made perfect, getting a professional to adjust the cuts of your woodwork will help make them fit perfectly into your home.
Hiring a professional contractor will help to get the results that you always wanted. Due to the broad diversity of interior moulding and trims, you can talk to walls and ceilings companies and compare quotations and catalogues before confirming your order.
Cleaning Walls and Ceilings
Having clean walls and ceilings not only will give your house a clean and fresh look, but it will also rid of trapped irritants and improve your overall living quality.
Make a note of the paint used on your walls and ceilings before attempting to clean them as several types of walls and ceilings should not be cleaned by the inexperienced.
As mentioned previously, the textured ceiling will need additional care when attempting to clean, hence resulting in extra cost when hiring a professional to clean.
Do confirm with your professional if he/she has experience in cleaning wallpapers, as wallpapers are absorbent and it is easy to ruin them if not done correctly. If you want to avoid such an issue, you may talk to wallpaper specialists who can recommend the right materials for you.
Other Cost Factors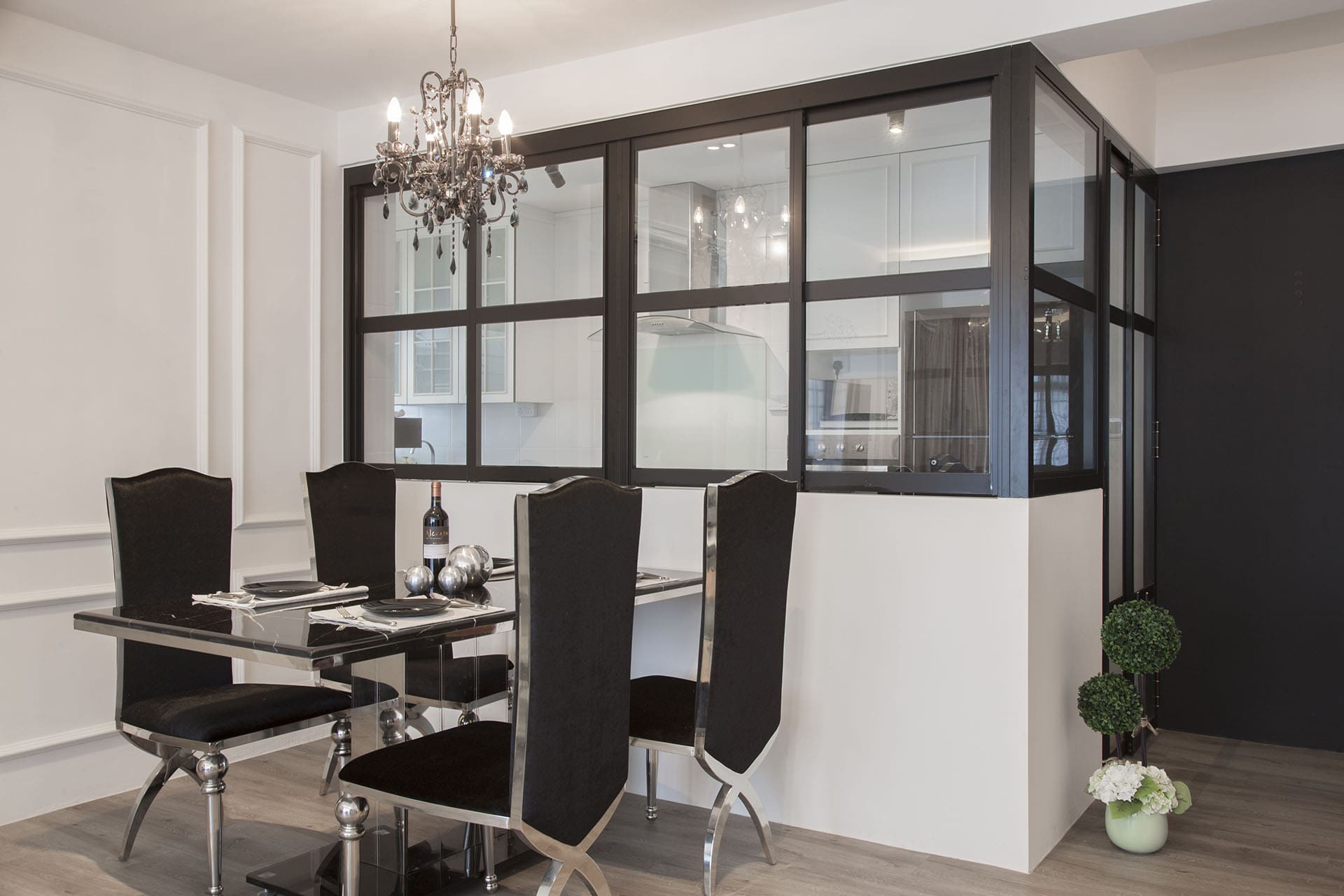 Dining area with half wall done by M3 Studio
Houses with unusually high ceilings will require you to pay more due to it being not easy to access. Also damaged walls with electrical wiring or plumbing will result in a higher price tag as more care is required in their task.
Flooring is usually complementary to the design and style you choose for your walls and cleaning. While an interior designer and renovation contractor can provide you with solid design advice, you can alternatively speak for flooring installation companies that can also offer similar recommendations to ensure your home has a corresponding, wholesome style.
Cost of Other Home Improvement Areas
You can check out the cost of hiring professionals for other aspects of your home improvement project. If you have a spare budget and would like some unique designs of your own, you can try speaking to a few interior designers for more designs ideas.
Renovation contractors can sometimes be the best fit for you if you have a suitable home design in mind.
You can check out the cost of hiring professionals for other aspects of your home improvement project. Some of the general cost guides can be found below:
We're here to improve your home
Speak to hundreds of reliable pros, view their gallery, inspirations, and know the best prices with our resources.
Have full control over your home improvement projects with Homees.