One of the best feelings in the world is to curl up in bed after a long, dreadful workday. Whether you are indulging in a nail-biting Netflix thriller or revelling in a tear-jerking romance novel, there's something magical about spending alone time in your bedroom. Even the most outgoing and extroverted social creatures need this space where they can be by themselves.
Apart from being a place to enjoy precious downtime, it is a sacred space where we spend a third of our lives in. Yes, the average human being spends at least 30 years asleep or at least trying to do so. Given the sheer amount of time we spend in the bedroom, we'd naturally want the space to be designed for relaxation and optimised for comfort.
Making the bedroom work for you isn't as difficult as it sounds. In this article, we'll lay out the basics of bedroom interior design ideas and share some simple tips to keep in mind. Scroll down to feast your eyes on some of the latest and greatest bedrooms you won't believe actually exist!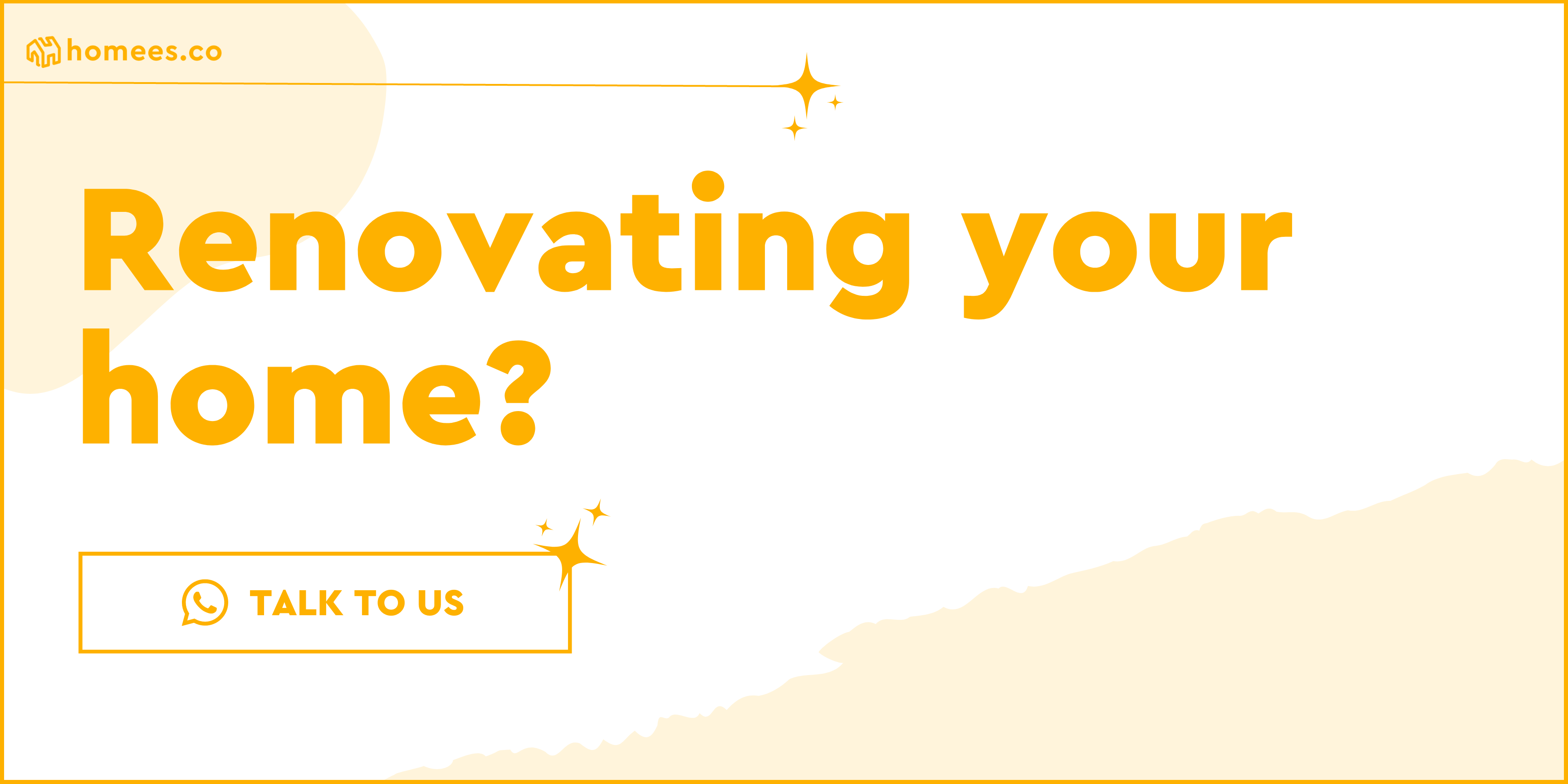 ---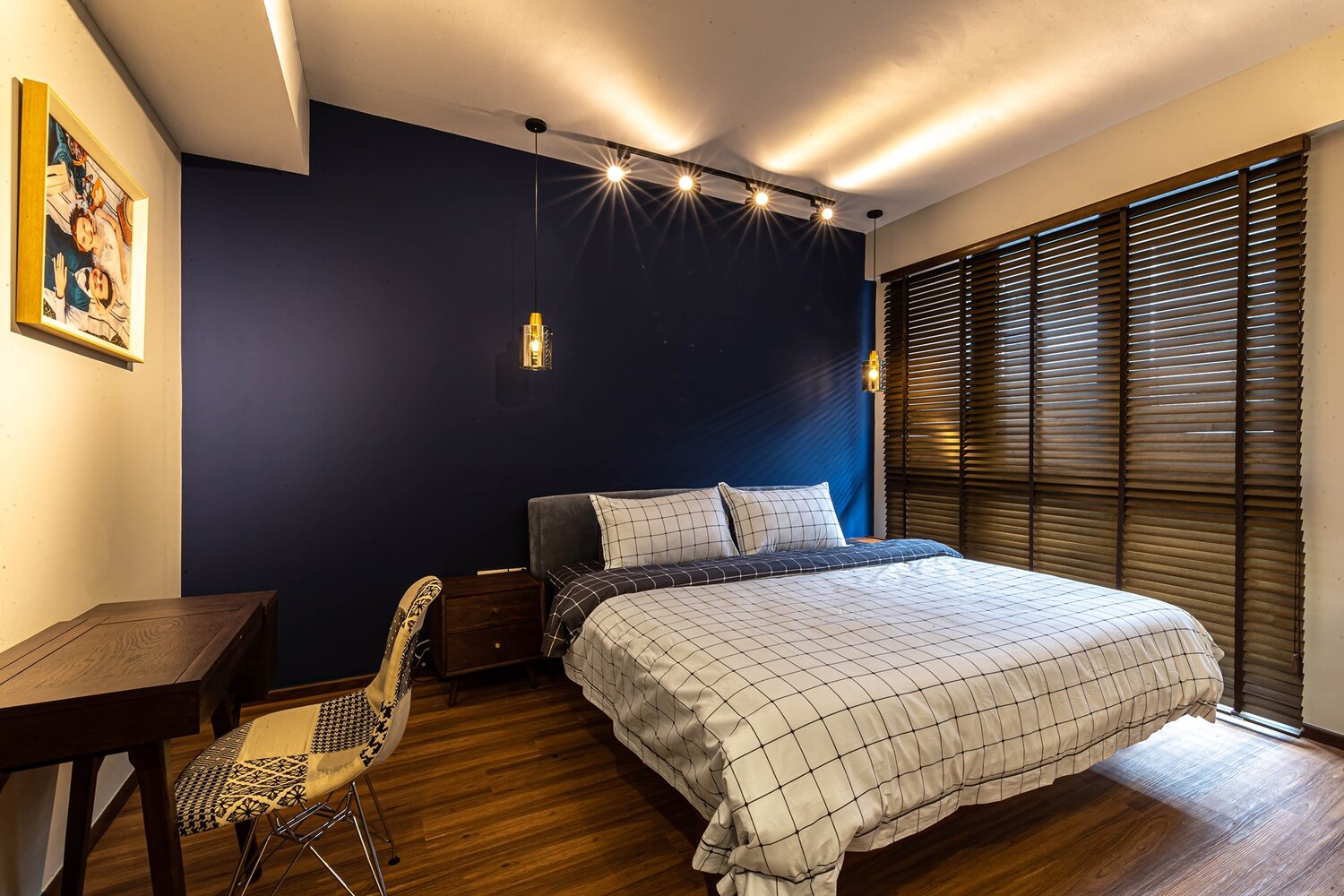 How can I design my bedroom?
1. Choose subtler shades
As a sensual refuge, the bedroom should be the cosiest part of your home. Consider painting your bedroom's walls in lighter shades like sage green, pastel pink, dusty grey and lush lavender. These gentle and soothing neutrals are your ticket to a restful night of sleep.
If you are a fan of bolder, brighter splashes, why not dabble with slightly toned-down hues of your favourite primary colours? A garish yellow can be substituted with a cheery mustard colour or cobalt for cerulean. Colour can drastically transform a space, so choose your wall paints wisely to evoke a warm and restorative feeling.
Wallpapering is also a feasible alternative if you want to interweave an added layer of dimension into your room. To avoid overcrowding the room with excessive details, go for a simpler and less intricate pattern with light colours. If the space is mostly clad in neutral hues, an eye-catching wall pattern works perfectly well too.
This gorgeous series of rooms in a seafront apartment on the East Coast has swept us off our feet. IN-EXPAT delivered this resort-themed interior to complement the breath-taking sea views facing the lovely abode. If there's one lesson we can take away from this home, it's to strive for thematic consistency.
The first set of pictures features a dramatic wall covering lush, tropical foliage that's also used in the living room. Coupled with neutral shades and natural textures, the comfort level has been taken up a notch instantly.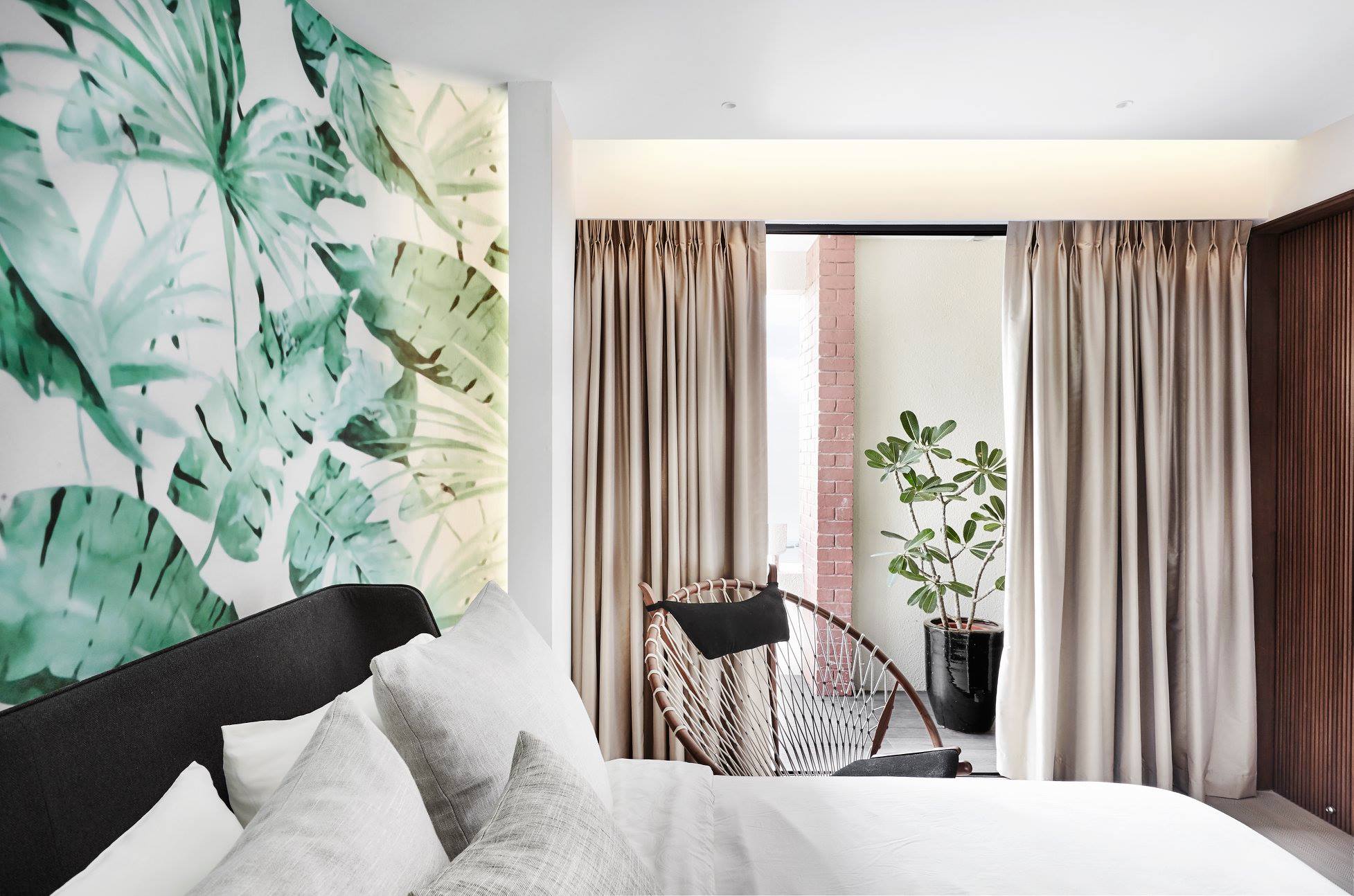 Serving up the looks of an upscale beach resort in Bali, this second bedroom is yet another show-stopper. We absolutely love the walnut-stained timber bed frame that also works as a functional side table. The sophisticated cream colour and resplendent wall art have turned this room into a lovely enclave.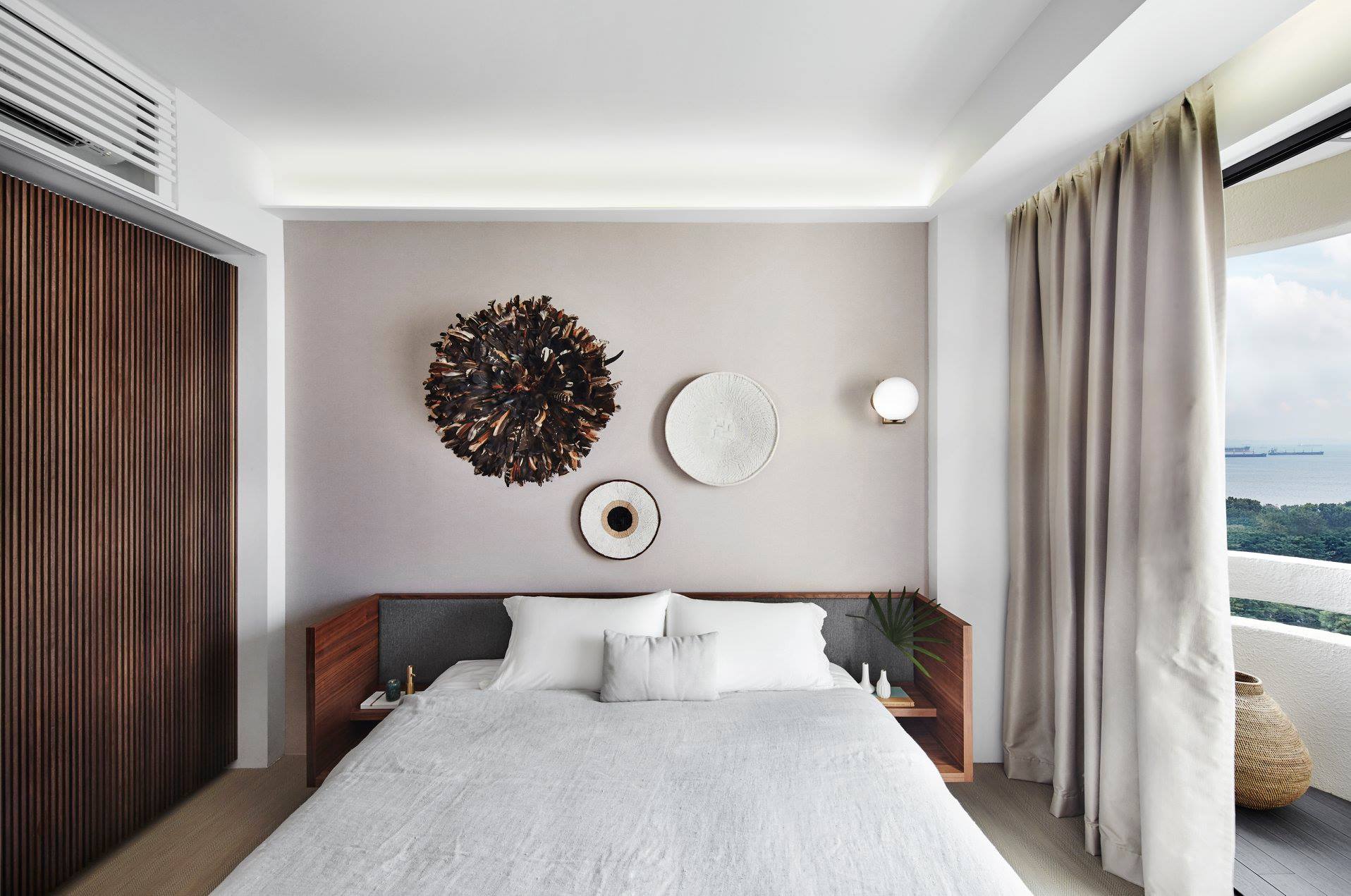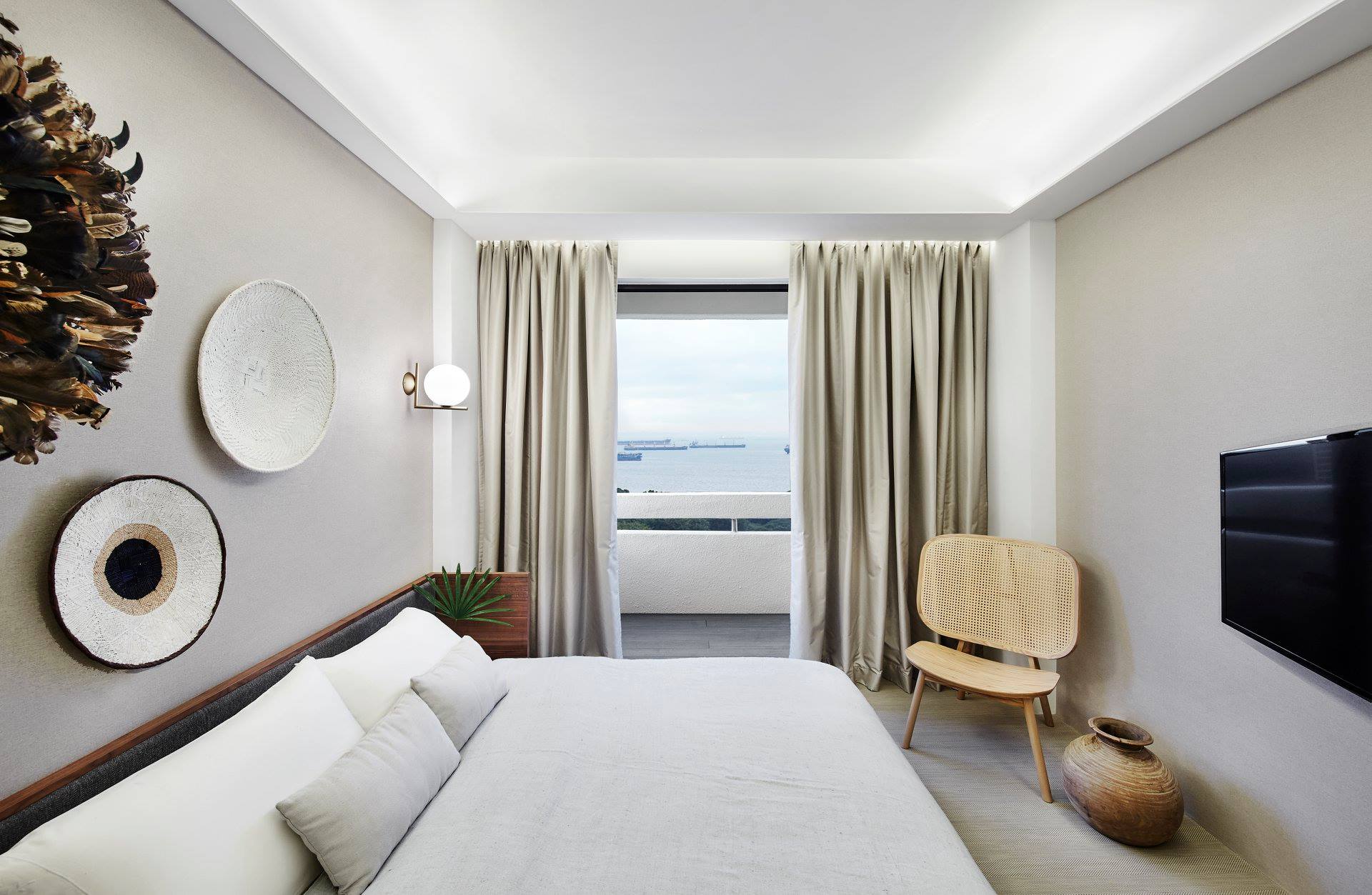 Bearing a close resemblance in theme and design to the previous bedroom, the third one is no less inviting. Composed of simple accents and clean lines, this will surely guarantees a good night's rest.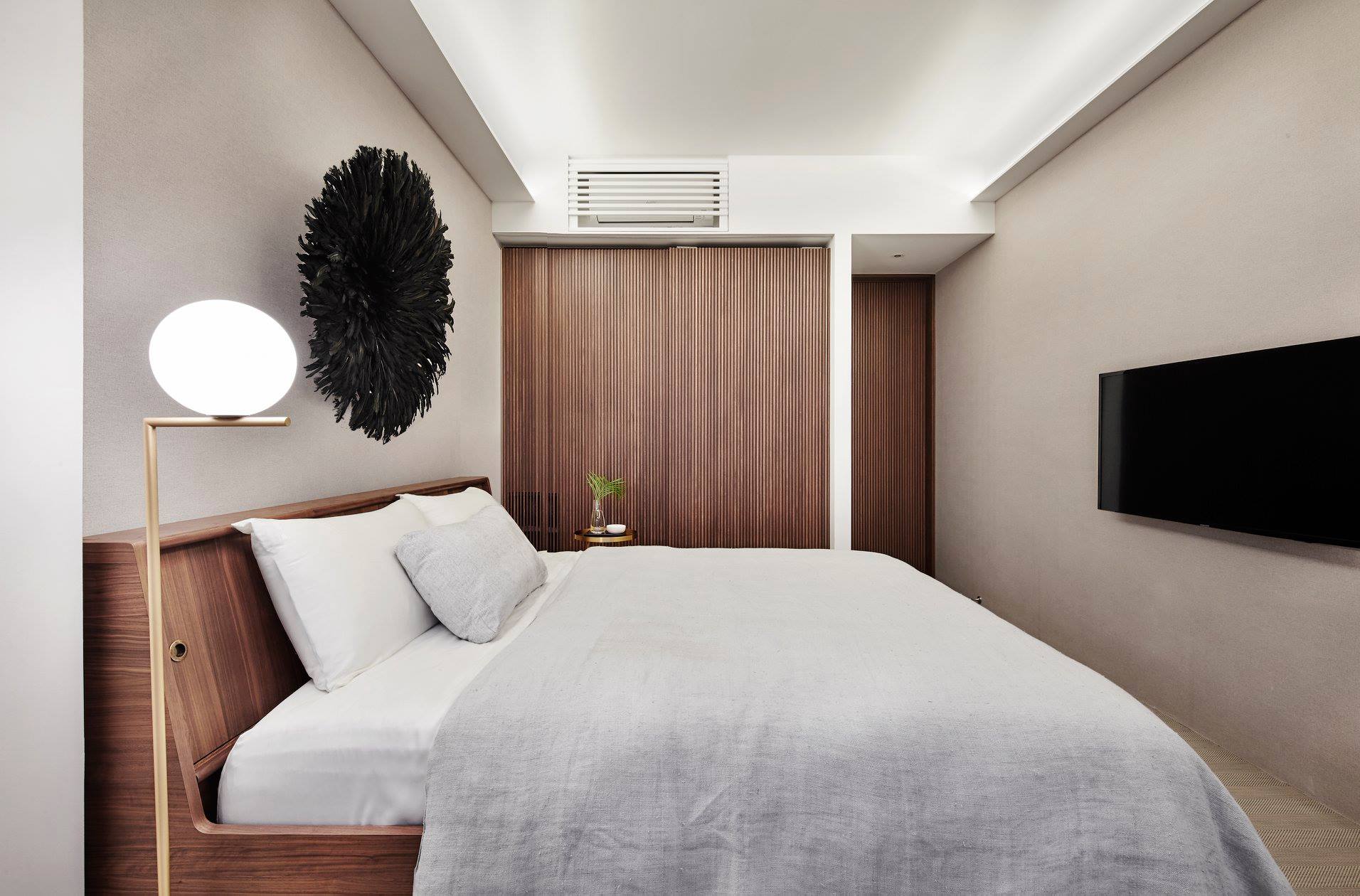 Relevant articles:
2. Keep it simple
With so much responsibility resting on the bedroom, it's easy to get carried away with stuffing the space to the brim. Pulling out all the stops when it comes to decoration seems to be the norm.
However, it's important to take a step back and rethink what goes into your resting nook. Rightfully, the bedroom should be a calm, quiet haven. Overdecorating or furnishing can be counterproductive by creating unnecessary noise and clutter in the space. Keep things simple and stick to the essentials.
The most common bedroom necessities are a bedside table, some chairs and possibly a dresser – though this can vary based on the size of the room and your needs. For instance, a child's bedroom may require a study table if their bedroom and study rooms are combined into one. Especially for small bedrooms, it's all the more important to be deliberate about your furniture choices to ensure a decent amount of walking space remains.
When adding decorative elements like accessories, aim for one or two pieces at most – a painting, family photos and flowers can add more to your space when incorporated subtly. Either way, determine what is truly essential for the bedroom and flush all else away as clutter.
Searching for a simple yet sophisticated bedroom layout? You won't want to miss this executive condo interior by Noble Interior Design. Composed of a primarily cloudy grey colour, there's something about the master bedroom's smoky allure that keeps it fresh and stylish. Apart from a cosy study table and TV, minimal furnishings were utilised in this space.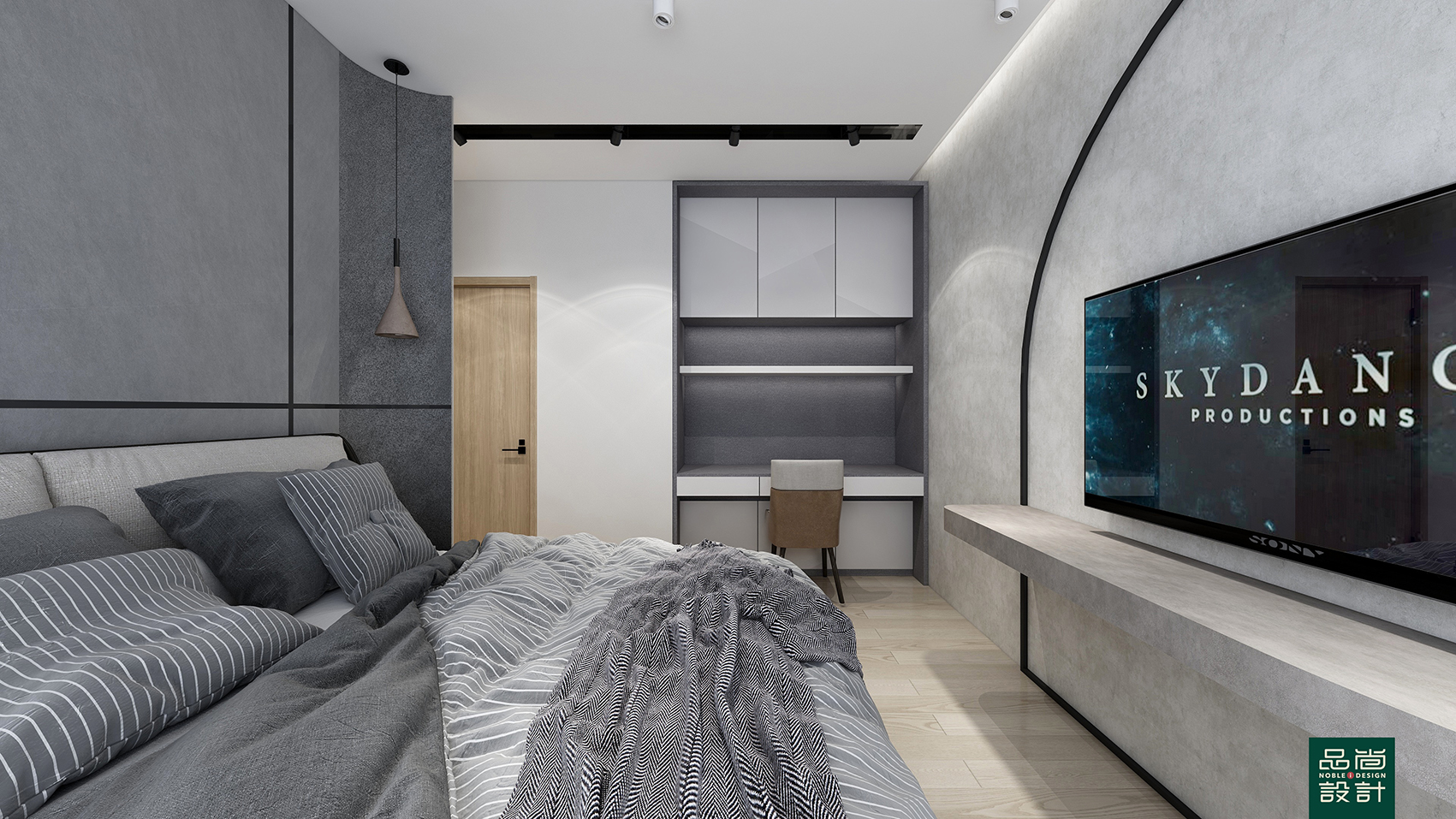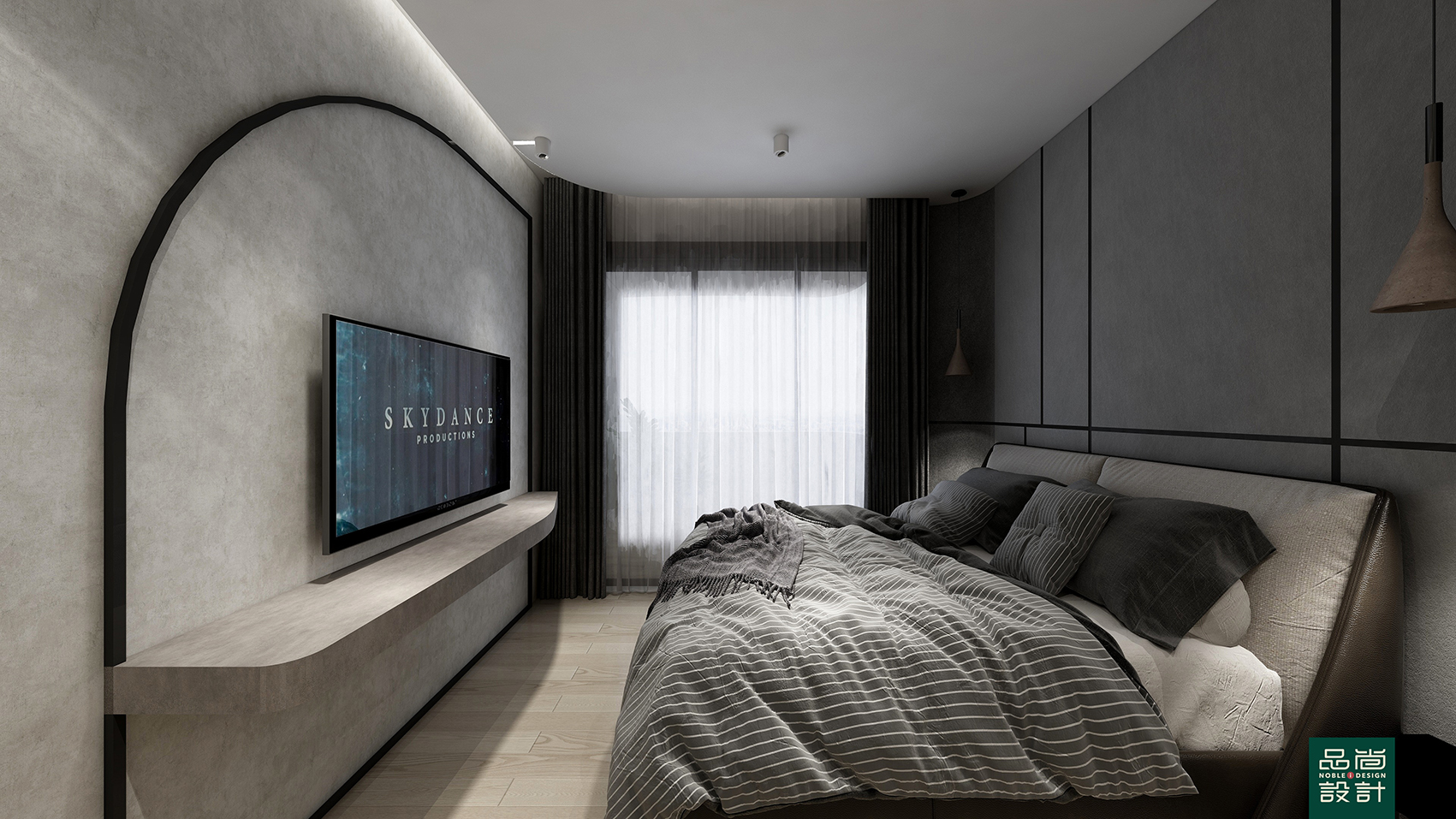 The other bedroom also radiates understated elegance. With its simple yet chic aesthetics, the space is a perfect spot to kick back and relax after a hard day's work. If you don't want too much sunlight to get to your room, how about adding two layers of sheer and sheet curtains? That way, you can avoid bulky, chunky blinds which might not be the easiest to clean.
Relevant articles: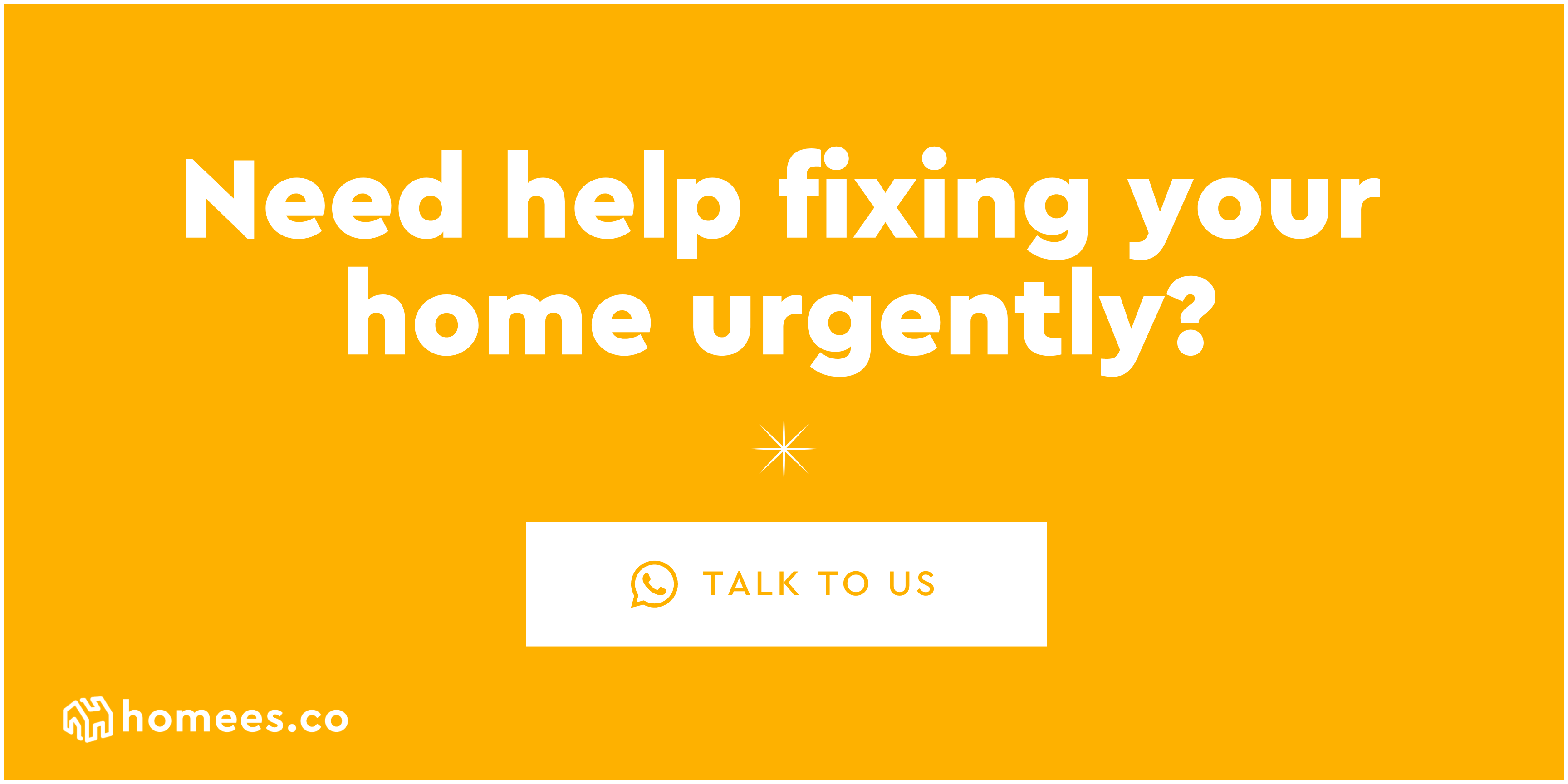 3. Storage is king
Designing bedrooms with space constraints can be a challenge, especially when fretting over the mountain-load of clutter to hide. Be bold and creative about incorporating storage space in the bedroom. After all, no one's ever complained about having too much of it.
There are many ways to keep things out of sight. For example, beds with storage are all the rage now for the handy extra space it gives. Plus you'll never need to worry about vacuuming underneath. Children's bedrooms could also do with a large storage trunk that tucks away all their toys. If you have a stretchable budget, consider a custom-built wardrobe that fits not just your clothes, but other spare sheets and curtains.
We can't help but envy this MUJI-inspired bedroom by Authors Interior & Styling, which is immensely huge on storage space. Made of smooth, beautiful wood, this full-height wardrobe melds with the headboard seamlessly to create a consistently peaceful feeling. The variation in panelled textures for the headboard is a clever way to create pockets of 'subspace' within the bedroom. Add cute touches through accents such as this chunky doorknob.
4. Line with luxurious linen
The very first step to getting a good night's sleep is to spruce up your bed with comfortable sheets. Pick the right bedspreads and you'll drift off to dreamland in no time. But with endless options in the market, how do you know what to choose?
If you like the soft, breathable nature of cotton or linen bedsheets, always ensure that they are 100% cotton with a minimum thread count of 300. Alternatively, Tencel sheets, which are made from eucalyptus trees, are also cooling and ultra-breathable material to consider. Silk sheets are a more expensive option, but you get what you pay for since they are naturally hypoallergenic and lustrous to the touch.
Layering your bed with several different textiles can complete the overall look of your bed. Spread a soft duvet, add a fuzzy blanket and throw in some plush cushions – voila! Bedtime never felt so good.
If you're looking for a classy yet comfortable bedroom, here's one by MADE Artisan ID that uses a harmonious blend of greys and beiges in the bed linen. Apart from a sumptuous blanket, textured pillows and cuddly throw, the matching monochromatic rug elevates the room's comfort level. These soft textures provide a stark visual contrast against the rest of the bedroom, creating an ultra-modern yet relaxing space.
5. Install multiple lighting fixtures
Just like colour, lighting can make or break a space. We're not just talking about natural lighting here; artificial lighting is equally important. A poorly lit room can give off a dull and drab feeling, while an overexposed one can be distracting which doesn't allow conducive rest. Warm and cool lighting can create vastly different moods in the bedroom as well.
Think about the different corners in the room that require lighting. A fancy pendant light can be the centrepiece of the room, while a small bedside reading light might be critical for those who love to curl up with a book before hitting the sack. Always prioritise your personal needs and preferences, then have the design work around these considerations.
Speaking of strategic lighting fixtures, this bedroom interior design by Swiss Interior takes the cake. The choice of lamps here give off a whiff of industrial style, but what attracted us was the 3-spot ceiling track above the cupboard. Tapping on the adjustable nature of these spotlights, they act as the perfect light source when picking out outfits, while one lamp casts attention on the wall mirror.
The bedside lamp enclosed in a glass case is a stylish yet functional addition to the range of artificial light sources in the bedroom. Warm lighting is an ideal companion for spaces that encourage rest and relaxation.
5 More Latest Bedroom Interior Ideas In Singapore
Now that we've covered the basic design tips, the art of bedroom interior design is now under your belt. But we're not stopping here – here are 5 additional bedroom design ideas specially curated for your next big remodelling project. Time to dive into an endless pool of inspiration and make those Pinterest dreams come true!
Relevant article: Bedroom Cost Guide in Singapore
1. Comforting Respite @ Bain Street
Showcasing a modern and immaculate space, this bedroom brought out by Ascend Design is a joy to behold. Surrounded by the clean lines of its panelled walls, the uniformity envelops the bedroom with a homely feeling. A greyish-monochromatic style for the bed's soft upholstery adds bonus points for poise and comfort.
Mirrors are also a remarkable installation to have in any bedroom. Other than creating the illusion of a bigger space, it brightens the overall mood and provides a strong impression in the room.
The secret behind building your dream bedroom lies in maximising every inch of space. If you have a bay window area that you don't know what to do with, why not transform it into a cosy reading nook that you can enjoy while winding down? Instead of just placing a plain old table and chair, throw on some snug pillows for maximum comfort.
Relevant article: Interior Design Cost Guide in Singapore
2. Open Concept Bathroom @ Kim Pong Road
At first glance, this looks like a typical bedroom that checks all the boxes for utilitarian interior design. Platform bed frame with hidden storage? Check. A fuss-free wall-mounted workstation? Check. Simple ambient lighting? Check. Wait, there's more? Behind the bed lies a glorious en suite bathroom in full view!
Ban Yew Interior Design put together this lovely yet functional space that feels just like a luxury resort. A glass wall separates the wet and dry parts of the room, with elegant Venetian blinds for added privacy. You'll never need a staycation again with an exquisite space like this!
---
3. Fun with Prints @ Tessarina
In this beach villa and Caribbean-themed space by Aiden-T, the master bedroom presents a clear-cut juxtaposition between the soft and hard areas of the room. A pleasant palette of ocean blues, sage greens and twilight greys sweep the beds and curtains, while the hardware and flooring are wrapped with sturdy dark woods.
Without being overly dramatic in the wall art and tabletop furnishings, the bedroom hits the sweet spot between form and function. Getting out of bed just got a whole lot harder!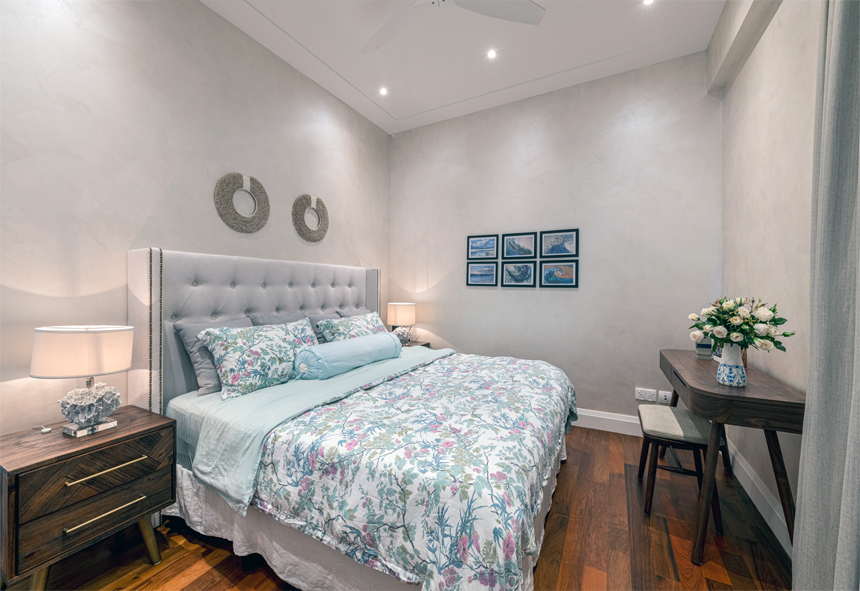 Kids' bedroom designs can be a tough nut to crack, especially when trying to cobble together a spirited yet timeless interior. Go forth with cheery colours and vibrant graphic wallpapers to break up the monotony of a simple space. Having ample storage is critical, but always leave enough room for play.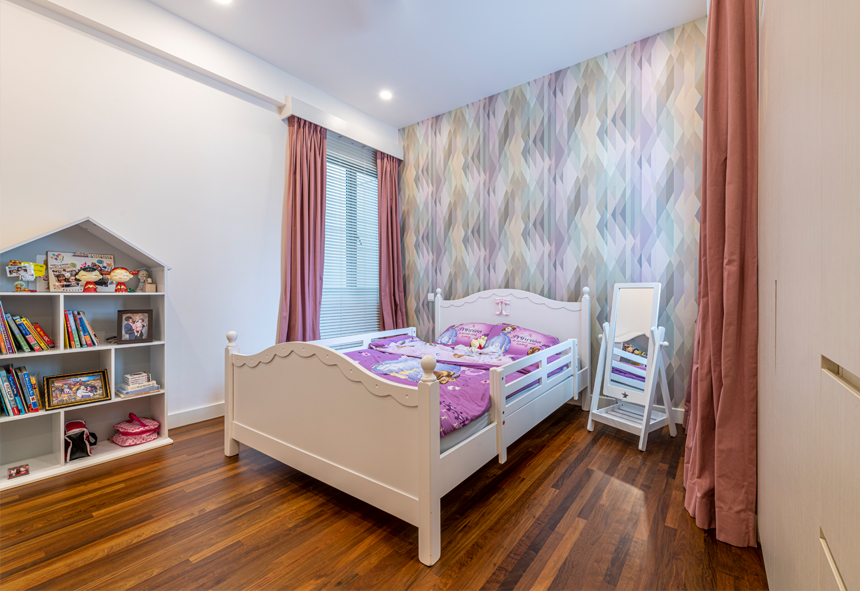 Relevant article: Flooring Cost Guide in Singapore
4. Beautiful In White @ Alps Residence
Highly prized for its purity and elegance, white makes a popular choice in bedroom interior design. It's a versatile colour (or rather non-colour), a blank slate that's perfect for minimalist decorating styles.
If you're a fan of all-white interiors, this bedroom design by Carpenters 匠  is perfect for you. Exuding beauty in simplicity, the light-filled chamber is minimally furnished, with simple accents like potted plants and gold backplates for the wall sconces. Raising the bed on an elevated platform makes every night's sleep feel like you're literally in the clouds.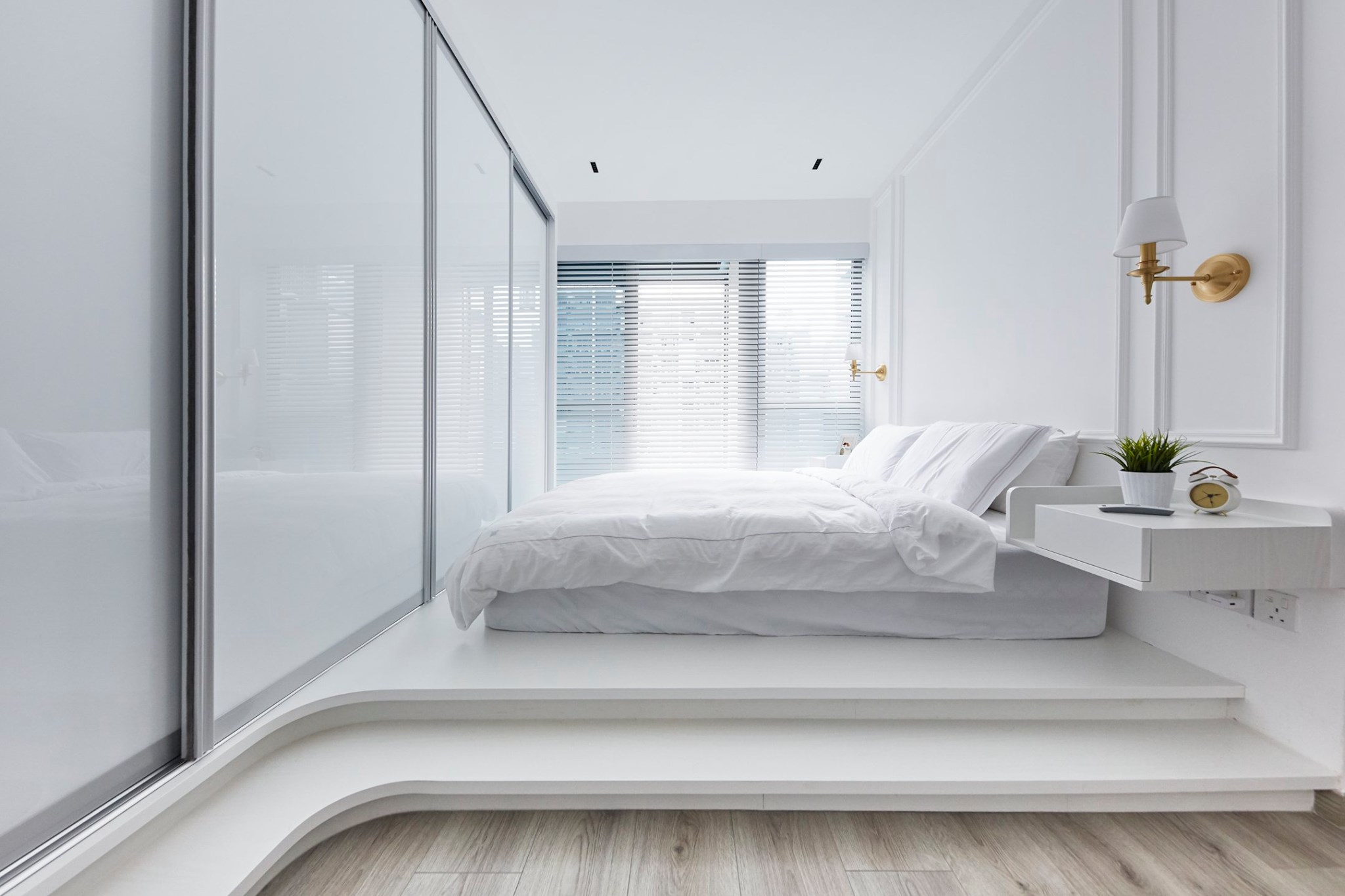 For condo units with loft bedrooms like this one, marble is also a refined alternative to consider as the core design theme. A tried and tested the combination in interior design is marble and rose gold, which plays up the feminine and graceful vibes of any room. You'd be proud to call this your personal territory.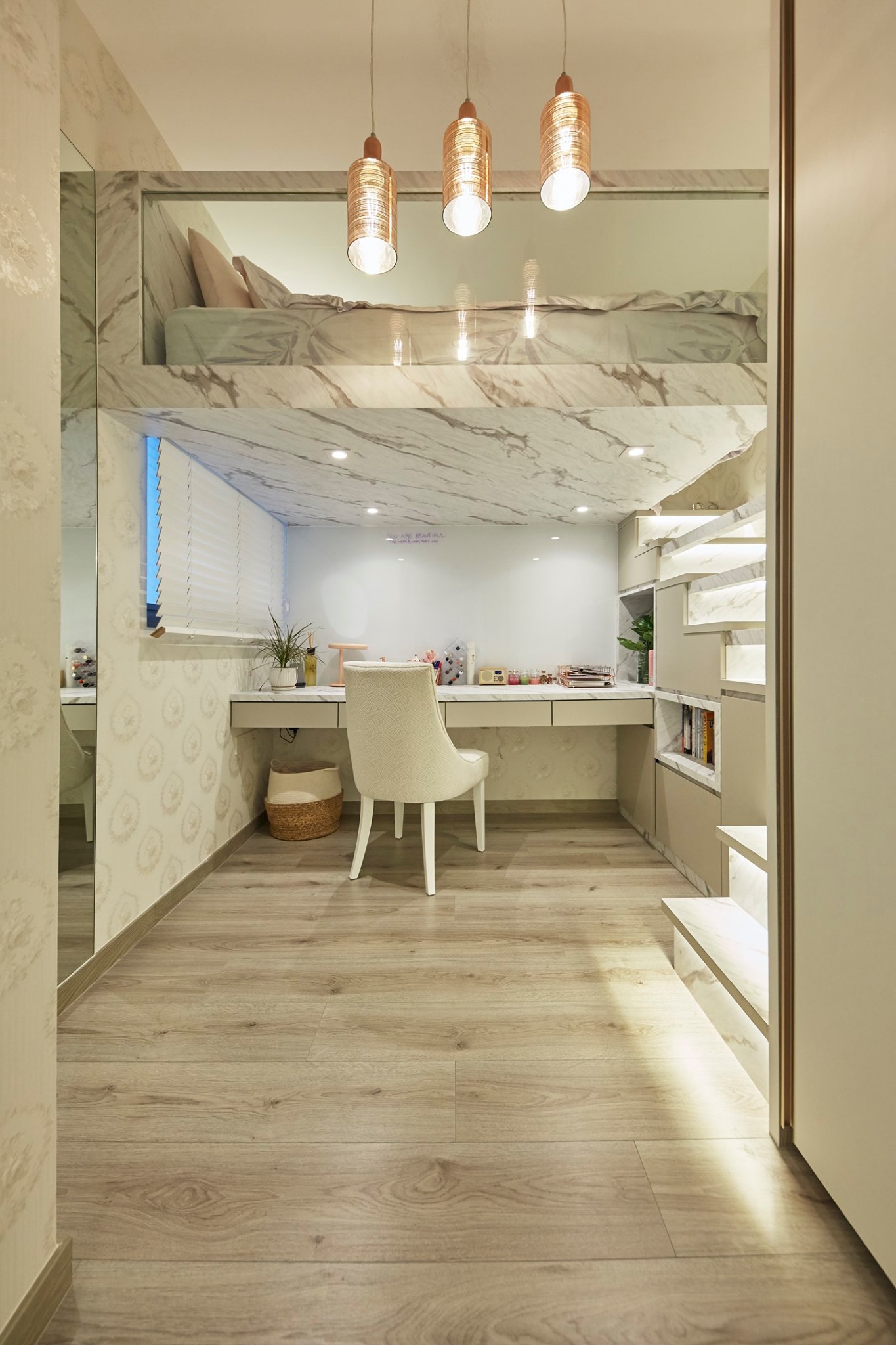 5. Soft Serenity @ Clementi
Inspired by the great outdoors, this Scandi-minimalist interior is a bright and airy space for relaxation. Designed by Space Factor, the rest zones in the house are what sweet dreams are made of.
Beyond the snugness of the bed and its spreads, we aren't hiding our admiration for the velvety soft wing chair that spells me-time with a book, or simply to catch a quick mid-day shut-eye. Greens and neutrals bring meditative zen to this room, revitalising anyone who takes a rest here.
For the master bedroom, a pop of contrast was introduced in the mauve-pink pillows and a coral blue throw. This unexpected splash of colour gives a fun, playful touch to the already restful space. Using frosted glass for the bathroom doors and windows is a smart way to create privacy, compared to an otherwise boring clear glass screen.
Relevant article: Walls and Ceiling Cost Guide in Singapore
Conclusion
As one of the most intimate corners of your home, the bedroom is a personal sanctuary you can't live without. When planning out its design, always keep in mind two core ideas: comfort and functionality. The bedroom wouldn't be the one for you if either of these attributes were not in the picture.
Whether you're a new homeowner, or someone who just needs a nudge to do a major overhaul, we hope this article has equipped you with the fundamentals and ideas to kickstart your bedroom makeover.
---
We're here to improve your home
Speak to hundreds of reliable pros, view their gallery, inspirations, and know the best prices with our resources.
Have full control over your home improvement projects with Homees.