Kitchen cabinetry is an integral part of the design of your kitchen and is sometimes even used as a measure of a house's worth. However, if this is your first time choosing your kitchen cabinet, you may find yourself overwhelmed with the numerous types of styles, designs and materials available online.
Given the complexity of a kitchen redesign project, we recommend you to talk to interior designers or kitchen designers for more advice and view their portfolio. To make life easier for you, we have compiled a list of the top factors that you should consider before buying a kitchen cabinet.
Hire Kitchen Interior Designers
---
Setting a budget
Kitchen cabinets are usually the most expensive part of renovating a kitchen. But do not let this amount freak you out. The cabinet that you decide on will play a significant role in your kitchen design.
Hence, it is crucial to set a budget for your cabinet so that you will be able to afford to complete the rest of the kitchen. This will not only keep you from falling in love with a kitchen cabinet that you cannot afford, but it also helps you to narrow down your choices to make it easier for your final decision.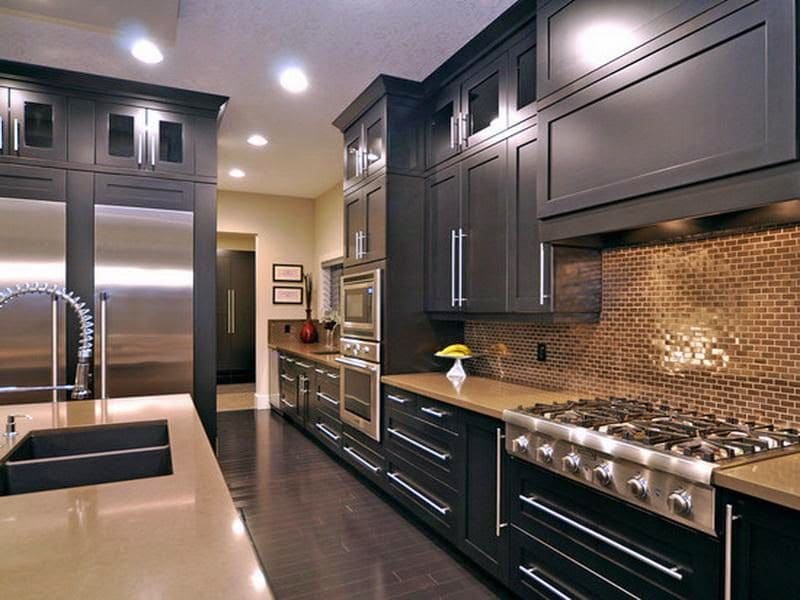 Availability of space
One of the biggest challenges that many homeowners face is a lack of space in the kitchen. This is especially true in Singapore where the kitchens in most HDB flats are just narrow aisles. Therefore, you should mentally picture how much space your kitchen cabinet would take up.
Then, measure the space available in your kitchen to see if it will fit. Or you can always let a professional designer measure the area that you will be able to afford.
You should think about the items that you wish to store in your cabinet, including those sitting on your countertops currently. Knowing how many things you plan on storing in your kitchen cabinet will give you a rough estimate of the space that you will need. If the clutter in your kitchen is too much for your cabinet to hide, then perhaps it is time to reconsider throwing away certain items that may be unnecessary for your kitchen.
Helpful Read: Simple Space-Saving Tips and Ideas for Small Kitchens
Common Questions about Kitchen Cabinets
How much does it cost to replace kitchen cabinets?
Replacing your kitchen cabinets can be a simple but effective way to spruce up your kitchen and give it a much-needed makeover. For instance, if you are looking to make your small kitchen appear more spacious, changing out dark-coloured cabinets for a lighter shade can help to brighten up your kitchen and visually enhance it further.
On average, the costs of replacing your kitchen cabinet can range from around $2500 to as high as $8000. Naturally, this is dependent on several factors, such as the size of your kitchen and the material chosen for your new kitchen cabinets.
Where can I buy kitchen cabinets in Singapore?
A kitchen renovation is not an easy task, especially when you have to find a trustworthy and reliable kitchen cabinet contractor to purchase from. But fret not – Homees has you covered with a carefully curated list of top cabinet installation companies you can find in Singapore.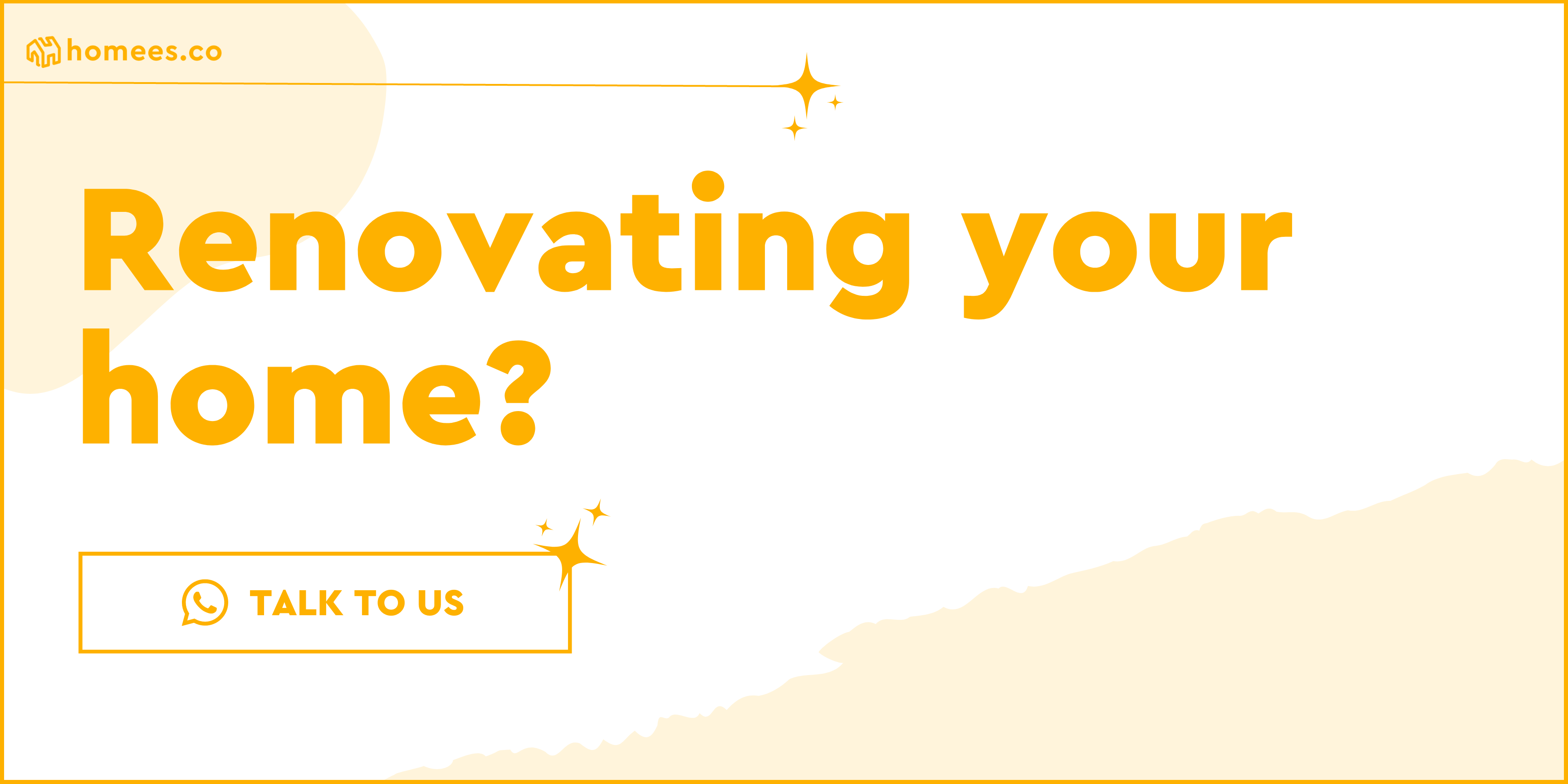 Hire Top Cabinet Installation Services
---
What is the most popular kitchen cabinet design?
Kitchen cabinets are essential when it comes to creating a beautiful kitchen design. Given its importance, consulting the top interior design trends for your home is definitely helpful in deciding on a design. Many homeowners looking to renovate their kitchen may be wondering what is the most popular type of kitchen cabinet design.
While what is popular really depends on the kitchen style and design that you want, here are a few trends that have stayed the longest:
Shaker Style Cabinets
With its simplistic yet sophisticated square panels, shaker style cabinets are one of the top kitchen cabinet trends for a modern look. Shaker style cabinets are popular for their budget-friendly prices and customisability.
The flexibility available in its design means that no matter what interior design you would like, shaker style cabinets can complement your kitchen perfectly.
Wooden Cabinets
Wooden cabinets are loved by many for their rustic and natural charm. The wood surfaces help to imbue the kitchen with a sense of warmth and cosiness. At the same time, when paired with white surfaces, wooden cabinets can give a clean and minimalistic vibe that is reminiscent of a MUJI interior design.
Certain homeowners may even add some greenery to their kitchen to strive for a Scandinavian interior design aesthetic.
Concealed Cabinets
A unique take on kitchen cabinets, some homeowners choose to conceal their kitchen cabinets to give their kitchen a cleaner and more clutter-free look. This helps to ensure that your kitchen has ample space and makes your kitchen appear much larger than it actually is.
As the structure of a concealed kitchen cabinet is dependent on the layout of your kitchen, you may want to consider having it custom-made instead so that it fits your kitchen perfectly.
Hire A Custom Cabinet Installation Service
---
Sliding Cabinets
Similar to the aforementioned trick of concealing your cabinets, sliding door cabinets are also popular for being stylish space-saving options, making it extremely helpful for saving space in a small kitchen design.
In general, a sliding door is a better alternative for a small space as it does not need to swing out as a traditional door does. Hence, it requires much less space and does not contribute to any clutter in the kitchen when it's used in the kitchen cabinet design. Accessing the cabinet then becomes much more convenient!
Type of Kitchen Cabinets
There are mainly three types of kitchen cabinet that you can choose from: stock, semi-custom and custom. In terms of price, stock kitchen cabinets are the least expensive as they are constructed in standard shapes, sizes and material. Semi-custom kitchen cabinets are in the mid-range for pricing and are factory-built in similar ways and sizes. The difference is that they are available in a wider variety of design and style.
On the other end, custom kitchen cabinets cost the most as they are constructed based on your individual preferences and specifications. Unless you have a particular taste in how you want your kitchen cabinet to look, stock or semi-custom cabinets will be a better option if you are on a budget.
---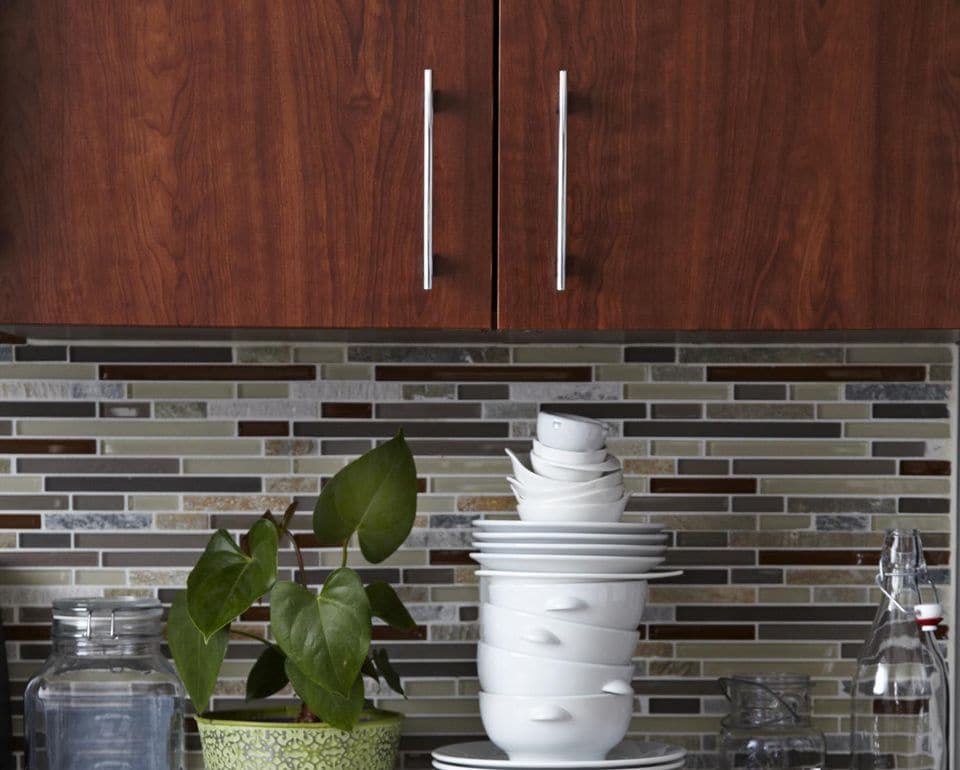 Material
The material of the kitchen cabinet is essential as it determines how durable your cabinet will be. Factors you should consider when choosing the material for your kitchen cabinet.
Durability: The material must not be susceptible to wear and tear quickly. It should be able to last through the test of time without any significant accidents.
Versatility: The material of your cabinet should be able to fit different cabinet configurations. This is because in some cases, the material does not go well with particular custom kitchen cabinets.
Price: The material of the cabinet should be within your budget.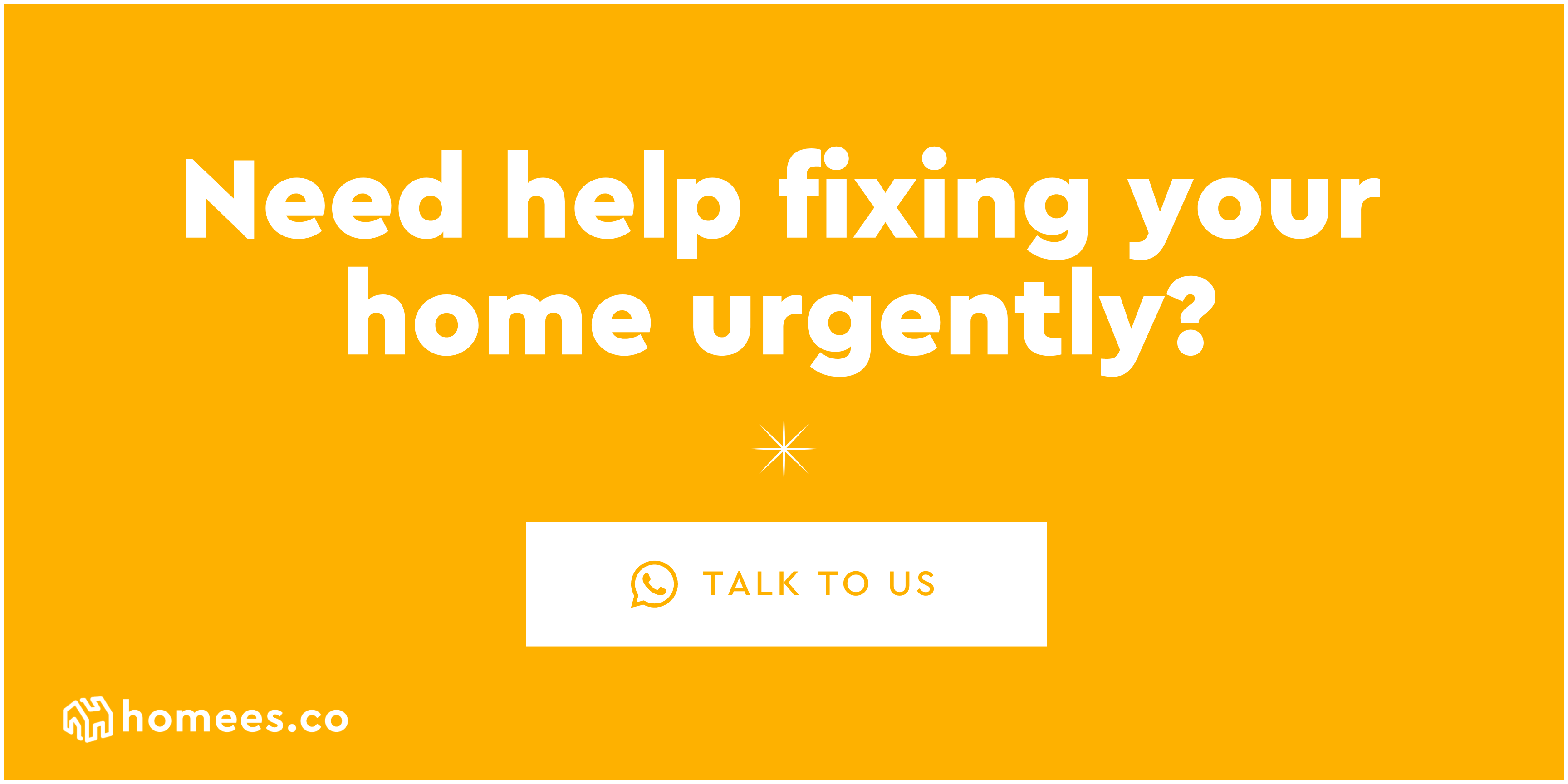 ---
There is a variety of different materials that can be used to design a kitchen cabinet. Here are some that you can consider:
Aluminium
Aluminium cabinets make an excellent choice for a new modern look. Their shiny surfaces will complement your kitchen lights nicely as well. Hence, this gives off an exquisite vibe for your kitchen. They are also rust-resistant, which is very useful, considering that the kitchen area is very prone to getting wet. Aluminium is also very lightweight, which you will be thankful for, especially if you tend to open the cabinet doors very often.
Also, aluminium is non-toxic and impermeable, meaning your food will not be intoxicated when you store it inside aluminium cabinets. Therefore, aluminium is considered to be one of the safest materials to be used for kitchen cabinets.
---
Red Oak
Red oak is a type of hardwood that is tough, durable and affordable. The surface of red oak looks grainy and textured, making it more suitable for a traditional kitchen look.
Red oak is also flexible in style and is ideal for almost every type of kitchen cabinet. It is a popular material in design styles like rustic interior design due to its homely and country-like aesthetic.
Hard Maple
Hard maple is a type of wood that is light in colour and has a surface with fine grain. It is a cheaper option compared to red oak, but it comes with less durability as well.
Like red oak, hard maple is also flexible in style and can fit most kitchen cabinet types. It is also highly resistant to stains, which is useful especially in an area prone to spills.
Cherry
Cherry is a typical hardwood that fits into many HDB kitchens in Singapore due to its tough exterior. It can stand marring and substantial impacts, which makes it very durable.
Using cherry type wood will give your kitchen cabinet a classy look, making it appear more sophisticated and formal. It is also versatile and can fit with most kitchen cabinet types.
However, you may want to note that the colour of cherry gets darker as it ages, though this is not necessarily a bad thing. The darkening of cherry kitchen cabinets over time can add a lot of depth to your kitchen design.
Find The Best Carpenters In Singapore
---
Ash
Ash is a type of hardwood that is both durable and strong. It is also light in colour, which gives your kitchen a brighter and more relaxed vibe that is similar to a minimalist interior design. However, ash is only suitable for custom-made kitchen cabinets due to its natural state.
Birch
Birch is another kind of hardwood that is popular among Singapore kitchen cabinets. It is a beautiful grain wood that is reasonably durable. Even though it is less expensive compared to other hardwoods, it is still highly resistant to stains thanks to its natural dark colour.
However, it is important to note that birch can be unevenly coloured, which is why it tends to be cheaper in the market. This discolouration can be made use of as a design tool, though, as the inconsistency in colour can help to add some pattern and texture to your kitchen design. This adds more depth to your kitchen and makes it more unique and stylish.
Pine
Pine is the only type of softwood that is suitable for kitchen cabinets. Pine is a good option if you are looking to give your kitchen a classical touch. It is considerably more affordable compared to other hardwood materials.
However, pine is not as durable and robust as hardwood and will dent much faster. It is also not resistant to stains and requires frequent maintenance.
---
Helpful Read: Kitchen Design and Renovation Cost Guide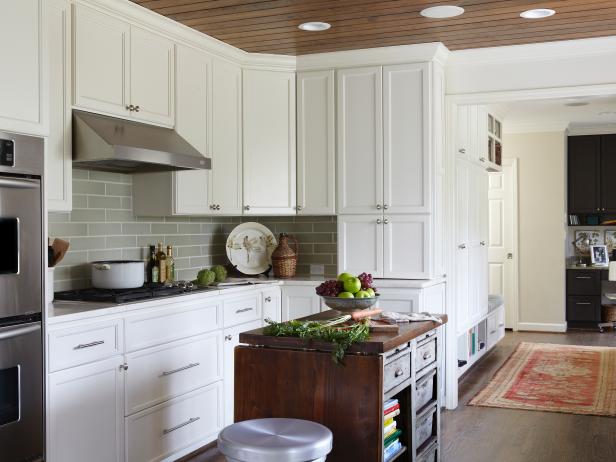 Style of Cabinet Door
The style of your kitchen cabinet door plays an essential role in the overall aesthetics of your kitchen. You don't want your cabinet door to stand out too much from the overall style of your kitchen. Nor would you want your door to not blend in with the design of your cabinet.
Hence, the style of your kitchen cabinet door has to be done just right as it is usually the first thing that your guests see when they enter your kitchen. Therefore, you should take into consideration how the style of your kitchen cabinet door would fit the look of the whole kitchen.
Helpful Read: Your Ultimate Kitchen Design Guide in Singapore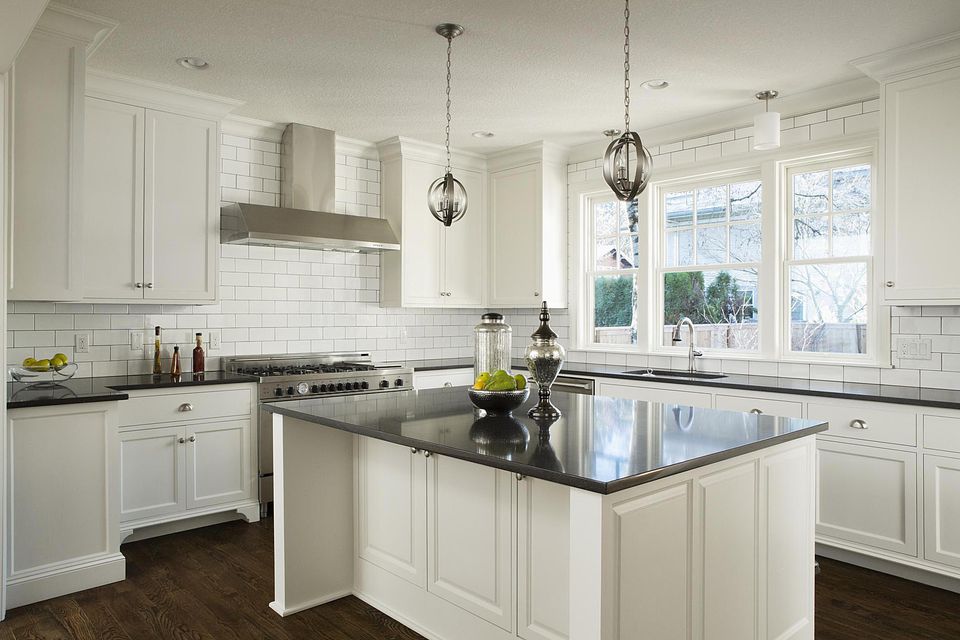 Hardware
Simple add-ons such as customising the handles or knobs of your kitchen cabinet can have a massive impact on its style. For example, brass handles can give your office a more antique look while adding glass knobs can make it more glamorous.
Therefore, choosing the right hardware to complement the style of your kitchen cabinet is equally essential and should not be overlooked. You can change the style of your kitchen cabinet just by switching hardware from time to time instead of replacing the entire cabinet.
Final Words
The quality of material and type of cabinet you chose can go a long way towards turning your kitchen into your dream space. Ultimately, it is your preference and style that will make it truly unique and memorable to you. Lastly, do take into consideration the overall style of your kitchen when you decide on the cabinets.
Find Kitchen Countertop Companies
---
Find Reliable Home Improvement Specialists in Singapore
When it comes to kitchen design, many factors are resulting in the final appearance and feel of your kitchen. The kitchen is an integral part of your home, and it is where you cook a sumptuous and delicious meal for your family or your guests. Furthermore, kitchen design often has to be integrated with the whole house to make it look congruent.
Below are a few of the specialists that can help you with different aspects of your home. Of course, at the top are kitchen renovation specialists and interior designers, but the following also play a crucial role in your kitchen look and feel:
Cost of Other Home Improvement Areas
You can check out the cost of hiring professionals for other aspects of your home improvement project. Some of the general cost guides can be found below:
Related Articles
We're here to improve your home
Speak to hundreds of reliable pros, view their gallery, inspirations, and know the best prices with our resources.
Have full control over your home improvement projects with Homees.