What is Rustic Interior Design Style?
The term "rustic" is often used to refer to a series of interiors. Whether it's a modern-day farmhouse, a cottage-style space or a coastal-themed home, these diverse décor styles share a common love for the rustic side of things.
Fundamentally, rustic interior design represents a natural, aged and rugged beauty. Think back to the early days of the 19th century, where early settlers of the US inhabited rural regions far from the city centres. Houses were built from scratch with anything they could find, harnessing the power of repurposed materials. Items were sourced locally, and the heavy use of organic elements like wood, stone and clay eventually found its way into the rustic interior design we know today.
That said, it doesn't mean you've got to reside in a log cabin to max out on rustic living. Incorporating the contemporary rustic style of things is easier than you think.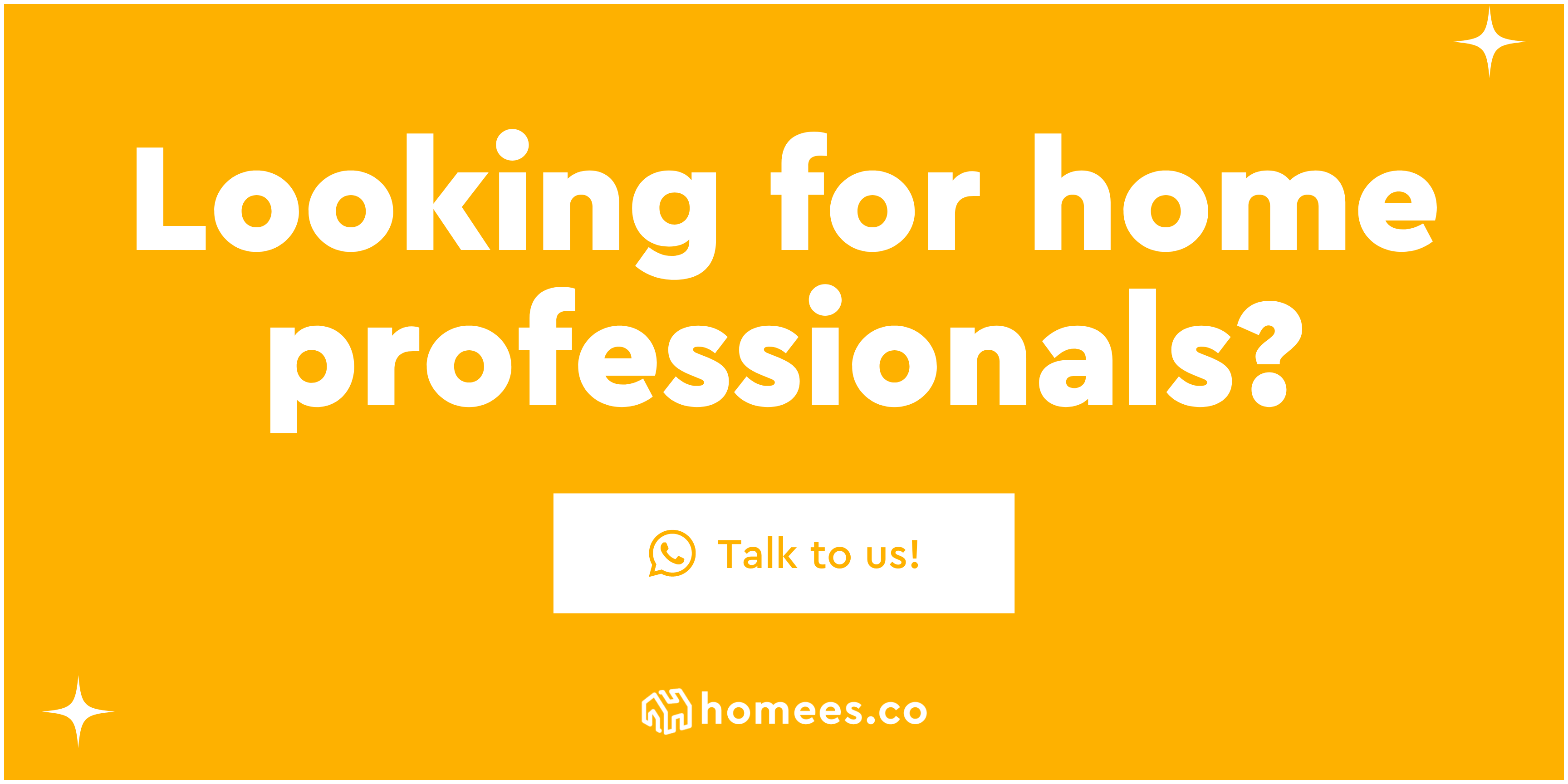 ---
What are the key characteristics of rustic interior design?
Raw, natural materials
Whether it's farmhouse, cottage or coastal, wood is the essence of rustic style. Well, not just wood, but other commonly found materials in the "wild". For a well-rounded rustic living space, an acacia wood sofa goes perfectly with some burlap throw cushions. Using organic elements and embracing the earthy beauty of things makes rustic interior design what it is.
Neutral colour palette
It's unsurprising that the colour palette is dominated by earthy tones, swinging towards a calming spectrum of neutrals. Keeping with the au naturel style of décor, muted colours like green, brown, beige and white are no strangers to rustic interior design.
Perfect imperfections
Being so close to nature, rustic-themed spaces are all about reclaiming rather than refining. That little chipped corner on a piece of upcycled wood? Repurposed furniture fits right in with rustic settings. A buffet of colours, textures, shapes and sizes come together to form quite the spectacle.
Shy away from shine
With the old-timey feel of rustic living spaces, there's little room for shine and sheen. Instead of flashy metallic accents and modern marbled surfaces, natural is key for rustic interiors. Having a heavy load of synthetic materials is a slight mismatch for this dated look.
That being said, contemporary rustic interiors have been rocking it lately, so it doesn't mean that having these such modern-day fittings in the home is completely unacceptable.
Boost your home with these lovely rustic interiors
For plenty of inspiration to make your dream home happen, we've rounded up 8 of the best rustic-style spaces. Get ready to take notes for your next big home renovation!
1. Quirky Rustic Space @ Cassia Crescent
A warm woody palette complements the eclectic accents in this 4-room resale flat, making it the perfect space to have guests over. Designed by The Local INN.terior, the curation of wood-grained and weave rattan furniture brings out the home's true-blue rustic flair.
Change doesn't always have to be revolutionary, and simple additions like hanging houseplants and iconic upcycled chandeliers will do just the trick. There you go – rustic vibes complete!
One of the underlying design concepts behind this rustic-style space is wabi-sabi, which is about embracing the beauty in imperfection and incompleteness. The home's organised mess lends a rustic side to the whole space, where each room varies in décor and function.
By having rugged wood furnishing and homey accents in the bedroom, you'll be able to bring out the magic of the space. For the bed, choose plush upholstery and simple adornments to display. Steps to creating rustic interior design bedrooms just got way easier!
Find wood flooring services in Singapore
---
2. Warm Contemporary Living @ Joo Chiat
Check out this star-studded apartment by Hmlet Interiors where rustic meets contemporary. We were intrigued by the raw and uneven brick accent wall, which carries a deep-seated look. In contrast, the rest of the living room is dressed in beige and wood.
Just when you thought the home's rustic charm ended in the common room, you're wrong! There's so much going on in the bedroom with the vertical shiplap wall and herringbone floor tiles. For added ruggedness, the chipped masonry along the ceiling does wonders for the room.
With high-end furniture and built-in lighting, you can create a stylish bedroom too.
To balance out the warm colours found in the rest of the house, the bathroom took a detour to the cooler side of things. Instead of being dominated by wood, this space is neutralised with simple white tiles and checkerboard floor tiles.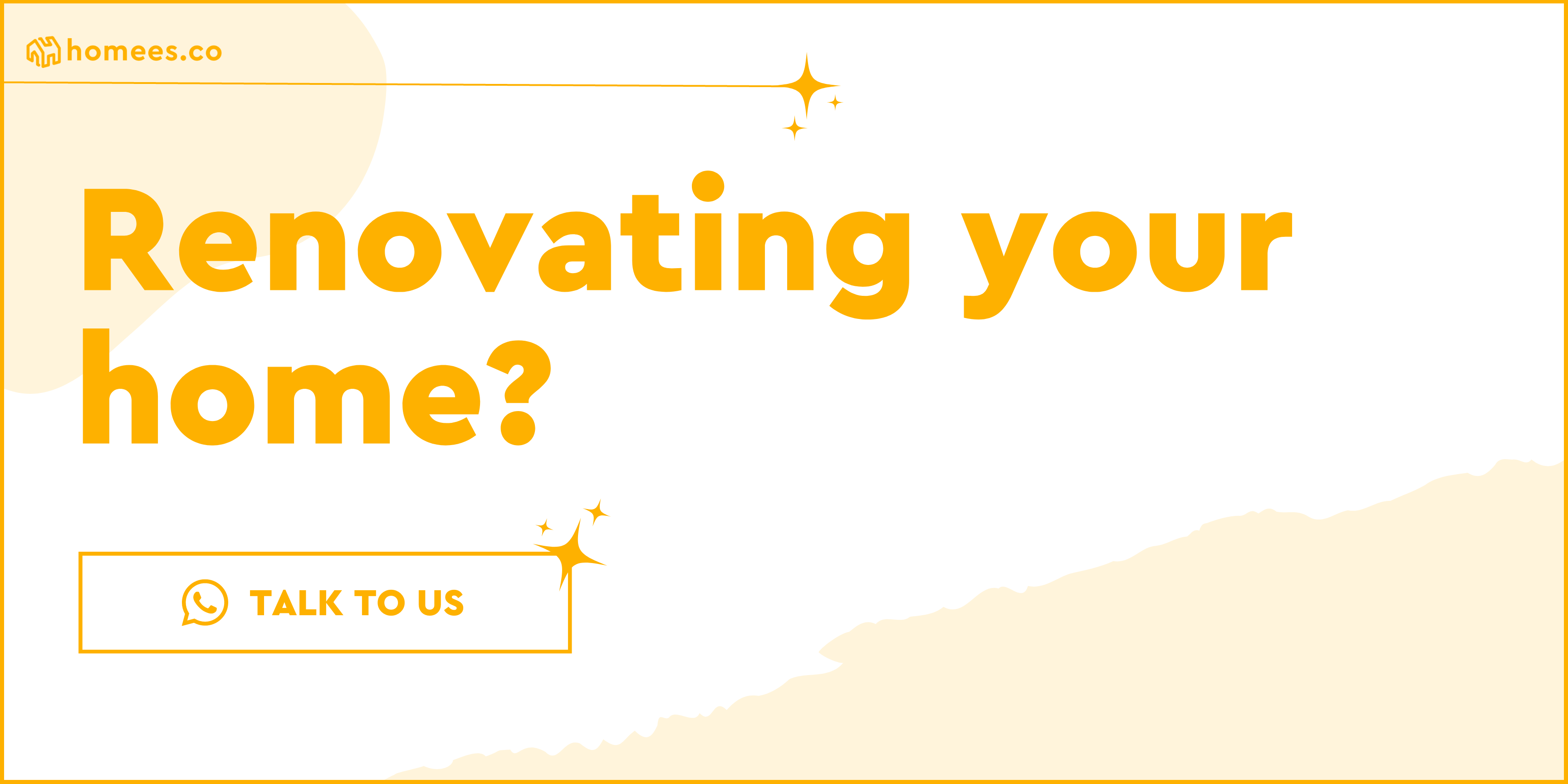 Find Bedroom Door Contractors in Singapore
---
Relevant article: Bedroom Cost Guide in Singapore
3.  Cosy Cabin Feels @ Bukit Batok
Put together by the team at Hall Interiors, get ready to be wowed by this countryside oasis that's full to the brim with plush furniture. Among our favourites are the smoky grey wingback armchair, ethereal sheer curtains and vases propped up with dried flowers.
Showing off the rustic style, the dining room is centred around the wood and rattan ensemble. Bursts of colour come in Aztec patterns and plaid textures, bringing to life a cosy farmhouse.
Even the kitchen's got a country-inspired nostalgia that's so easy to love. Bolstered by wooden laminate countertops and shelving, storing essentials in mason jars makes a great pantry organisation idea. Feels quite homely, don't you think?
As for the bathroom, it fully embraces the rustic cottage look with a plethora of green tones. Give dull spaces a new lease of life by switching up design attributes like colour and texture. This sparks curiosity and makes a great conversation starter.
Prepare for hibernation with a cosy reading nook that screams rustic all around! Curling up with these cosy throw pillows and catching a late-afternoon siesta just got a lot harder to resist. The matching blinds are a great investment in keeping out the sun's unforgiving glare.
---
Read Also: 5 Stunning and Beautiful HDB 4-Room Interior Design Ideas
4. Clean, Crisp Quarters @ Farrer Road
Imagine a bright, modern home infused with a hint of rustic elegance – that's what Dan's Workshop designed the house to look like. This industrial-rustic living space is crafted with class and comfort, bringing the best of both worlds together.
Because rustic interior design is all about repurposing, the bricks of this iconic accent wall are tiled in a herringbone fashion, bringing together an aesthetic that's aligned with the wabi-sabi philosophy.
For a comfortable night's sleep, let neutrals take over your sleeping space. Try ash greys, soft beiges and creamy whites for that calm, zen feel. This minimalistic bedroom is perfect for sleeping in on Saturdays.
5. Cottage-inspired Residence @ Paya Lebar
Inspired by Balinese villas and farmhouse living, this landed apartment welcomes guests into its eclectic cottage with a recognisable white picketed fence. Icon Interior Design turned this home ground into a spectacular haven of rustic design, tapping on both the indoor and outdoor areas.
Expanding the kitchen into the backyard, the alfresco spot has a Scandinavian-style bar counter washed in nautical blue, dark wood and white. With the help of a vertical garden wall, a spontaneous refuge that's one with nature was created.
There are themed bathrooms all over this house, but we picked out this one because it checks all the boxes of rustic design. The toilet's interior is spiced up with some interesting floor tiles and a fun beach-style barn door. This keeps the (almost) all-white scheme far from being cold and boring.
---
Read also: Interior Design Cost Guide  in Singapore
6. Countryside Retreat @ Punggol
These fabricated oak roof trusses in this HDB flat prove you can have your cake and eat it too. Fifth Avenue Interior Design defied the norms of ceiling décor and went all out with the country cottage theme. These chunky ceiling beams evoke feels of living in a cosy attic.
Borrow the sophisticated country interior style into the heart of your home – the kitchen. By having the top row of shaker cabinets in white and the bottom in olive, it puts a rustic spin and visual coherence to the interior.
No country-style interior is complete without a touch of nature. Sprinkle some whimsical detail with foliage prints to keep nature in close proximity. Lively wall art and duvet covers bring forth the rustic energy of the bedroom.
Find Kitchen Contractor In Singapore
---
7. Bohemian-style Abode @ Yishun
By now you would've noticed a pattern that's common across rustic-themed spaces – it's the generous use of wood, wood and more wood. This open-concept HDB unit by Authors Interior & Styling has got a good mix of tones and textures, while still falling back on walnut wood for the mainstay.
Make strategic use of space by extending your kitchen countertops to create a functional bar counter that you can eat, work and relax at. The slim but sturdy legs of the bar stools provide a stylish contrast against the wood-filled space.
Creating rustic air around the entryway can be easily done with some modern accents if you want a little hybrid twist. These beautiful pieces, together with the ridged cabinet doors, will do all the talking.
8. Distinct Cultural Influences @ Tanah Merah
Heavy on heritage, this Silk Road-inspired home by Aiden-T is largely influenced by Northern Thailand colonial homes. Mixing in design concepts of Middle Eastern and Western origins, the veranda showcased above is replete with old-timey décor.
From the black and white bamboo blinds to the white wicker sofa set, this transitional space has taken the rustic allure of the home to new heights.
To complement the home's overall country theme, the ground-floor powder room is adorned with a fabric weave pattern floor tile. For the centrepiece, a loud and vibrant palm leaf print was used. Antique brass fittings and fine wood are punchy additions to the warm interior.
Laminate shaker type cabinets in steel blue add to the kitchen's rustic appeal. The rattan backsplash is protected by a layer of crystal glass for pragmatic (and aesthetic) purposes.
Where to shop for upcycled furniture in Singapore
To make your rustic interior space stand out from the crowd, pick out either vintage homewares that's been restored or refurbished; or furniture handcrafted from discarded scraps and unused material.
If you're on the hunt for unique pieces which give your home a storied look, here are some interesting shops in Singapore to check out.
Take a trip down memory lane at one of the most well-known upcycling stores in town. Whether its mid-century modern or rustic interior design style, their sustainable furniture will be the perfect complement to every home.
You can be sure to find something that suits your taste, like a coffee table made of repurposed sungkai wood and an upholstered dining chair in natural teak. Also, if you want something that's uniquely yours, Second Charm takes in special requests for customisation.
From Second Charm: Shop the Alano Bar Stool – Solid Base (S$280) and Odin Dining Table (S$1,350)
Noden Collective
Specialising in furniture with a vintage Scandinavian flair, Norden Collective prides itself on a curated selection of handcrafted furnishings inspired from the 1930s to 1940s. Apart from statement furniture pieces to beautify your home, traditional ceramics and glassware are part of their offerings too.
Not everything is listed online, so be sure to head down to their showroom at Henderson Road to have a better look and feel of their full vintage selection.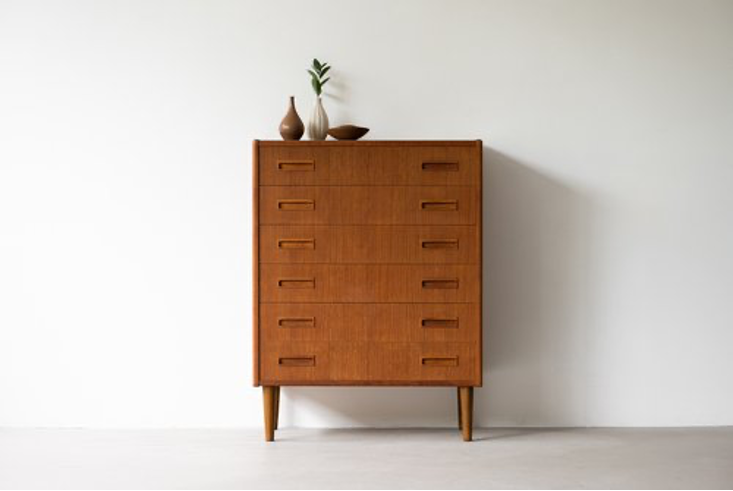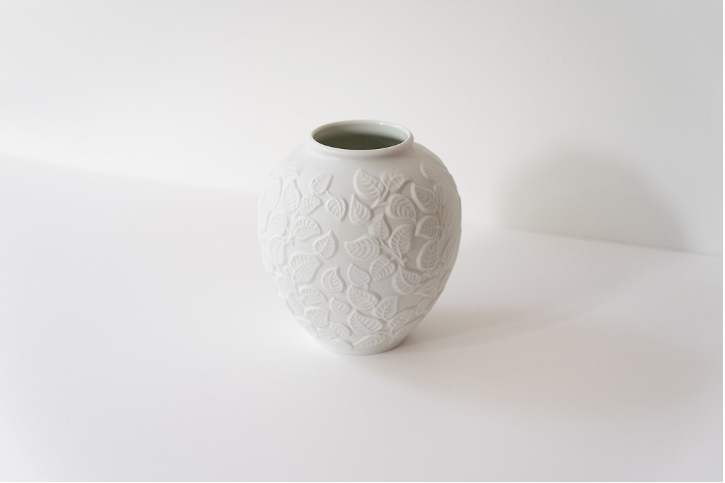 From Noden Collective: Browse the Danish Tallboy Dresser and Vintage Vase (S$155)
Established in 2018, Big Blue Trunk's mission is to bring you the joy of everyday life. As the exclusive stockist of the famed Annie Sloan Chalk Paint, a non-toxic and baby-safe paint brand, you can find both the inspiration and resources you'll need to take your home to the next level. Show your furniture the love it needs!
Prefer to get your hands on the refurbishing process? Sign up for their creative workshops, live or virtual, where you can learn a thing or two about furniture painting. What's more, craft supplies will be delivered to your doorstep so you don't even have to leave the house!
Rustic interior design at your fingertips
As one of the most fuss-free interior styles out there, rustic spaces are easy to materialise. You can't go wrong with earthy tones, organic materials and natural furnishing. Free from much legwork, you'll have a rustic space to call home in no time.
Less is often more when it comes to rustic interior design. Let the natural beauty of your home shine through with organic materials and minimalistic designs!
Other Interior Designs to Consider
If the aforementioned designs are not quite your cup of tea, take a look at some of these popular interior designs and see which best suits your tastes!
Cost of Other Home Improvement Areas
You can check out the cost of hiring professionals for other aspects of your home improvement project. If you have a spare budget and would like some unique designs of your own, you can try speaking to a few interior designers for more designs ideas.
Interior designers in Singapore can sometimes be the best fit for you if you have a suitable home design in mind. Also make sure that the contractor has Casetrust accreditation.
Some of the usual home improvement cost guides can be found below:
Related Articles
We're here to improve your home
Speak to hundreds of reliable pros, view their gallery, inspirations, and know the best prices with our resources.
Have full control over your home improvement projects with Homees.