What is Zen Interior Design?
Zen interior design is a design style that focuses on the art of minimalism and simplicity. It often features organic materials and natural light to create a clutter-free home that is relaxing and thought-provoking.
Zen itself refers to a belief or way of life that has origins in China and Chinese Buddhism. As such, this design style is all about achieving a delicate yet comfortable balance that flows naturally in the eyes of both the homeowners and guests.
What are Zen colours?
Zen focuses on the concept of natural simplicity that has been elevated to become a form of art. As such, muted and subtle hues like brown wood tones and different shades of white are commonly featured in this design. 
Of course, while zen interior design heavily emphasises natural hues and shades, that doesn't mean you have to avoid all colour. Muted shades of bright colours such as red and blue can help to ground your home against the lighter colour scheme of your interior design.
Read also:
Beautiful Homes with a Zen Interior Design Concept
The Trilinq
Designed by Schemacraft, this condominium has a classy and sophisticated zen interior design. With sprawling marble floors that visually enhance the space available, this zen style interior design home manages to perfectly capture the essence of zen calmness.
The white colour scheme creates a clean and clutter-free look while the addition of wood accents interweaves a sense of warmth and cosiness into the home. The marble dining table countertop also ties into the sleek and minimalistic aesthetic of the zen interior design.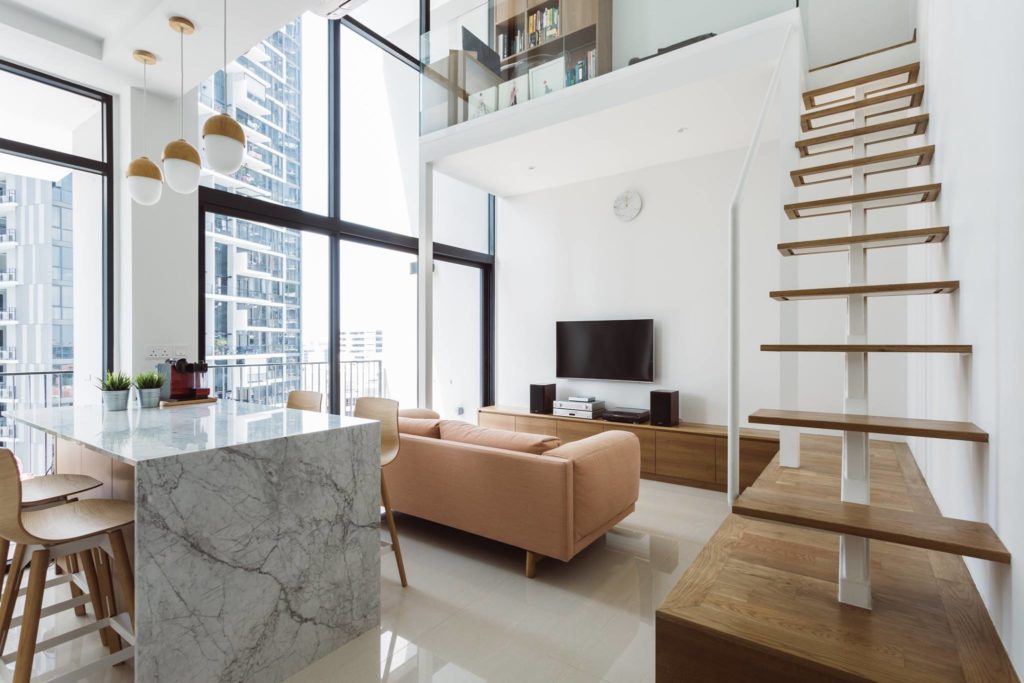 The simplistic furnishings in the bedroom, with warm wood flooring and a sliding door, creates a spacious and restful space for sleep and relaxation. The stack of books, miniature potted plants and painting are great ways to add personal touches to the zen interior design home without overly cluttering the space.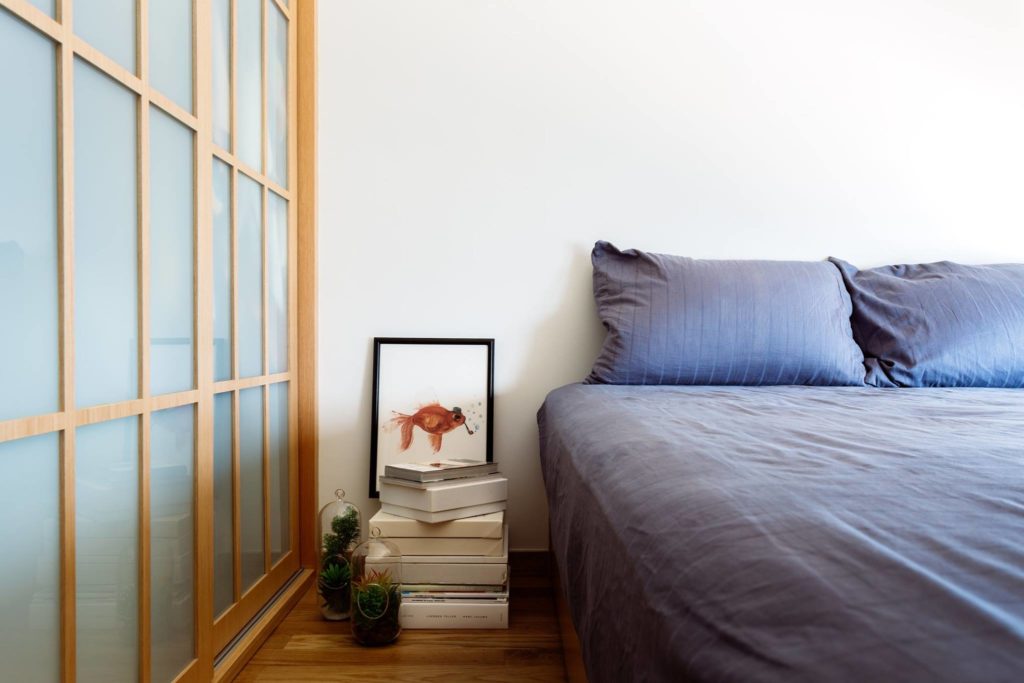 The sliding door design imitates the appearance of a traditional Japanese sliding door, and is a great space-saving option in place of a traditional bedroom door. As it does not need additional space to swing out, a sliding door takes up less space, which helps to create a clutter-free appearance. It also gives a sleek and stylish appearance that matches a zen interior design well.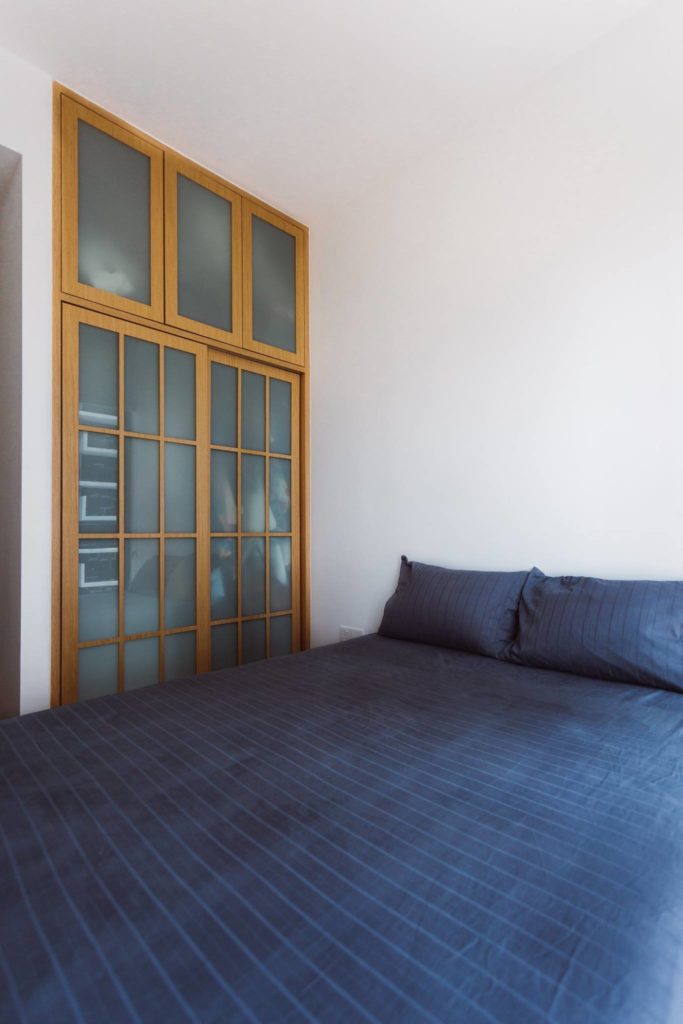 Read also: Bedroom Cost Guide in Singapore
510 Choa Chu Kang St 51
Designed by Renologist, this Modern Zen style 5-room HDB apartment has an inviting and welcoming ambience. The living room features a corner that resembles a traditional Japanese-style tatami tearoom, which creates a pleasant and cheerful atmosphere. The wood flooring also further adds a sense of cosiness to the zen interior design.
The white and light wood colour scheme ups the spaciousness of the home, while the rotating TV feature wall is the star of the living room design. The sleek marble pattern helps to increase the luxury factor of the design and emphasise the focal point of the zen interior design.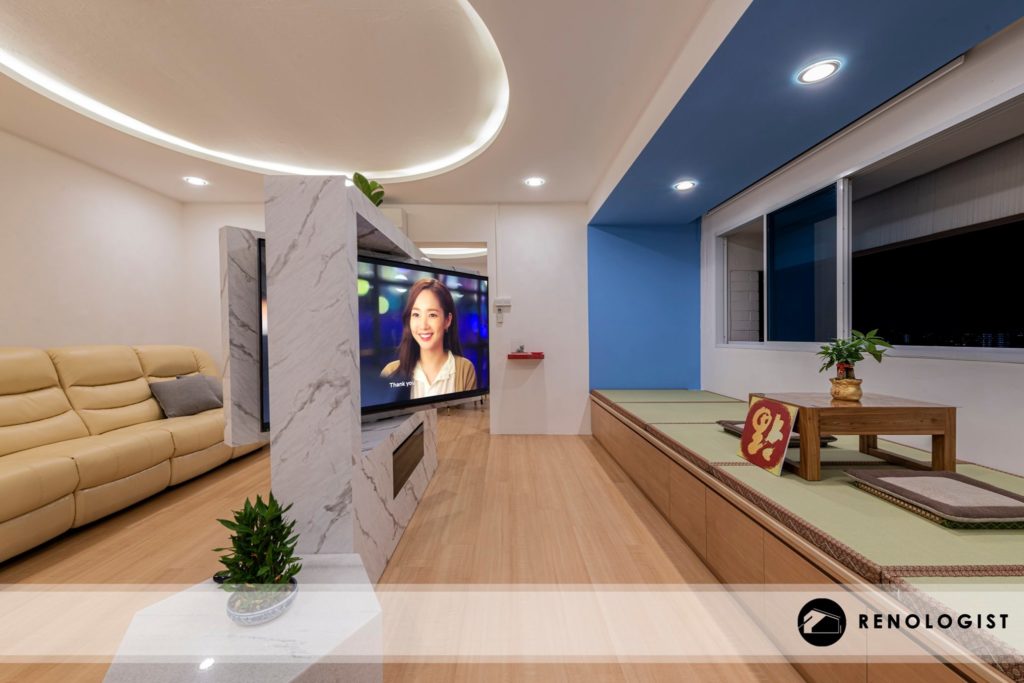 2 Jalan Mat Dobol
Escapade Studios presents us with this comforting and lovely zen interior design that is rife with wood accents to create a serene and cosy home. The living room design is sure to impress guests – it contrasts the wood accents with black furnishings and trimmings to make a striking impact.
The reflective cabinet doors not only help to increase the home's storage capacity, but they also act as mirrors that help to visually enhance the space. That is not all for the living room design – the living area also has a concealed rotating door that can be used to access the bedroom directly.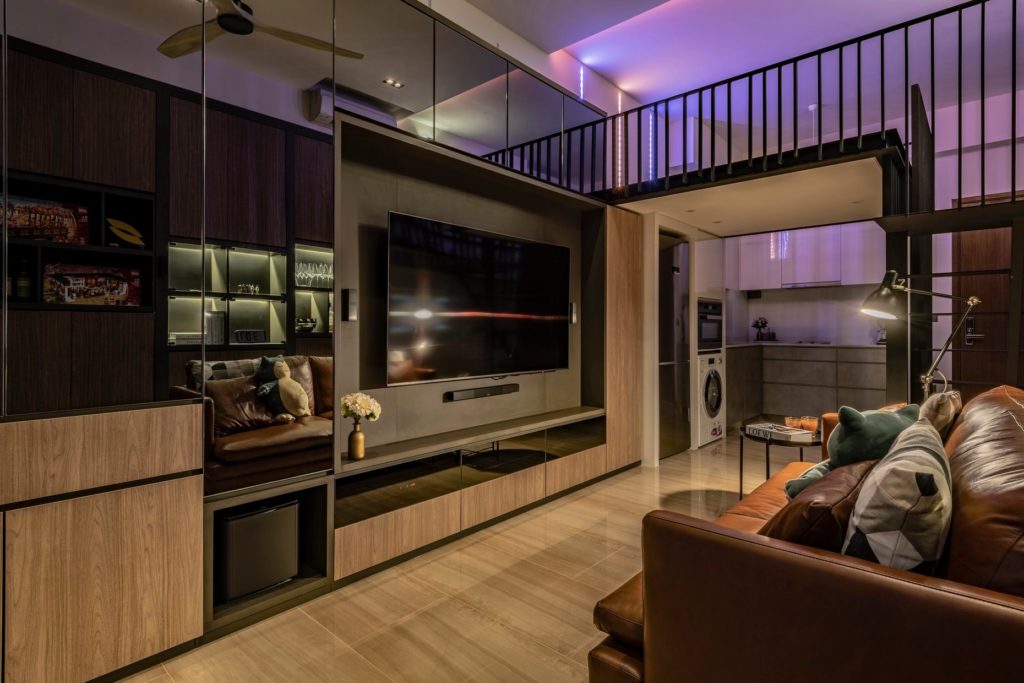 The bedroom also has a comforting and relaxing interior design. With various shades of brown to create a muted and neutral colour scheme, it creates a gentle look that is easy on the eyes.
Wooden-panelled walls help to create some layer and depth to the pattern, while the solitary grey wall helps to ground the bedroom space so that it does not look overly stark. The various wood tones and accents help to imbue the bedroom with a warm and restful ambience that is key to a peaceful and relaxing bedroom.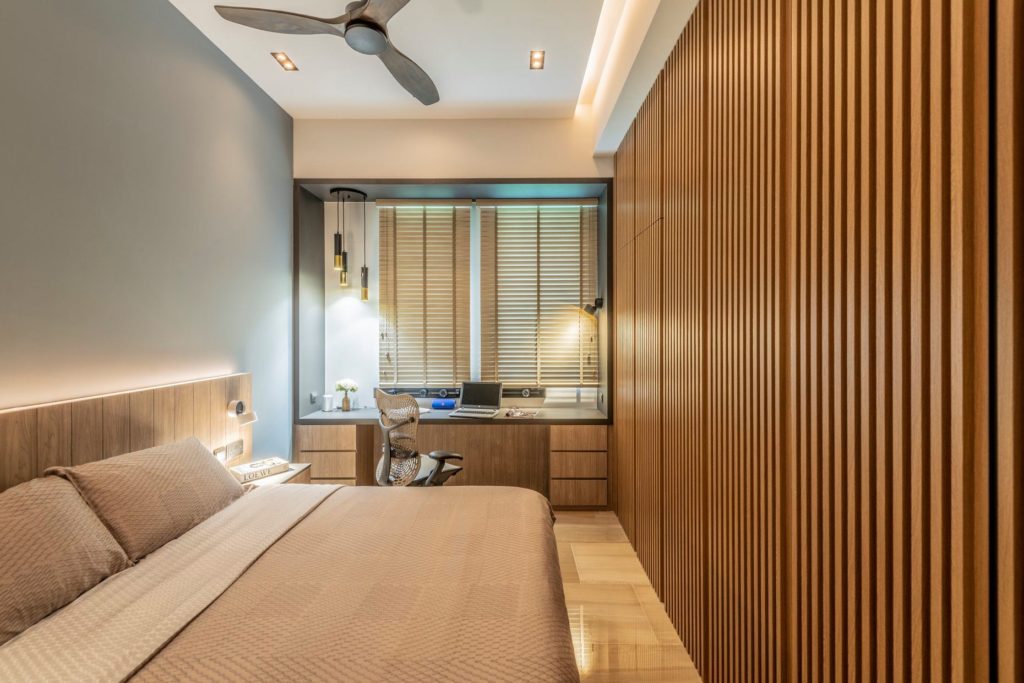 Read also: Bedroom Cost Guide in Singapore
A Modern Zen Re-design
Home Philosophy presents us with this residential project that is a modern take on zen interior design. The traditionally neutral and muted colour scheme is brightened up by patterned rugs and cushion covers that add a splash of colour to the home.
The playroom also does not shy away from colour. It fully embraces vibrant and bright shelves that help to make the room pop. Of course, this is complemented by the white walls and wooden floors – which help to tone down the colour of the room so that the design does not look too excessive.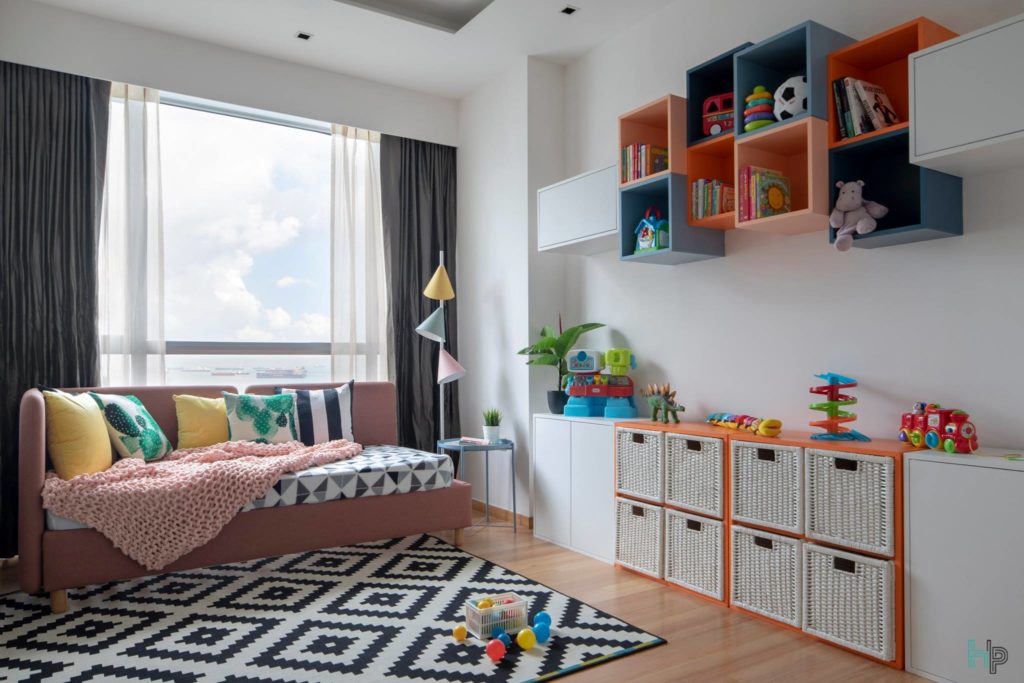 Mixing up the storage options with other white cabinets also helps to balance the amount of colour in the room. The pastel-shaded lamp is also a nice and lovely touch, alongside the boldly patterned rug that helps to add weight and depth to the room's interior.
Read also: Home Decoration Cost Guide
2 Bedroom Resale Condo @ Reflection
Another modern zen interior design themed home, designed by Beaux Monde Pte Ltd, this condominium project balances a cool and stylish design with Japanese-inspired elements to create a luxurious and sophisticated home.
The bedroom is simplistic in its furnishings, with a largely black, white and grey colour scheme. The wooden flooring helps to add some subtle colour to the room, while the patterned rug helps to add depth and weight to the space.
The bedroom maintains a clutter-free and spacious appearance, which are both key elements to creating a restful and relaxing space. The patterned wall helps to add some layer and depth to the design without overly cluttering it visually.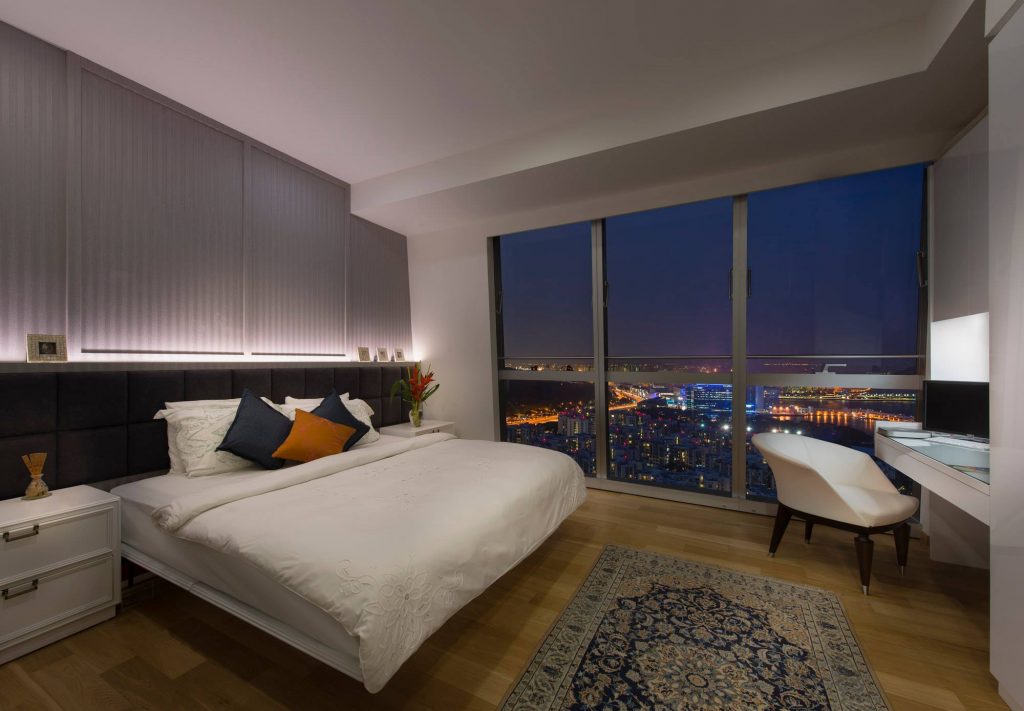 The condo also has a room dedicated to emulating Japanese-inspired elements – from traditional Japanese dolls to patterned kimonos. The raised wooden platform even helps to simulate the appearance and ambience of a Japanese tea room. 
The brown walls and wooden floors help to ground the space of the room and add depth to the interior. The darker colour scheme also adds a sense of mystery and solemnity to this zen interior design.
A design like this gives homeowners more reason to consider wood decking.
Read also: Interior Design Cost Guide in Singapore
Conclusion
Having a home design that flows is one of the keys to creating a restful home where you can feel rested and at ease. Learning to balance colour, furnishings and different elements of your home design will help you achieve your dream zen interior design home.
Other Interior Designs to Consider
If the aforementioned designs are not quite your cup of tea, take a look at some of these popular interior designs and see which best suits your tastes!
Cost of Other Home Improvement Areas
You can check out the cost of hiring professionals for other aspects of your home improvement project. If you have a spare budget and would like some unique designs of your own, you can try speaking to a few interior designers for more designs ideas.
Renovation contractors can sometimes be the best fit for you if you have a suitable home design in mind.
Some of the usual home improvement cost guides can be found below:
Related Articles
We're here to improve your home
Speak to hundreds of reliable pros, view their gallery, inspirations, and know the best prices with our resources.
Have full control over your home improvement projects with Homees.