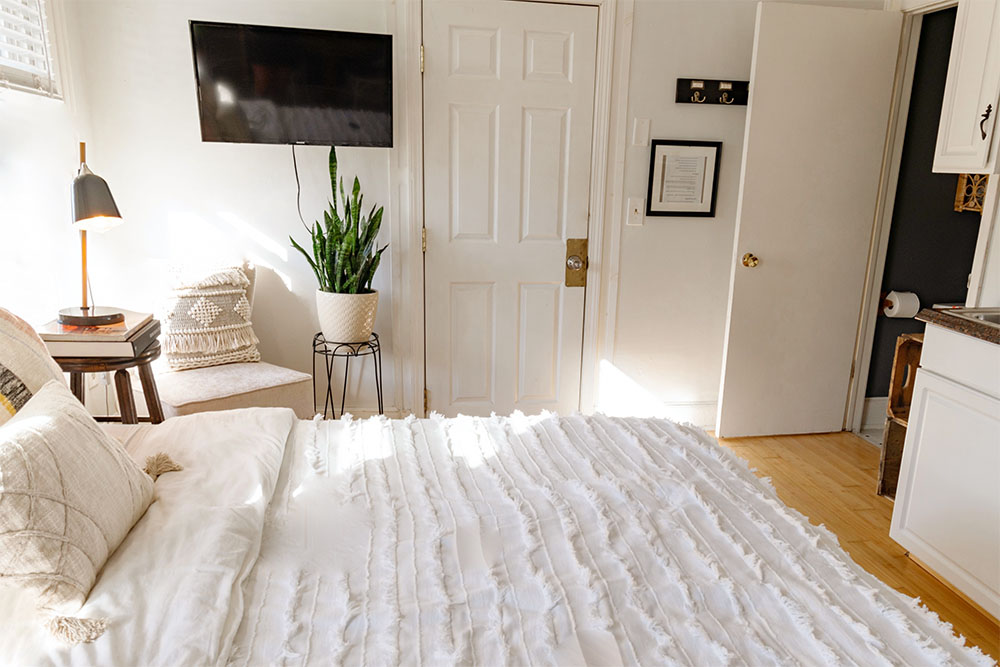 The bedroom is the place where we spent a significant part of our time at home. For this reason, homeowners pay special attention to this area when it's time for remodelling. Moreover, it's the room in a house assigned for sleep and rest, so it's good to make sure your time spent is of high quality.
When designing your chamber, the bedroom door is the first thing that needs careful consideration. Even though it can come in various styles and materials, it's essential to find the balance between function and aesthetics.
Find out everything about bedroom doors to get valuable information on how to choose the best entryway for your sleeping cove.
Homees provides a directory of the best-rated companies in Singapore. You can compare and view a list of bedroom doors companies that can suit your home needs. Find out about the costs of bedroom doors in our cost guide.
11 Best Movers In Singapore (Our Top Picks)
| | |
| --- | --- |
| | |
| | |
| | |
| | |
| | |
| | |
| | |
| | |
| | |
| | |
| | |
| | |
| BTO Aluminium & Construction Pte Ltd | |
Cost List of Bedroom Doors
| | |
| --- | --- |
| | |
| Solid laminate bedroom door | |
| | |
| | |
What are the most popular bedroom door styles?
Frankly, every homeowner wants to make the most out of their planned budget. From standard flush or panel bedroom doors to barn and sliding doors, there's an option for every pocket and style preference. Still, it's important to note that there are other factors that you'll need to consider before making your choice.
For instance, you may opt for a set of French types to create a more stylish effect in your large bedroom. If your bedroom isn't that big, you can install a pocket type that slides open into the wall. There are tons of solutions for bedroom-to-bathroom doorways too. Here are some of the most popular styles.
Panelled doors
Arguably, they are the most popular in standard homes. They come in different patterns and panel numbers. Panels are relatively affordable and are available in different finishes. Depending on your preferences, you may choose among the popular options in this category – a three-panel, a five-panel, or standard panel.
Flush doors
These offer a flat design ideal for any minimalist interior design. They have smooth plywood or MDF surfaces and are generally affordable. All in all, you can make good use of them in virtually any area of your home.
Bi-fold doors
Bi-fold or folding are excellent at saving space. The multiple-panelled fold seamlessly to the side, but they're also quite elegant. So, it may be a good idea to install one for your bedroom. If you have a more extensive space but lack the floor space for a swing, a bi-fold style will provide superb function combining the characteristics of sliding and hinged doors by using both end pivots and overhead tracks.
Sliding doors
For a sleek and modern design, it will enhance your bedroom look right from the doorway. The access panel slides onto another one to open up space without taking up floor space.
Sliders are not as popular as other types, but they are incredibly functional, saving on valuable floor space. Whether you choose wood, glass, aluminium, or uPVC as your material, sliding doors will make for a unique look that leads you to the bedroom of your dreams.
Barn doors
For the fans of the rustic feel, a barn type that glide flat against the wall will come in handy for their bedroom design. In terms of space, they're particularly suitable for bedrooms where space is at a premium. Most models employ a surface mounting and don't typically sweep through usable floor areas. Still, some manufacturers offer "smooth-gliding" for optimal performance.
French doors
Yet another elegant option, French ones are the type of entryways that has two halves swinging towards one another. Usually, these implement a combination of transparent panels and glass. This feature is handy if you want to maximize the light in your bedroom.
One thing about French type is that they look good in both rustic and contemporary styles, making them an ideal option for your master bedroom. Moreover, you can place an order for stained glass panels to create a genuinely unique bedroom entrance.
Pocket sliding doors
Last but not least, your HDB home may not have generous space. If you have the chance, a pocket sliding door will do wonders no matter how much space you have to utilize. Unlike their predecessors, pocket doors slide into "pockets" in the wall. Apart from their functionality, you'll be amazed at how modern they look.
What are the most common materials?
Hollow-core Doors
When it comes to materials, homeowners typically pick a solid hollow-core for their bedroom entryway. They are popular mainly because they are lightweight and easy to install.
What's more, they are among the least expensive options in their category. Of course, the lower price comes with a couple of downsides. These aren't as durable and fire-resistant as their counterparts.
Because they're filled with cardboard and are virtually hollow inside, they provide very little sound insulation, which can be a huge inconvenience for some homeowners. Despite their flimsiness, hollow-core can still offer value for the money, especially if you're on a tight budget and can't afford to buy a solid wood or solid-core for your bedroom.
Solid-core Doors
A slightly better alternative, solid-core bedroom provide far better sound insulation. Moreover, these solid wood lookalikes are less expensive than their prototype, but they are still a durable solution for your bedroom doorway.
They usually consist of a plywood or composite exterior and a wood-fibre stuffing. That characteristic makes for a practical compromise between the two extremes – hollow-core and solid wood doors.
Solid Wood Doors
If you opt for an authentic and traditional look, a solid wood door will bring in a classic feel to your bedroom. The material will provide maximum sound insulation, and even though they are pricey, solid wood offer the best durability out of the three elements listed so far. Coming in a wide selection of woods (maple, pine, etc.) are the ideal finishing touch to a brilliant and long-lasting composition of your bedroom design.
Classic Doors
Of course, you can choose a material different from wood. In such cases, medium-density fiberboard (MDF) shows far better properties in some categories. It's a common material for the so-called classic.
Nyatoh Plywood Doors
Usually, nyatoh plywood consists of one layer of nyatoh wood glued adjacently on a 3 mm plywood. Such a doorway can be a common choice for a bedroom.
Veneer Plywood Doors
Yet another standard plywood, veneer plywood, employs a similar technique. The doorway consists of a veneer sheet glued and pressed adjacently on a 3 mm plywood.
Laminate Doors
Typically, this type of bedroom entryways uses a 1 mm layer of pressure laminate glued and pressed with a 3 mm plywood. These doors are extremely scratch and heat resistant.
How to choose a bedroom door?
Determine the operational style
Firstly, decide on a style with a mechanism that will suit your needs. For small HDB bedrooms, space-saving solutions like a sliding, pocket, or bifold doors are ideal. On the other hand, traditional swinging panel or flush doors are still decent picks.
Determine the size of the opening
Furthermore, you should ask your contractor to first measure the size before choosing a replacement.
Decide on the swing direction
Another essential step, deciding on the swing direction, can sometimes be crucial. According to the Feng Shui practice, inwards opening shows hospitality. Other than that, you'd want your bedroom door to open and close smoothly. Ultimately, it shouldn't obstruct the access and bang into furniture.
Pick a material
Perhaps, the most popular materials are wood and MDF. Different veneers and nyatoh plywood are also very common in Singapore. Consider one of these for optimal durability and lifespan.
Choose a finish
If you choose to go with a wooden one, make sure you apply protective finishing. After all, proper maintenance will prolong its life and make it look as fresh as new.
Questions to ask prospective bedroom door contractors
Before buying from a company, be sure to check with them the following questions:
Do you have your factory in Singapore to manufacture these doors?
What other accessories do you have? Do you offer any additional hardware add-ons for bedroom doors?
What kind of materials do you use in your bedroom doors?
What is the size of your company (total staff strength)?
What kinds of training do your experts have?
Can you provide a free written estimate outlining all the terms and conditions of what we discuss?
What are the payment terms?
Do you provide insurance in case of accidents?
Do you provide a warranty or guarantee for your service or the unit?
What brands do you carry or service?
How long will the job take? Will you clean up after you complete the task?
Compare and review the best bedroom door companies in Singapore
Finally, you can view the gallery and portfolio of the best bedroom door companies in Singapore. Also, you can compare prices of similar bedroom door projects in your proximity.
Make sure you read the reviews from previous customers. Perhaps, they will help you understand the background of prospective contractors. Moreover, you'll learn how they rate their work. You can also message them directly to ask any specific questions.
You can look for more ideas on Pinterest here.
You can also check out the cost of hiring professionals for other aspects of your home improvement project. Some of the common cost guides can be found below:
Related Articles
We're here to improve your home
Speak to hundreds of reliable pros, view their gallery, inspirations, and know the best prices with our resources.
Have full control over your home improvement projects with Homees.