Unsure how much to pay for a house cleaning service in Singapore? When it comes to a full house cleaning project, the key question at the tip of many people's tongues is:
"How much does a full house cleaning cost?"
While the answer may be challenging to determine given the multitude of factors that will affect the pricing, do not fear. In this Home Cleaning Cost Guide, we will look at how much it costs to engage a home cleaning service based on the different aspects of the procedure.
Most cleaning sessions in Singapore are paid by the hour. As long as you know how many hours are required for your house, you can roughly know the price of that cleaning session.
Regular Cleaning Service Rates
| | | | |
| --- | --- | --- | --- |
| | | | Post-renovation cleaning / Move-out cleaning |
| | | | |
| Condo 2 Bedroom / HDB 2-3 Room | | | |
| Condo 3 Bedroom / HDB 4-5 Room | | | |
| Condo 4 Bedroom / HDB Mansionette | | | |
| | | | |
*note there are many factors that play a part in the final pricing, for a more accurate estimate, ask for quotations from different companies
Where are you hiring cleaners from? The prices can range based on several factors, including how you source for cleaners (such as the difference in pricing between companies and freelancers).
Most companies charge by the hour about S$20 to S$35. For a 5-room HDB flat, it will take about 4 hours of regular weekly cleaning, which amounts to about S$320 to S$560 each month.
There are a few factors that will affect the number of hours and the price of the cleaning service:
Size of your house (cleaning square foot)
House clutter (The more cluttered it is, the more time is required for cleaning)
Special cleaning request
Cleaning on certain days i.e. cleaning on weekends may be more expensive than cleaning on weekdays, for public holidays and special occasions
Timing i.e. after working hours may command a higher price
Whether you require cleaning supplies to be provided by the company
Booking period i.e. Booking a cleaning session at the last minute will usually cost more
Note that most cleaning companies will require at least 2h of service. This covers the transport cost and the cleaner's effort to make the trip down to your house.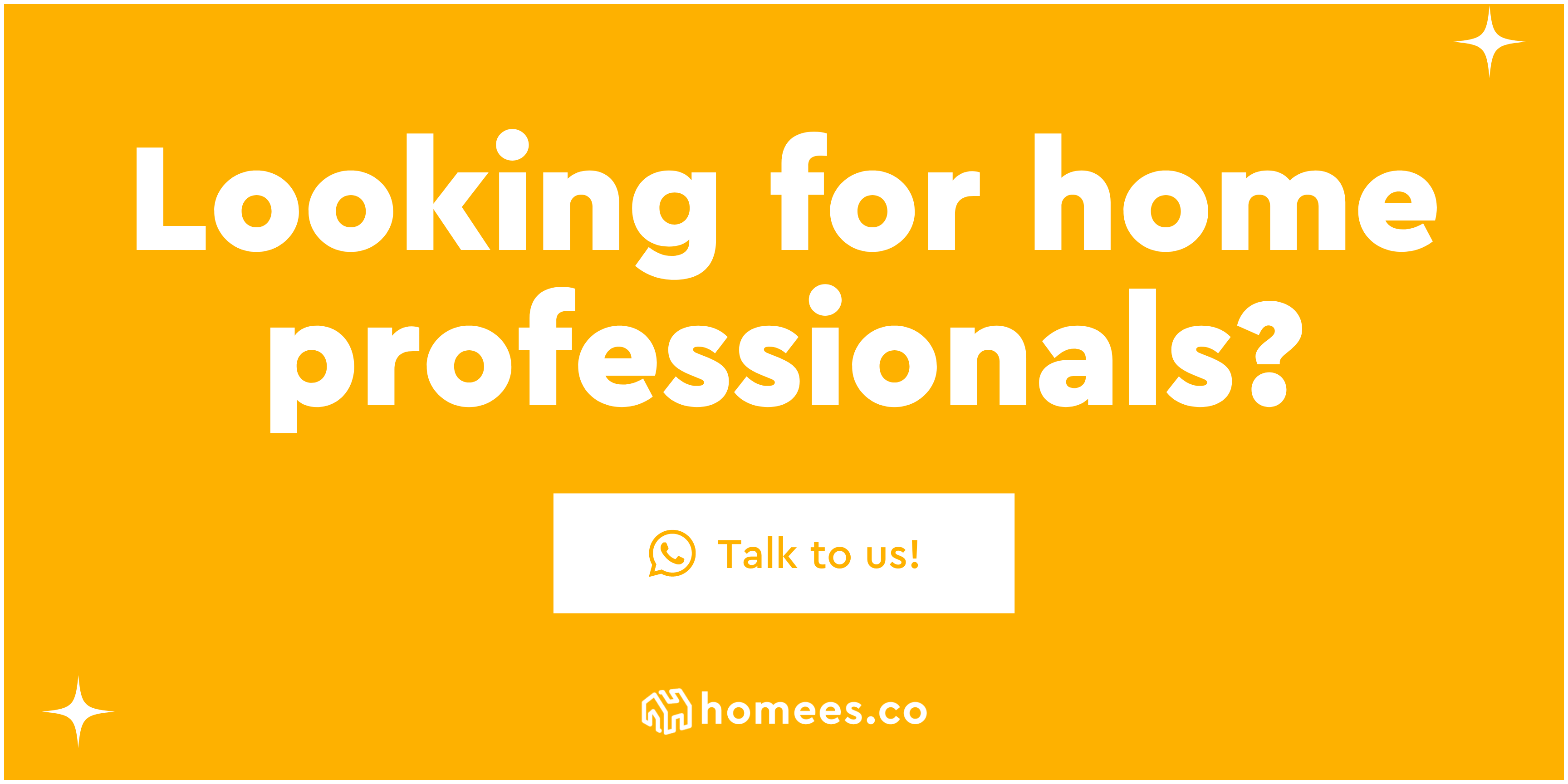 ---
Freelance Cleaners Rates
Price range: $15 to $20 per hour
A typical four-bedroom HDB flat will require 3-4 hours of cleaning. When multiplied by four sessions per month, it will be around $180 to $300 per four weeks, for weekly cleaning rituals. On average, it costs $65 per session, which is pretty affordable.
Typically, a full-time house cleaner will cost you anywhere from $300 to $400 for four weeks, in Singapore, depending on your location, space, cleaning requirements and density of work.
Cleaners from an Agency Rates
Price range: $25-$50
Sometimes, finding a freelancer that is within your area and can work according to your schedule is tough. Hence, some Singaporeans opt for hiring a cleaner through an agency. The agency will search for a suitable cleaner for you while accepting a one-time upfront fee from you for their efforts.
The upfront fee is estimated to be about a few hundred dollars. These cleaners from platforms or agency can charge between $25-$50 per hour, depending on demand and supply. Festive seasons is where you may experience a price spike, somethings up to $100 an hour.
Cleaning Company Rates
Price range: $20 to $35 per hour
Engaging a cleaning company is different from engaging an agency to find a cleaner for you. The cleaning company coordinates the cleaning jobs and ensures that:
There are cleaners available to do your job when you require
Cleaners are well-trained and responsible to perform your cleaning tasks
You and your property are well insured and protected
The cleaning company will charge a per hour fee of around $20 to $35 per hour. For a four-room HDB flat, it will take about 3-4 hours of regular weekly cleaning, which amounts to about the average house cleaning cost of S$320 to S$560 per month for four sessions monthly.
Why do you charge this price?
Some firms charge more expensively because of the excellent customer service, their insurance coverage, their flexible schedule and many more. Some firms may charge lower prices due to economies of scale and a more efficient scheduling system.
While you speak to a few companies, get them to justify their prices. They may provide these specialised services:
Available cleaning service after office hours
Last-minute cleaning service
Satisfaction guarantee
Insurance coverage for cleaner and property
Use of proper cleaning equipment and products (maybe eco-friendly solutions)
Get to know why they charge this price and make the right company choice.
Prices For Other Types of Cleaning
There are a few types of cleaning that you can opt for depending on the purpose and existing level of cleanliness. These are the estimated cleaning services price list.
Dry-Cleaning Rates In Singapore
In Singapore, there are many dry cleaning laundry shops for you to choose from. How do you know and pick your favourite shop? There is myriad of factors to be considered when one require dry cleaning. As listed below are the market rates for different items, also you can take note that a minimum order fee is often encouraged to receive free delivery.
Read More: How to Save On Dry Cleaning in Singapore
Cost of Upholstery Cleaning
Find Upholstery Cleaning Services
---
Cost of Professional Carpet Cleaning
Price Range in Singapore: $180 to $1200
Carpet cleaning for residential houses is rarely seen in Singapore. Let us explore the different factors of both commercial and residential carpet costs. If you wish to save more, you can learn how to do DIY carpet cleaning.
Both commercial and residential Carpets cleaning costs usually range between $0.175 and $ 0.60 per square foot. The variation in prices depends mainly on the number, sizes, type of carpet and the cleaning duration.
The two common ways to set prices for carpet cleaning services in Singapore are: per room price and per square foot. Carpet cleaning costs for an average five-room home start at around $180 to even $1200.
Certainly, when engaging in services, some people are afraid of hidden fees. In some instances, companies charge you extra. Customers are often surprised/disappointed by the final fees because they are not informed in advance. In the end, the customers must pay a higher amount than the one calculated. In general, we should be wary of such additional or hidden fees. Do consult an expert and state your concerns before engaging one!
---
Cost of Mould Removal Services
Price Range: $500 to $3,500 SGD
The cost of mould removal services can vary based on factors such as the level of mould contamination, determining the source of moisture and its elimination, mould prevention techniques that are to be used, and other steps that will be required to ensure proper mould removal, repair, and prevention.
On average, professional mould remediation services cost ranging from $500 to $3,500 SGD. On an hourly basis, these experts charge $75 to $108.
If the mould problem is particularly serious, prices can range between $3500 to $6000.
---
Prices of Post-Renovation Cleaning
Post Renovation Cleaning/ Move-in Cleaning

(according to market conditions)
Useful read: Is Post Renovation Cleaning Useful and When Do You Need One?
Find Post Renovation Cleaning Services
---
Payment
Any hidden costs or contractual obligations?
It is important to clarify any hidden costs with the company you hire. Some may require an agency fee, while others require a minimum duration.
Do I need to pay agent fees if I want to get service?
Some cleaning companies do collect, and some companies do not. It is important to clarify beforehand to prevent any miscommunication.
Do I need to pay any upfront payments or deposits?
To our knowledge, some companies require an upfront deposit or payment. It is important to clarify before engaging the cleaning company.
Do I need to give an initial sum of money beforehand?
Most cleaning companies accept cheques or internet banking, cash payment to their service crew is usually prohibited.
However, it is important to make clarification of when is the payment date. Some require you to pay a day before, others require a deposit, and you pay the balance after the cleaning is done.
What is the house cleaning payment procedure?
Usually, the house cleaning payment method is such:
Booking is required for you to select a preferred date and time. Booking can be made by making a down payment, and it can be transferred by bank transfer (ATM transfer, ibanking transfer, cheque). The remaining cash balance can be paid to cleaners after cleaning is done (for a one-time house cleaning service)
What if something is lost from the house?
We recommend that you do not leave any important possessions out in the open while the house is being cleaned.
If there is a case of lost property, most cleaning companies in Singapore could be held liable for up to 100 SGD if the incident is reported within 24 hours.
You file a report to the police for investigation if the amount exceeds 100 SGD.
We advise you to make prior clarification with your cleaning company with regards to this amount.
The Cost of Disinfection Services
Disinfection services are becoming more popular, especially during times of pandemics.
You might as yourself why do you need such services in times like this and the reason is quite simple, disinfection services ensure that the surfaces in your house are clean, while reducing the transmission of pathogens, germs, and viruses. The company you employ should have a specific understanding of how to clean in order to prevent the spread of infectious disease.
Now that you understand what a disinfection service does, the question now is how much does it cost?
The list below shows the average price of hiring a disinfection service and the type of housing relative to it:
| | |
| --- | --- |
| | Average Price for Disinfection Service |
| | |
| | |
| | |
| | |
| | |
It is important to note that before hiring a company for disinfection service, you have to make sure that they are certified and permitted by the NEA (National Environmental Agency) to conduct such services. This is to ensure the safety of your family.
To learn more about the environmental cleaning guidelines and which company can conduct disinfection services, you can visit here.
Household Disinfectant Product
If you find that hiring a company to disinfect your house is costly, the alternative and affordable way is to buy a disinfectant product and do it yourself!
Viruses can be effectively removed from domestic surfaces with regular cleaning and disinfection treatments. Surface virucidal disinfectants can also be used to clean and disinfect residences with suspected or confirmed infection cases.
We have made a list of a few common disinfecting products suitable for your household and their price range:
| | |
| --- | --- |
| Brand and Name of Product | |
| Dettol Disinfectant spray | |
| Magiclean Disinfectant spray | |
| | |
| Alcosm Disinfectant Wipes | |
| Walch Multi-Purpose Disinfectant Wipes | |
| FairPrice Anti-Bacterial Disinfectant Floor Cleaner | |
Factors Affecting Cleaning Prices In Singapore
Several factors may affect the price of cleaning. Let's take a look at them.
Size of House
This goes without saying – the bigger the house, the more hours are required, and thus the higher the price. A typical cleaning session of a four-room apartment is about 3-4 hours.
These are the rough number of hours for each type of house. Do note that there is usually a minimum number of cleaning hours per session so that it makes money sense for the cleaner travelling to your home.
| | | | |
| --- | --- | --- | --- |
| | | | |
| | | | |
| Condo 2 Bedroom / HDB 2-3 Room | | | |
| Condo 3 Bedroom / HDB 4-5 Room | | | |
| Condo 4 Bedroom / HDB Mansionette | | | |
| | | | |
Multiple Visits
Multiple cleaning visits can get you some savings. You can save about $5 to $15 on each cleaning session. You may even get a considerable amount of discount by paying for long term cleaning upfront. Here's an example.
| | | | | |
| --- | --- | --- | --- | --- |
| | | | | |
| | | | | |
| Savings per cleaning session | | | | |
Number of Rooms in Your Home
Apart from square foot, cleaners also consider the number of bedrooms and bathrooms to be cleaned.
Bathrooms usually require more extensive cleaning. That said, a smaller house with more toilets may require more cleaning than a bigger house with fewer toilets.
This is because there are so many things to be cleaned in a bathroom – the sink, toilet bowl, shower area, mirrors, floor, carpet, drain, upholstery, window, door etc. And all these require different cleaning methods and equipment.
---
Cleaning Products
You may have specific preferences with regards to solutions used for cleaning. Some people demand non-toxic, environmentally-friendly cleaning products. Others request special cleaning solutions for their expensive porous marble kitchen countertop.
If you have special cleaning needs or requests, it may add to your overall cleaning budget.
As more Singaporeans are cautious about sustainable products, here we have made a comparison of the prices of cleaning solutions.
Special Requirements such as Pets, Allergies and Antiques
If you have pets at home, you will need to inform the cleaner. Depends on the type of pet you have, cleaning may be more challenging. If your pet shed a lot, cleaning may cost more as cleaners may take extra time to, for example, remove the fur from the sofa and other parts of the house.
If you are allergic to certain chemicals, scents or allergens, some cleaning products may not be suitable for you. Getting products that are natural and biodegradable may cost much more money in the long course of your cleaning needs.
You may have valuable antiques and furniture that may require a particular solution to clean or method of cleaning. This may add to the cleaning hours and thus prices as well.
If you have huge pieces of carpets or carpet floors, it may cost more due to solutions and equipment required. If you decide that carpeted floor is too much of a hassle, you may choose to find out other types of flooring options available and their cost.
---
Accessibility
Some houses may have high ceilings, windows, shelves or ceiling fans that are difficult to reach and clean. You may require the cleaner to climb up and down the ladder to clean those areas.
Getting experienced cleaners to clean a more challenging home will cost more. Moreover, the larger area of cleaning will result in longer cleaning hours.
If you live in a multi-storey house, more time may be required for the cleaner to carry products and equipment up the stairs. Cleaning the stair railings will also take up a lot of time.
Distance
It is better to find cleaning companies with cleaners or freelance cleaners that live near your house. In this case, it will be much easier for them to commute to your house.
Some cleaners may request a transportation fee or higher cleaning cost to cover their transport expenses. Some of them may even reject your job requests due to the travelling distance.
Cleaner qualifications and experience
Different cleaners will charge different prices based on the service they can provide. Here is a small checklist of things you can keep in mind when engaging in a professional house cleaning.
Some of the things you can check are:
Experience
Reference letter from the previous employer
Confidence
Attitude towards the job
How punctual is the person?
Loyalty towards you
Work permit and Visa documents (If the person is not a native of Singapore)
What will be the mean of transacting the salary?
Is the person going to pay the tax?
Does the person want an employment contract?
Is the person insured?
Does the helper have any severe health conditions?
Will the cleaner bring cleaning equipment or use yours?
Will the company need advance payment?
Quality of service by the cleaning company
The same goes if you are hiring a cleaning company. You should check whether you are provided with these things:
Satisfaction guarantee
Last-minute cancellation policy
Booking period (the shorter, the better)
Able to request for change of cleaners if you are not satisfied
Insurance for your house and the cleaner
Payment policy
Cleaning training provided to the cleaner
Type of cleaning task that can be done (e.g. carpet cleaning, dry laundry)
---
There are many aspects to a home, and no doubt many different kinds of cleaning available.
Related Articles
We're here to improve your home
Speak to hundreds of reliable pros, view their gallery, inspirations, and know the best prices with our resources.
Have full control over your home improvement projects with Homees.