What is Modern Interior Design?
Originating from the Art Deco era, modern interior design is a broad term used to refer to homes that emphasise clean, crisp lines. These styles tend to utilise a fusion of natural and manmade materials like wood, glass and metal.
What Are Some Features Of a Modern Design Style?
Due to its roots in the modernism movement, which rejected overly embellished or artificial forms and elements, modern interior design leans towards a more fuss-free and minimalistic style.
This includes an emphasis on practical value over ornamentation, along with the inclusion of industrial materials like steel and wood due to their functionality.
As for its colour scheme, it usually consists of simple muted neutrals, while decorative elements, if present, tend to be minimal and monochromatic.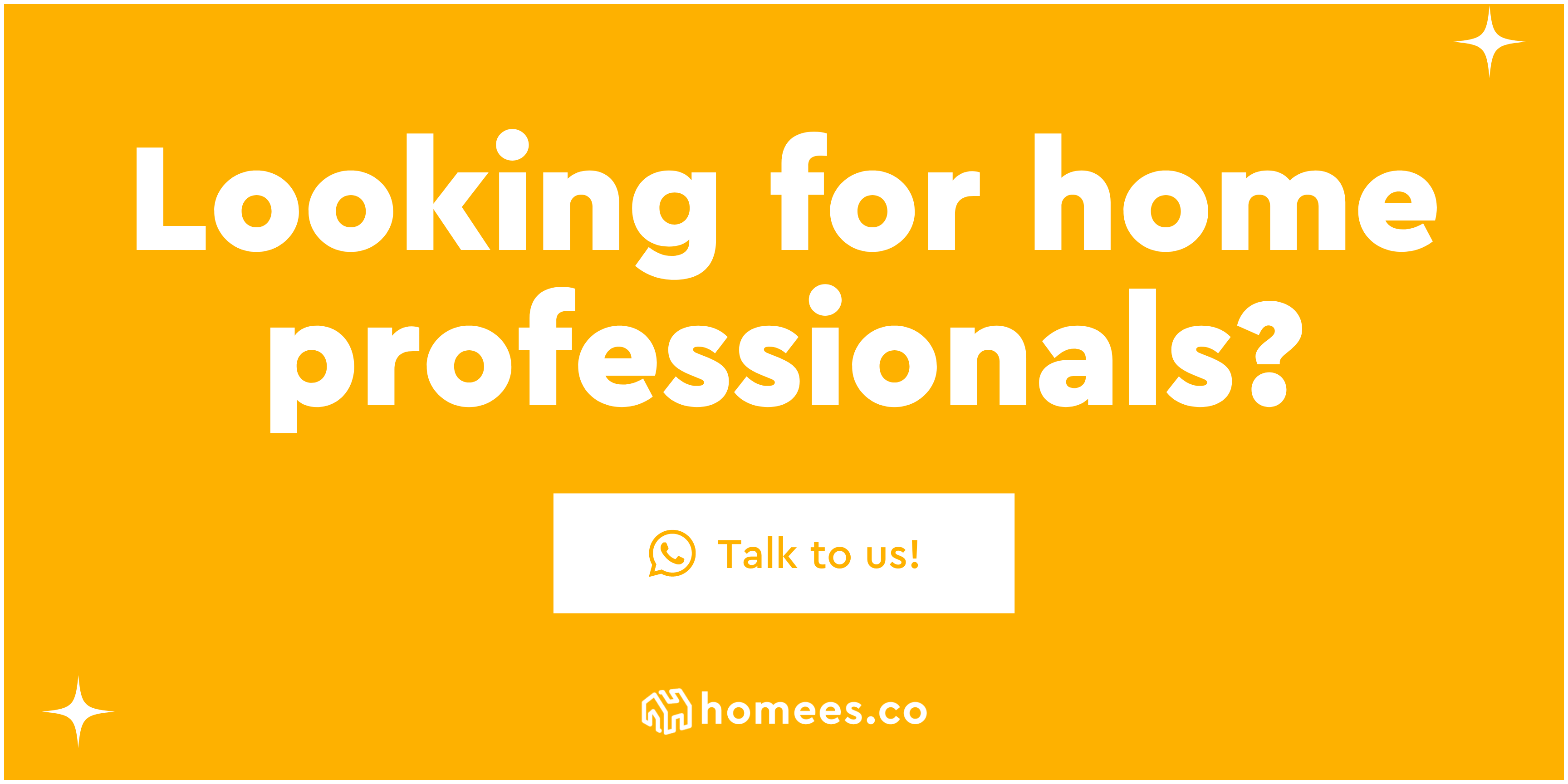 ---
How Can I Apply Modern Interior Design Into My Home?
Modern interior design is more diverse than you think – it interplays with other interior design themes, giving rise to hybrid styles. These include modern-industrial, modern-Scandinavian, modern-rustic and modern-luxury designs.
If you are intrigued by the diversity of modern interior design, read on for a curated list of the top 15 homes from these hybrid categories. Inspiration is just a scroll away!
Find kitchen interior designers
---
Relevant Article: Home Decoration Cost Guide In Singapore
Modern-Industrial Designs
1. Industrial Chic @ Tampines Street 45
Designed by IN-EXPAT, this stylish modern-industrial home is a bold statement punctuated with an exclamation mark. The calm palette of the living room is amplified with a confident wingback chair and adventurous art prints. Talk about what happens when comfort and style collide!
Smooth clean outlines take control of the living room, with the blink wall clock taking centre stage.
Going along with the same industrial theme, the homeowners installed these broad, massive doors outlined with black frames. This glass-and-metal combination helps the space look bigger, allowing light to enter and flow through different rooms. We're all for the beauty these bold trims bring!
This bedroom's palette of cool colours is meant for quality sleep. The pair of copper pendant lights don't just sit there looking pretty, but they make a dedicated source of lighting for quick pre-bedtime reading.
A secret to an impressive interior is cohesiveness in design. Decided on rose gold for your pendant lights in the bedroom? Reuse it again in another part of the house, but with a little twist.
Consistent with the overall theme of the house, the dining room replicates the same rose gold tones for the pendant lighting, only in a slightly different shape. The tabletop metallic accents add a nice touch to the sleek wood surfaces, creating a visually appealing space.
Relevant Article: Countertop Cost Guide, Cabinet Cost Guide
Metallic frames can do a lot for an interior, especially the bathroom. Gold rims and accents cut through the boring bathroom to lend a glorious look to it. This washbasin cabinet with equal open and closed storage has a quirky angular trim that keeps things interesting.
Another great way to spruce up a drab room is to introduce plants. A room like a toilet could always do with a fuss-free houseplant to freshen up its surroundings.
Check out: Interior Design Cost Guide In Singapore
2. Contemporary Casual @ Cheng San Court
If the above interior is your cup of tea, this one will excite you the same. Bearing a similar chic industrial look, Jialux Interior Pte Ltd put together the bare beauty with eye-catching embellishments you won't ever forget.
Key focal points of the living room include the black-and-white modular coffee table and the lovely neon pink sign. These high-contrast design elements pack a punch, upgrading an otherwise bland industrial façade to a relaxing retreat.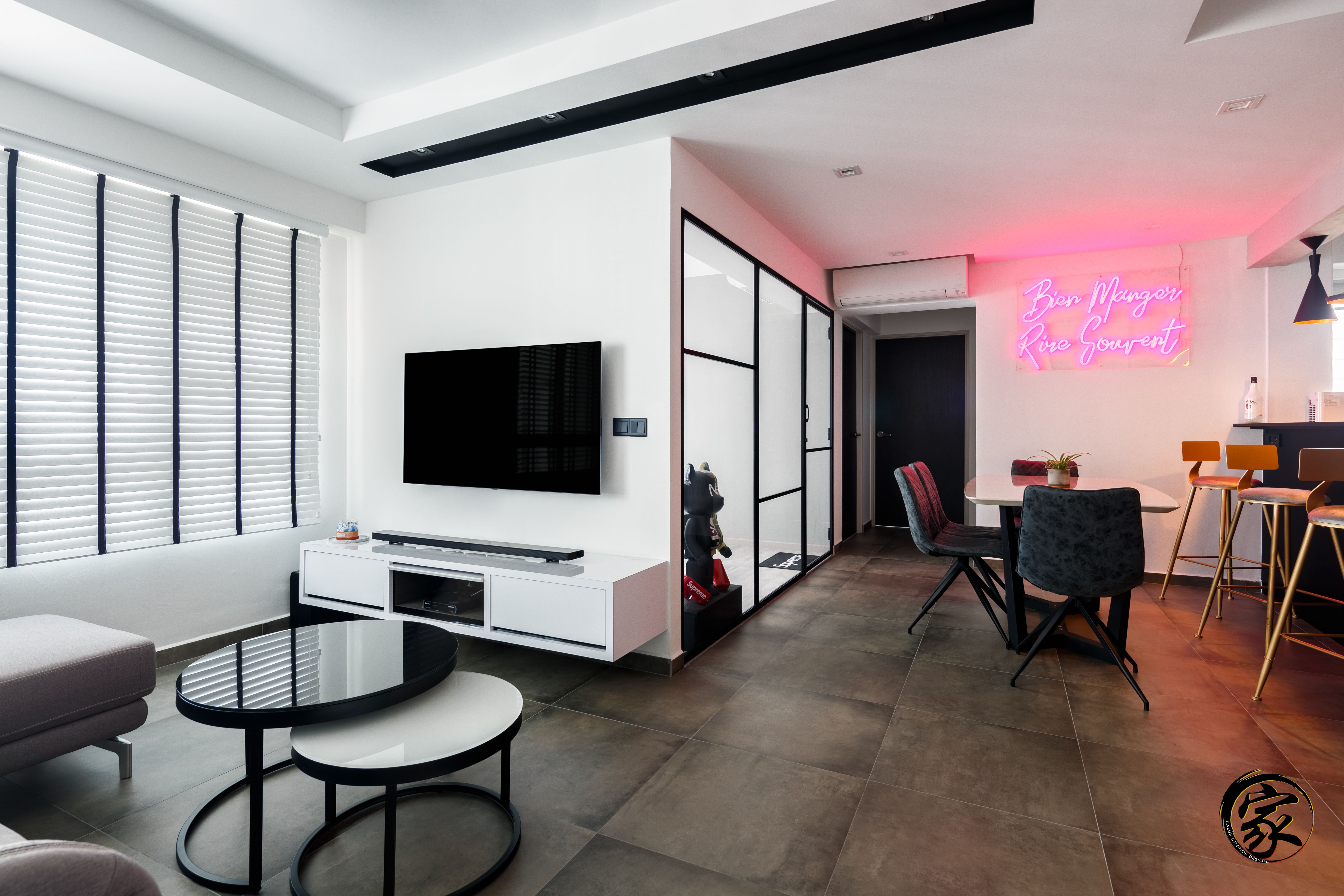 Good things come in threes, and the same can be said about this kitchen bar counter. The luscious gold outlines of the curved bar stools are the ideal companion for the matte black lighting and counter surfaces.
This snug little corner becomes an extension of the dining space, allowing more guests to huddle around for longer conversations.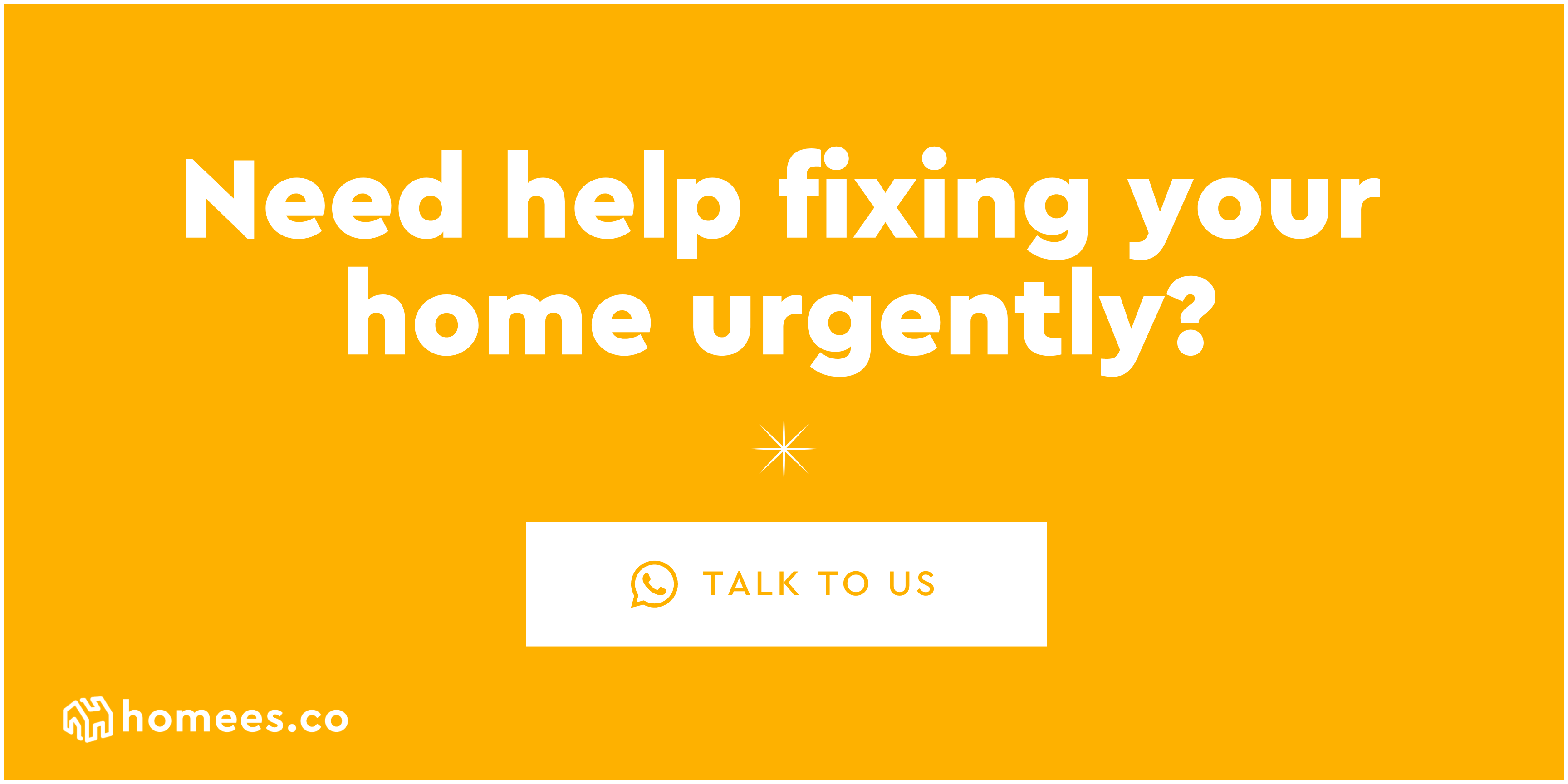 ---
Check Out: Electrical Services Cost Guide In Singapore 
Don't be afraid to build the walk-in closet of your dreams in your bedroom. When carving out space for your wardrobe and dresser, use clear glass partitions to create a room in a room. White is a smart choice for the furnishings, but having charcoal brackets makes a handy nook to hang your daily wears.
If we could only pick one material to use in our homes forever, our choice goes to marble. Every slab of marble is unique, spanning different colours and styles. This makes a gorgeous accent for the bathroom, which stands out when used together with concrete.
---
3. Hybrid Rustic-Industrial @ Bukit Batok West Avenue 8
Fancy yourself an industrial interior with a bit more colour? Keep your eyes peeled for this 4-room BTO by Charlotte's Carpentry that's so in style right now.
The living room starts as a dark, grungy space founded by a dense olive colour. Radiating industrial vibes right from the get-go, the home keeps its cosy with the plush tuxedo sofa and pouffe.
Moving into the dining and kitchen space, a calm cerulean blue washes over a large part of these rooms. Reminiscent of a nautical getaway, being in the kitchen makes you feel like you're all aboard a cruise ship.
Apart from its stylistic benefits, shaker cabinets for the kitchen are a foolproof option because they're so easy to wipe down. Stubborn grease and dirt won't be part of your kitchen for long!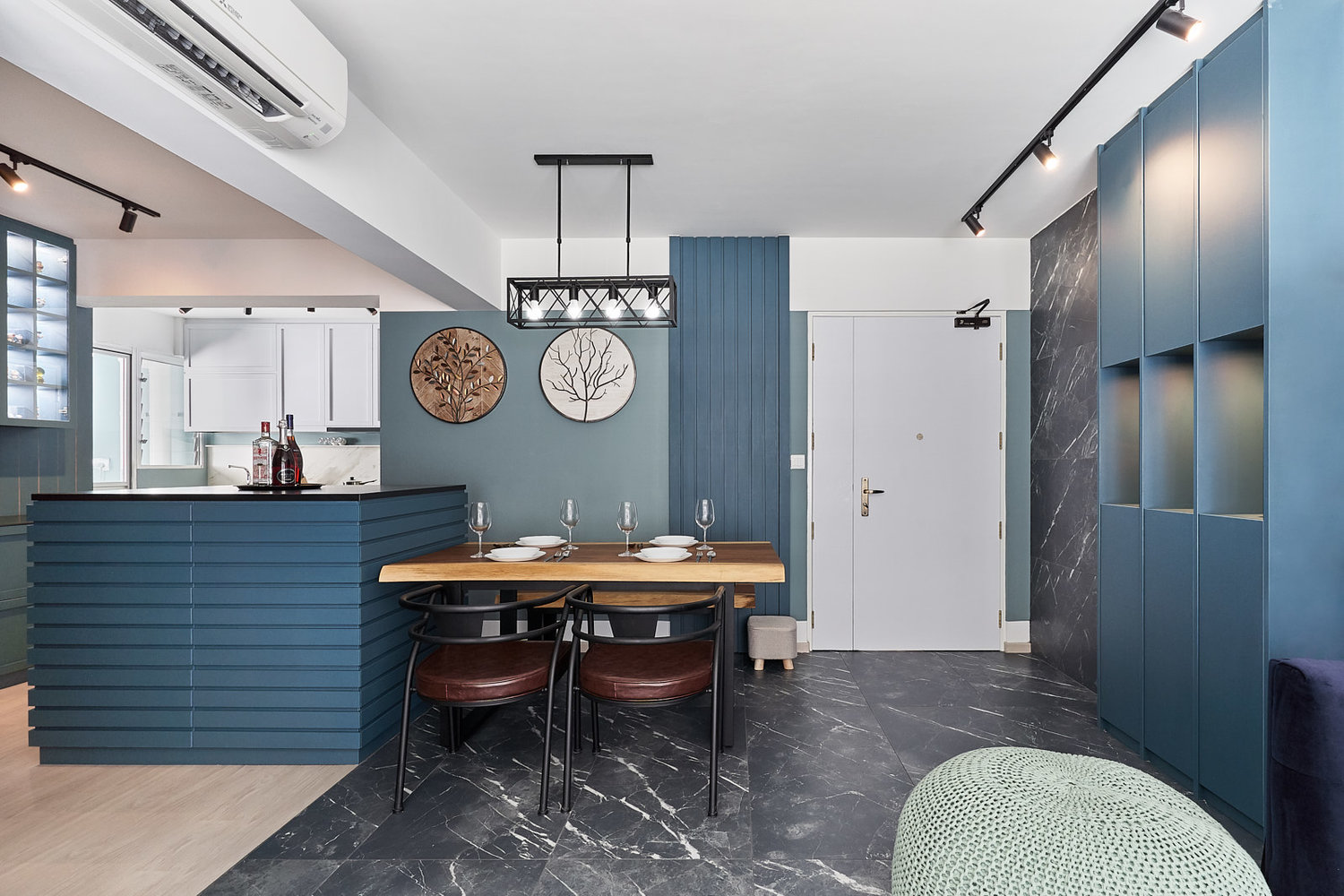 You'd be surprised at what colour can do for your interior. For this bedroom, dreamy pastels were used to create a simple and restful space. These subdued hues are soft enough for one to fall asleep in while creating a fun-filled, expressive space.
Relevant Article: Bedroom Cost Guide in Singapore
4. Bright and Breezy @ 605C Tampines Street 61
Fifth Avenue Interior Design shows us how to do the Scandinavian style the right way. Made of natural textures and mod furniture, this resale home takes comfort and style seriously.
Wood looks great with a muted palette, which can be seen from this chevron-patterned coffee table and smoky faux leather sofa. The true Scandinavian touch lies in the small bursts of colour introduced through the dainty knit pouffes.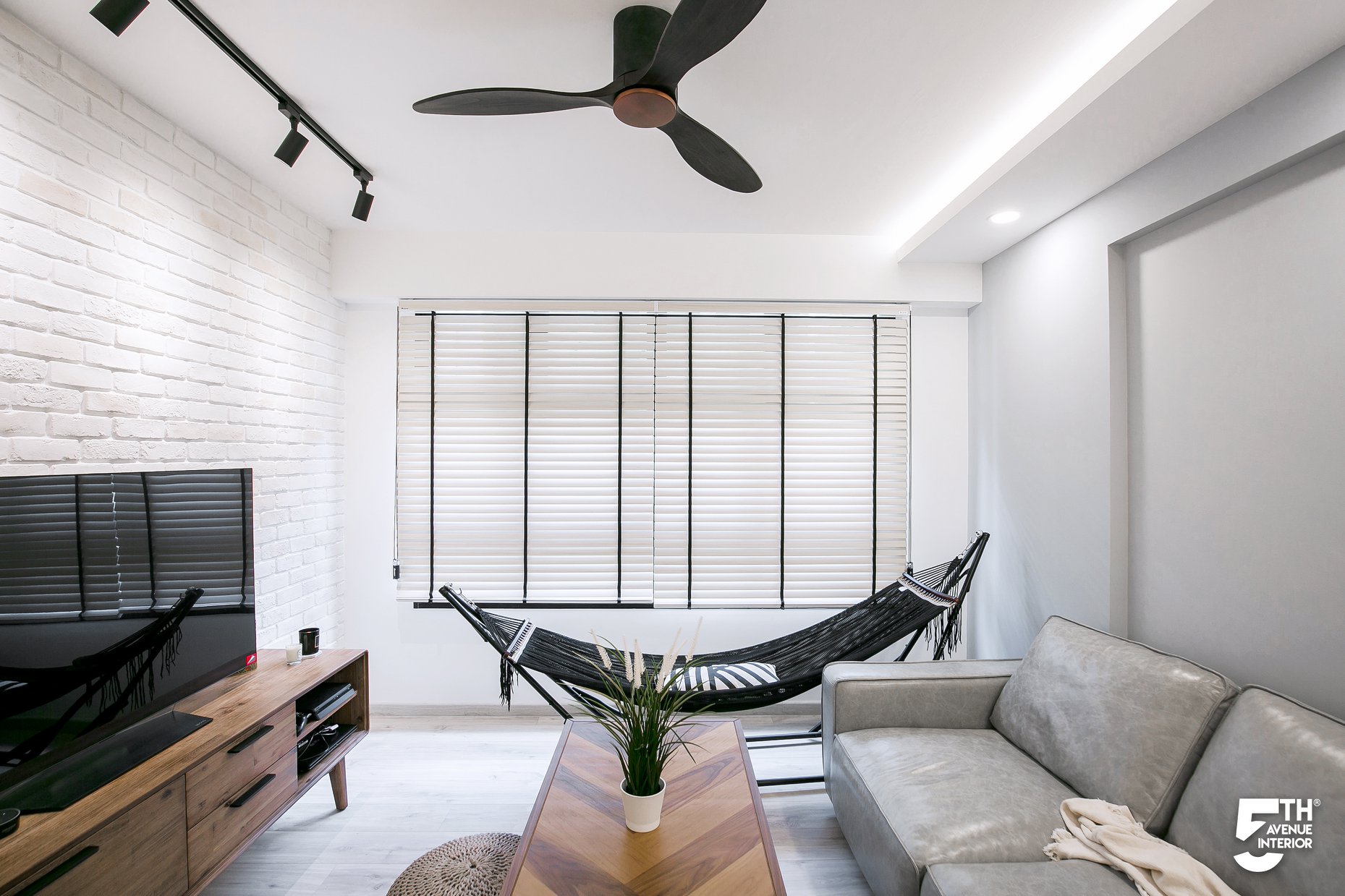 Want to have a kitchen island but concerned about the space it'll take? Go for a kitchen peninsula instead, which extends from a wall or cabinet. This homely kitchen can easily accommodate a family of four, with strategic storage drawers to keep those pots and pans out of sight.
Find Kitchen Renovation Contractors
---
5. Japandi-style Interior @ Downtown Singapore
One of the things that Scandinavian and Japanese interior designs have in common is the abundance of sunlight. Light-filled spaces are celebrated in both themes, which is what Hmlet Interiors was striving for.
Apart from a bright and airy interior, a mix and match of textures were used to add some complexity to the wood-dominant living room. Having plants is a great way of adding nature's touch to a man-made space.
Out of ideas on decorating your walls? Throw on a wall-mounted mirror for a more refined and spacious look. Mirrors aren't just meant for the bedrooms or bathrooms; they make a lively add-on to every corner of the home.
Find wood flooring installation companies
---
6. Playful Colours @ Bukit Batok West
Steer clear of drab living spaces by having ample pops of colours everywhere! This beautiful Nordic interior by Adroit ID is playful, modern and elegant all at the same time, embracing the roots of Scandinavian design. We can't get enough of the home's structural intricacies and superb carpentry work!
When it comes to kitchen and dining room, the homeowners sure know how to have some fun. Forget the plain-old rectangular dining tables, the stadium dining table is here to stay. With rounded corners that match the sleek curvature of the chairs, this get-up is great for work and play.
The contrast between the white herringbone backsplash and geometric floor tiles infuses the room with a whole lot of light-hearted energy.
Relevant Article: Interior Design Cost Guide In Singapore
Go wild with the bathroom's interior design, again with a bold choice of rustic, geometric floor tiles. Trendy terrazzo is something to have if you like its contemporary and sophisticated expression.
Modern-Rustic Designs
7. Earthy Modern @ Eunos
Space Factor wows us again with a rustic yet modern interior design. Gravitating towards the dark side, this dramatic secret hideout of home features sturdy furnishings cast in good old warm lighting. Every corner of the home oozes contemporary and vintage vibes that withstands the test of time.
Fret not if you don't have green fingers, dried flowers are the next best thing. Not only do they last long (forever in fact), you'll never have to worry about watering them. This super low-maintenance décor is fit for all seasons and adds to the vintage touch of the modern abode.
This all-encompassing kitchen reaches far and wide into the home and our hearts. Thanks to its delightful dark-wood storage combinations, this kitchen is big on function while retaining sophisticated air around it.
If the living room and your bedroom are too close for comfort, just add a frosted glass folding door between these two spaces. Elevate the comfort level of your crib by throwing on plush cushions and sheets.
This statement bathroom separates the wash basin from the toilet, which throws more focus on the former. The homeowners kept things simple by going for a backlit wall mirror and minimal ornamentation around the space.
Relevant Article: Home Decoration Cost Guide In Singapore
8. City Farmhouse @ 451B Bukit Batok Ave 6
This modern farmhouse by Zenith Arc Pte Ltd is a masterpiece that blends urban elements with the calming countryside. The bespoke combination of unique blues and customised carpentry works gives the home a relaxing feel.
Living in the city doesn't mean you can't have that cosy farmhouse feeling in the home. Boasting furniture pieces borrowed from a natural handicraft style, this modern cottage is surely a rustic interior enthusiast's favourite.
Afraid of committing to an off-the-shelf storage unit? Consider a shelving unit that is able to hold individual storage boxes. That way you can switch up the storage situation in your home anytime.
For a better night's sleep, keep your bed separate from the rest of your bedroom. The homeowners achieved added comfort and privacy by partitioning the platform bed from the wardrobe and dressing table.
The hallmark of a modern kitchen design is a white tile backsplash and wooden countertops. This fuss-free aesthetic isn't just befitting of the theme, it helps to keep your kitchen fresh and clean.
---
9. Modern Resort @ Joo Chiat
For this spacious condo unit, the design is all in the details. Aiden-T made wonders out of this major overhaul centred around open-concept living.
In the living room, a granite feature wall sits perfectly with the heavy beam fixtures on the ceiling. Contemporary furniture, traditional artwork and ethnic accents come together to bring the space to life.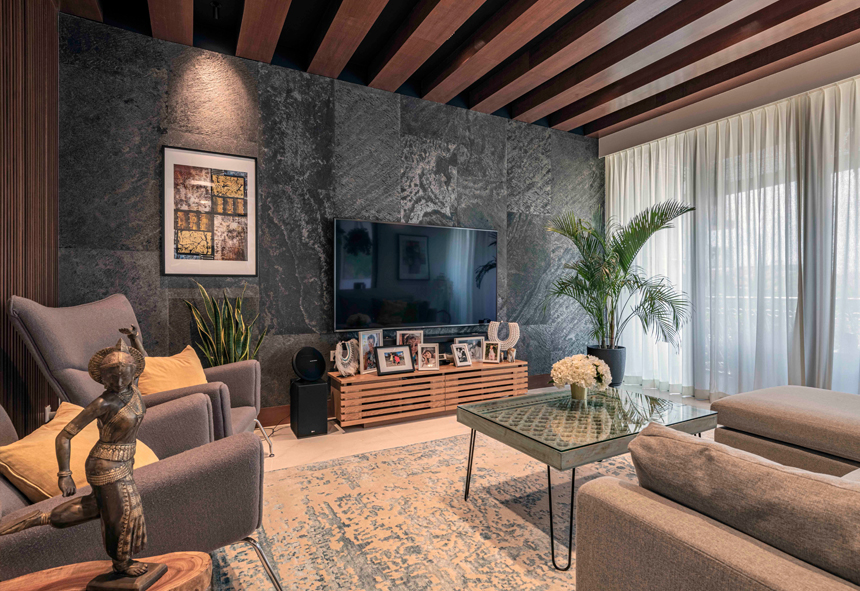 Resembling a luxurious Moroccan resort, we love the ornate elegance of the bedrooms in the house. You can't go wrong with brass accents and crystal chandeliers that sprinkle a touch of sophistication to your inner chambers.
Designing a bedroom for the tiny tots? Play around with bright, vibrant colours for a whimsical feel that your kids will adore. With fresh colours, every day feels like playtime.
10. Rustic Warmth @ 607A Edgefield Plains
If there's one thing that modern rustic interiors have in common, it's wood, wood and more wood. Based upon functional weathered wood installations, this homely abode designed by Swiss Interior is one to watch.
A study corner, which faces the living room, is both beautiful and functional. Featuring a snug bay window seating and plenty of storage, this room contains all the work-from-home essentials you'll ever need. Installing block-out roller blinds to keep out the living room hubbub means you'll have one less distraction during Zoom meetings.
Sleep like a prince and wake like a king with this gorgeous bedroom design. Layered with cosy textiles and dark colours, it sets you up for sweeter dreams.
Upon waking up, the warm lighting from the Hollywood vanity mirror meets you for a fresh start to the day.
Consistent with the modern rustic interior theme, a retro tile pattern was used in the service yard and bathroom. These black-and-white tiles have a decadent look, elevating the home's luxe level.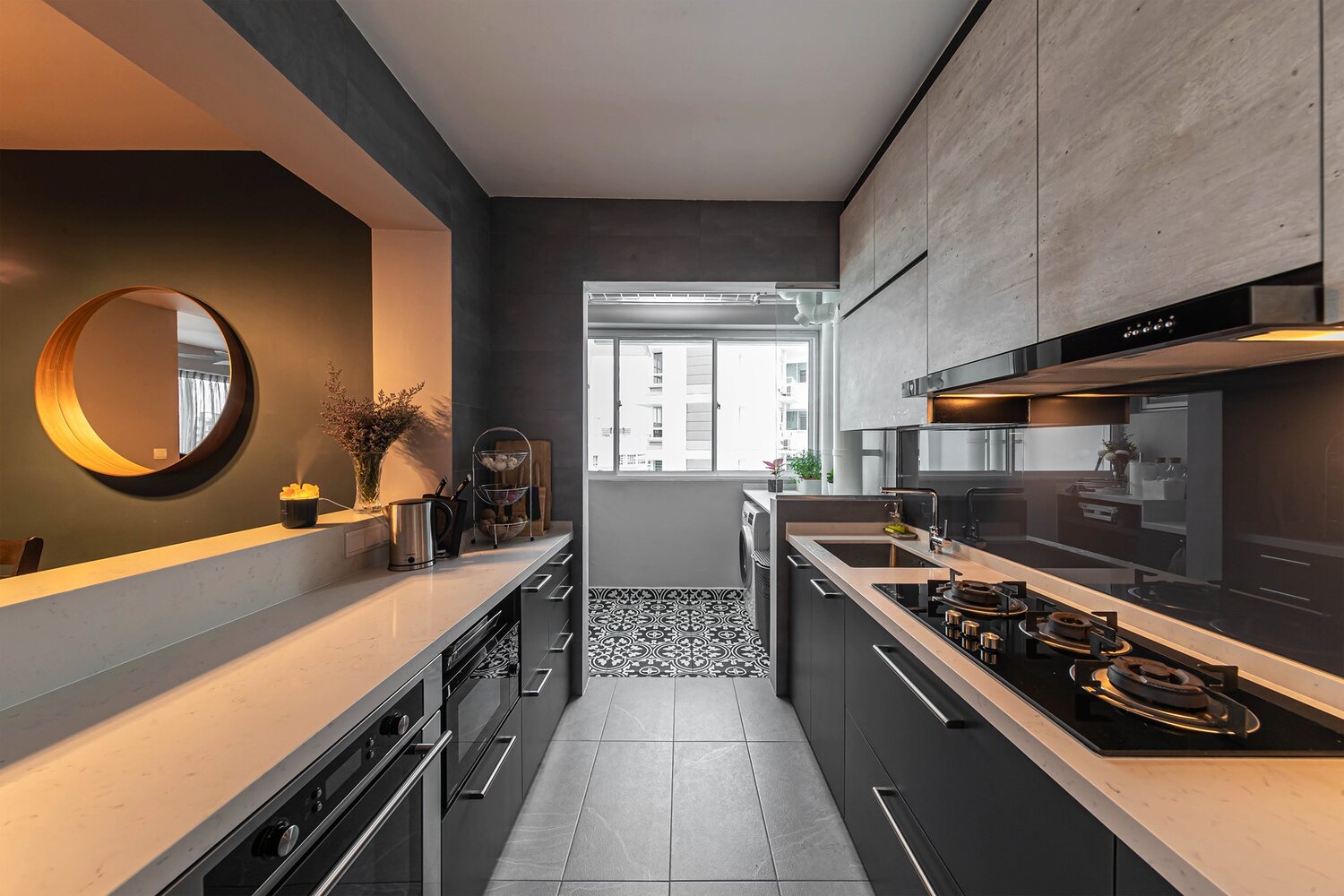 ---
Modern-Luxury Designs
11. Clean, Crisp Grandeur @ Urban Treasures Condo
Noble Interior Design perfected the classy look of this condominium show flat. Made up of fluffy textiles, luscious curtains and gold tints, the living room screams modern and luxurious from start to end.
Cool white lighting can accentuate dark colours to create a more relaxing ambience in the bedroom. A cocoon swing chair is always a good idea for snuggling up with a good book or catching a quick shut-eye.
Make your home feel like an everyday staycation by replicating the lavish looks of hotel bathrooms in your very own. Use bespoke materials like marble and indulge in fluffy bath towels for that impressive glamour.
12. All-White Brilliance @ Yishun
Designed by Letz Interior, this classic and contemporary HDB unit makes a beautiful living space. This open-concept living room houses a large dining table that sits six to eight guests comfortably, with a much larger area for crowded parties.
What's unique about this home is the light fixtures. The transparent chamber chandelier and cylindrical wall sconces are simple but elegant additions to the space.
The gentle white tones of the kitchen mix nicely with the brass cupboard handles and rose gold kitchenware, making it our favourite room in the house. Marble is a bold and dreamy choice to have as a wall tile, so go for it if you want that elegant touch in your kitchen.
Looking to spruce up your bathroom's interior? Grey is an excellent option since it resists dirt and grime, while maintaining a contemporary look. This dusky shade brings focus to the spotless surfaces of the bathroom.
---
13. Bold Chic Colours @ Toa Payoh East
Reclaiming colour in interior design, The Scientist shows us how to use it radically in a home. Both the walls and cabinetry are splashed in an emerald tint, resulting in an opulent space fit for royalty.
In contrast, the soft textures in the living room and kitchen are decked out in mauve pink and lavender. These mellow pastels are pleasing to the eyes, while the velvety tufts on the couch spell ultra-modern.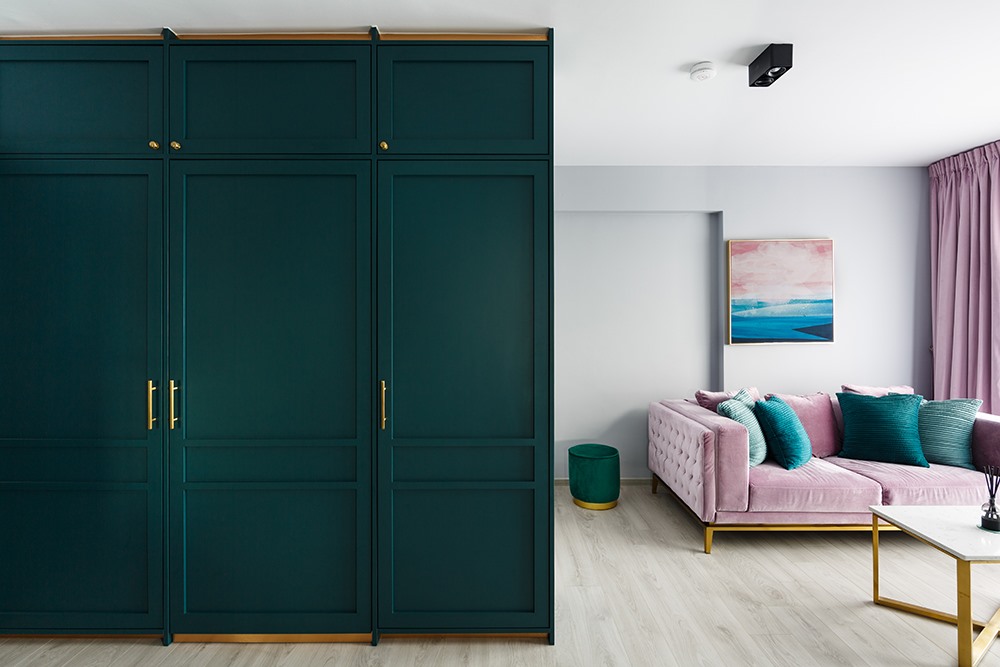 A pro-tip for a cohesive interior design is to replicate similar shades on corresponding textures. In the bedroom, the walls are drenched in a deep sapphire blue and the bedspreads in a dainty light pink.
14. Classic Modern Luxury @ Le Quest Condo
This 5-room condo unit designed by Renologist takes cues from the modern interior design style, focusing on sophisticated neutrals and clean lines. The furniture in the living and dining area is filled with sleek curves so stylish you'll impress all of your guests.
Glossy textures like marble are the perfect accompaniment to a modern luxury interior. These man-made materials play up the importance of other grand gestures like gold rims and metallic accents.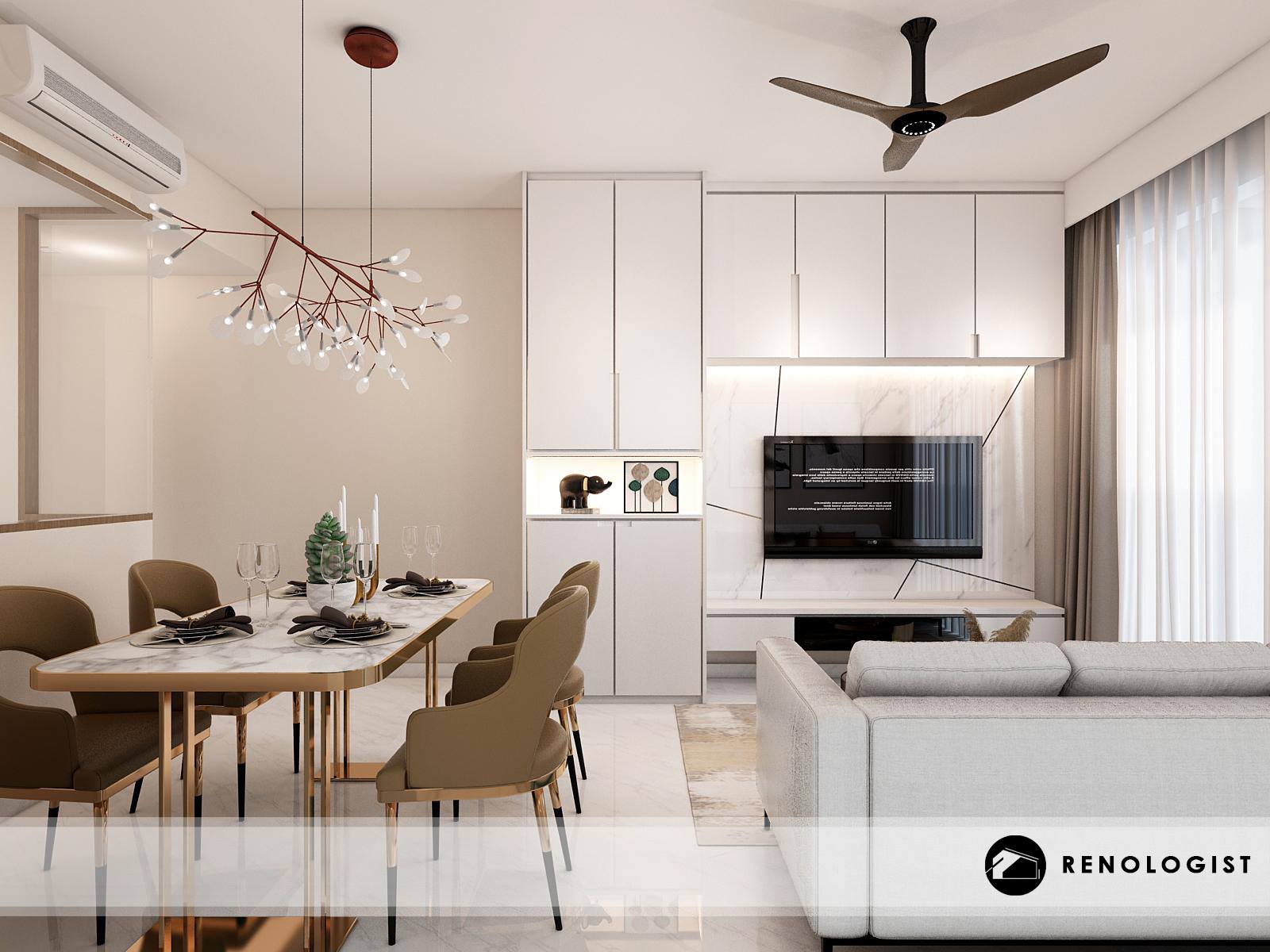 Hit the floor of your bedroom's interior design by choosing low-lying furniture, as it helps a cramped space feel much larger. Just look at the hanging pendant lighting that doubles as a side lamp – it's style and function wrapped into one!
If you think plain old upholstered headboards are too mainstream, throw on a backlight for that nice warm glow that'll level up your sleep space. Having an illuminated bed frame means more ambience and less hassle.
Short on space to have a designated study room? Go big on storage and compartmentalisation! This cleverly fabricated layout distinguishes between work and rest, introducing little nooks and crannies to keep out the clutter.
Layering the curtains isn't just about blocking light and maximising privacy, it retains the luxurious allure of the home's interior.
15. Sophisticated Neutrals @ Domain 21 Condo
What we love about this modern-luxury apartment by Artmuse Interior is how every single piece of furniture humbly contributes to the overall allure of the home. Flushing the blacks and whites to the walls, it foregrounds the dining table and chairs for a more well-rounded interior design.
Modern interior designs can look calming and comforting without much effort, which could be attributed to its penchant for neutrals.
In this master bedroom, natural colours fill the space with peace, building a better bedtime. The dainty indoor plants breathe life into the once-sterile room, allowing the homeowners to enjoy the cosiness they bring.
Read On: Electrical Services Cost Guide in Singapore
Styling your bathrooms just got a whole lot easier with this not-so-secret raw material – marble. An all-marble bathroom interior drums up great visual impact, which is an art form in itself. Having two strikingly different marble patterns for the shower and sink backsplash deserves gasps of admiration.
Conclusion
Although there are several defining characteristics of modern interior design, this article has proven that boring, predictable styles are a thing of the past. No one said modern homes could only look a certain way! In fact, the elements of modern interior design can combine with other styles seamlessly to create beautiful homes.
While hybrid designs are a bold step forward, it's important to find your personal sense of style and apply it to your next interior overhaul or renovation project. A home should always be a reflection of you.
---
Cost of Other Areas of Your Home Improvement Projects
You can check out the cost of hiring professionals when designing your home. Some of the usual cost guides can be found below:
Related Articles
We're here to improve your home
Speak to hundreds of reliable pros, view their gallery, inspirations, and know the best prices with our resources.
Have full control over your home improvement projects with Homees.