Dreaming big seems like a faraway dream when you're living in a small bedroom – literally.
Lack of natural light and little to no storage space leads to a cramped and uncomfortable abode instead of a cosy refuge. This is especially so in Singapore, where flat sizes are shrinking smaller and smaller and the bedrooms are getting even tinier.
But that doesn't mean you can't have a stylish bedroom that looks bigger than it actually is. There are homes that manage to optimise their small bedroom space – these bedroom ideas for small rooms are actually achievable in space-starved HDBs of Singapore.
With the right techniques, even the smallest bedrooms can look bigger, more stylish and become much more functional at the same time. If you are more aware of decorative aspects like the best layout for a small bedroom, you can make the most of your small bedroom space.
Here are some helpful small bedroom decorating ideas to turn a small bedroom into a functional haven without sacrificing any style. Alternatively, you can choose to engage a suitable interior designer for your new house.
---
Go Soft On Colors
Colours play a crucial role in decoration and have the power to make even the smallest space look large, airy, and inviting. When it comes to making a room look spacious, choosing soft colours is the way to go, as they create expansive reflective surfaces that can brighten up your small bedroom and visually enhance it.
White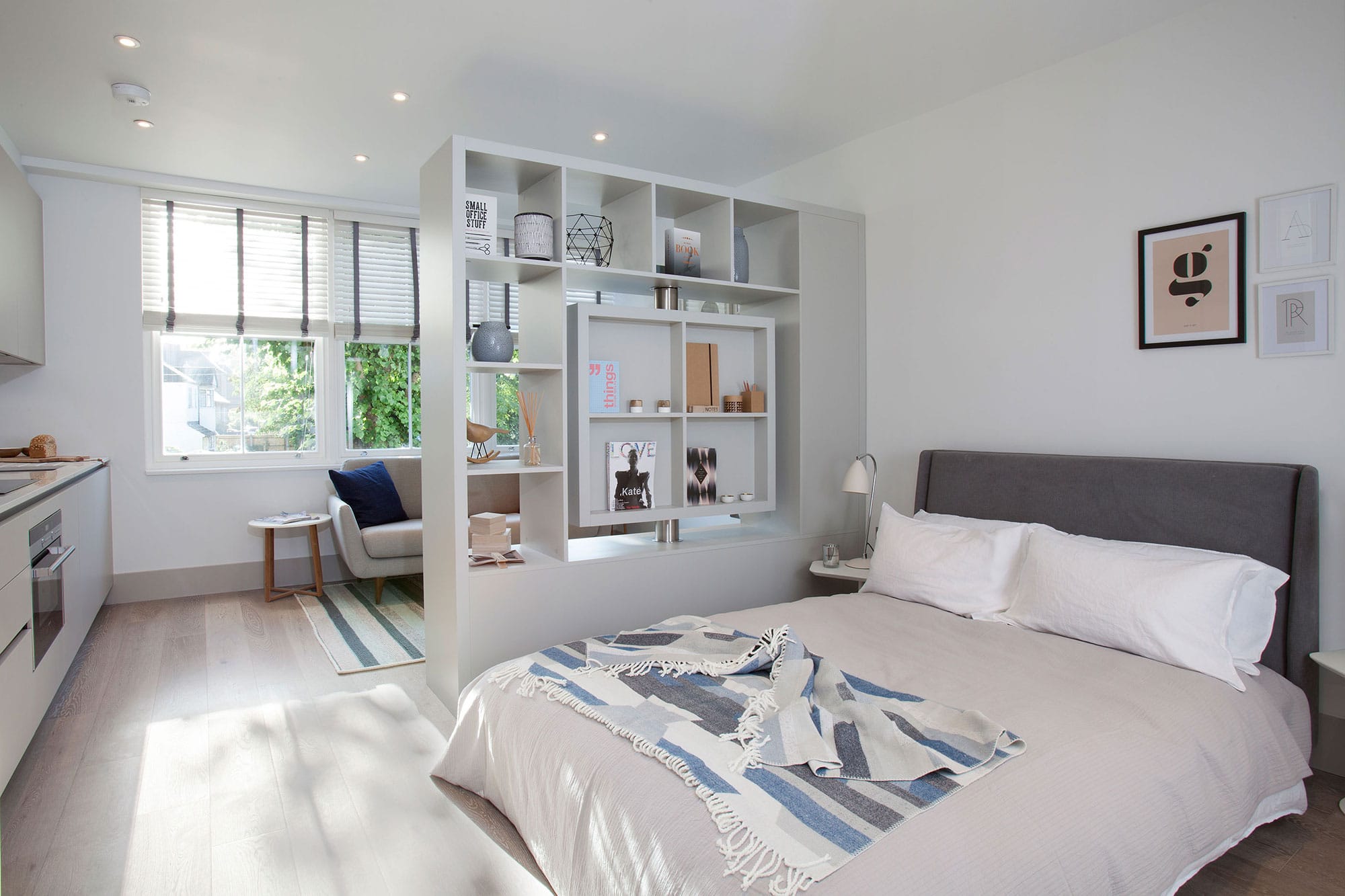 White has the useful effect of highlighting other parts of the room without clashing or overpowering other colours. Be it dark-toned furniture or dark coloured walls, white goes with almost everything.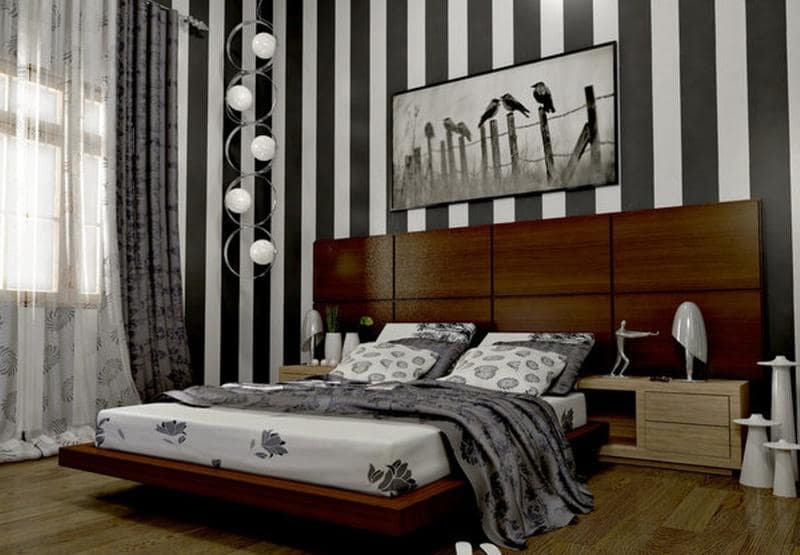 If you don't want an entirely white room as you're afraid it can make your small bedroom look overly stark and cold, you can add in black strips into it and take your small bedroom design to another level.
Sea shades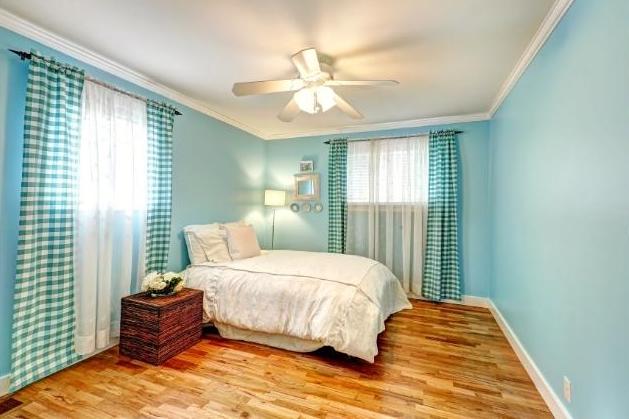 Colours like light blues and greens create a soothing ambience that simultaneously enlarges and brightens your space.
Citrus Hues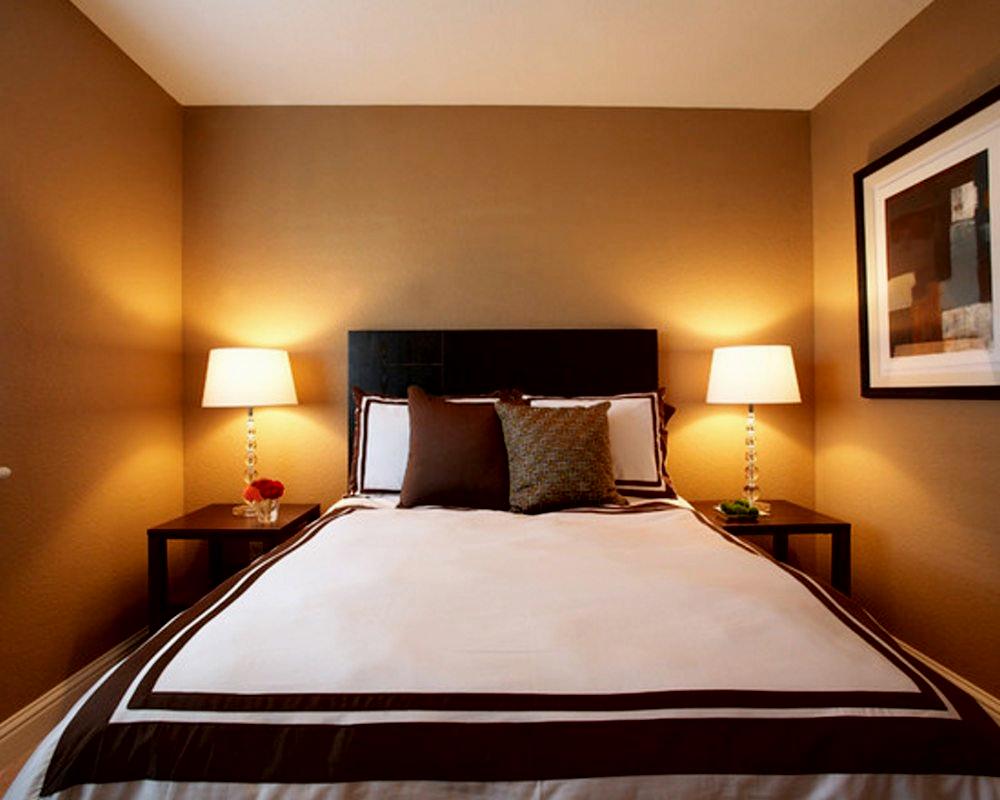 Citrus tones also make a great option for narrow spaces while sea shades and pretty pastel hues also go a long way in creating an illusion of a large space.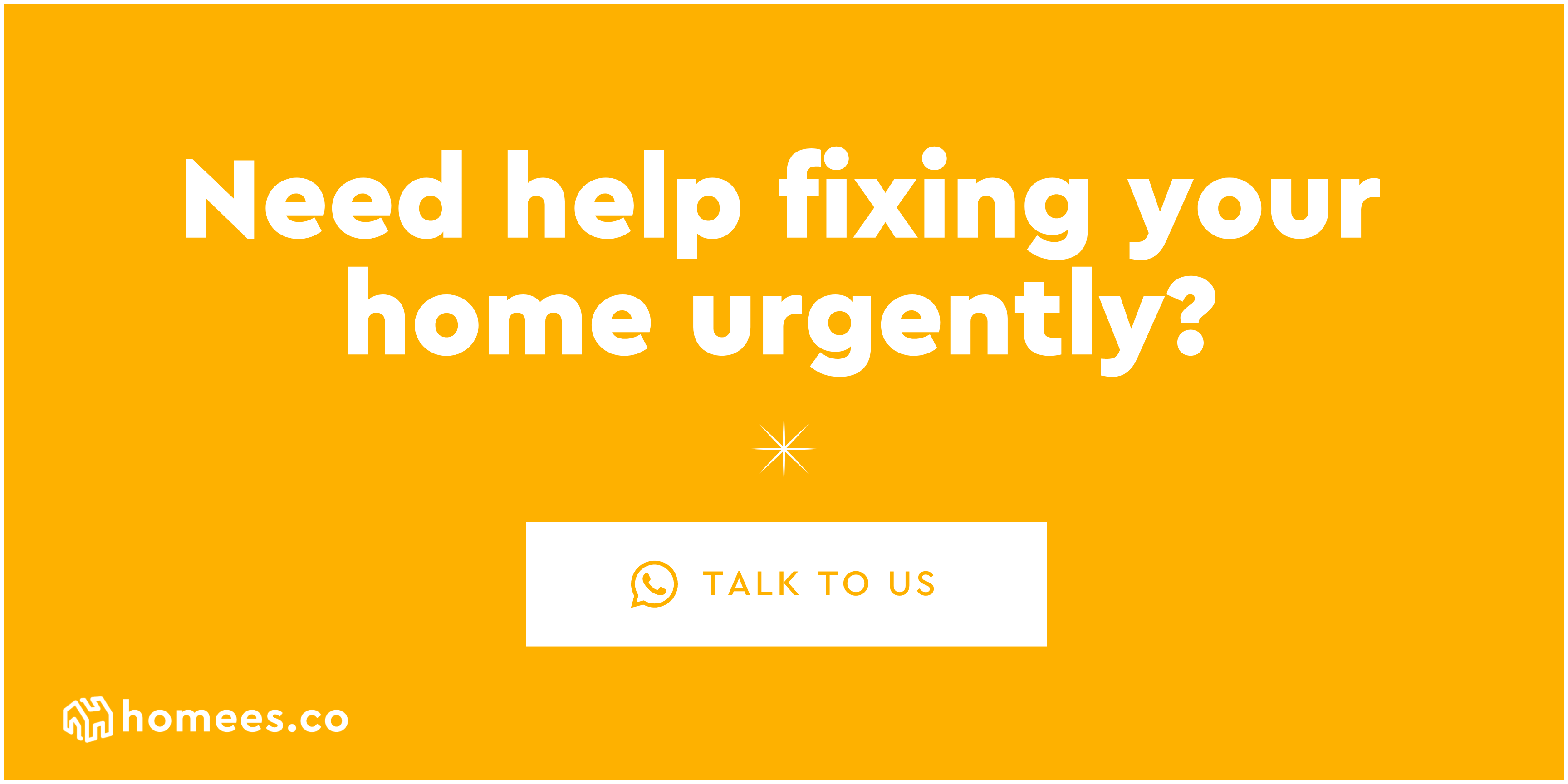 Find The Best Interior Design Companies In Singapore
---
Try other lighter tones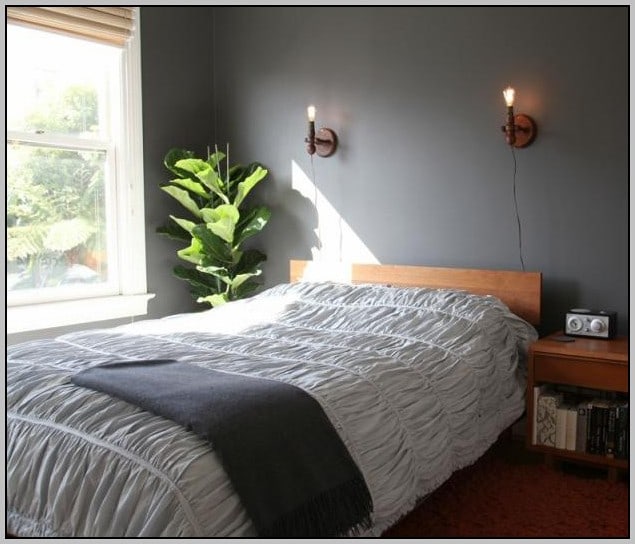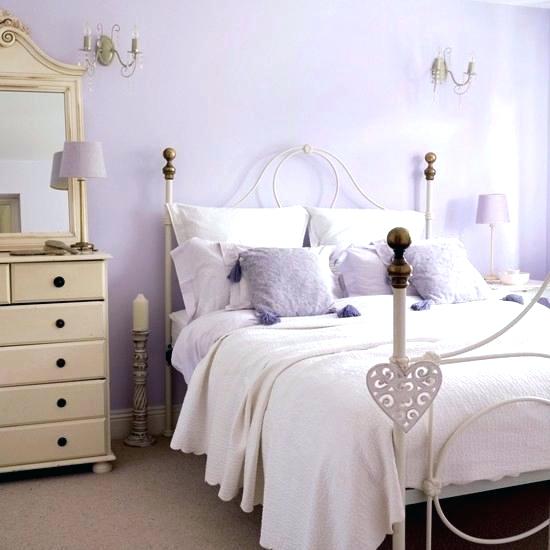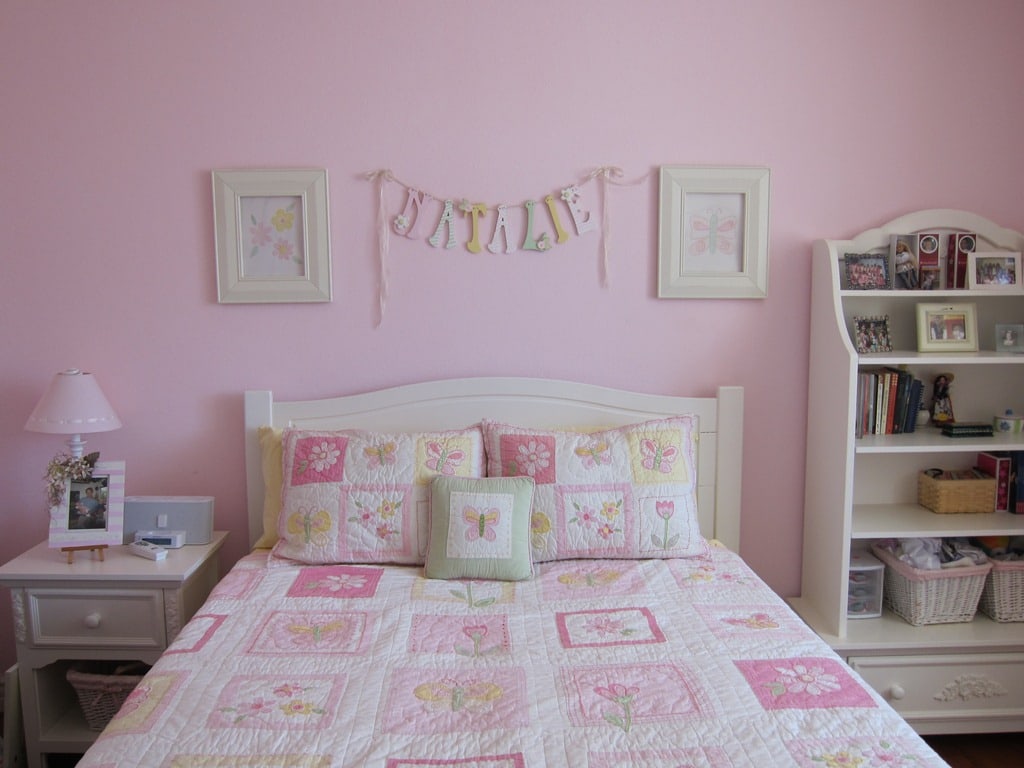 Other great options for lighter colours are grey and lavender, which tend to go well with a wide array of colours. If you'd like a more feminine touch, experimenting with shades such as soft pink can make for sweet and lovely small bedroom decorating ideas.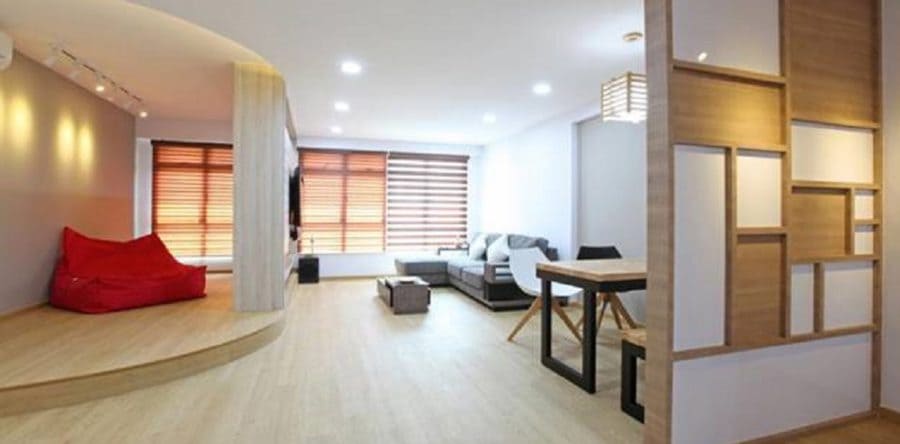 Mirror It
Mirrors mean more light and more light means a full view of every inch of your small bedroom. Here are some space-saving tricks for a small bedroom to create an illusion of a larger space using mirrors in your HDB master bedroom design.
Place a large mirror near the window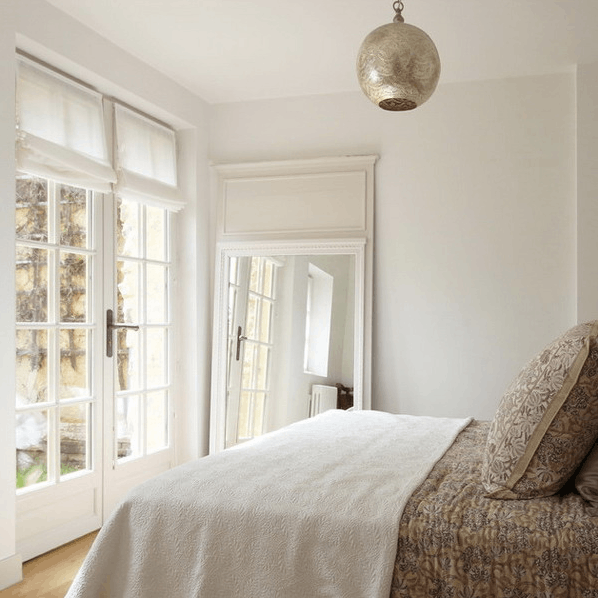 To maximize the lighting in your home, you can keep a large mirror near the window. This way you will allow the natural light filtering into your room to get reflected and fill the whole room. This will make your room look brighter and spacious at the same time.
Keep it tilted in the corner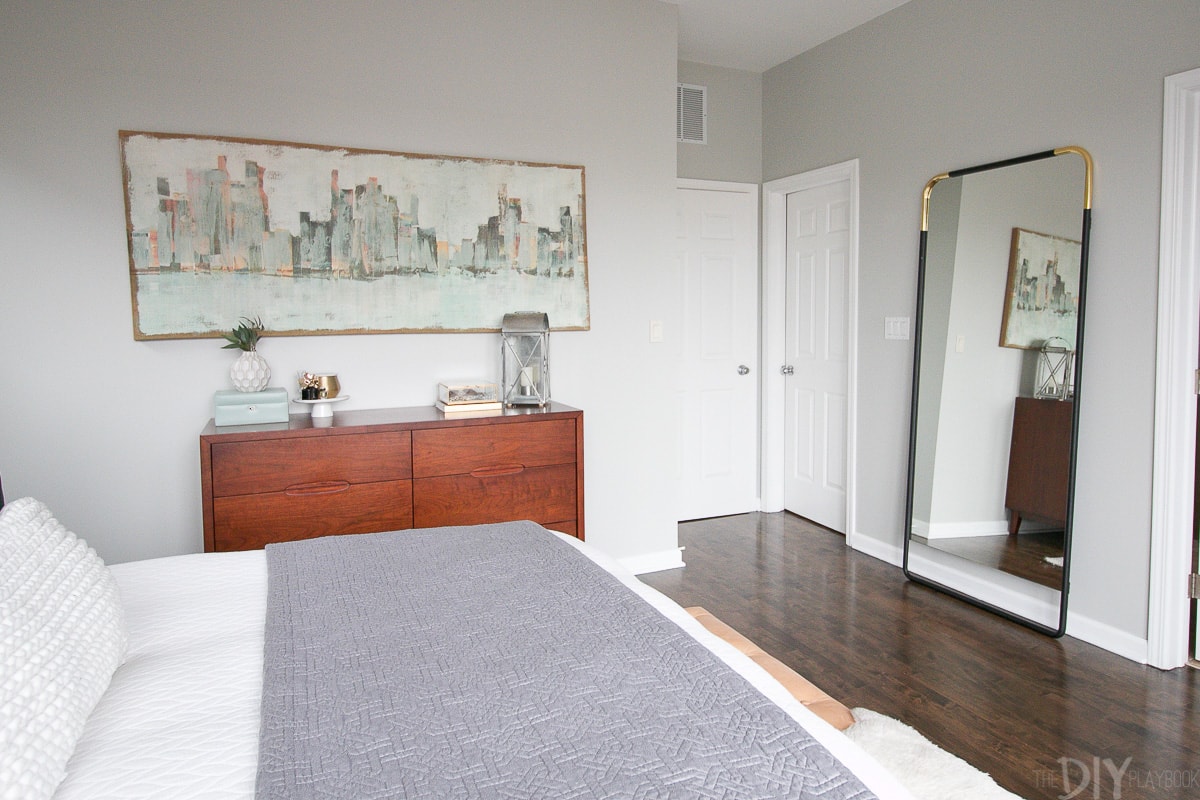 Another trick in using mirrors to visually enhance your small bedroom is to create an illusion. Simply place your mirror in the corner of your room in a position that is tilted to reflect your ceiling.
Whatever is reflected in the mirror then becomes an extension of your home, thereby making your small bedroom look more spacious. To add on, you can hang a mini chandelier to spruce up your room – it makes for a stylish and sophisticated small bedroom decorating idea.
Use Wardrobe with Mirror Doors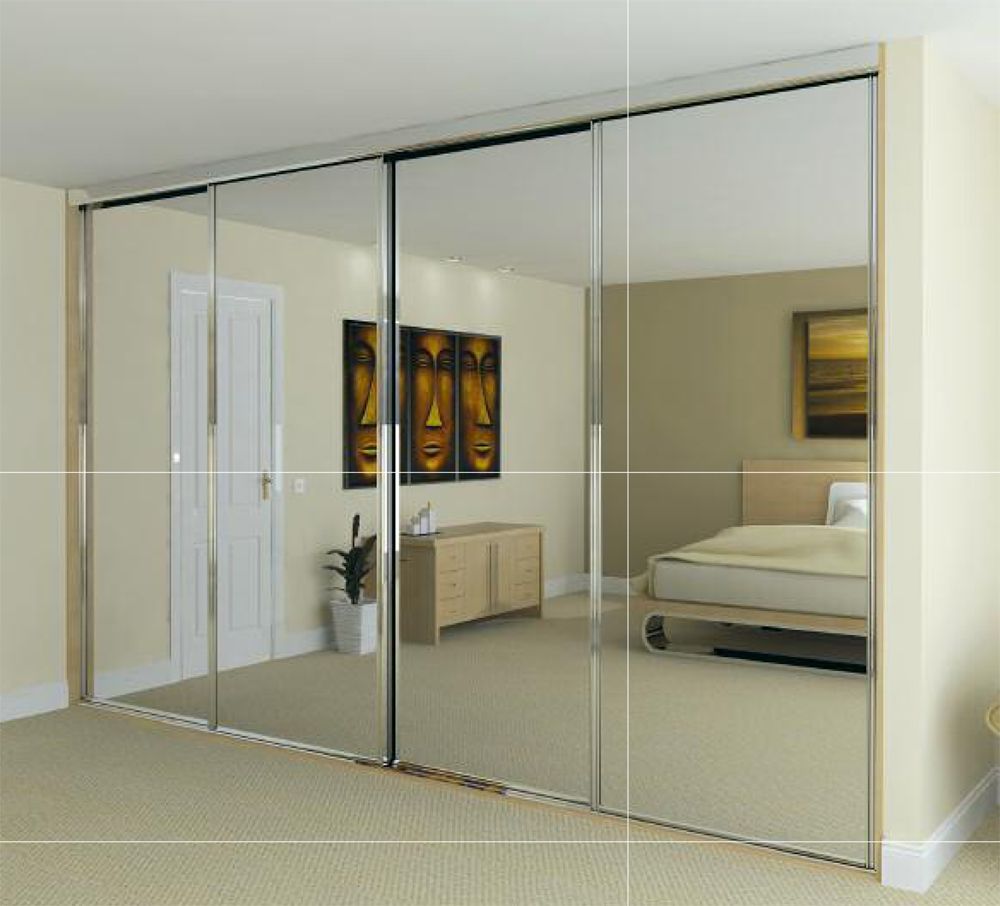 Another clever way to incorporate mirrors into your small bedroom is to use a wardrobe with mirror doors. This plays both functional and decorative purposes – not only is it a stylish addition to your small bedroom, but you can also use the mirror to check your outfit and appearance without having to resort to a space-consuming full-length mirror.
A tip on the best wardrobe placement would be to place the wardrobe opposite a window, where the light will be reflected to give an illusion of a bigger space.
Include Lights smartly
When we talk about lights, it doesn't just refer to the ceiling lamps of your room and the study table lamp only. It includes natural sunlight too. The first rule of using light to make your space look bigger is to let in as much natural light inside your bedroom as possible.
The more sunlight you have in your room, the more visible your small bedroom will be, making it look bigger in comparison.
Also, highlighting lights are ruling the light market; these can also help in making an illusion of a bigger space by distracting your line of sight. Here are some HDB bedroom design ideas to use while incorporating lighting into your small bedroom.
Long pendants can to emphasize the height of a room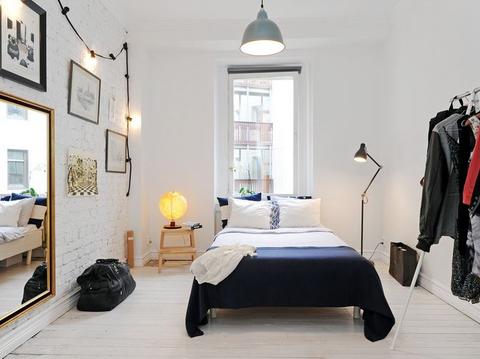 Utilizing the vertical space is a good small bedroom decorating ideas. If you have a reasonably high ceiling, hang a long pendant on the ceiling to draw the line of sight of your eye up. This will draw attention to the room's height instead of its small floor space.
Add some wall lights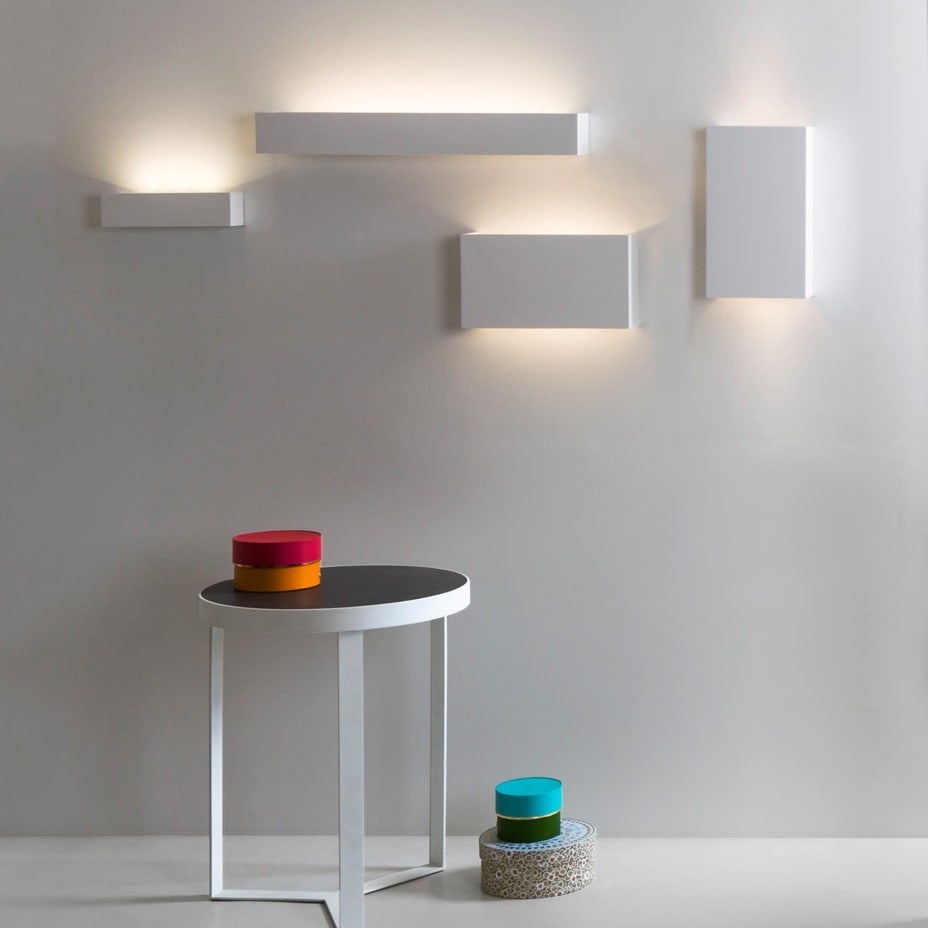 If you want to make a narrow and long space look more airy and wide, place lights along one of the walls. Placing the lights on the walls in a straight line will transform the whole look of the space and also create an illusion of a wide space. Find interior lighting consultants today on Homees.
Add Space-Saving Furniture
As much as you may like to, you cannot depend solely on illusions to make your area look bigger. You will inevitably have to make some practical changes too. Here are some points to keep in mind while adding furniture to a small bedroom design.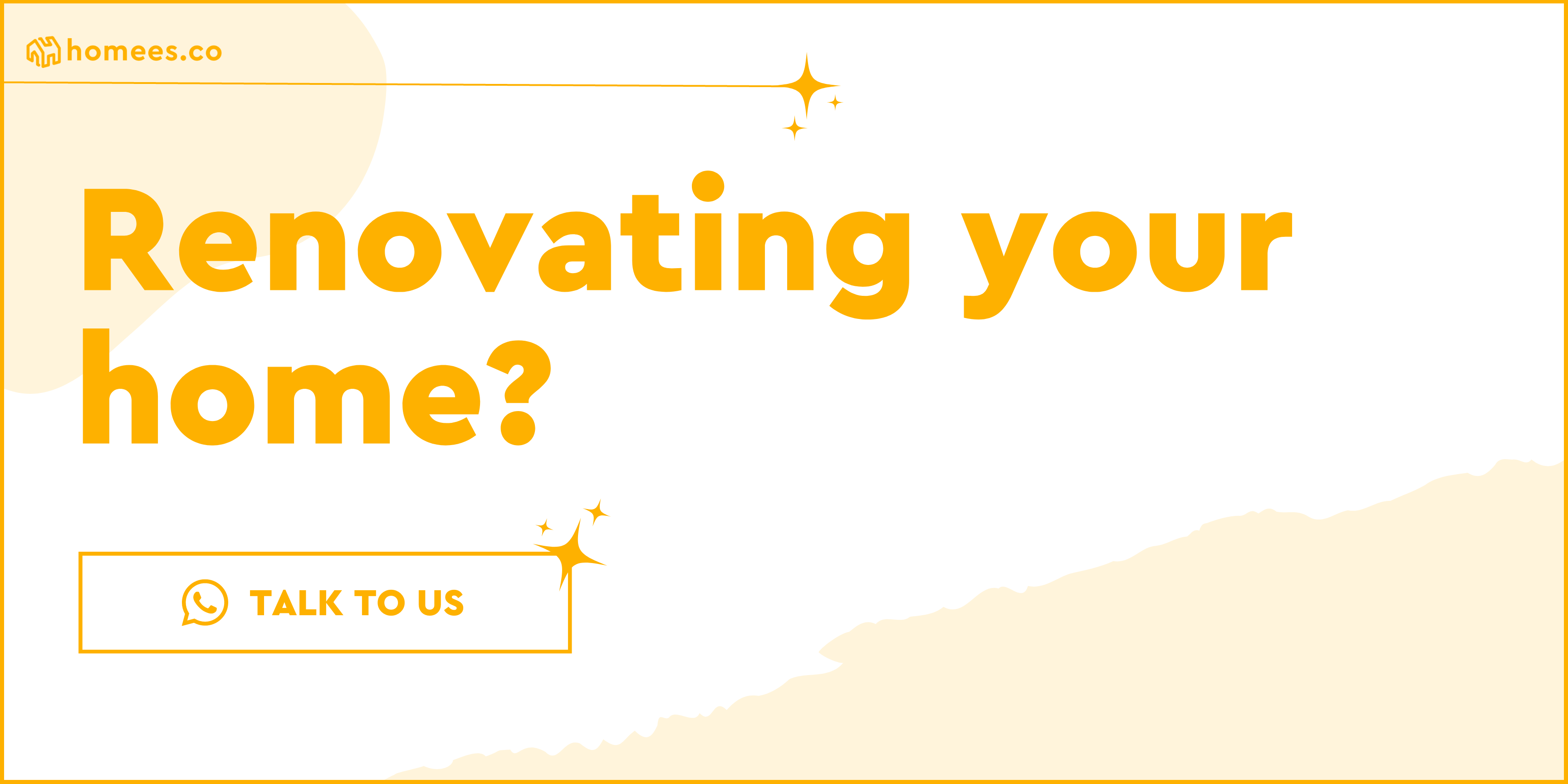 Find storage space companies in Singapore
---
Buy beds with built-in storage beneath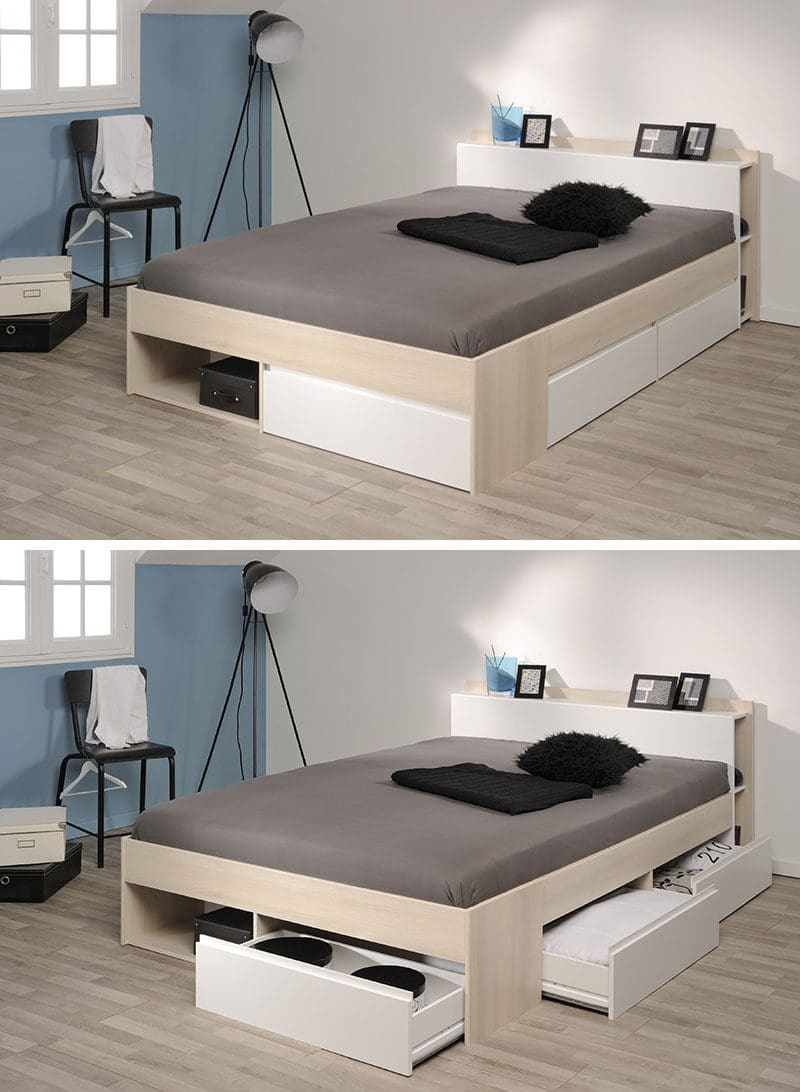 Smaller furniture is undoubtedly going to help under these circumstances. The bed itself drastically covers the majority of the space in any bedroom. So, try buying a bed with the boxes underneath which can be used to store clothes and other belongings so you won't need space for extra storage.
Go for multi-functional space-saving furniture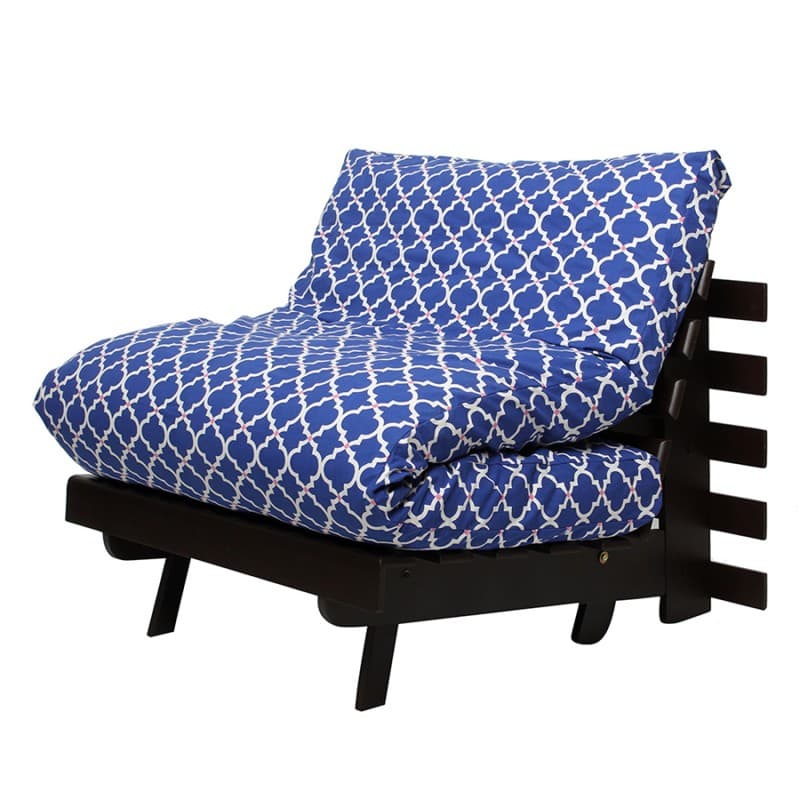 Instead of a full-sized bed, you can use a futon that can be doubled as a couch during the day. Bean bags instead of chairs or a fluffy carpet will also do if you have the habit of having people over in your bedroom.
Keep the bed low to the ground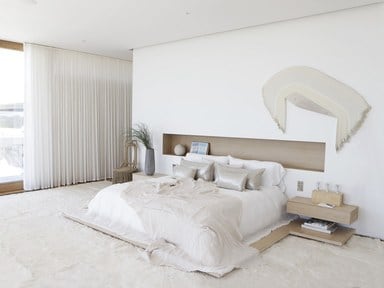 Keeping the bed low to the ground will create more space above and make the ceiling appear higher. Avoid using the high headboard and also ditch tall tables and chairs to make the bedroom look and feel much bigger.
Don't let the curtains touch the floor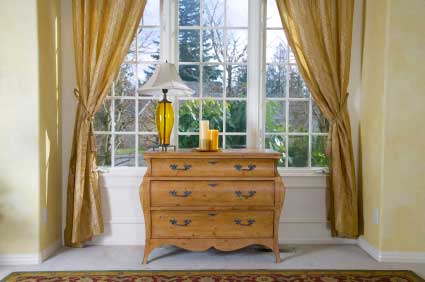 Longer curtains will only serve as an obstacle and will cut the illusion of a bigger space when you are trying to create one. So, instead of letting the curtains run all the way to the floor, tie them up or leave it a few inches above the ground, to make the room look spacious.
Go Bold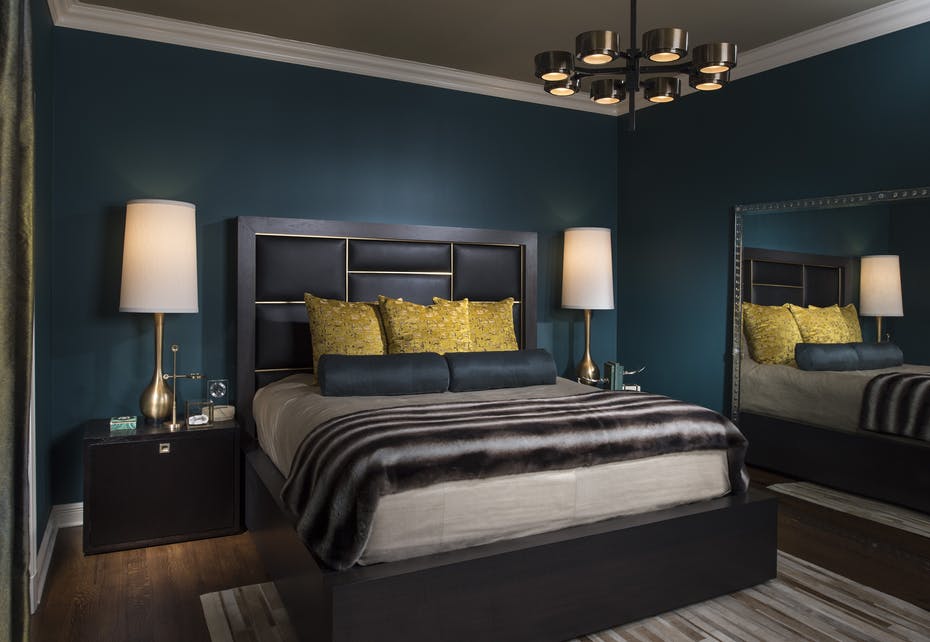 Let's hop back on the illusion horse and ride it a little longer, shall we? Other perfect small bedrooms decorating ideas include bold objects, like wall art, headboard and pillows. These will act as focal points in your bedroom that you can build and scale your small bedroom design around.
Bring the Outdoors in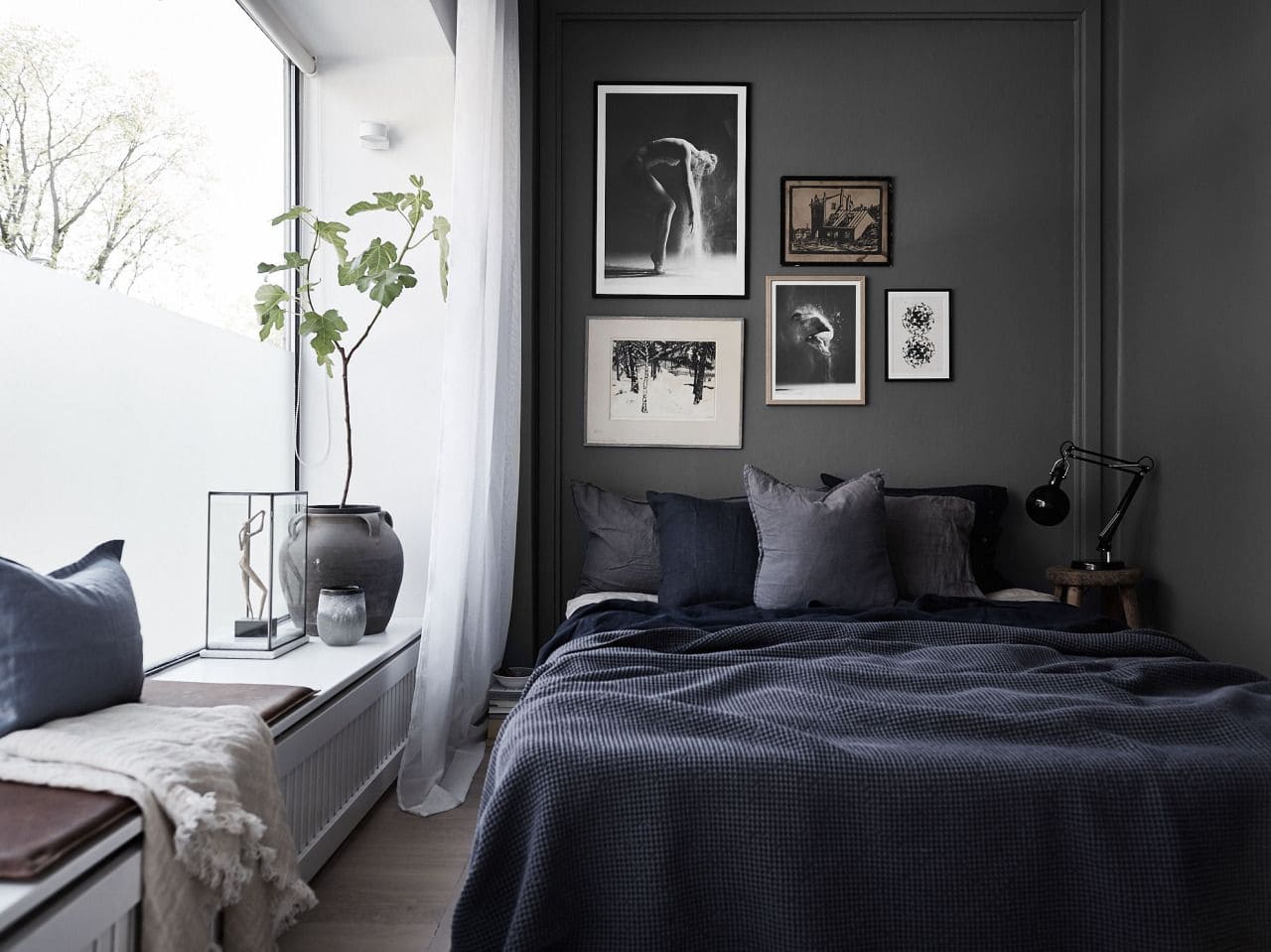 Having some flower pots and indoor plants can also fool an eye or two for making a smaller place look more prominent.
Then, you can also use some other outdoor objects like a vintage hanger, which can be used to hold your wine bottles. You can exercise more creativity in this task to work and think of some other things that will work inside too.
Storage Space Hacks
The Internet is filled with sites telling everyone how to create extra storage space in your small apartment.  So here is a small list of things that can help you increase the actual area in your room.
Put the walls to work
Walls are a great way to incorporate storage when you don't have enough space to store. For organizing your books and magazines and other night-time essentials, encase the headboard with built-in shelves and cabinets.
Use a customized closet system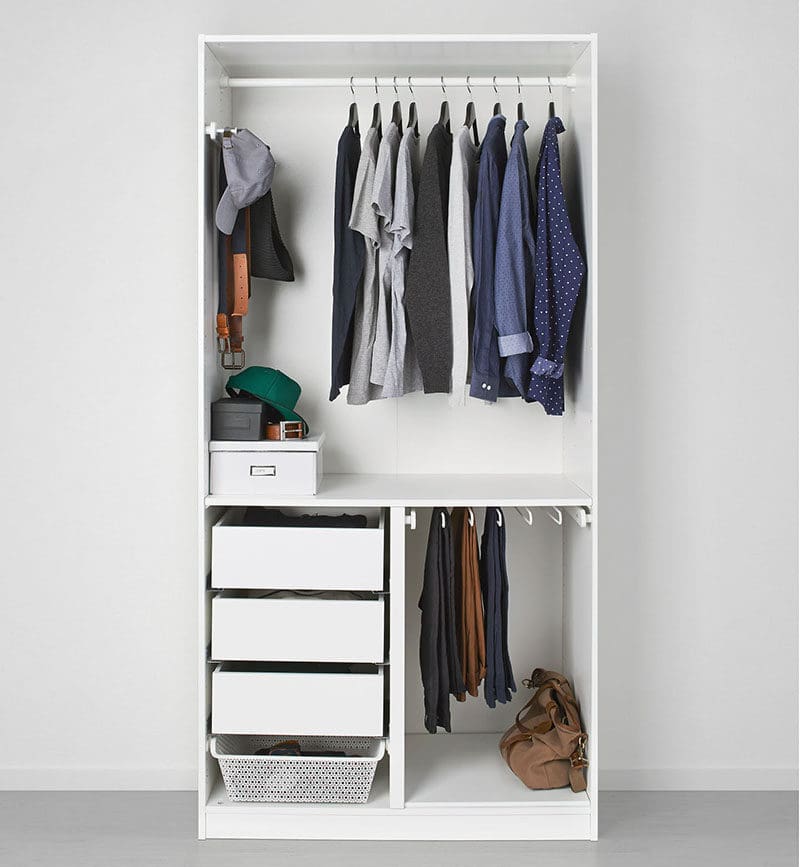 Having a closet system will help you store more stuff in the same amount of space. It helps to stash all the clothing and accessories without creating clutter in your own bedroom or guest room.
You can even make use of awkward spaces like the area near the ceiling and in the corners of the closet. Transform them into useful storage, and your small bedroom space will thank you now that all the clutter is gone.
Add a floating shelf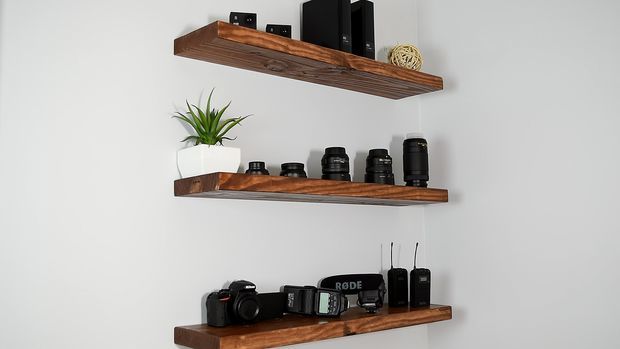 The addition of floating shelves will help you cut out space by eliminating the need for a side table near your bed.  This is an efficient small bedroom decorating idea that works great in enhancing your bedroom space. A well organised and colour coded floating shelf can help you save a lot of space.
You can throw a few clothes, books, medicine, and any showpiece you like on it. Just remember you will have to keep it well organized to make it work.
Get the leg up for your storage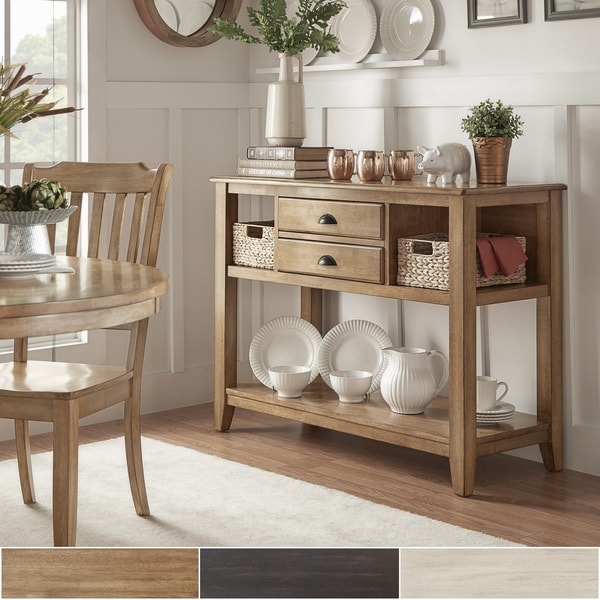 Seeking out more storage in a small bedroom to stash in your extra items? Those tiny side tables that are barely large enough to hold a stack of the books is not a great option then.
Substantial drawers will add much-needed storage to your small bedroom, with plenty of room for a reading lamp. But beware, a chest that sits right on the floor will make your room appear even smaller.
As such, looking for tables or dressers with legs is the smart way to expand the space visually. The same goes for a table with an open shelf, which gives the piece a floating feel.
Find The Best Interior Designers
---
Build a staircase/bookcase
The areas under the stairs are often left empty. But staircases and bookcases are ingenious space-saving solutions for any home as they can serve as a space for extra storage.
You can install built-in lockers, drawers, shelves and even custom-built cabinetry to turn the most ignored nook to store books, dry groceries, shoes, clothes, pottery and much more.
Use crown moulding as a shoe rack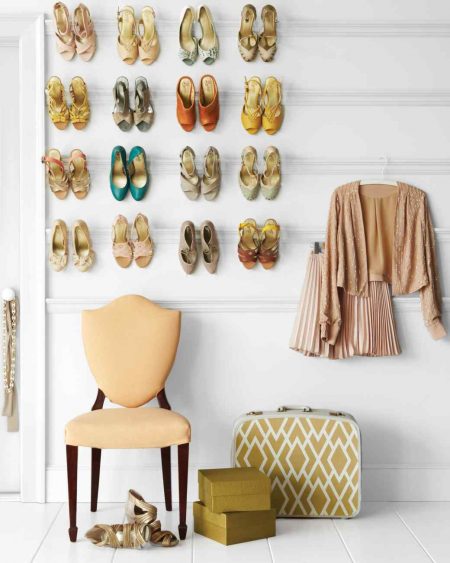 This is a great storage hack that works wonder for a small bedroom. Crown moulding will securely hold your heels in their place while eliminating the need for a shoe rack, which takes up more space.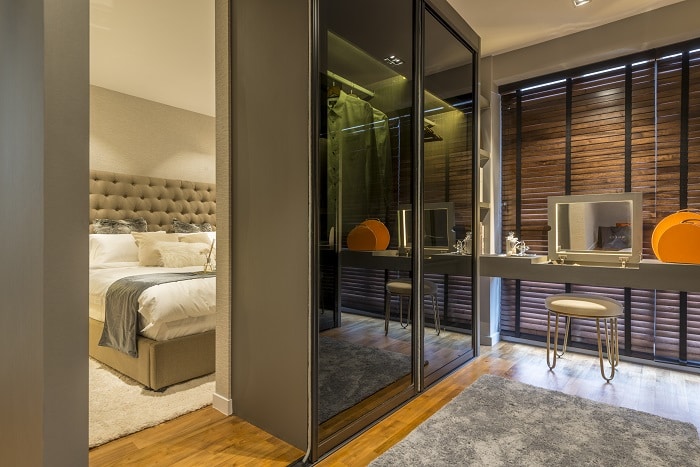 Walk-in wardrobes are such a boon when it comes to making good use of a smaller space. Plus there are so many other ways to store your clothes, with the best among them being elevated wardrobes.
You can uplift the area of your room assigned to your wardrobe, to create an illusion that it is a long room divided into two. You will need a smaller bed and good lighting for this one.
5 Stylish Small Bedrooms Designs for HDB Flats in Singapore
While HDB flats may be growing smaller over the years, that does not mean we cannot make the best of it. Here are some small bedroom interior designs that will inspire you on how to furnish your small bedroom with space-saving designs.
Joo Seng Road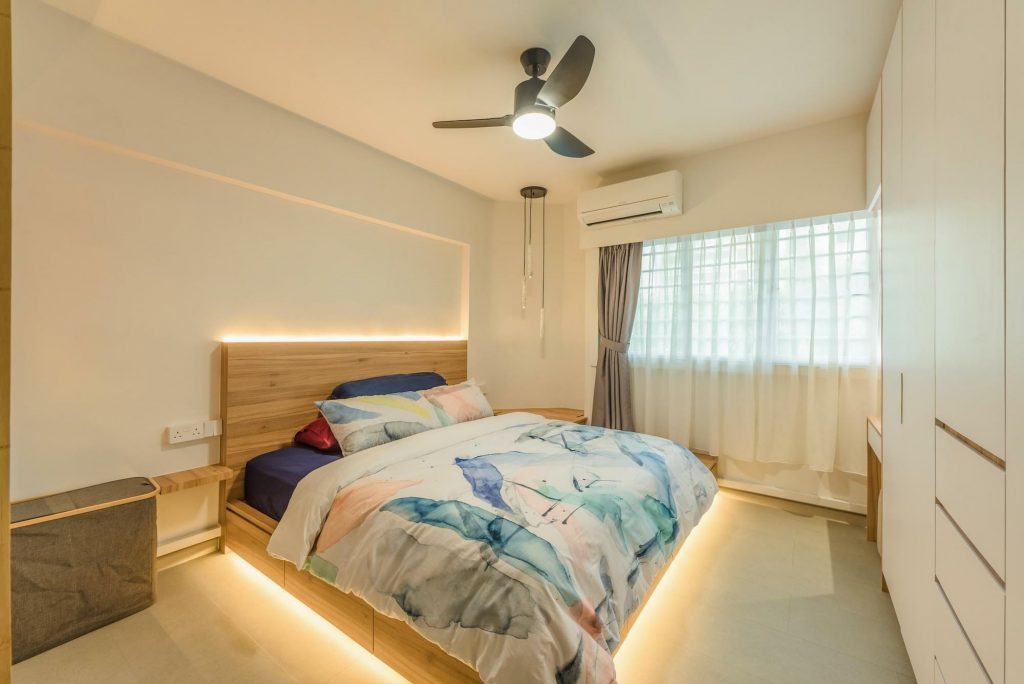 This brightly lit bedroom by Tan Studio is engineered to enhance the size of the room visually while creating a clutter-free space.
The edges of the bedframe are lined with lights to create an illusion of a larger space. This creates an ethereal and surprising 'floating' bed effect that visually enhances the small bedroom.
Reflected upon the white floor and walls, the lights also help to make the bedroom appear brighter and more spacious. Storage spaces have also been incorporated into the platform to create a clutter-free space.
---
Toa Payoh Lorong 2
This small apartment bedroom, designed by Sense and Semblance, shows how storage space can be maximised even in small bedrooms.
The stacked drawers next to the bed make use of vertical space in the bedroom, while storage spaces have also been incorporated into the platform of the bed.
The use of sliding doors for the wardrobe is a stylish and practical approach to storage in this stunning bedroom. Styling doors take up less space than their traditional counterparts, which helps to make the room less cluttered
Sumang Walk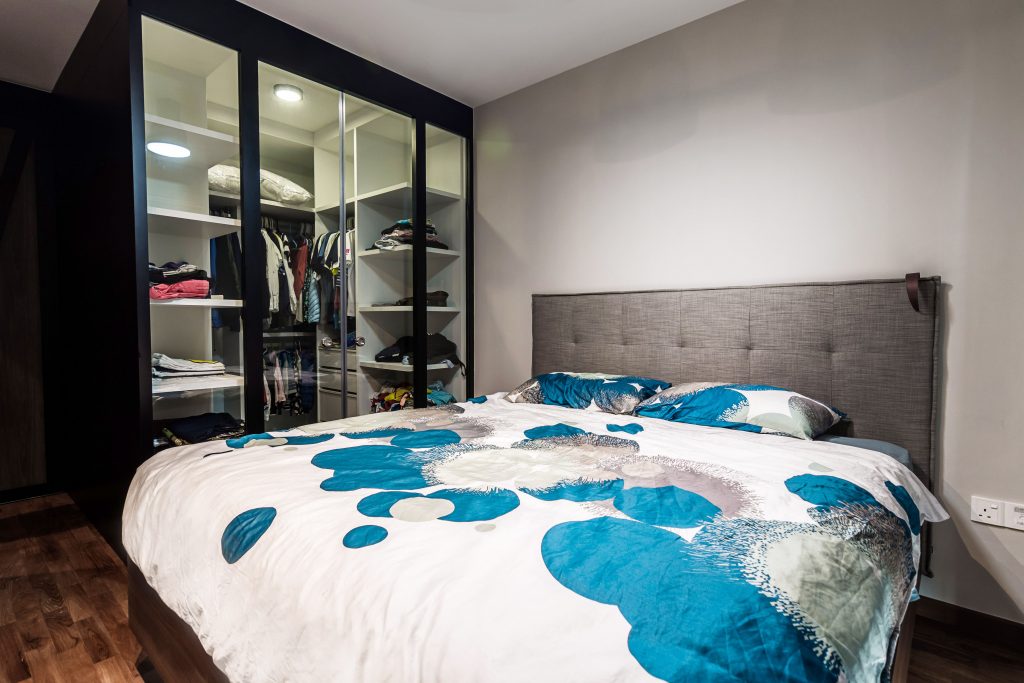 A minimalistic bedroom designed by Design Story, the walk-in wardrobe is a smart option for this small bedroom.
Built with black framed glass doors, the use of glass surfaces for the wardrobe makes the small bedroom seem lighter and airier. The wardrobe design also eliminates the need to hack down any walls, which saves the homeowners from further expenses.
Ecopolitan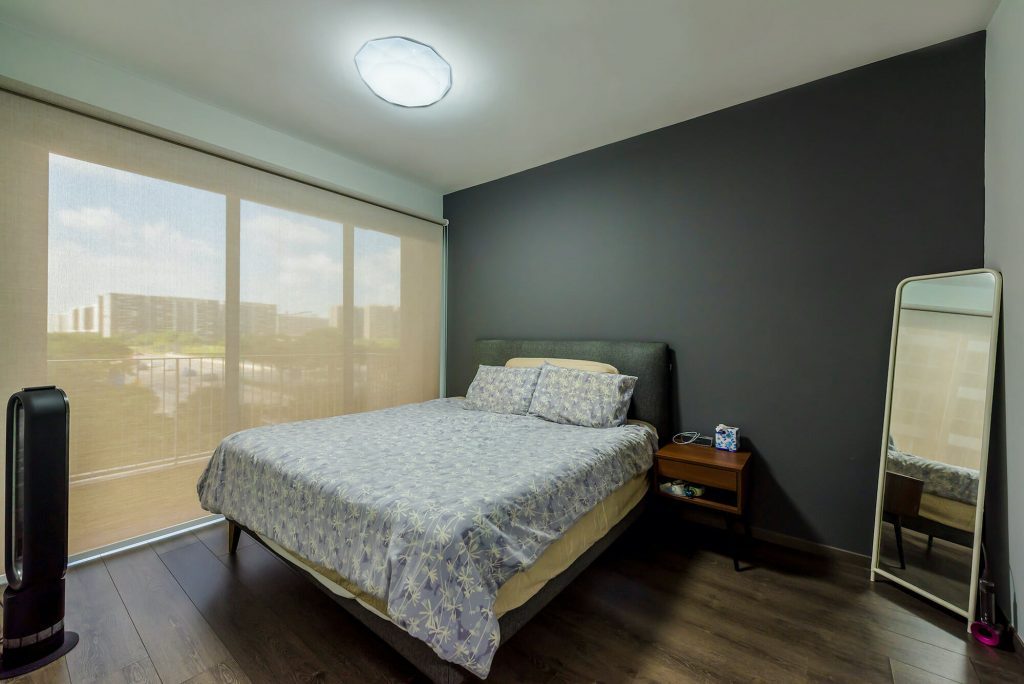 Simplistic and minimalistic designs can be the best way to go when it comes to furnishing a bedroom – especially when it's a small one. This simple yet sophisticated bedroom design by Tan Studio proves just that.
Dark wooden flooring and the eye-catching dark-coloured wall help to add depth to the small bedroom and give it a clean and sophisticated aesthetic.
The mirror at the corner of the room also helps to visually enhance the space of the small bedroom, while the simplistic furnishings make the room seem even more spacious and clutter-free.
Find Top Wood Flooring Installation Services
---
4 Bedroom HDB Resale @ Sengkang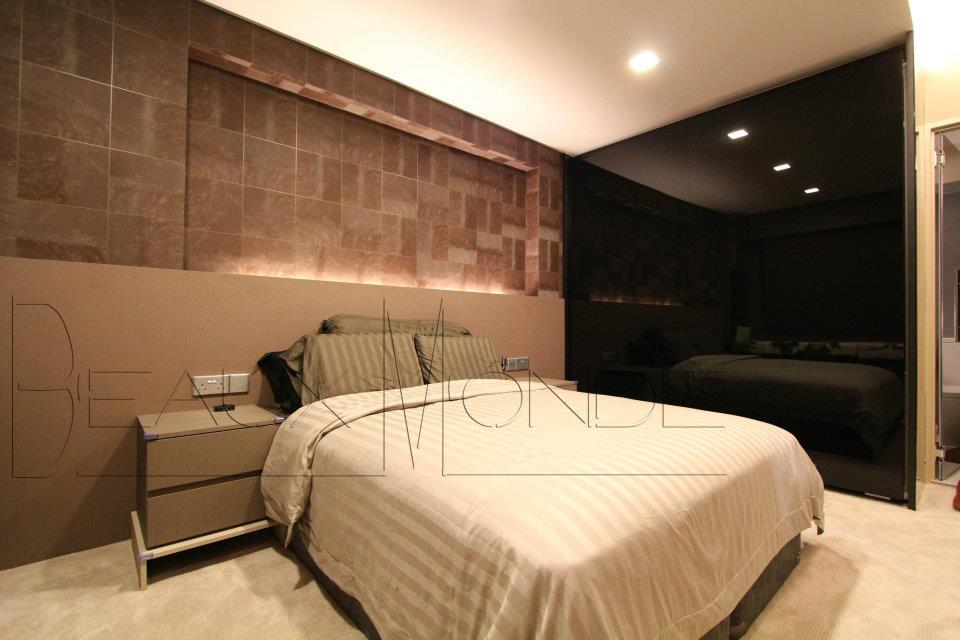 Take cues from this 4 room HDB flat designed by Beaux Monde Pte Ltd. A simple dark reflective surface can enhance the space of your bedroom significantly – especially when it is placed next to your bed.
A light and neutral colour scheme is also utilised to complement the dark mirror wall so that the bedroom does not look overly gloomy or sombre.
Read also:
Final Words
A bedroom is a haven from life's chaos and a space to relax and unwind. But the diminutive size of the bedroom can be off-putting with the lack of space. Incorporate these interior design ideas to make the most out of even the tiniest bedroom.
Cost of Other Areas of Your Home Improvement Projects
You can check out the cost of hiring professionals for other aspects of your home improvement project. Some of the general cost guides can be found below:
We're here to improve your home
Speak to hundreds of reliable pros, view their gallery, inspirations, and know the best prices with our resources.
Have full control over your home improvement projects with Homees.