Love to be in the trend? When it comes to being at the top of the trend, how we style our homes is a key aspect of being up to date. The home where you unwind at the end of your busy day must reflect your character, style, and preferences.
Are you looking for great ideas for your new house? Or do you need to revive your home with a full makeover? Whatever it is, when thinking of interior design ideas for your home, you should take note of the latest interior design trends in Singapore! Here we explore the top trends in interior design in Singapore that are here to stay.
The sweet home where you unwind at the end of your busy day must reflect your character, style, and preferences.
Are you looking for great ideas for your new house? Or, need to revive your home with a full makeover? Whatever! Here we ploughed into the top trends in interior design Singapore that are going to rule in and after 2018.
The interior design styles rely on the type of home you own. So, first, let's consider the interior design trends to distinct kinds of house.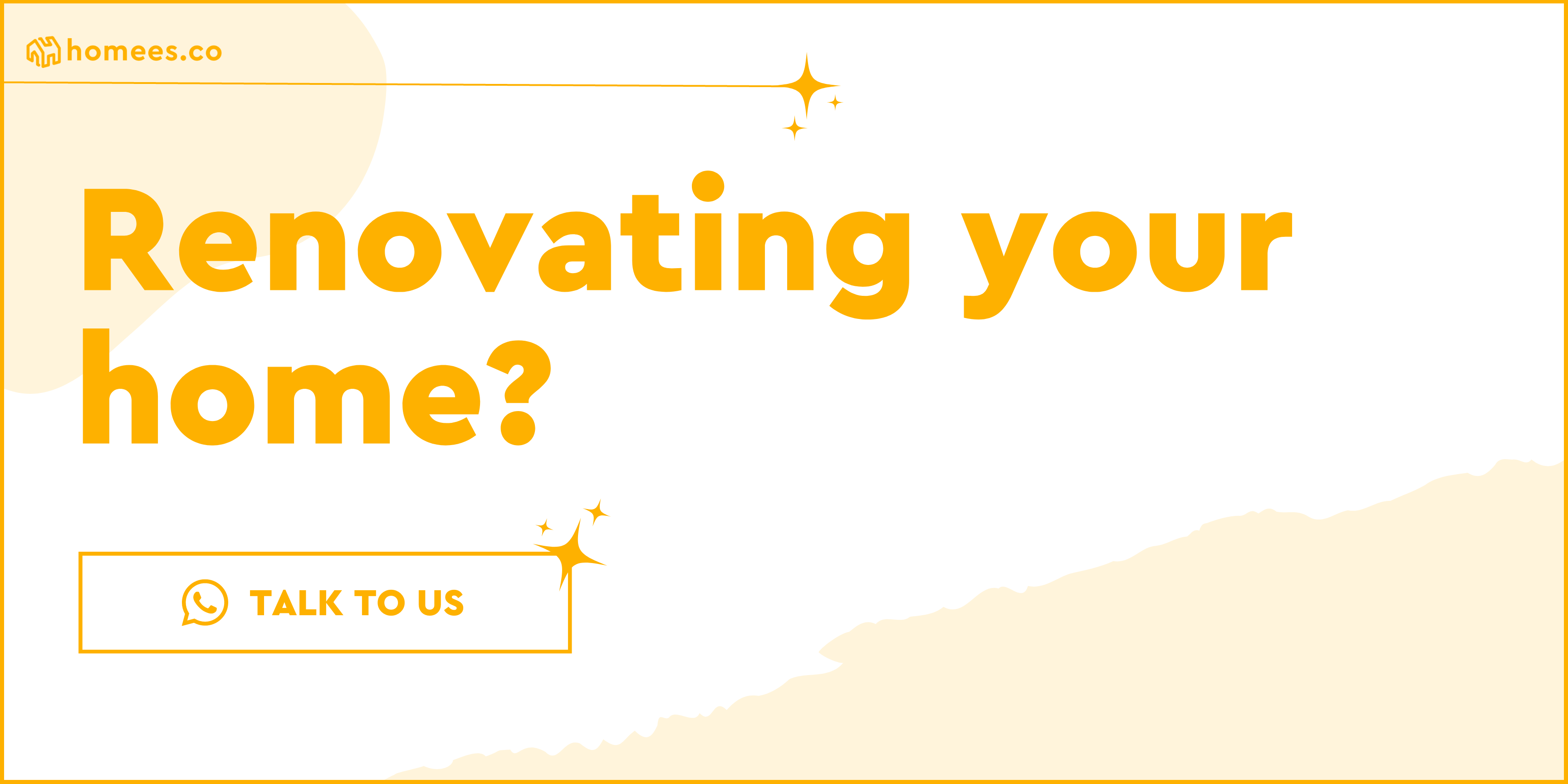 Hire Professional Interior Designers
---
Interior Designs for Condos
Condos are minimalist homes that are reduced to their necessary elements, and the function is more emphasised than the form. When it comes to condominium interior design, the trick is to get a clean and clutter-free look to make the home fuss- and stress-free. Here are some ways to add the spirit of minimalism to your condo in Singapore.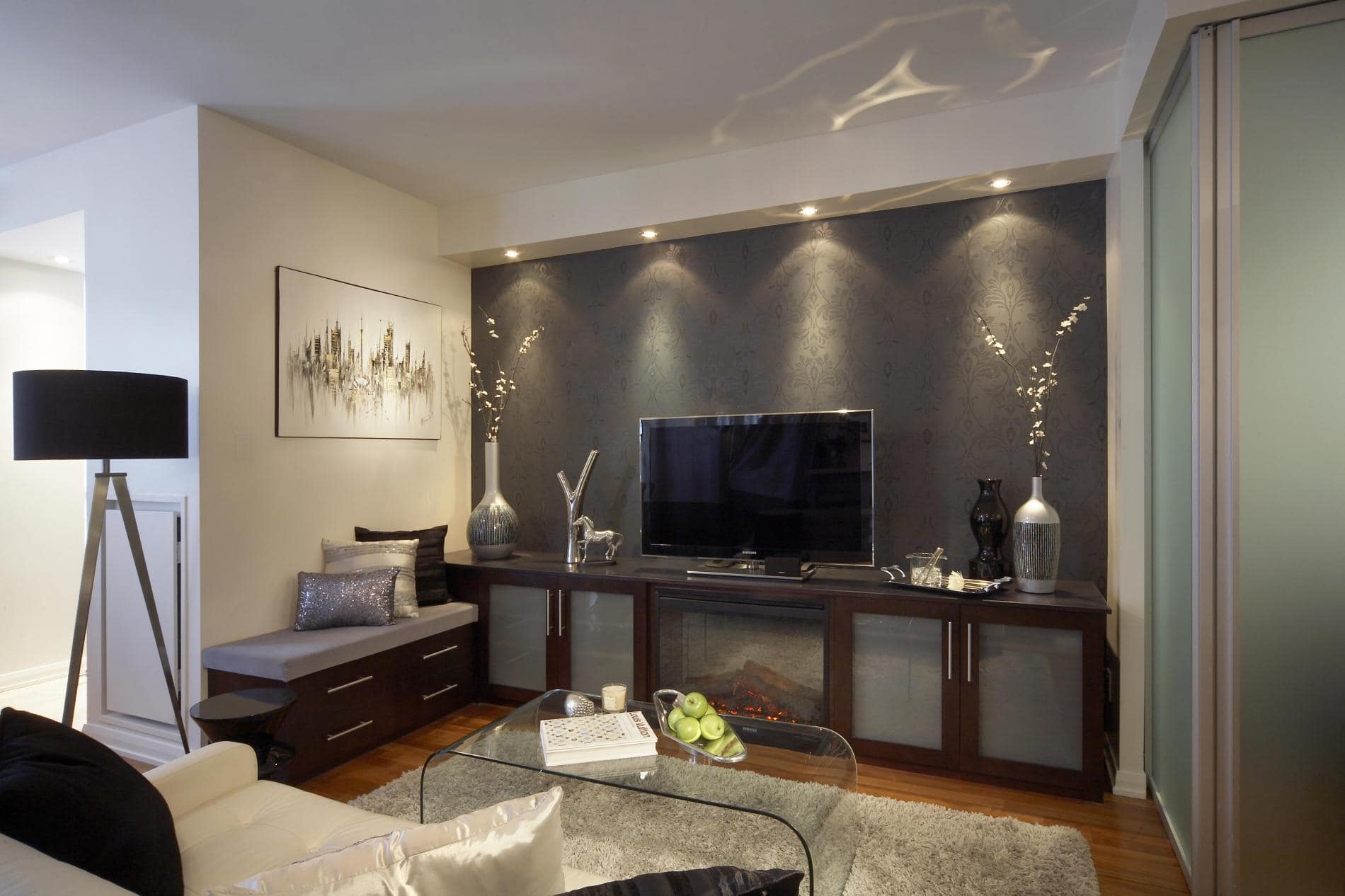 Wood on White
Simple carpentry with clean lines and camouflaged storage are in trend. No protruding handles, no messy outlines is the hymn for a trendy condo design.
Muted cream and wood tone is loved for its comfortable and lived-in vibe. Having only the essential accessories that accentuate the natural feel is enough, and a messy look is a living room design mistake to avoid.
Tones of grey and black
Cement screed walls and sleek, modern furniture are embracing the condos in Singapore. The shades of grey and black match up with the masculine vibe of the apartment.
Hire A Professional Condo Interior Designer
---
Interior Designs for HDB
With the Interior design industry buzzing with many styles, it's tough to decide the best one. What's the word on the hottest interior design Singapore trends for HDB flats? Read on to figure out.
Hacked kitchen walls
Open-concept spaces with the kitchen walls being hacked for airy, spacious dining areas are what we see these days. This helps to create a sophisticated and open kitchen space that will make cooking a fuss and stress-free experience.
Standalone counters
Another trend that has been observed frequently throughout the year and will perhaps continue further is the standalone counters in the main kitchen area. Be it the breakfasts on lazy Sunday mornings or late night drinks with your buddies; bar countertops are what we look for in a stylish home.
Blank walls
Creative ways to style your walls have popped up throughout the year for a unique spin on top interior design trends. Whether is it classy and sophisticated gallery walls, or chalkboard walls that are a hit with children, each design is a special take on the interior design.
Something as simplistic as a tapestry, a statement mirror, or even greenery can give a fresh approach to a blank wall.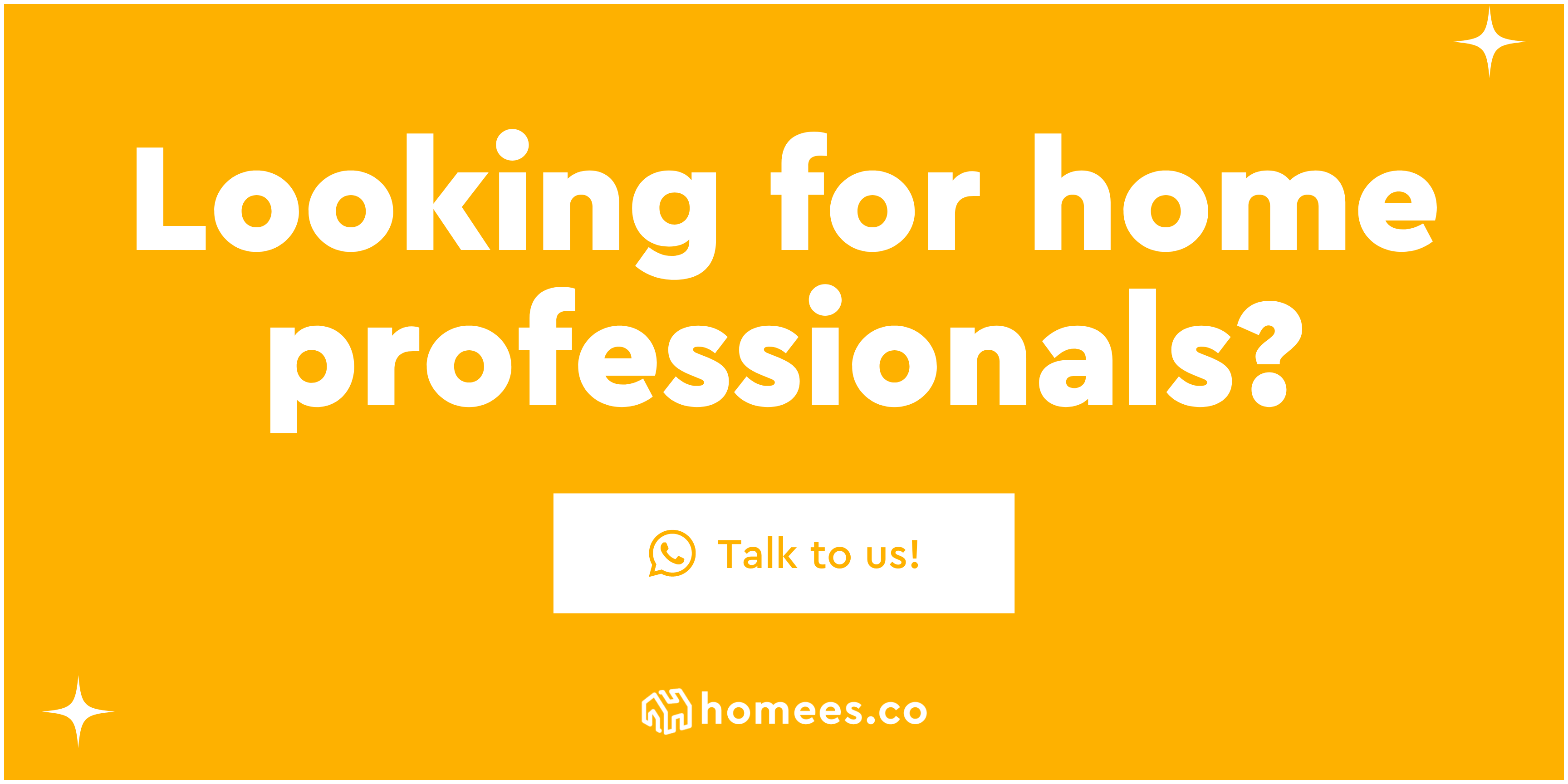 ---
Interior Designs for BTOs
A BTO (Build To Order) flat have a limited amount of square footage. But that doesn't mean it can't look great. Here are some BTO interior design trends that are adapted to suit the ergonomics and comfort of the minimal space.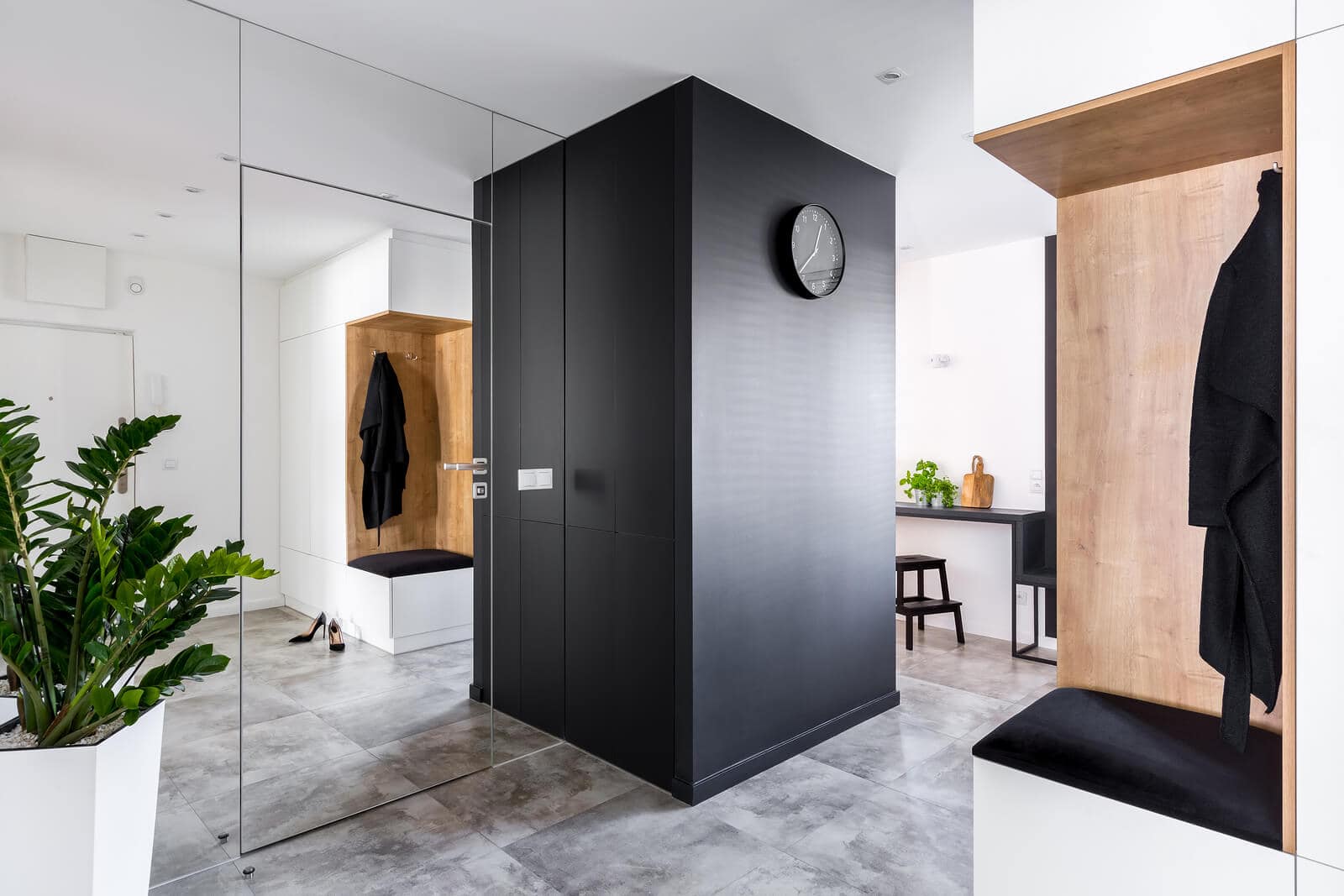 Illusions through mirrors
Cladding the entire feature wall of a room in floor-to-ceiling mirror leaves can create an illusory effect of doubling the space. It also makes for a great space to take your OOTD shots and check your appearance before heading out.
Emphasising the white
A small hack that most of the two-bedroom BTO flat have been utilising is to emphasise the colour of white in their interior design. The addition of white colour is one of the great small bedroom design ideas to make it look more spacious. Being a light colour, white is better able to reflect natural light to brighten up your home.
Open-floor concept
Every small-style interior design Singapore takes in the open-floor concept. It can visually merge the living area, kitchen and dining space while creating extra leeway for circulation space. It also prevents your home from looking cramped and cluttered by opening up spaces for better visual flow in the design.
Helpful Read: Interior Design Cost Guide In Singapore
A Glance Into a Few Popular Interior Design Styles
You are right; we are looking at you. We can see the spider lights and barn doors that you need to replace.
Want your sweet home to stand out? It's high time now to swap out those cookie-cutter looks for some fresh ideas.
We are here with the top interior trends that are a hit with Singaporeans.
The tidiness and simplicity of the Scandinavian interior design style make it one of the largest trends among Singaporeans.
Along with its exquisite simplicity, the reasonable amount of bucks make the reason for this style to have a huge fan following in Singapore.
Clean, streamlined designs rule the theme by sticking to the simplistic styles that evoke a soothing and relaxing vibe to everyday living. Elements of nature like wooden surfaces and pops of greenery help to create a calming and restful home for homeowners.
A touch of colours and bright accessories can also bring a cheery tone to this style. No wonder most Singaporeans are going crazy over Scandinavian inspiration.
Find Professional Lighting Consultants
---
Warm Hygge Style Interior Design
Whether you call it Hoo-ga" or "Hue-guh," you must have heard of this latest interior design Singapore trend. This is the style that is dedicated to the happiest people on the earth.
Focusing on cosiness, the interior style creates a sanctuary to allow you to be reprieved from the hustle-bustle of life. When you need a home that is laid back and effortlessly warm, there is no option more excellent than the Hygge style.
Although snuggling up with a thick throw blanket is not what Singaporeans would do considering our humid weather, you can still add fur textures and candles to incorporate Hygge into your home.
---
Minimalist Theme Interior Design
The style that turns homes into a timeless space to live in is the minimalist interior design theme. Clutter-free and simple living is what the style focuses on. In deconstructing a home to its barest and most comfortable elements, you can't go wrong with a minimalist-themed home.
Who doesn't like a relaxing resort-style abode? The neutral colour tones of this theme calm your senses from a hectic day. The simplistic and clutter-free style also helps in creating a stress-free environment for you to rest and relax.
Think minimalistic interior design is too plain? Think again! Try experimenting with different shades of neutral colours and add aromatics like scented candles to your rooms. It's sure to brighten up your home and create a soothing environment!
Bohemian Touch Interior Design
A mix of playful colours marks the spirit of the bohemian style. Great for the creative soul, the interior design is the right option for a simple space with artistic flair and little intricate details.
Encapsulating the free-spirited and avant-garde lifestyle, the bohemian chic decor is stylish and sophisticated.
The style is inspired by Eastern designs found in the Mediterranean, Morocco that has now been given a modern twist.
Mixing contemporary and vintage pieces, the style is gaining hype in Singapore these days. By mixing up colours, textures, ethnic patterns, the style cleverly reflect one's personality.
The best part? There are no rules. It is all about making truly unique and artistic abode.
Get quotes from top interior design companies or direct renovation contractors when designing your own home.
Vintage Style with Patterned Peranakan Tiles
Pattered Peranakan tiles have boomed in popularity in the stylish homes of Singapore. Simple yet elegant, this style can accentuate a small area of your room and imbues your home with great cultural value.
Having patterned tiles in the entire house may be too visually overwhelming. As such, try to incorporate it into a small area instead, to create a focal point to ground the space of your home.
Heavily patterned and overwhelming design balance out by plain and undecorated surfaces, so try to find the right balance when it comes to decorating your home.
For instance, in the kitchen, they can be used on the floor as well as in cabinetry and countertops in one colour for better unity and visual flow.
You can follow the same for the bathroom to complement the white sanitary ware with the heavily patterned floor. This can up the sophistication of your bathroom without visually cluttering it.
---
Muji Interior Design
MUJI interior design is a simplistic yet charming way to design a home that is clean and soothing on the eyes.
Striking and functional at the same time, wooden accents and white walls often accompany the Muji home. Wooden surfaces help to add a touch of warmth to the design while white surfaces visually enhance it by reflecting more natural light.
Given the importance of storage space in creating a clutter-free home, smart storage ideas are incorporated throughout the design to make your home look uncluttered and manicured.
Keeping decoration to a minimum while white-washing the entire home with light-coloured furniture allows it to hit all the right notes. Airy and soothing, this design style puts you into a relaxing mode every time you step in.
If you're a fan of clean-cut, timeless designs, MUJI is your bible.
Classic Kinfolk Interior Design
Singaporeans often dream of living a carefree lifestyle, and maybe this is why the Classic Kinfolk is gaining publicity in Singapore.
You will ogle herringbone parquet flooring and soft shades in this design that seems to enjoy a slow living.
Simple lines, light shades, and smoky greys exude an ethereal vibe that appeals to Kinfolk fans.
Do take note that in this interior design, you have to sacrifice the need for tons of storage compartments. However, it has will help in preventing clutter from building up in your home over the years. Alternatively, you can always engage storage space companies in Singapore for extra storage space.
Find Storage Space Companies in Singapore
---
Masculine Neon Industrial Interior Design
The industrial interior design for raw concrete floors and walls, track lights and brick walls. It seems as if it is deliberately left incomplete for that grunge look.
Add an elegant leather sofa, and it will stand out from the rest of the elements in the house. Of course, we can't ignore a neon light feature across the living room's wall for some extra cool points.
You can mix up these trendy styles, and you will end up with spending all your time curling up at a unique, comfy abode to call home.
Find Light Installation Professionals
---
The top interior design trends to look for different rooms
Minimalist living rooms
Keeping the living room in line with the principles of minimalism is an ideal design aesthetic these days in Singapore. Living rooms are now more elegant, stylish as well as functional in order to create the best living room interior design.
Having too many items tends to create a cluttered feeling and disrupt the harmony of the home. Hence, instead of loading your living room with decorations, picking a few paintings that speak to your soul is enough for the wall.
In addition, the furniture should be minimal, including a comfortable sofa, two armchairs, and a small wardrobe, based on your needs and the space available. Your furniture should be in proportion to the size of your living room. After all, having a sofa that is too big will only lead to a cluttered and cramped living room.
Trendy shades of milk, lemon, and coffee are embracing the walls in Singapore along with a stone trend with wooden pieces.
Find Custom Furniture Building Professionals
---
Warm bedrooms
The relaxing master bedroom is an especially big trend this year. The best bedroom interior design should be an interior design that creates a restful and relaxing space.
Warm yellow shades with plenty of natural sunlight are great in brightening your mood. But overdoing it will be too overstimulating for the bedroom, so it is important to balance it out with darker colours to ground the space and add a sense of security.
Blending your bedroom with other shades of green, brown, and grey works wonders in creating a relaxing space for optimal rest.
When there is a need to give your bedroom a slight pop of colour without visually cluttering it, deep but bright shades like the raspberry hue is the way to go.
Contrasting these colours and incorporating them into the furniture, bedding, and décor will be a great way to add depth to your bedroom interior design
Moreover, minimalism is the key to rocking your bedroom interior, so there is no need to add more furniture. A stylish bed, a simple bedside table and a dresser is more than enough.
Barebones bathrooms
Simplicity is the key this year to maximise space in the bathroom. Interior designers are following the metal trend for fixtures while harmonising the floor with wood.
Natural stone flooring is also a popular option. Shades of blue and white are one of the trendiest colour combinations for HDB flat bathrooms in Singapore.
There is also no need to include too many items in the bathroom. Just keep the essentials, it will make your bathroom look much more spacious and refreshing. Flowers can be added for a nice pop of colour and greenery, based on your references.
Marble flooring is still in these days, so you can have it in your bathroom to up the luxury factor. Alternatively, give your old bathroom a facelift with some new paint.
Find Professional Bathroom Renovation Services
---
Spacious kitchens
The interior design trend in Singapore for the kitchen is to keep it as spacious as possible. Anything beyond basic furniture is not cool.
Working with straight, defined lines will keep it ergonomic. A green light is getting hype in the kitchen this year.
You will notice most of the professional interior designers recommending bright shades of colours, especially green, red, and blue.
For instance, the bright and saturated hue of these shades makes a wall pop in the kitchen. But make sure to contrast it with the colour of surrounding furniture and appliances.
Unless your kitchen utilises modern materials and monochromatic hues to create a feeling of discord, vintage items are useful to include.
Find Kitchen Renovation Companies
---
Helpful Read: Kitchen Design and Renovation Cost Guide 
Final Words
Trends come and go, but sweeping up only with the hype is not a wise move. Going for an interior style that reflects your personality as well as the lifestyle is paramount in designing a home. Take cues from these interior design Singapore trends to create a home that you'll truly love for years to come!
Cost of Other Areas of Your Home Improvement Projects
You can check out the cost of hiring professionals when designing your home. Some of the general cost guides can be found below:
Related Articles
We're here to improve your home
Speak to hundreds of reliable pros, view their gallery, inspirations, and know the best prices with our resources.
Have full control over your home improvement projects with Homees.