Housing Development Board (HDB) flats are the most common kind of accommodation for Singaporeans. With up to 80% of Singaporeans staying in public housing, the 4-room HDB flat is one of the most common accommodation types in Singapore.
Compared to its 2-room, 3-room and 5-room counterparts, 4-room HDB flats are the most common and most popular home size in Singapore.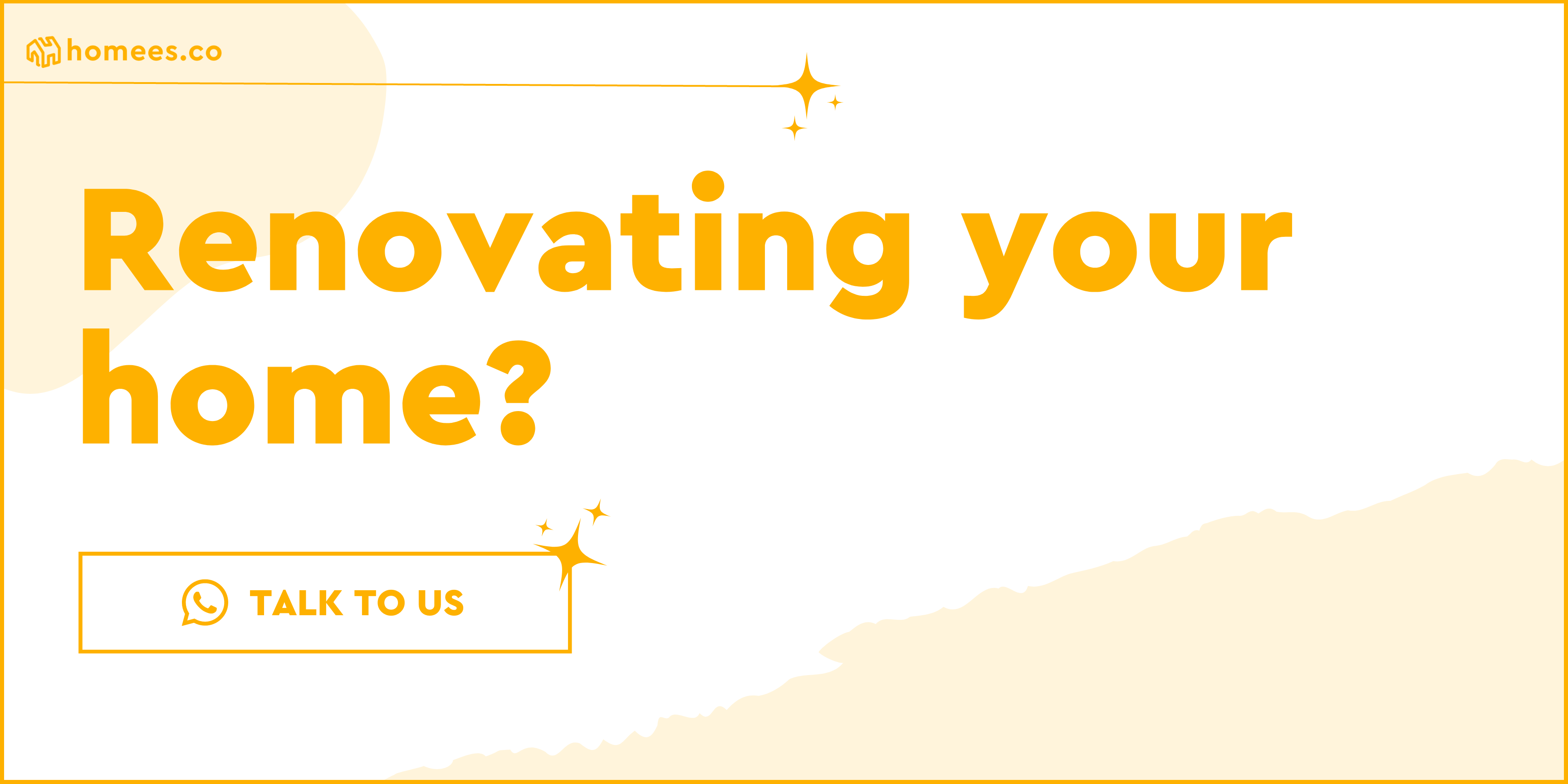 How much is a 4-room HDB flat In Singapore?
Excluding grants, a 4-room HDB flat costs around $270,000. However, under the Enhanced CPF Housing Grant (EHG), which awards between $5,000 to $80,000 in terms of grants based on you and your partner's eligibility criteria, a 4-room HDB flat can cost from around $192,200 to $267,000.
How big is a 4-room HDB flat?
According to the Housing and Development Board's official website, 4-room HDB flats are recommended for young parents or couples and are offered in a variety of layouts.
4-room HDB flats are around 90 square metres, with 3 bedrooms, inclusive of the master bedroom and its attached bathroom, a living or dining room, a kitchen, a common washroom, a service yard and a bomb shelter.
While a 4-room HDB flat has the same number of rooms as a 5-room HDB flat, a 4-room HDB flat has a smaller living room. Compared to a 5-room HDB flat, which is approximately 110 square metres, a 4-room HDB flat is 20 square metres smaller.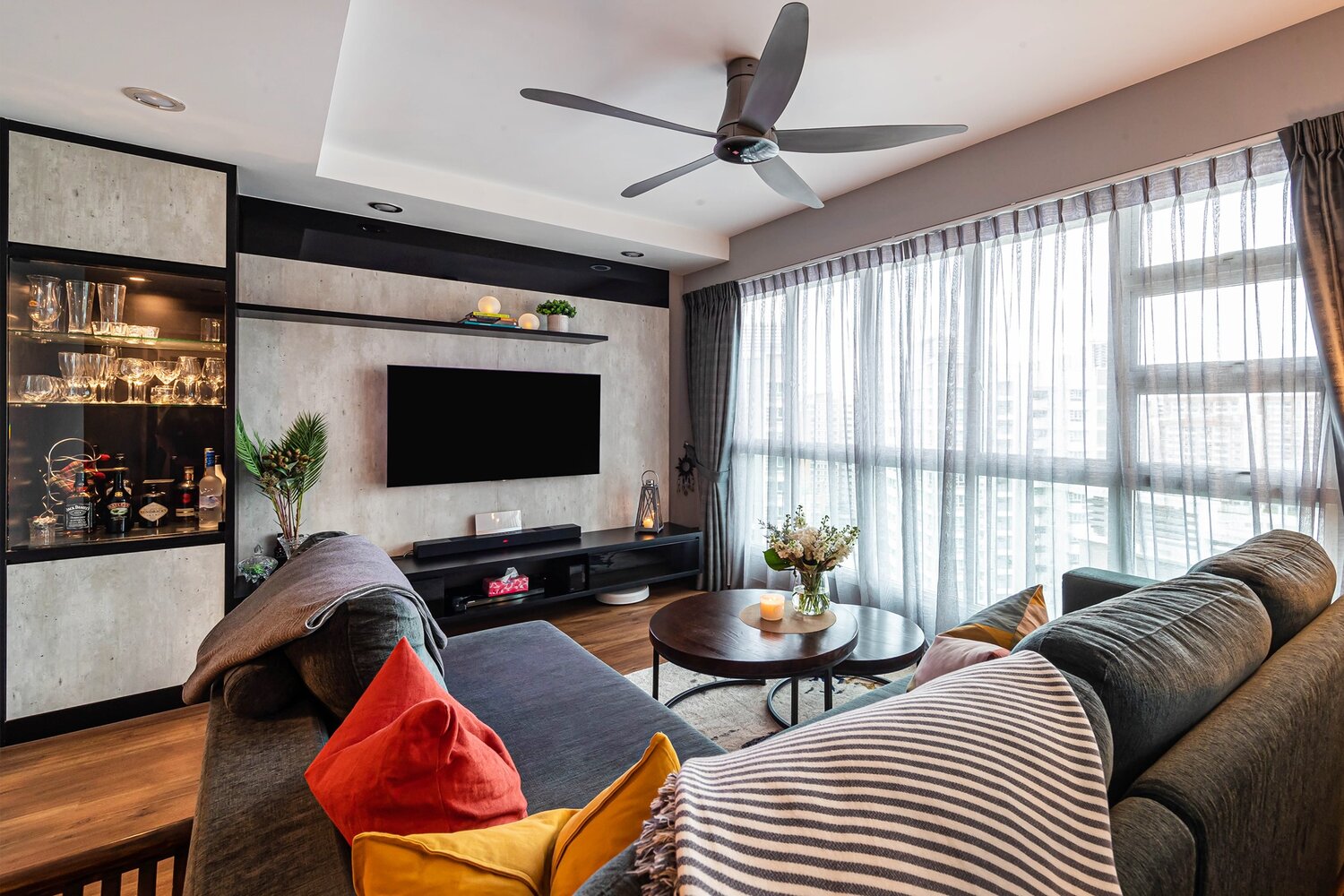 607A Edgefield Plains 4 Room Resale Flat Living Room By Swiss Interior
How much does it cost to renovate a 4 room HDB?
Now that we've covered all the basics, let's talk about the renovation costs. The average renovation costs of a new 4 room HDB flat amount to around $42, 500, whereas for a resale flat, costs can go up to $58, 500.
As usual, carpenter works and hacking can take up a sizeable part of the renovation costs. Carpentry costs can start from $4000 to almost $30, 000 depending on how extensive the works are. Hacking, too, ranges from anywhere between $100 to close to $5000 based on how much work you need to get done. However, there are renovation packages for BTO and resales offered by renovation companies.
---
Read also: What is Busting Your Budget for Your Home Renovation
Read also: Interior Design Cost Guide In Singapore
Beautiful 4-Room HDB Interior Design Ideas
For homeowners of 4-room HDB flats in need of some fresh ideas on how to best decorate their homes, here's a carefully curated list to draw inspiration from!
1. Bukit Batok Drive: HDB 4-Room Resale
This chic and modern 4room HDB flat was designed by Artsy Edge Interior. It features heavy use of industrial interior design elements, along with a bold mix of red, grey and black to bring out a retro yet stylish aesthetic.
The living room features minimal furnishings to make the space look more spacious and roomy. The use of wooden surfaces helps to ground the space without making it too dull, as the dark wooden feature wall stands out as a sleek and unique addition.
The bedroom makes a statement with its red walls and black furnishings, which helps to disrupt the monotony that may arise from the home's overall dark colour scheme.
Read also: Bedroom Cost Guide in Singapore
---
2. Nature's Nest @ Tampines
Designed by Swiss Interior, this 4-room HDB resale design project features a whimsical garden-like theme that transforms the home into a wooden wonderland.
The living room avoids some common design mistakes by featuring a combination of wood textures that adds a sense of warmth to the place. This ties in closely with the nature and greenery-themed home.
The dining area is adorned with elegant floral décor and wooden furniture to enliven the homeowners' garden paradise.
Furthermore, the kitchen features white wood cabinets that brighten up the space, making it look cosy and inviting. This matches the pastel hues and muted colour scheme of the home, giving it a soft glow that creates a restful space.
---
Read also: Kitchen Interior Design and Renovation Cost Guide in Singapore
3. 203E Compassvale Road
Met Interior presents us with this stylish and cosy 4 room HDB flat that utilises a grey and brown colour scheme to create a fun and comfortable home.
Simple and cute artworks are sprinkled around the living room to brighten up the space and turn it into a quirky and unique resting area.
The interior also features the clever use of multiple materials and textures. For example, the mirror glass door helps to give the home an illusion of a bigger space, which makes it appear more spacious and comfortable. This complements the textured wooden surfaces that serve to ground the space and add a sense of depth to the rooms.
Read also: Doors Cost Guide in Singapore
4. Blk 666B Punggol Drive
A 4 room BTO project by Absolook Interior Design, this home shows how the use of different colours and textures makes the space truly pop.
The living room showcases a unique wooden feature wall that is both stylish and eye-catching. The dark blue sofa and yellow cushion add bright splashes of colour that uplifts the cheer in the home.
The living room is large enough to house a dining table, which is set in the corner while maintaining its spacious appearance.
The bedroom is made into a calm and restful space through the heavy use of wooden textures and a largely neutral colour scheme. The elevated platform that the bed rests on is a unique touch and adds to the restful ambience of the bedroom.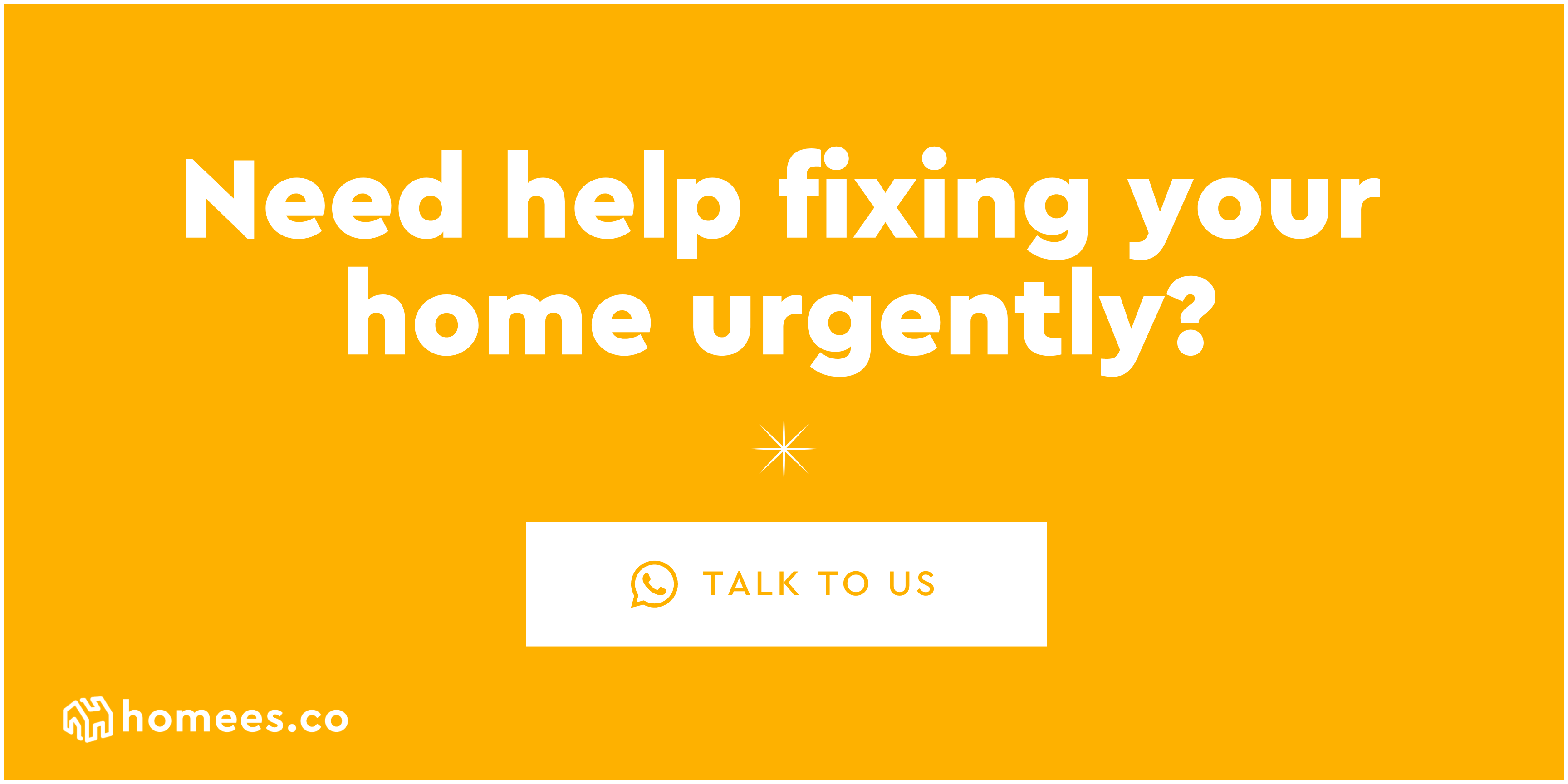 ---
5. Edgefield Plains
This 4 room resale flat designed by D'Brain Studio is influenced by both rustic and contemporary styles.
The three-tone wall in the bedroom creates a gentle ambience through its muted and pastel colour scheme. The contrastive wooden textures used in the room – from the chevron-embellished wardrobes to the dark wooden flooring, add weight to the space while maintaining the lovely rustic aesthetic.
The second bedroom takes on a darker colour scheme, although the similar woodgrain wardrobe pattern helps to form a sense of unity in the colour scheme. The elevated platform is both stylish and functional, acting as additional storage space through concealed pull-out drawers.
This space-saving design idea is ideal for 4-room HDB flat owners who may find their homes lacking in storage space. It helps to create a clutter-free and minimalistic home that is both easy on the eyes and comfortable.
---
Read also: Top 10 Space-Saving Tips & Ideas for your HDB BTO Flat
The black pipes and sinks in the washroom help to craft a sophisticated, chic and stylish look. Having a dark floor gives the area a clean and classy appearance effortlessly.
Find Bathroom Interior Designers
---
Read also: Plumbing Cost Guide in Singapore
6. Industrial Haven @ Fernvale Link
Home to a photographer and animator, Space Factor made the homeowners' vision of a cool, industrial space that was aligned with their creative lifestyle. Largely keeping to a choice of clean white tones, the industrial style in this 4-room HDB flat is evident. From the ceiling lights to the grey feature wall and flooring, the space is designed to be cosy.
One recurring feature of the home is the use of ceiling track lights, which is a series of adjustable lamps sitting along with a plexiglass or metal structure. As seen in the kitchen, wooden cabinets with matte black countertops feed the industrial theme. Having all crockery, utensils and graphic prints on open display gives the kitchen a raw, unfinished and casual atmosphere to the space.
7. Bright and Blue Minimalist Theme @ Bukit Batok
Tapping into the beauty of the expanse, Carpenters 匠 designed this delicate 4-room BTO while keeping the principles of minimalism in mind. Upon stepping into the living room, one is greeted by an extremely well-lit space. Without having excessive adornments, the olive sofa easily becomes the centrepiece of the space.
The Kitchen is covered in alluring shades of white and baby blue. With multiple built-in storages to stow away unsightly clutter, just looking at the kitchen makes one up on cloud nine. Similar to the living room, the colour palette of the kitchen draws focus on a stand out piece of furniture – the refrigerator.
To create a sense of harmony in the home's colours, the home's entryway also utilises the same shade of blue for the shoe cabinets. Mixing neutral colours with accents like the potted plant and multi-coloured hanging light gives the home a nice element of surprise.
8. Edgy Industrial Interior @ Upper Serangoon
Behind this modern industrial-themed 4-room HDB project is Klein Interiors. Inspired by lofty commercial warehouses, this home is accompanied by concrete elements that are truly characteristic of an industrial interior. Having the living room raised on a platform is reminiscent of a co-working space, adding a distinct personality to the home.
This open kitchen of this industrial 4-room abode is the perfect embodiment of the industrial look. Comprising exposed brick walls, pipes and bulbs, the kitchen is stripped down to the essentials. The end result is a contemporary and functional space for those cooking and dining. 
9. Monochromatic Mid-Century Minimalist @ Bukit Batok
What happens when you fuse a mid-century modern style with industrial accents? In the spirit of less-is-more, this exceptional 4-room HDB project by IN-EXPAT is anchored by a central monochromatic palette enhanced with wood textures. In the dining room, the space is marked by bold outlines and oaky surfaces, which differentiates itself clearly from the white, spotless kitchen.
Moving into the master bedroom, an unconventional contrast is created with the choice of accent wall colour that complements the bedspreads. Gold accents, as seen in the hanging lights and wardrobe handles, give the room a posh and pristine touch.
The toilet is no stranger to the monochromatic scheme of colours. Emboldened by the classic black and white checkered tiles, the most neglected part of the house is glamorised with the golden mirror rim and water fixtures.
10. Contemporary Comfort @ Canberra Walk
Designed by the team at Met Interior, this 4-room BTO exudes a joyful, homely feeling. Through the same wood finishing and eclectic patterns, this comfortable living room makes one want to kick back and relax with a cup of coffee. With colourful artwork introduced in multiples, it gives the room a fun and quirky edge.
Nestled in the master bedroom is an inbuilt vanity table. Clad in rich hues of white and wood, the space is carved out with ample seating and storage space. These design considerations give the dressing table the glamour it needs while making it a functional space.
11. Sleek and Stylish Abode @ Admiralty
This 4-room resale HDB by Noble Interior Design boasts an exclusive cream-and-grey integration. Unsurprisingly, grey makes a great neutral for interiors because it is highly versatile and plays up the space's visual depth and vitality. The muted hues of beige provide a nice symmetry and soften the dining area of this home.
Never underestimate the power of a bed frame and what it can do for your bedroom. In the master bedroom of this 4-room HDB, the homeowners went with a gold, padded bed frame against a coffee accent wall. This regal and spectacular bed set-up is crucial for a good night's sleep. 
12. Industrial-inspired Residence @ Havelock Road
This beautiful 4-room HDB resale flat designed by MMJ Design Loft reflects a homely interior. The living and dining room extensively showcases industrial elements. Coupled with bare lighting and a bare wall clock, opting for a custom-style wood dining table amplifies the utilitarian mood of the space.
The industrial theme flows seamlessly into the bedroom, highlighting the low-hanging pendant lamps. Having wood for the flooring makes the room look 'unfinished', which is central to acing the industrial look. In order to maximise space in a 4-room HDB, choosing a storage bed frame is a smart way to utilise every nook and cranny of the home.
Decked out in a pleasing shade of olive green and a unique tile backsplash, this modern kitchen is bound to turn heads. To disrupt the monotony of a dark colour palette, the wooden utensils and bronze cabinet hardware have an important role to play in illuminating the kitchen.
Conclusion
Although a 4-room HDB flat is smaller than a 5 room HDB flat, design ideas abound everywhere. Less space doesn't mean less innovation. Don't be limited by the standard floor plan of a 4-room HDB flat, allow your creativity to outsmart the space constraints. To those itching to spice up your space, we hope this article has inspired your next home renovation and interior design theme. 
Are you looking to build your portfolio with amazing photos like the ones in this article? You can engage Via Media for photography services today.
We're here to improve your home
Speak to hundreds of reliable pros, view their gallery, inspirations, and know the best prices with our resources.
Have full control over your home improvement projects with Homees.