The Importance of a Kitchen
The kitchen is an important part of a home. For some people, it can even be called the heart of the home. A kitchen is more than just designer cabinets and sliding shelves. It's about a well-designed layout that makes you feel at ease when you're cooking.
Nowadays, kitchens are getting smaller in space as more cabinets and shelves are being utilised. To maximise that space while maintaining an aesthetically pleasing kitchen, here are some HDB renovation ideas to renovate your kitchen to make it look more elegant and spacious:
Find kitchen interior designers
1. Think about Sinks
Most people usually prefer porcelain and stainless steel for sinks, but there are many other options like granite, concrete, bronze, quartz and fireclay. Pick one that matches your taste and add a unique touch to your home!
Also, consider installing a contemporary faucet over your sink with separate handles for hot and cold water. Always install the dishwasher on the right side of your sink as most people are usually right-handed.
2. Your Stove Is Your Statement
The stove is the most widely used and most visible appliance in the kitchen. Stoves come in a myriad of colours and styles, so when it comes to renovating your kitchen and making it more aesthetically-pleasing, opt for a design you would like.
Even getting a hood for your stove for better ventilation can translate to a style statement. The space around your stove is also important when it comes to designing your kitchen. However, you should arrange for some space on both sides of your stove to keep it from looking overly cramped.
3. Make your Countertops Count
Your countertops should be between 24 to 25 inches in length. While making our countertops, it is great to have a little overhang, so that anything spilt on the top will fall on your floor and not on cabinets.
Expert designers recommend using marble for creating the countertops as it is a natural material. The sleek and glossy surfaces can make your countertops look so much more elegant and beautiful.
If marble is not quite your cup of tea, you can consider quartz countertops, which is resistant, durable but more expensive. Alternatively, solid countertops make for a cheaper option, although they are less durable
Another popular choice is granite countertops, which are versatile in terms of design and are extremely stain-resistant.
4. Designer Tiles
Use designer tiles instead of plain tiles to create a stylish statement for your kitchen renovation project. You might need to consult a tiling contractor and check out some designs in the local stores to find the best one that suits your kitchen.
From white and black tiles to hexagonal tiles, choosing the right kind of tiles for different parts of your home will improve the design drastically, especially for your kitchen!
5. Refrigerator and coffee maker
A kitchen design means nothing without a refrigerator and coffee machine. You will need to create proper space for the refrigerator and coffee maker machine so that you won't need to stress over the space available when you use it.
Also, get some nice linens, silverware and plates so that you can enjoy the coffee any time you want. The coffee machine and refrigerator, when placed in the right space, should look like a part of the kitchen and not separate items.
6. Less is more
Using space efficiently and avoiding clutter is the key to kitchen design in Singapore. Avoid keeping the things on kitchen shelves to offer it a clean and spacious look.
Keep the fruits on the dining table and vegetables in the refrigerator to avoid clutter in the kitchen. Using your cabinet space to store items is one of the best space saving ideas for small kitchens. This will keep the shelves free as less the clutter, the more elegant the kitchen will appear.
Find storage space companies in Singapore
Decorating your kitchen
The next step is to decorate your kitchen with a colour scheme. Try to start with colours that you feel would affect your mood positively. Different colours have a different effect on people. Red can energise the look of your kitchen while blue and green can add a calm feeling to your kitchen design.
Therefore, you should choose the colour of your kitchen wisely as it will determine the vibe that you get when entering your kitchen. In general, the floors should be of a darker shade as compared to the kitchen walls. This will add an overall elegance to your kitchen design.
Opting for Light Colours
Using white or a light colour to paint your kitchen can visually enhance the space significantly. Light colours can make a small space appear large as it reflects light well. Pair the white colour with wooden surfaces like wood flooring to create a more Scandinavian and minimalistic feel.
Moreover, you can install LED lights under the cabinets to provide it with more lighting. Also, the yellow-tinted lights offer your cabinets a warmer glow that will certainly add to the cosiness of your kitchen.
Find top painting contractors in Singapore
Woodwork for Cabinets
Wood is one of the best materials when choosing your kitchen cabinets. A nice warm wood always does its job perfectly when it comes to kitchen cabinets. Wood adds a homely touch along with style to your kitchen.
Get the wooden cabinets that fit the size of your space perfectly to keep your kitchen free from clutter. Furnish the cabinets with light coloured laminates to match your wall colour.
You can also use dark coloured laminates to create a deep contrast with your walls to add depth to the space of your kitchen.
Read also: Cabinet and Countertop Cost Guide in Singapore
Under-cabinet lighting
The under-cabinet lights are popular for use in kitchens in Singapore. Interior lighting designers prefer to use yellow-tinted cabinet lights for kitchen renovation in Singapore.
Accurate colours, wide beams and dimmable lights are perfect to use under the cabinets and create an element of elegance. Xenon lights and LED lights are the right choices for lighting the area under cabinets.
Designing your kitchen walls
Your kitchen walls will often be exposed to the steam, grease and heat that comes from your cooking. Therefore, the design of your kitchen walls should focus on durability and not just style.
For example, tiles are an ideal choice for kitchen walls as they are usually sturdier and moisture-proof. Tiles also come in a variety of patterns which means that you can still achieve the style aspect in your kitchen walls.
Paint is also a good option for your kitchen walls as it is easy to clean stains off painted walls than wallpapers. A basic style tip for your kitchen walls is to ensure that they harmonise well with the kitchen cabinets and other functional areas of your kitchen.
Find wallpaper companies in Singapore
Read also: Walls and Ceiling Cost Guide in Singapore
Don't ignore your kitchen floors
Aside from the walls, your kitchen floor is another part of the kitchen that will be constantly bombarded with spills, oil and smoke. This means that the material used for your floor should be resilient to such externalities.
You can consider using ceramic tiles as they are hardy, water-resistant and easy to clean. Natural stone such as marble is also another popular choice and fits well in rustic-themed kitchens.
Vinyl tiles and laminates are also good choices for your kitchen floors as both types of flooring waterproof and can effectively reflect the look of natural materials.
If you're looking just to redesign your floor, you may choose to seek advice from flooring specialists or tiling designers for the variety of options you may have. Check out the cost for flooring installation in our cost guide.
Also read:
Deciding on the best kitchen countertop material
The material used for your kitchen countertop should be determined by your budget as well as your usage of the kitchen. We have narrowed down 5 materials that are the most popular for kitchen countertops in Singapore.
Here we talk about the range of kitchen cabinet designs. You can engage a kitchen design specialist for your kitchen renovation.
Quartz
Quartz is probably the most durable material in the market. Quartz countertops offer the most flexibility and versatility as different colours can be used.
Quartz blends the beauty of stone countertops and easy maintenance of solid surfaced countertops.
Stainless Steel
Stainless steel is the most common material that is used in commercial kitchens. However, there are many modern kitchens that make use of stainless steel nowadays.
Stainless steel is among the most popular options for kitchen countertops in Singapore due to its high durability. It is also extremely resistant to heat, which is useful especially in the kitchen.
However, stainless steel requires frequent maintenance if you wish for it to look stainless all the time. Fingerprints are easily detectable on the steel and have to be wiped away on a daily basis.
It is also susceptible to loud noises when you put your pots and pans on it. Also, there are certain chemicals that may affect the colour of stainless steel in the long run.
Wood
Wooden kitchen countertops have a classical appeal and are best fitted into a conventional kitchen such as country style. Wood is also extremely durable and is highly resistant to stains and scratches.
However, it is not very resistant to heat and may be damaged if it is exposed to extreme levels of heat. Also, wood must be kept dry at all times which may result in more inconvenience, especially in a place like a kitchen.
Bacteria might also be harboured in the wood, which requires frequent cleaning in order to kill such bacteria. Therefore, wood requires high maintenance in order to keep up its appearance.
Granite
Granite is a natural material and is able to give your kitchen countertop a very distinct look. It is also resistant to spills, heat, scratches and water. However, the downside of granite is that it has to be sealed often in order to avoid stains.
You can find countertop companies and ask for advice on the materials you can choose for your countertop.
Marble
Marble is definitely the most glamourous and glossiest of the kitchen countertop materials. This makes marble a very good choice if you want your kitchen to look as elegant as possible. Marble is also considerably durable and is highly resistant to heat.
However, it is fairly susceptible to stains and spills, which makes it less popular to be used in the kitchen.
Open concept kitchen designs
Open concept kitchens are increasing in popularity due to more magazines featuring such kitchen designs. Such concepts break the traditional boundaries of interior design for kitchens as they feature a concept where cooking can be seen from outside the kitchen.
However, open concept kitchens require careful and meticulous planning, starting from having an effective extractor to prevent the smell of smoke and food in the kitchen from spreading to the rest of your house.
Moreover, the kitchen design has to blend in with the adjoining spaces such as the dining or living room. This ensures a flow from the kitchen design with the rest of your home.
Finding the right kitchen planner
It is important to hire a professional kitchen interior designer in order to ensure that you will be able to complete your dream kitchen. Finding the right kitchen planner is not an easy task as there are a plethora of kitchen designers available online.
One way to find the right kitchen planner for yourself is by going through reviews and ratings online. The next step would be to convey your ideas for your dream kitchen to them and see if they are able to make it into a reality.
You should also be open to suggestions and improvements from your kitchen planner as they are the ones with experience in designing a kitchen.
Making do with a small space
As houses in Singapore are usually very small, most kitchens are no bigger than narrow aisles. Fortunately, you can maximise the tiny space in your kitchen with proper planning and design.
Choosing the right colour for your kitchen goes a long way in giving it a more spacious look. For example, painting your kitchen white gives it a more spacious facade.
Also, having a single colour theme for your kitchen helps to create a greater sense of openness. Shiny surfaces such as stainless steel and glass are superb space enhancers. Making use of such tips will allow your kitchen to look bigger than it actually is.
Find kitchen interior designers
Choosing the right style for your kitchen design
Deciding on a single style for your kitchen can be tough, especially when there are so many different styles to choose from. To help you make your decision easier, we have compiled a list of the top 5 kitchen design styles in Singapore.
The Black Theme
While white and light are preferred in a kitchen as they open up space, you can create a unique impression by using the black colour. Laminate the cabinets in black or dark grey shades and use black tiles for your walls.
Use the white or light coloured floor tiles to create a contrast. The ceiling and floor should be of the same colour for proper reflection of light in the kitchen.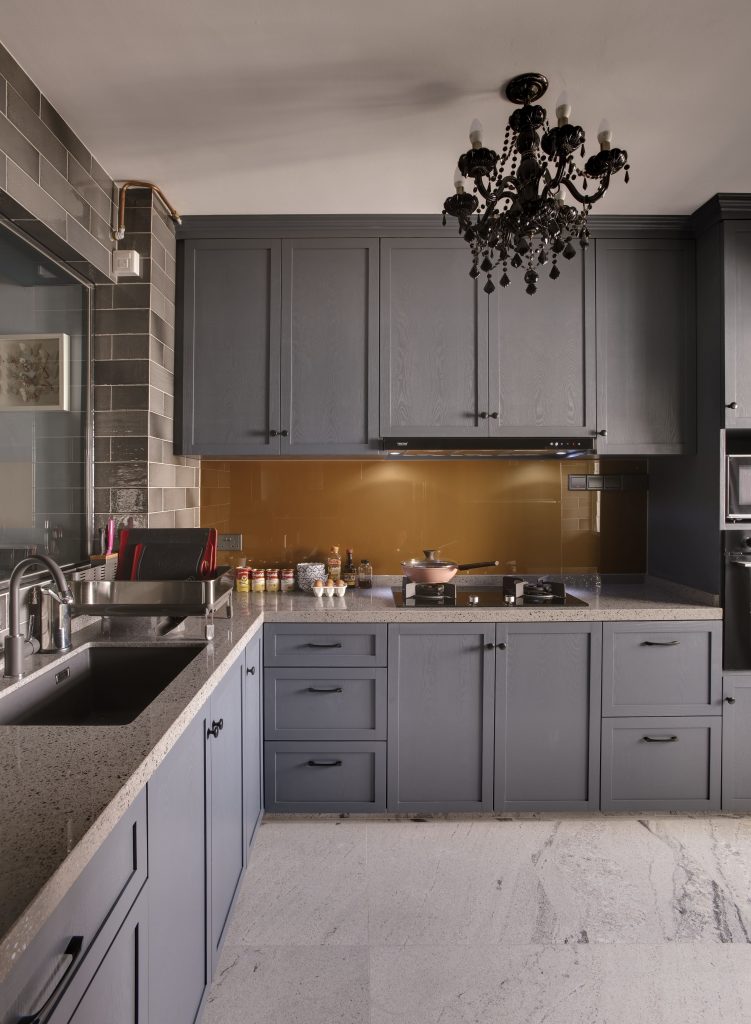 Country-style kitchens
There is something truly heartwarming about rustic kitchen styles. Maybe it is because rustic kitchens remind us of being close to nature. This country kitchen style blends soft colours, natural finishes and traditional wooden floors with vintage kitchen accessories to exude a sense of homeliness.
However, this does not mean that country style kitchens are old fashioned. Most country style kitchens today are able to balance the charm of the countryside and the most modern accessories, storage options and finishes to create a homely space that is both a pleasure to cook and bond in.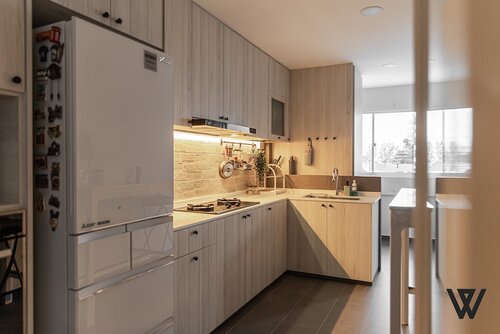 Modern kitchens
Modern kitchens are masterpieces of balancing style and functionality. They are able to blend elegant sleek styles with finishes that are trending in the market today. These include veneers, laser tech and high-pressure laminates that bring a smooth and seamless chic into any setting.
Modern kitchens usually favour open concepts, which create an oasis for both cooking and relaxing. Invisible storage options with handleless kitchen cabinets are usually seen in modern kitchens.
It can be tough to decide on just a single style for your kitchen. Therefore with eclectic style kitchens, you can blend styles, colours and designs to create a totally unique space.
The end result might just be a quirky and personalised blend that showcases your unique style. You might even find it more appealing just because it represents who you are.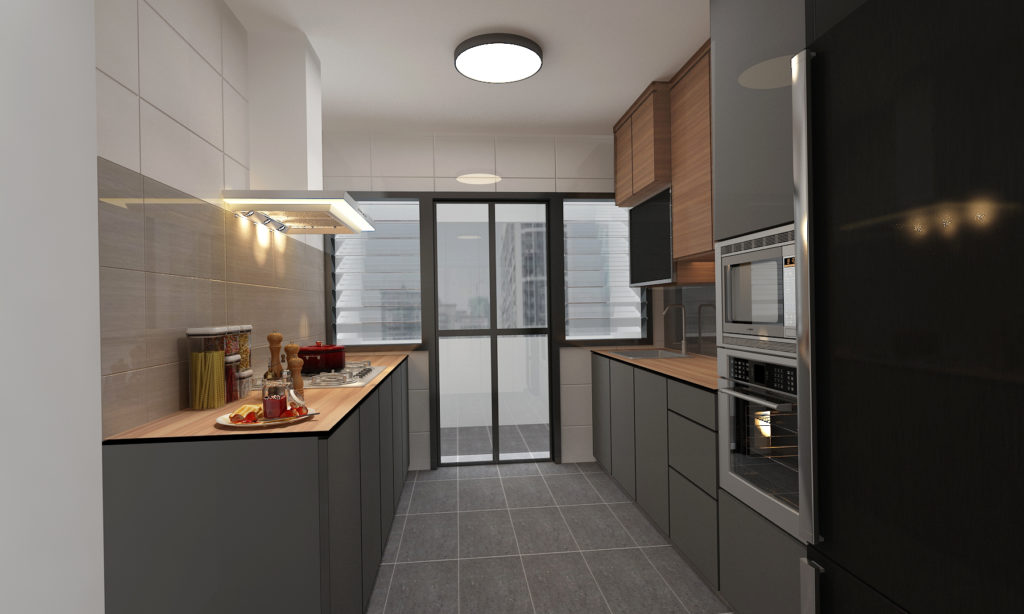 Scandinavian styles rely on the use of natural materials and a sense of light and space. They are usually dominated by light colours such as white, mint, blue and grey. This is complemented with open shelves, which ultimately gives off a bright, airy and uncluttered feel.
The kitchen floors in Scandinavian style kitchens tend to be made of wood, which ensures that the natural grain remains visible. Scandinavian minimalism draws on the combination of soft colours and contrasts from brightly coloured kitchen accessories.
Designing your own kitchen may seem like a daunting task, but you shouldn't let that stop you from approaching it with a sense of adventure and creativity. After all, you don't get to be in charge of your kitchen design very often anyway.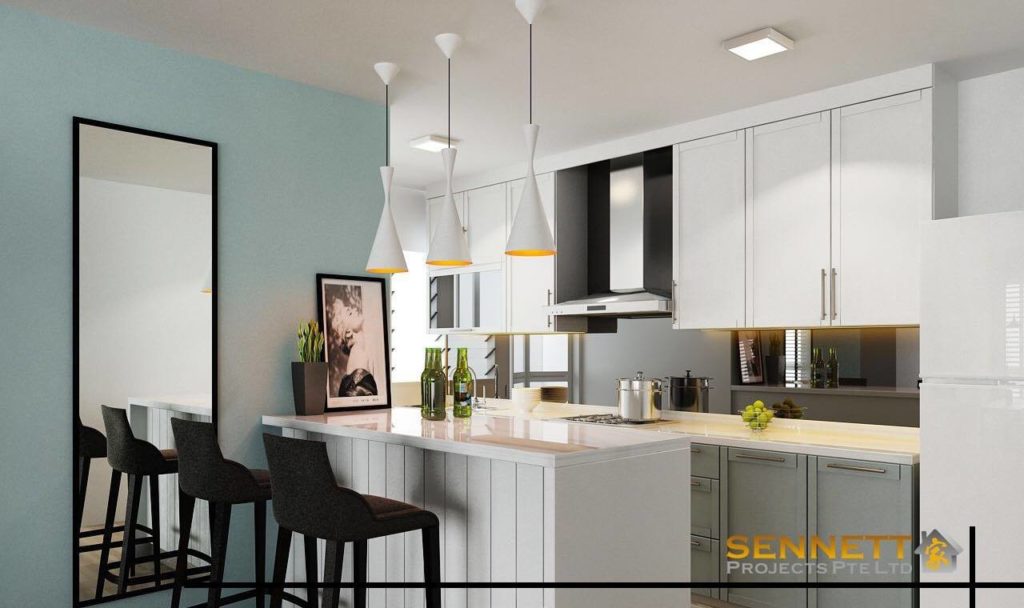 Find wood flooring installation companies
Planning the layout
You should start by planning the layout of your kitchen. Consider the space that is available in your kitchen and work within the limits. This will allow you to have a clear overview of how your kitchen design will look like once it is completed.
It also lets you have a better idea of what will fit in your kitchen and what will not. Due to the importance of planning, you may choose to consult the expertise of an interior designer or kitchen designing specialist.
Final Thoughts
At the end of the day, we each have our own individual tastes and preferences. There is only so much the creativity of others can influence us. After all, it would feel wrong to call it our dream kitchen if we simply replicated its entire design.
Ultimately, kitchen design is a blend of art and science. Once you've got the right balance, the result will be a space that you will take pleasure to look at and cook in.
Just remember to do your research beforehand and come up with a thorough plan before you embark on your first step in achieving your dream kitchen.
Find Reliable Home Improvement Specialists in Singapore
When it comes to kitchen design projects, there are many factors resulting in the final appearance and feel of your kitchen. Below are a few of the specialists that can help you with different aspects of your home.
Of course, at the top are kitchen renovation specialists and interior designers, but the following also play a crucial role in your kitchen look and feel:
Cost of Other Home Improvement Areas
You can check out the cost of hiring professionals for other aspects if your home improvement project. Some of the usual cost guides can be found below:
Related Articles
We're here to improve your home
Speak to hundreds of reliable pros, view their gallery, inspirations, and know the best prices with our resources.
Have full control over your home improvement projects with Homees.