What is a Contemporary Interior Design?
Contemporary interior design emphasises the use of clear lines with deliberate textures to achieve a sophisticated look.
This style gained popularity in the 1970s. Back in the day, it was known to be a mishmash of different styles, until it gained a distinct aesthetic of the contemporary we understand today.
It focuses on a neutral, monochromatic colour scheme, a great backdrop for bold decorative elements in brighter colours. How one decides to play up the contrast is a form of expression, where you seek out your personal style.
---
Why are contemporary homes so expensive?
Contemporary interior design is wildly diverse, since it draws inspiration from different styles, for example, modernism, postmodernism and futurism, just to name a few. As such, it often features a mixture of elements – a modernist aesthetic with futuristic touches.
Furthermore, the definition of 'contemporary' is ever-changing, since it often evolves to suit the trends of the particular time period. What was considered contemporary interior design a decade ago may not necessarily be relevant today.
Its sheer diversity and ever-changing nature make it difficult to pinpoint a one-size-fits-all template of contemporary interior design.
Since it is one of the more fluid and open-ended themes, contemporary interior design may be better suited to those who are ready, willing and able to update their home décor to keep up with the trends. For those who would like a contemporary interior design at a lower cost, it's good to keep abreast of the market rates of interior designers and how you can save for your home renovation project without busting your budget.
Relevant Article: Interior Design Cost Guide In Singapore
What is the difference between modern and contemporary?
Since both 'modern' and 'contemporary' are used to refer to something that is in trend and up-to-date, they are often used interchangeably. However, when it comes to designs, modern and contemporary interior design mean two different things.
There are similarities between modern and contemporary styles, like the focus on sleek lines while retaining a creative flair.
However, contemporary interior design tends to change more often to reflect the current trends, bearing a multi-faceted core influenced by a plethora of themes. This means that there is no prescriptive way of going about contemporary interior design, leaving lots of room for your creativity to go wild.
On the other hand, modern style refers to a set time period during the early to the mid-20th century. Modern and mid-century modern styles have their own set of qualities – a deep emphasis on natural elements and earthy colours.
The following differences between modern and contemporary are non-definitive. These are not hard and fast characteristics differentiating the two styles, but rather a generic guide.
1. Differences in the colour scheme
The contemporary project adheres more strictly to a neutral colour palette of largely black, white and grey. The pops of colour introduced through accents and decorations are often in saturated reds or oranges.
The modern theme focuses more on earthy tones like brown and olive green, often leading to a more rustic look.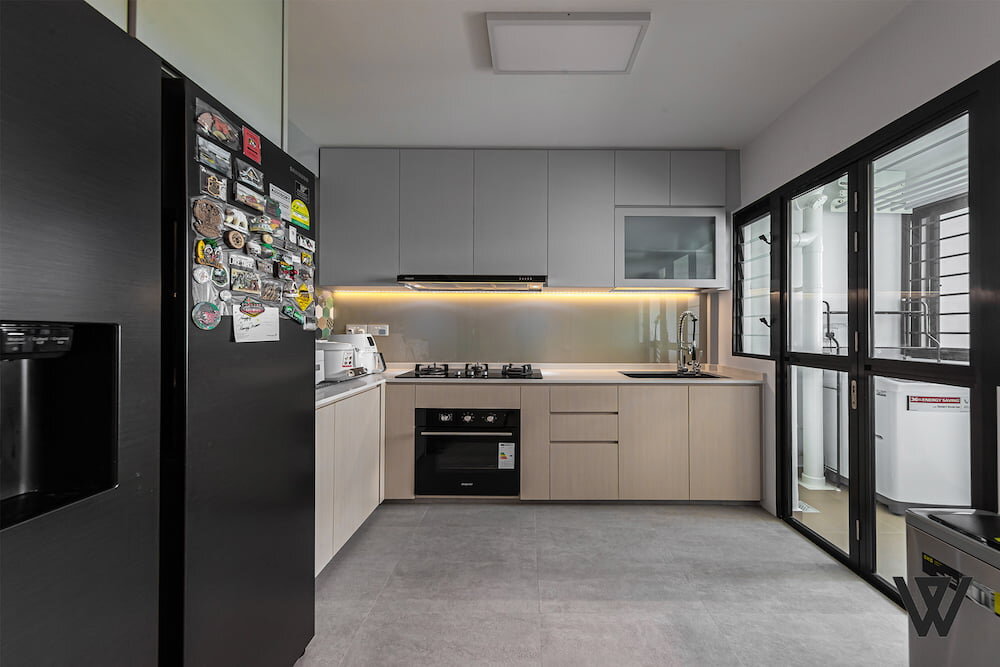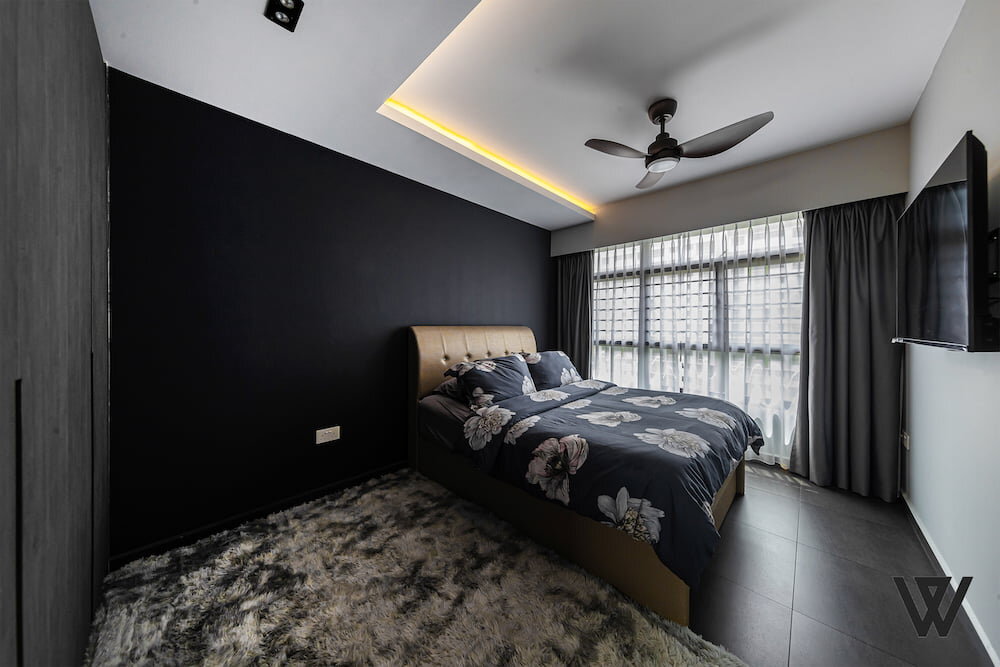 ---
2. Differences in textures
Contemporary style tends to feature glass and metal elements, possibly to match the cooler tone of its neutral colour palette.
In contrast, modern themes feature more woodwork accents and elements of nature for an earthier feel.
3. Differences in decor pieces
Since contemporary designs mirror the latest trends and styles, the art décor of the home features statement pieces for aesthetic ornamentation.
On the other hand, decorative displays in modern interior style are more deliberate, placing more emphasis on the item's functionality and relevance to the space.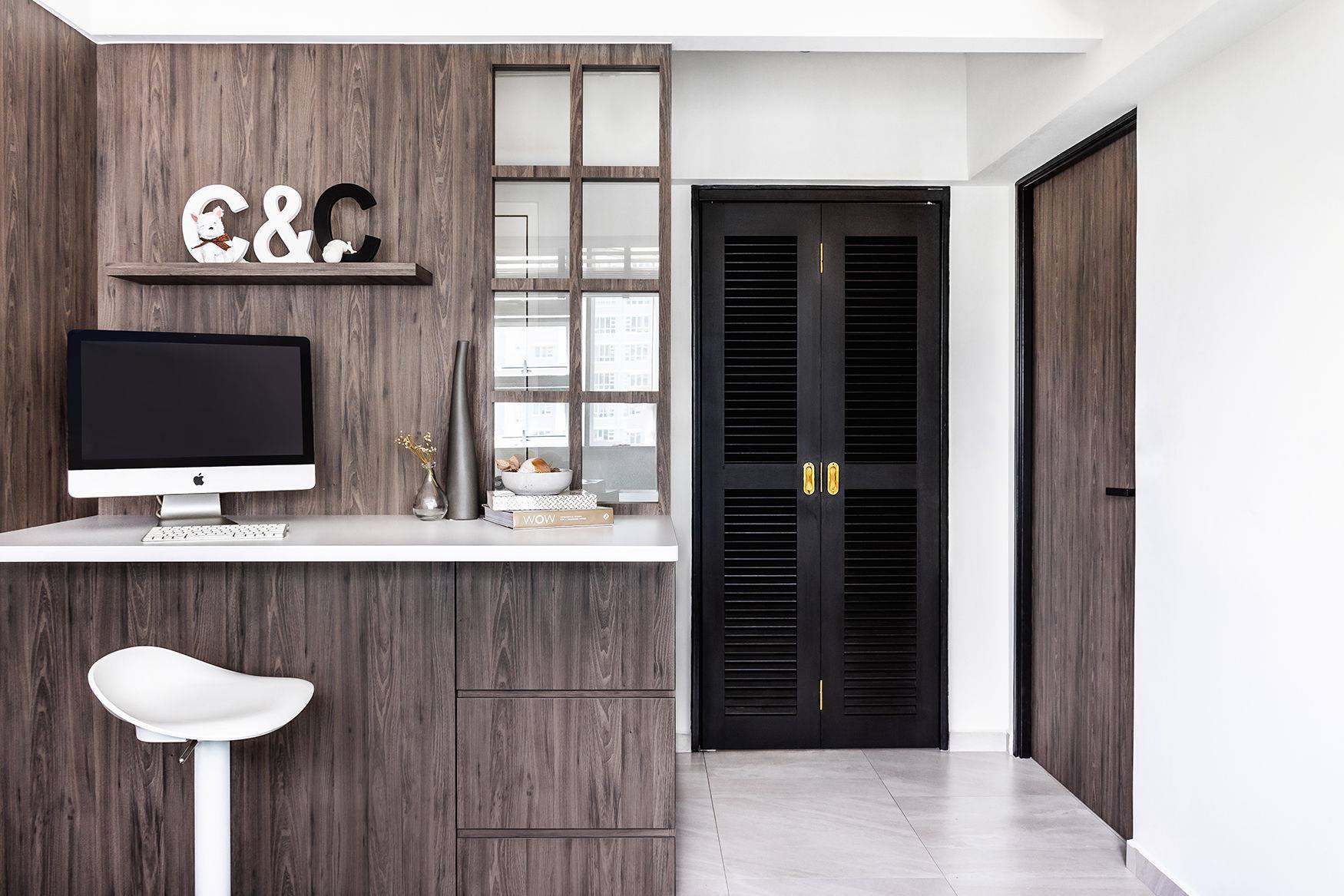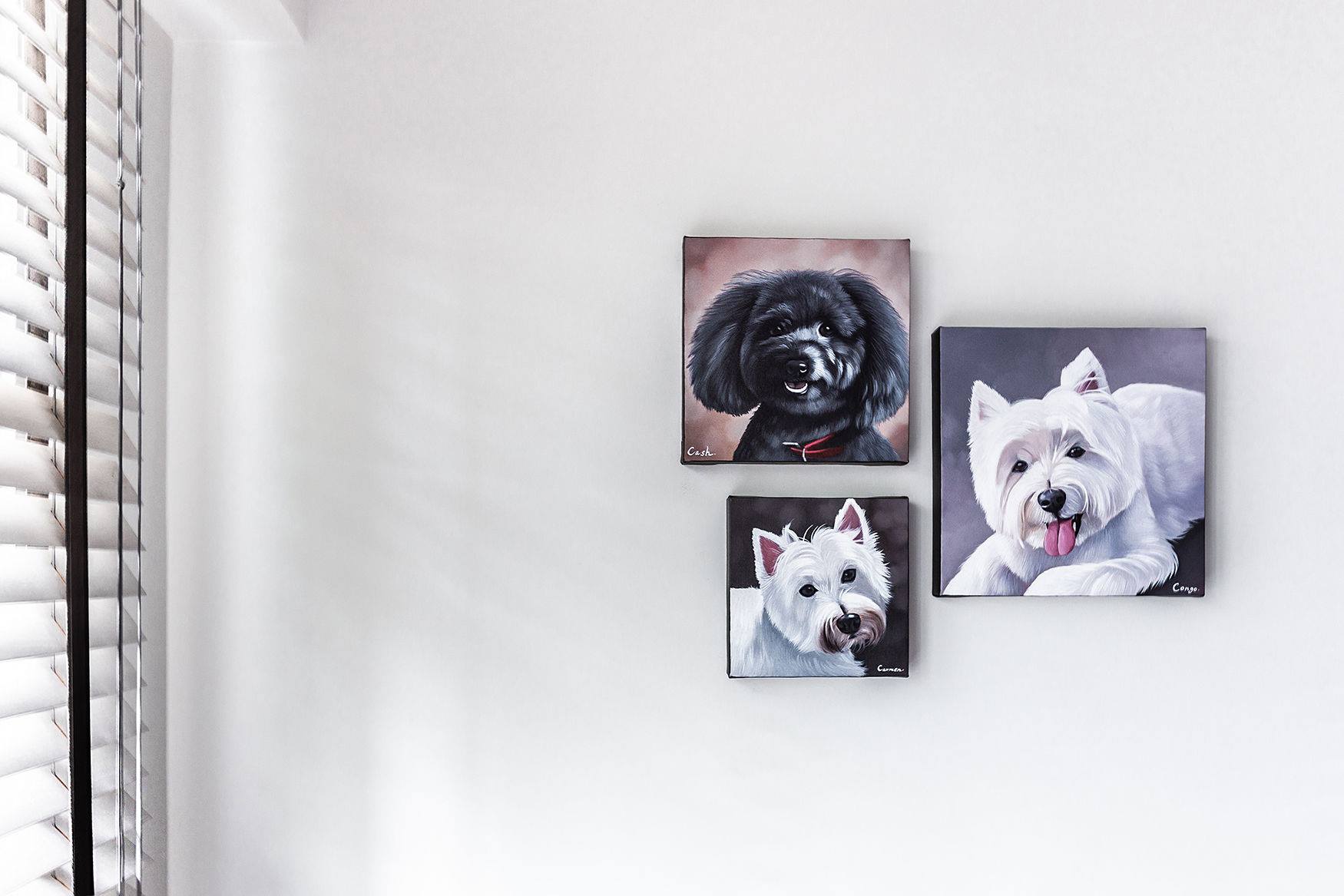 ---
10 Stunning Contemporary Homes In Singapore
1. Stylish Contemporary Condo @ East Coast
Designed by Noble Interior Design, this condo integrates contemporary elements through its unique furniture pieces and largely monochromatic colour scheme. From the vibrant living room to the sleek dining corner, the cool muted palette and luxe metallic accents make a splendid pair.
The selection of art décor in the home radiates a distinguished elegance. Potted plants are no stranger to this stylish abode, occupying generous amounts of space in the living room. This creates a clean and restful environment.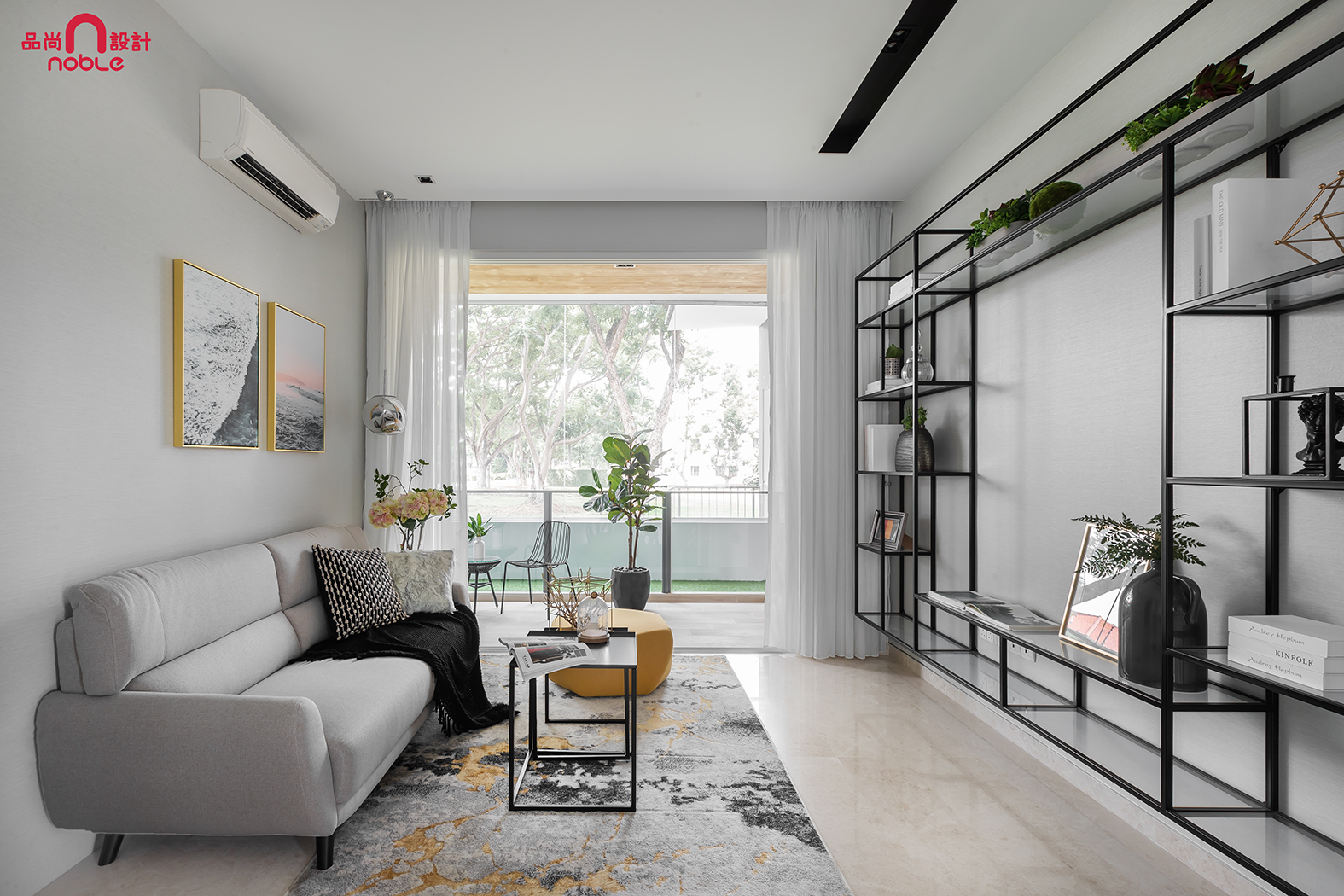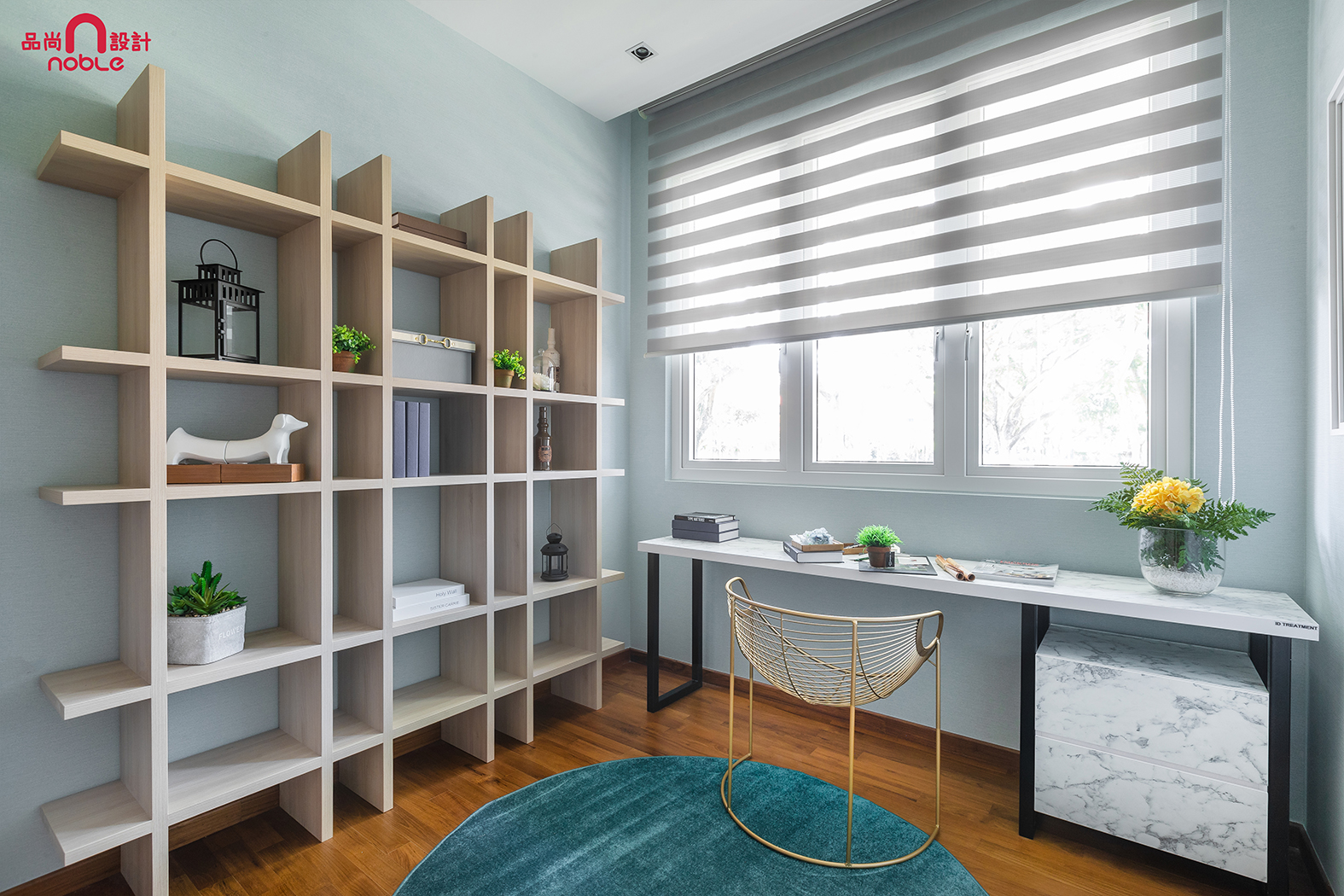 The study room takes on a more earthy, rustic feel with more wood textures. Splashes of colour were introduced through the wall paint and floor rug, making the room come alive.
The guest bedroom is embellished with a calm, dreamy feature wall that gives the space a soothing ambience. For bonus comfort, don't be afraid to throw on cute character cushions that make the space more inviting.
Relevant Article: Home Office Cost Guide In Singapore
2. Artistic Textures and Touches @ Bukit Batok
Going for the ultra-modern and sophisticated interior style? This 5-room HDB interior design at Bukit Batok by D'Brain Studio is one to keep your eyes on.
Accented with a deep blue colour, the master bedroom is well-balanced in a colour scheme of main neutrals. The geometric patterns of the soft covers and the glossy metallic accents in the room make a great pairing.
The kitchen and dining room feature heavy use of natural stones like granite and marble. These materials make for a unique contemporary interior design, especially with its naturally occurring 'imperfections' of swirls and blotches.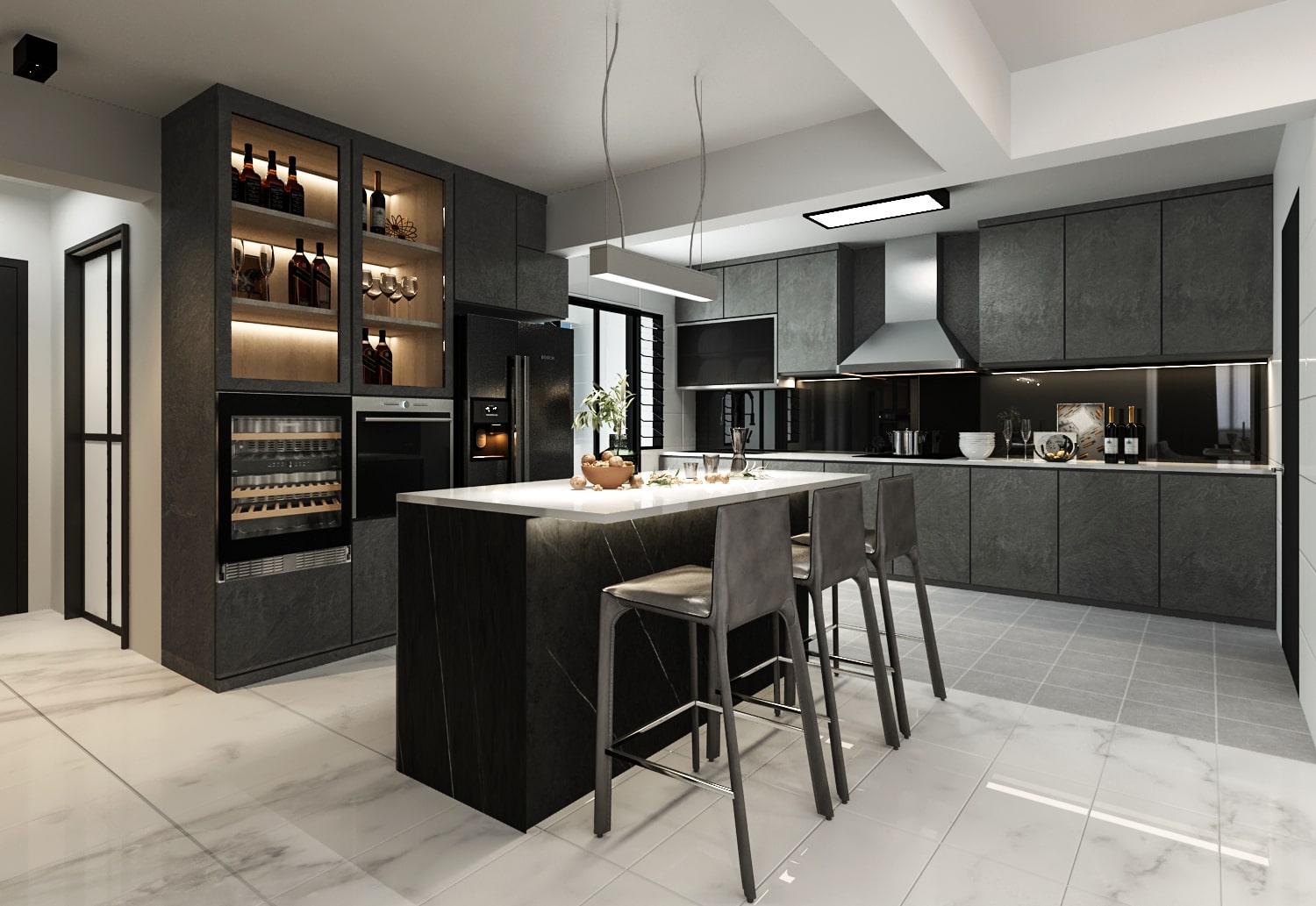 ---
3. Cool Contemporary Space @ Bukit Batok
Completed by The Roomakers, this resale HDB bears a refreshing look uplifted by wood textures. Clad in cool colours, the tree stump coffee table adds renewed depth to the living room, infusing the space with drops of nature.
Reflecting the living room's colour palette, this comfortable bedroom features a functional space with a study desk and ample storage space.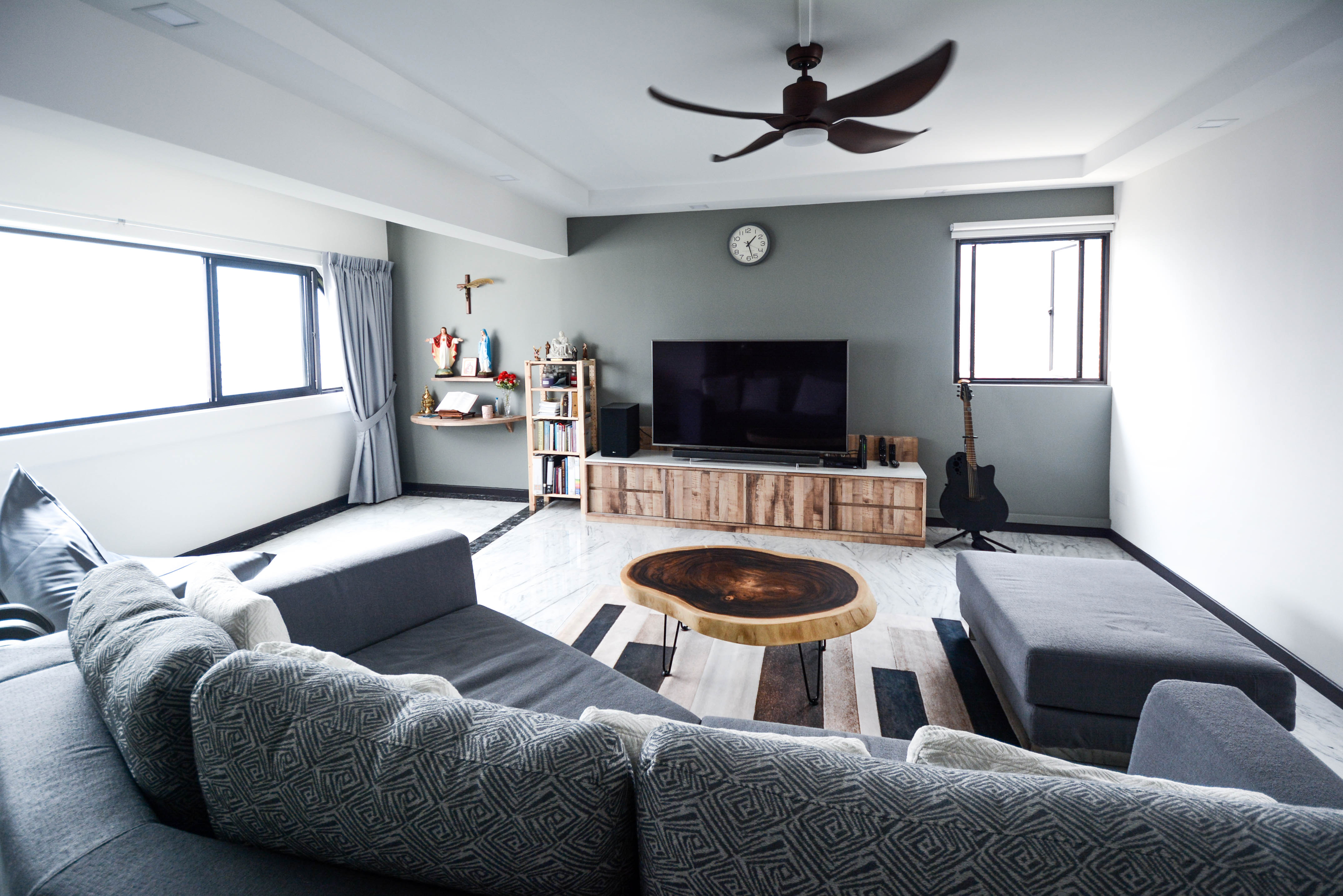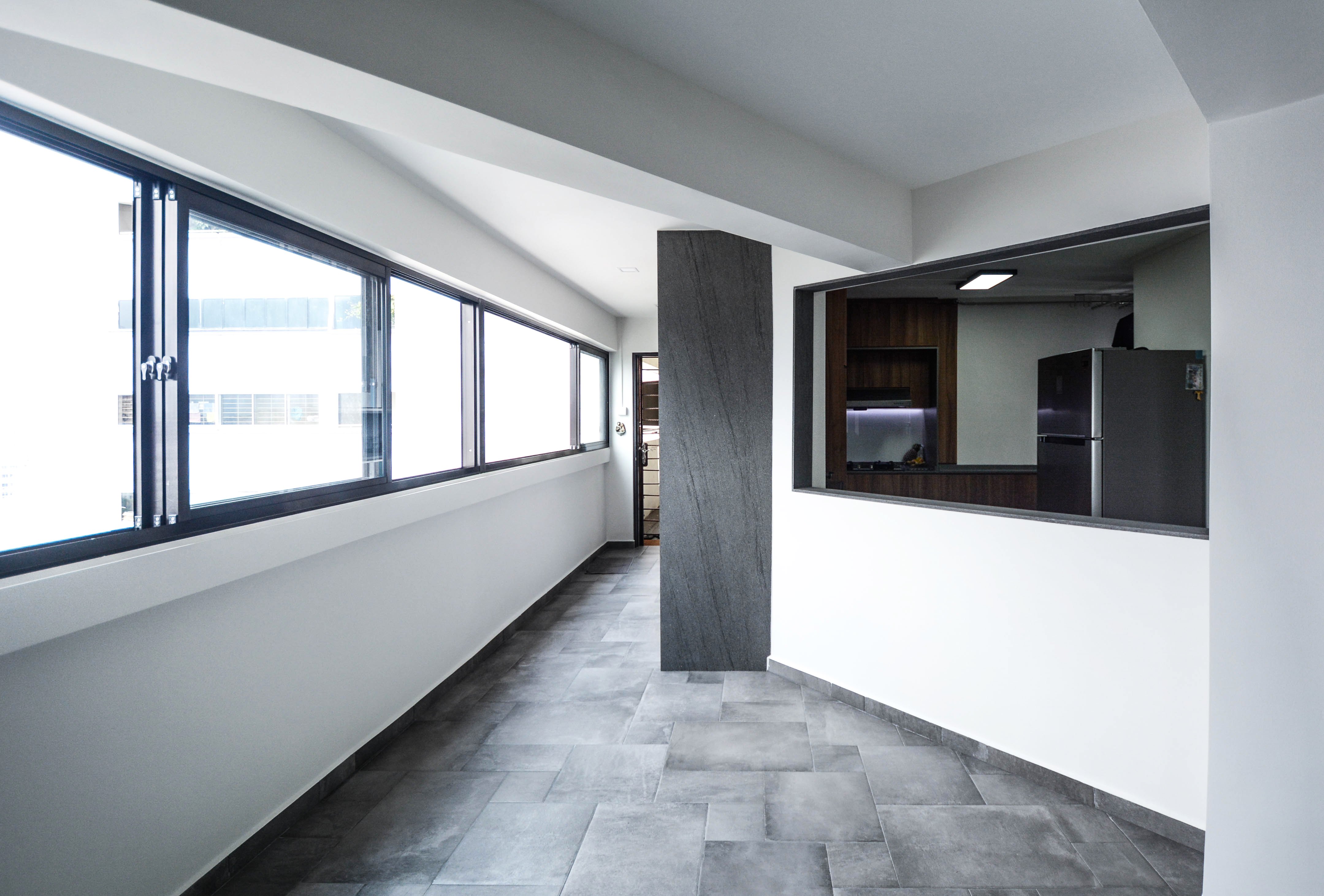 The beauty of using an abstract tile pattern is how flexible the theme can be. For the toilet, the homeowners opted for a balanced combination of plain and patterned grey tiles. This makes it the perfect wall and floor for a chic and modish feel.
Relevant Article: Bedroom Cost Guide in Singapore
4. Vintage Maximalist @ Compassvale Crescent
This apartment, designed by Space Factor, takes on a more maximalist approach in terms of design. With many unique pieces of furniture each telling its own story, this home captures the essence of contemporary interior design – an amalgamation of different styles.
Nestled in the study room is a cosy reading corner, with wood cabinetry built around it to maximise storage options. The quality wood material makes this cosy reading nook the most relaxing corner of the house.
The signature grey cabinets and beautiful marble floors foreground the kitchen's modernity. The lighter tones of the room take a backseat, allowing the modern artisan chandelier to take centre stage.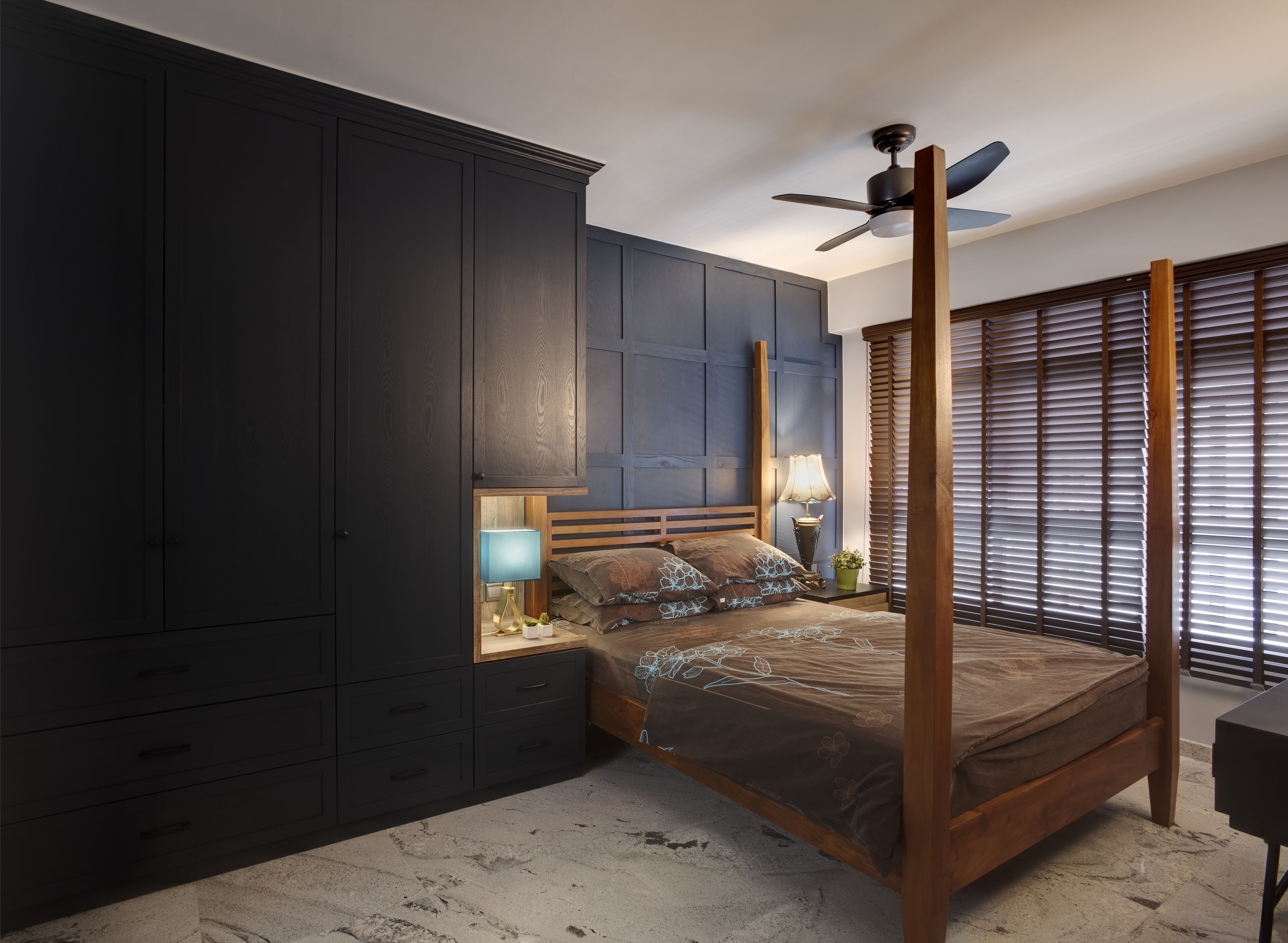 Relevant Article: Home Decoration Cost Guide In Singapore
5. Contemporary Luxury Theme @ Tampines North
Fifth Avenue Interior Design takes an impressive approach to renovating this apartment by combining modern inspiration with an industrial look to create a cohesive contemporary aesthetic. Despite its meek pastel scheme, the living room leaves an impression, where the dark-coloured furniture synergises with the decadent gold rims.
As for the bedroom, the homeowners wanted a more minimalistic concept, where the uniform grey soothes the eyes and the mind. The undisrupted outlines of this space promise a restful night of sleep.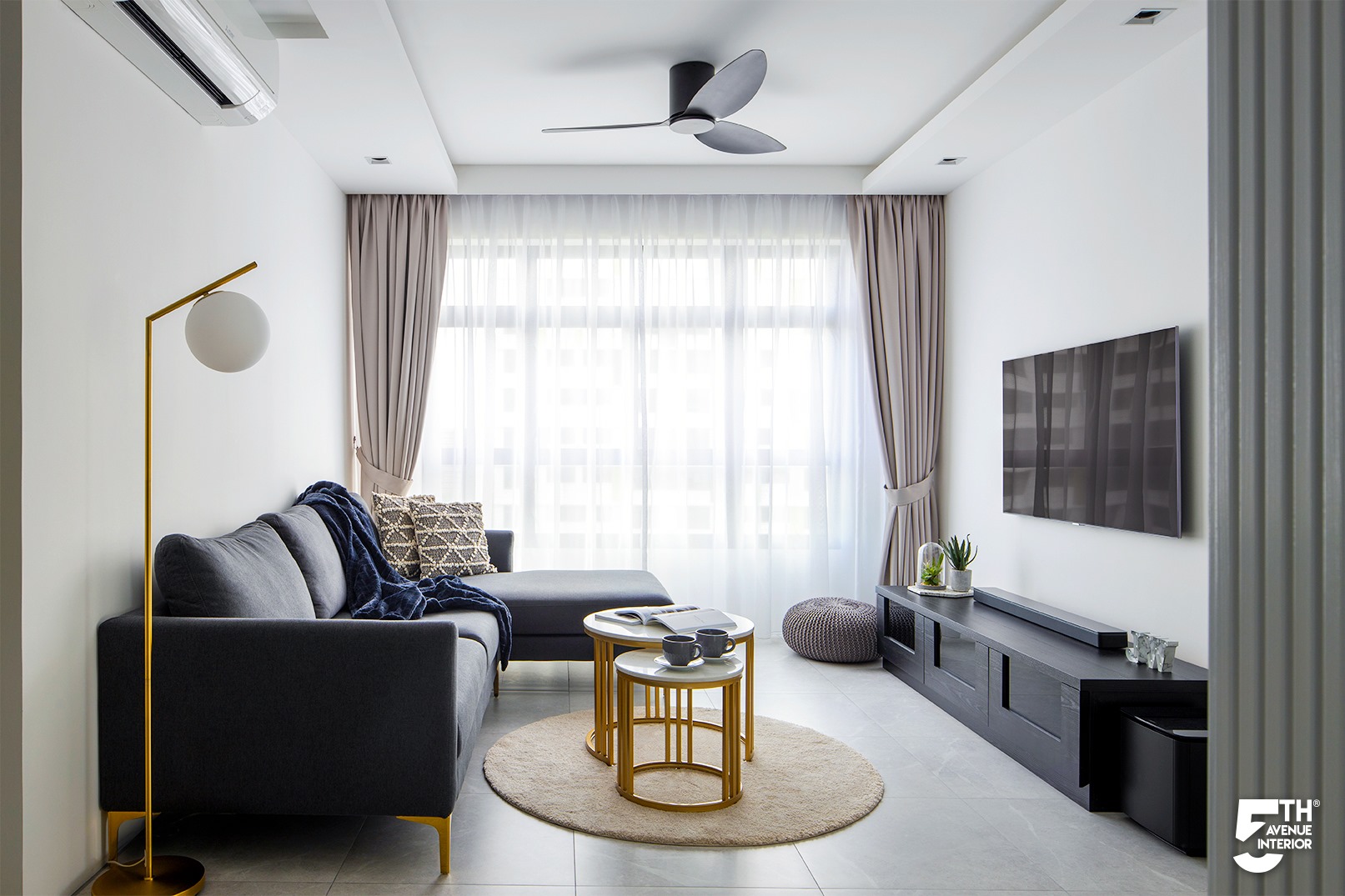 Paying attention to small details can be a game-changer to the overall aesthetic of your home. There is an effortless charm in matching the hexagonal marble wall tiles with the cabinet knobs in the bathroom.
The kitchen cabinets use the same gold hexagonal fittings, which tie into the home's contemporary design style. Marble makes a lovely choice for all surface types when elevating the voguish vibes of your interior.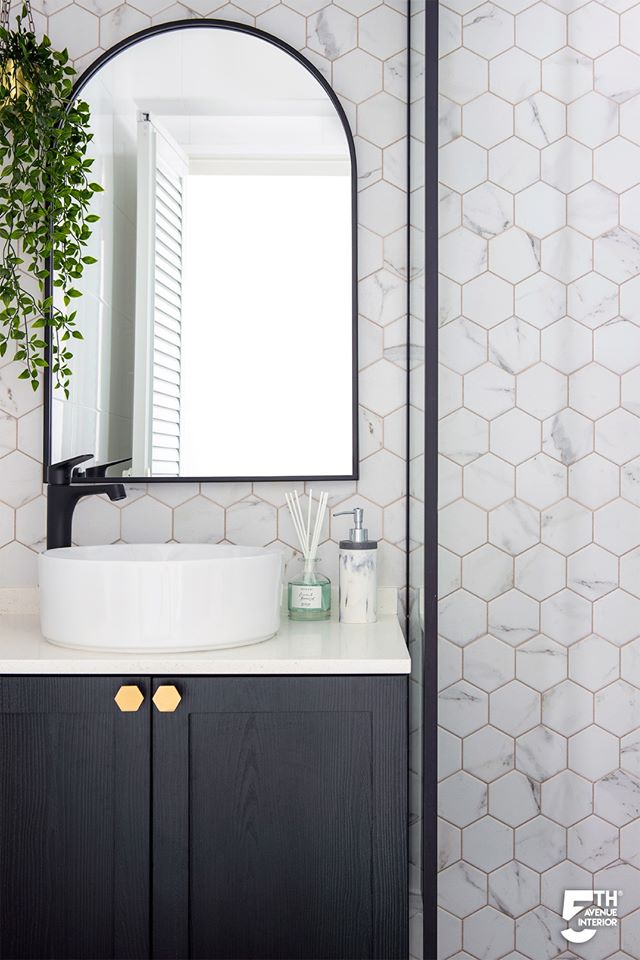 ---
6. Warm-toned Wonders @ Serangoon Ave 3
If you prefer to centre your home around warm tones, check out this classy and modern interior designed by Zenith Arc Pte Ltd. The use of wood and brown imbues an earthy aura into the living room making one feel at peace and relaxed in the environment.
Straight out of a five-star hotel, the master bedroom is renovated with maximum storage units and a seamless TV console. Similarly, the muted colour palette radiates a warm and soothing glow.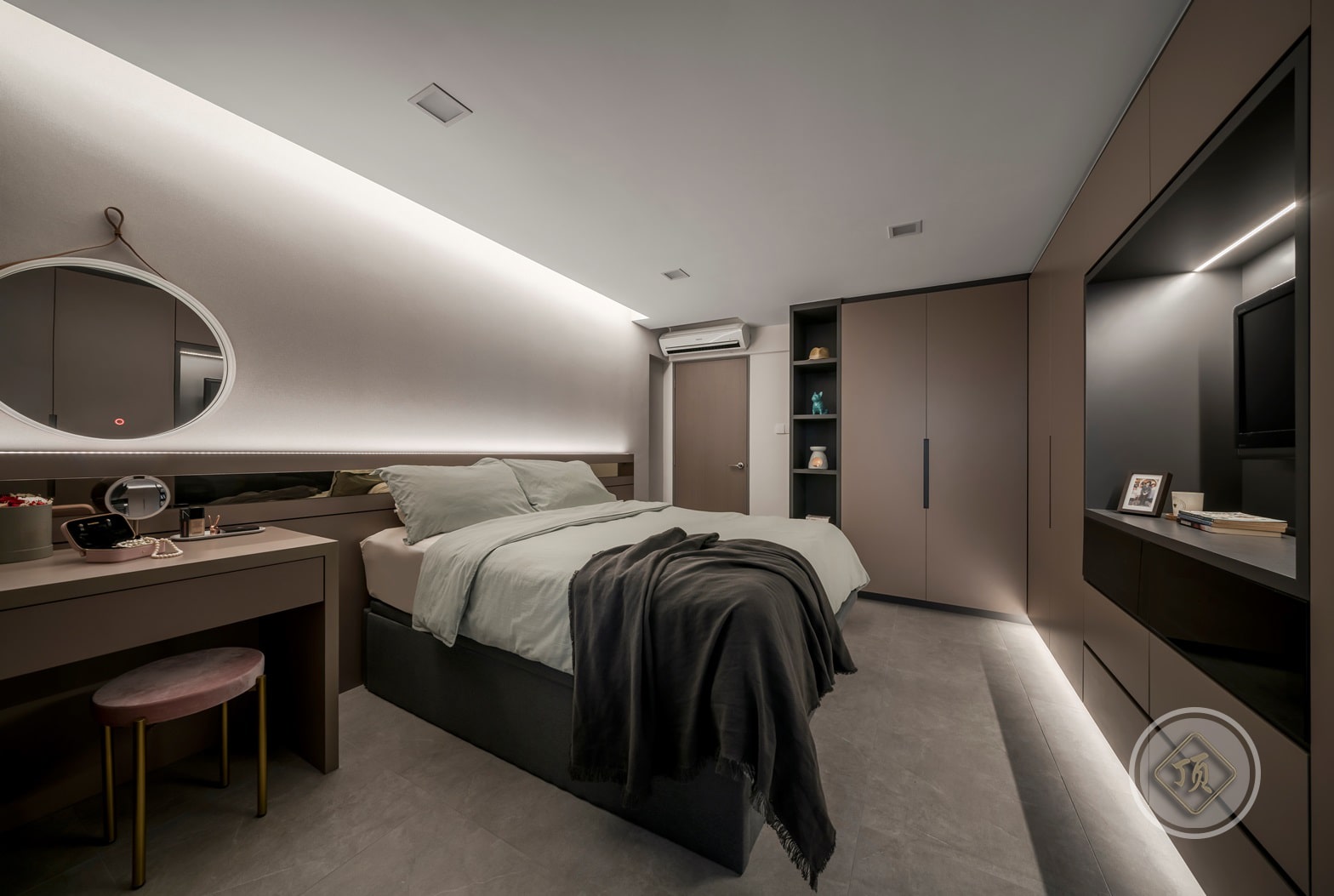 One way to create a neat and orderly home is to achieve symmetrical balance in its planning. It doesn't have to be complicated structural fabrications, just something simple like having two opposing colours for a single type of furniture, like cabinets. The homeowners gave each room its own character by jazzing up the colour and texture of its cupboard doors.
7. Distinguished Sense and Style @ Bartley
Overflowing with modern luxe, The Interior Lab took charge of this project that weaves together eclectic and contemporary interior design styles. Together with intentionally dimmed lighting, the bespoke pairing of walnut brown and timber wood is similar to a stylish New York loft.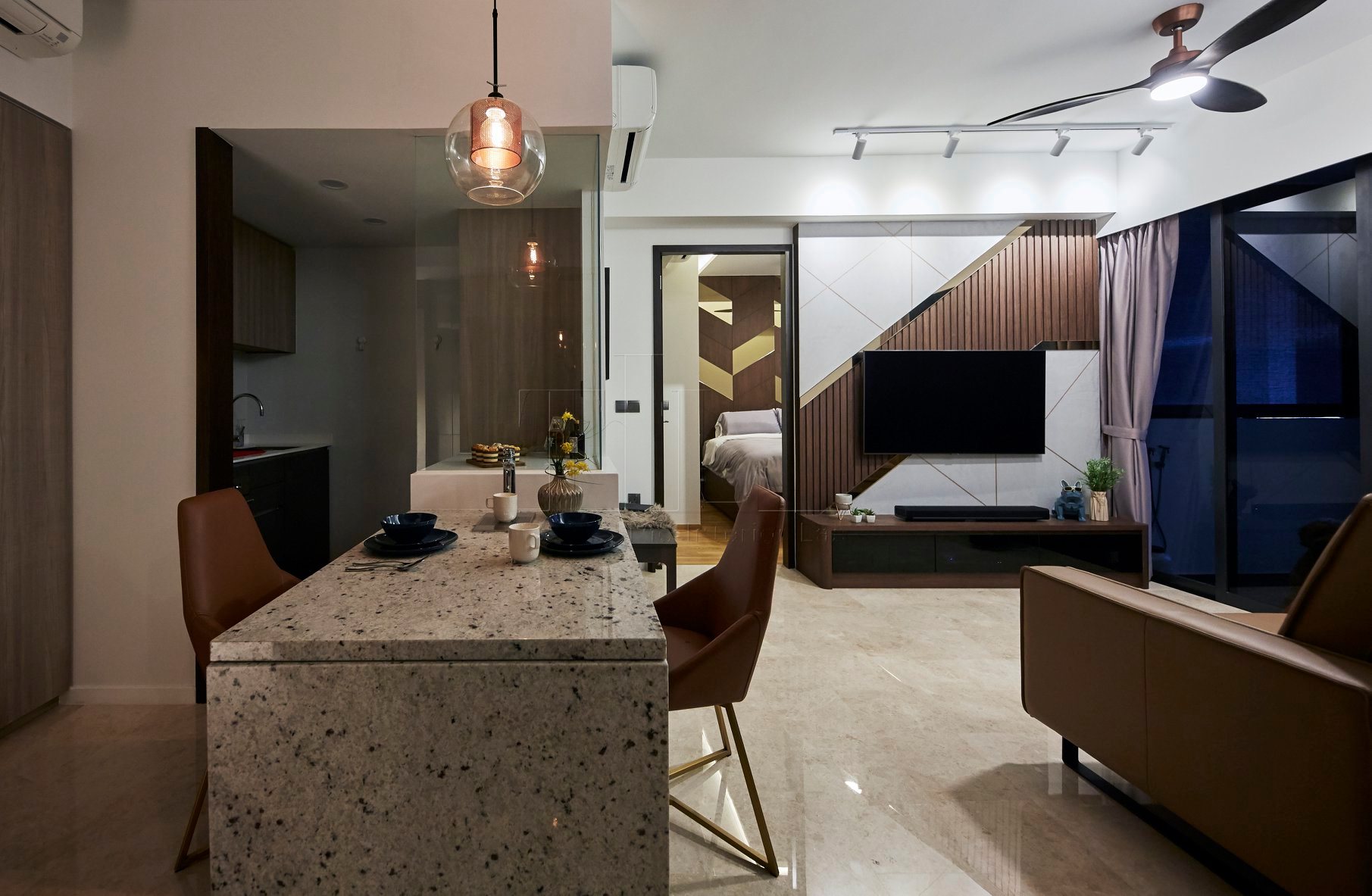 If you have a penchant for themed rooms, why not take inspiration from this bedroom? This lovely, nature-inspired respite utilises organic textures and eye-catching botanical wallpaper.
Find Kitchen Countertop Companies
---
8. Modern-Industrial Abode @ Woodlands Ring Road
Dyel PTE LTD showcases a chic interior with a hint of industrial flavour for this maisonette house. Emphasising deep black, the furniture of this home is carefully selected and customised. The end result? A cohesive theme of contemporary style without appearing overly domineering or haphazard.
To take the home's liveliness up a notch, beautify the bare walls of your space by adding an abstract wall art of two. In this house, the cheery orange couch and majestic greenery create a visually arresting living room headed for comfort and sophistication.
The industrial-themed kitchen adopts a foolproof formula of mixing black, wood and concrete that imbues the home with a raw, refined look. Contemporary interior design is all about borrowing the best styles and consolidating them into their own masterpiece.
Relevant Article: Walls and Ceiling Cost Guide in Singapore
9. Opulent Luxury in the East
For this modern-contemporary 4-room resale HDB, Fatema Design Studio spotlighted the grandeur of this apartment by going for a dark-coloured visual theme that uses a variety of textiles. The curated balance between soft and hard textures contributes to the home's understated elegance.
To add depth to the visual experience, the kitchen and bar counter was designed to become the defining feature of the home. Decked out in a full-on white contrast, the gold and marble embellishments breathe new life into the abode.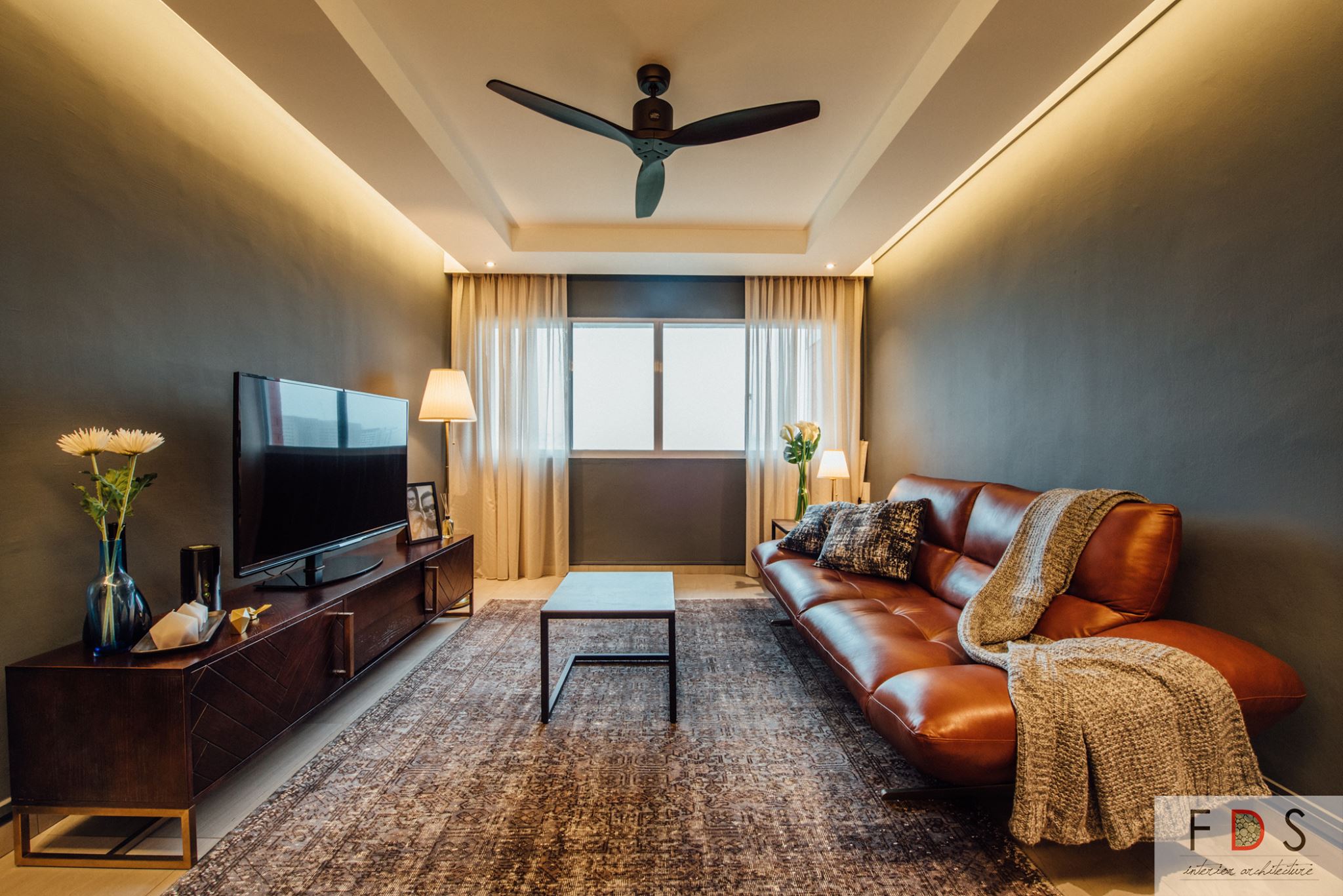 Relevant Article: Electrical Services Cost Guide In Singapore
10. Contemporary Minimalist Home @ Tampines Street 45
Fans of minimalist interior designs should check out this HDB project by Form & Space. Designed with the pared-down aesthetic in mind, this sleek and elegant home showcases a simple and distraction-free space.
For increased spatial depth, a pristine white is standardised across the rooms with contrast against dark-coloured and wood furniture. The gold-rimmed geometric pendant lighting is a good addition to minimalist interiors.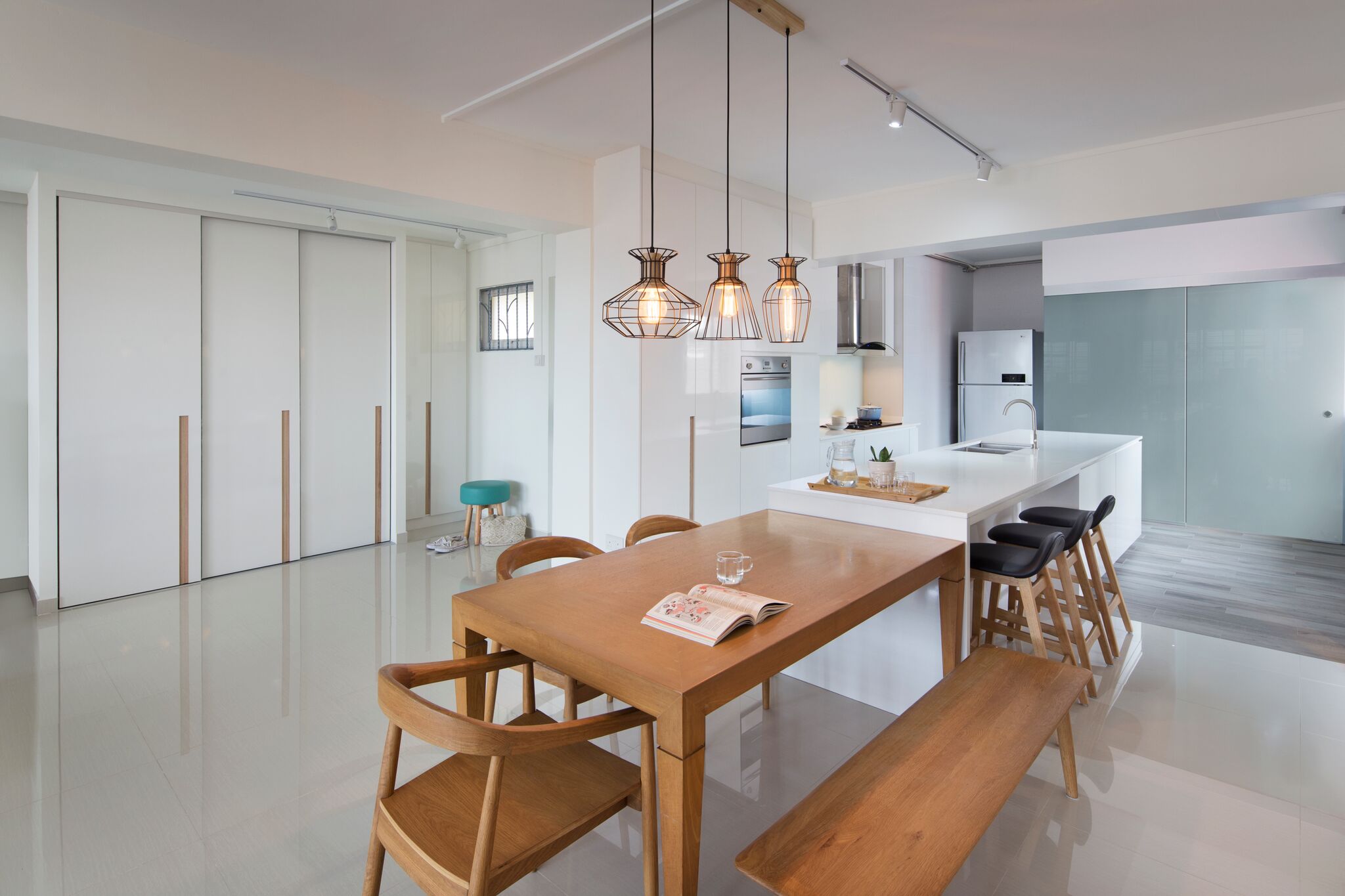 Relevant Article: Flooring Cost Guide In Singapore
6 Hybrid Contemporary Styles To Spice Up Your House
Contemporary themes are lauded for their fluid and flexible nature. It changes to reflect the most up-to-date designs and the newest trends. It is elusive and hard to define – that is what makes it such a stunning and popular interior design style. The sheer diversity of contemporary interior design has given rise to several hybrid interior designs that fuse contemporary elements with other styles to create innovative and amazing homes. This article shows you 6 breathtaking hybrid contemporary interior design homes that you will never have taught possible.
---
6 Examples of Hybrid Contemporary Interior Design
1. Contemporary Zen @ Clementi
Baum Project Pte Ltd brings us this HDB BTO flat that fuses Contemporary interior design with Japanese Zen elements to create a restful home. To create a relaxing ambience, the design incorporates several elements of nature to emulate the feeling of 'zen' when one frolics in nature. To avoid making the house seem plain or empty, the spacious living area is dotted with bright splashes of colour to make the home bright, restful and comforting.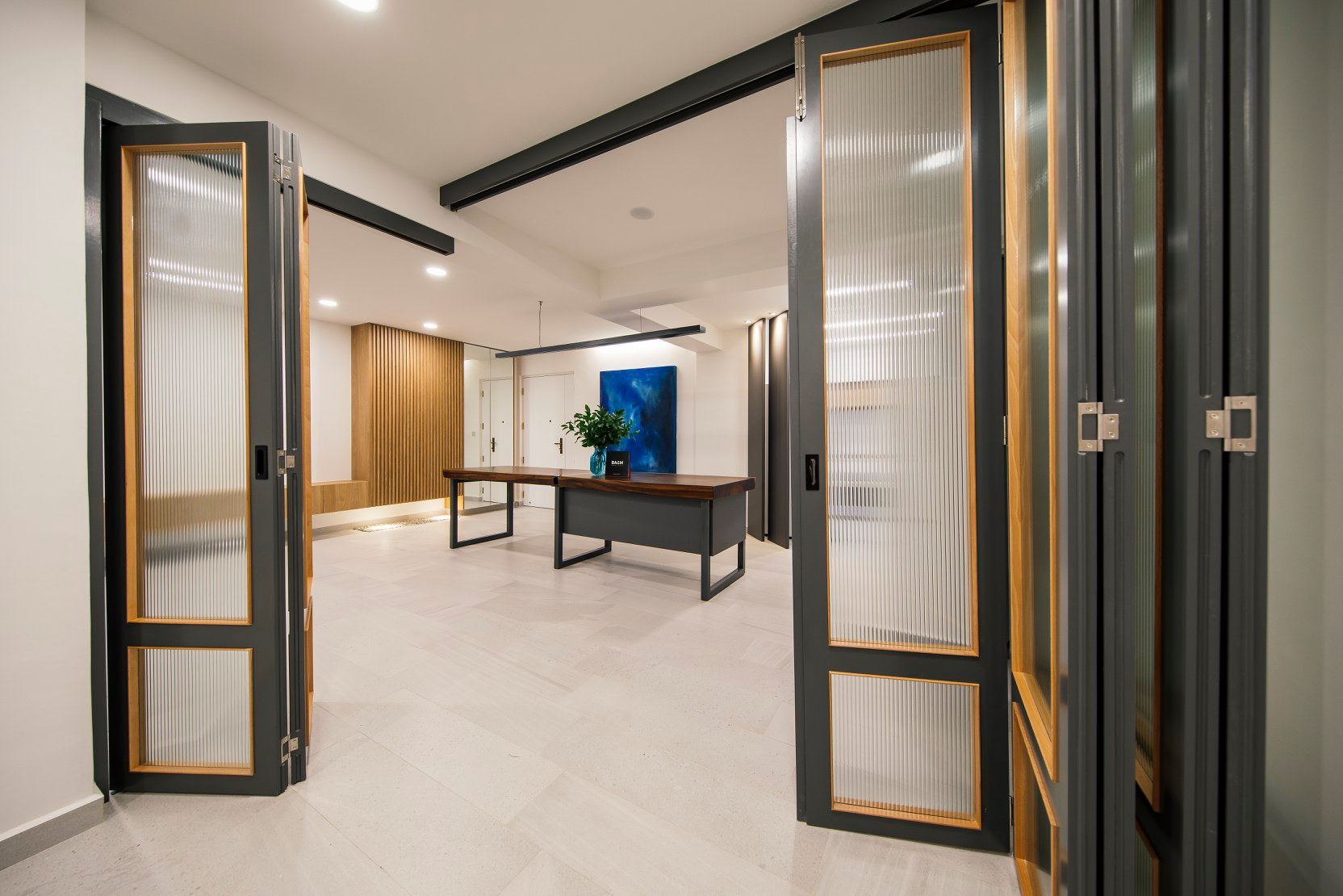 Relevant Article: Home Office Cost Guide in Singapore
2. Dark Glam Modern Contemporary @ Optima
This condominium renovation project, done by Beaux Monde Pte Ltd, displays a Dark Glam Modern Contemporary theme interior design. While the theme is a mouthful and sounds as if it could be over-the-top, the intricate design is far from garish. Deep, rich colours such as red and brown are weaved into the colour scheme for added opulence and grandeur. Unique 'glam' furnishings, such as the antique-looking clock located in the living area, also add a touch of sophistication and style. The patterned-feature wall in the living room interweaves different textures into the home for added contrast and layers in the design.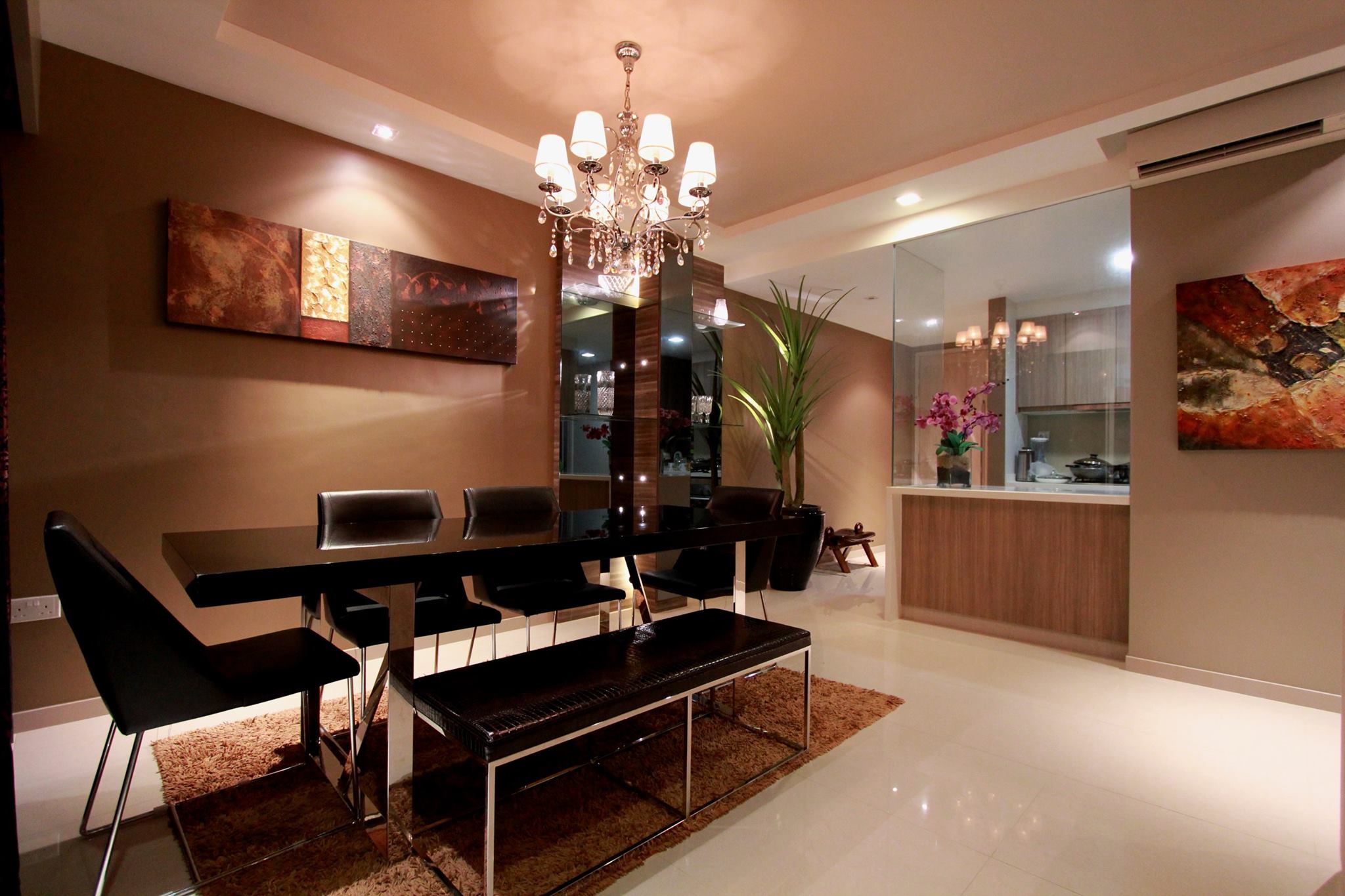 The bedroom is equally sophisticated and glamorous. The deep red feature wall adds a different texture and a splash of colour to the room, while the dark furnishings help to add depth to the space.
---
Relevant Article: Bedroom Cost Guide in Singapore
3. Contemporary Nautical Oriental @ Pasir Ris St 71
Due to the homeowners' love for the beach, Ascenders Design Studio made sure to incorporate nautical vibes into this HDB apartment design. The colour scheme follows a palette of blues, woodgrain textures and sandy tones to emulate the sand and the sea.
As the homeowners also requested some oriental elements in the design of their home, a round marble table was included in the dining area – a subtle but beautiful furnishing that ties into the oriental theme.
The master bedroom also features some oriental touches through the inclusion of a unique and ornate oriental-themed room divider.
---
4. Contemporary Luxury @ The Interlace Condo
Neu Konceptz brings this breathtaking Contemporary Luxury themed interior design home to the table. A dark colour palette of largely greys and blacks was used to ground the spacious rooms and add a touch of class and sophistication. The glossy and bright marble flooring helps to balance out the use of dark furnishings and serves to give the house a sleek and stylish aesthetic.
Dark furnishings also give the master bedroom a mysterious and chic edge. The carpeted floor screams luxury, while clean-cut lines and sleek furnishings ensure that the room is a stylish cutting-edge design.
Hire Bathroom Interior Designers
---
5. Contemporary Industrial @ 339B Sembawang Close
ButlerInterior promises to deliver – and they truly do with this chic and sleek contemporary industrial themed apartment. Weathered wood flooring and exposed pipelines help to add the industrial element to the contemporary design. At the same time, the weathered wood textures also bring a warm ambience to the home.
The eye-catching dog-shaped lamp in the living room captures the essence of contemporary interior design in a nutshell – it is bold, rare and unique. This, coupled with the weathered wood surfaces and dark furnishings, helps to give the home a stylish and chic aesthetic.
Hire a Kitchen Interior Designer
Relevant article: Interior Design Cost Guide In Singapore
6. Contemporary Minimalistic @ Cashew
Contemporary and Minimalistic sound like oxymorons when it comes to interior design. Contemporary interior design seems to take a more maximalist view on things – it's all about the newest, most cutting-edge designs. On the other hand, minimalistic interior design focuses on simplicity. After all, "less is more", right? However, Baum Project Pte Ltd manages to unite both concepts in this stunning residential project to create a timeless, minimal and contemporary design. The sleek black, white and grey colour scheme is the perfect blend between simplistic and chic. Adding several potted plants throughout the home also helps to brighten up the rooms and incorporate a calming element of nature into the design.
The feature wall on the second floor is a focal point of the home, penning down the family's story in a beautiful manner.
Relevant Article: Home Decoration Cost Guide In Singapore
Conclusion
One of the biggest strengths of contemporary interior design is fluidity. Since there is no set style on what is defined as 'contemporary' in the home, it leaves more liberty of choice in your hands. Even though contemporary design feels complex and intricate, the rewards you reap are immense. For those who enjoy more creativity and artistic flair in their homes, contemporary design is a great choice.
For those who prefer a more simplistic or reductive approach to things, do check out other articles on MUJI, Scandinavian and minimalist interior design.
Other Interior Designs to Consider
If the aforementioned designs are not quite your cup of tea, take a look at some of these popular interior designs and see which best suits your tastes!
Cost of Other Home Improvement Areas
You can check out the cost of hiring professionals for other aspects of your home improvement project. If you have a spare budget and would like some unique designs of your own, you can try speaking to a few interior designers for more designs ideas.
Renovation contractors can sometimes be the best fit for you if you have a suitable home design in mind.
Some of the usual home improvement cost guides can be found below:
We're here to improve your home
Speak to hundreds of reliable pros, view their gallery, inspirations, and know the best prices with our resources.
Have full control over your home improvement projects with Homees.